Dating back to slavery, Black women have been assigned masculine attributes in an effort to detach us from our feminine qualities. In many cases, both Black women and men have been "othered" to justify mistreatment, including large amounts of physical labor. This historical, systemic racism has trickled down to the modern spheres of media, film, television, and press coverage. The stereotype of Black women being somehow forever strong, indestructible, invulnerable to pain, and otherwise able to take anything that comes their way has resulted in the prejudiced misconception that darker-skinned women are inherently less feminine. A woman who has experienced all of the above at work, from the start of her childhood to the length of her illustrious career, is Serena Williams.

Williams, a four-time Olympic gold medal winner and the holder of more Grand Slam titles than any other tennis player, is revered for her unmatched precision, dedication and skill. She's broken down barriers in the tennis world and is a great source of representation for Black women like myself. However, after each game, it seems sports reporters and Twitter trolls alike attempt to steer the conversation away from her performance and into discussion and analysis of her body. Some label her "savage," say her arms are "manly," and maintain that her physique is "too strong." As recently as this weekend, Williams had to shut down a reporter who questioned whether she was intimidated by her (white) opponent Maria Sharapova's "supermodel good looks." All this does is pose a recurring question about Williams' femininity that must be answered, most of all, by her, when she could be focusing on more important things.
Waited 14 years... for this? Pro-top: wait at least another 14 more years before asking another question. https://t.co/2krgZPfXQy

— Alexis Ohanian Sr. 🚀 (@Alexis Ohanian Sr. 🚀) 1528058092.0
The racist and sexist attacks against Williams haven't been limited to the press or internet trolls. Her former opponent Caroline Wozniacki once imitated Williams' body by inserting extra padding into her clothes on the court in a way many found racist. It's a prime example of the sports world's attacks against Williams' body, doubling as attacks on her Blackness and her femininity.
Though Williams has largely ignored racist taunts throughout her career, she opened up to Harper's Bazaar UK last week saying, "It was hard for me. People would say I was born a guy, all because of my arms, or because I'm strong. I was different to Venus: she was thin and tall and beautiful, and I am strong and muscular — and beautiful. But, you know, it was just totally different."
Still, despite constant criticism, Williams refuses to let racist perception even remotely affect her: "I'll never be a size 4! Why would I want to do that, and be that? This is me, and this is my weapon and machine," she told Bazaar UK. "I can show Olympia [her daughter] that I struggled, but now I'm happy with who I am and what I am and what I look like. Olympia was born and she had my arms, and instead of being sad and fearful about what people would say about her, I was just so happy."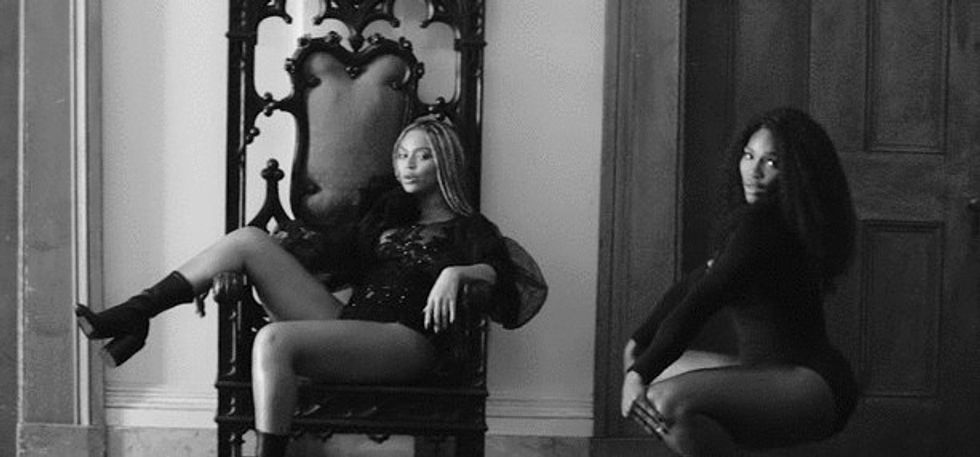 Although Williams' mindset is unbreakable, the looming issue still remains: Black women continue to be expected to prove our womanhood to the world or accept whatever gendered assumptions are placed onto us. We are always caught in a split between being seen as hyper-sexual or having all sexuality stripped away from us. Throughout her career, Williams has begun to undo this narrative simply by virtue of being her authentic self. Her twerking cameo in Beyonce´'s "Sorry" video let the world know that Black women are not monolithic beings. Being a mixture of carefree, strong, vulnerable, and unapologetic is what truly comprises the complexity of all Black women, and that deep, multidimensional power is what Williams embodies so well.
Image via Getty