PAPER has always been a place of opportunity, a place that spotlights new talent and people who are doing tremendous things. We've spent over 20 years bringing you the Beautiful People issue, which identified amazing people who were doing things differently and using their creativity, ideas and success to transform culture and create new opportunities for artists, audiences and fans. This year, we have decided to rename the portfolio and call it exactly what it is: PAPER People. — Drew Elliott , Editor-in-Chief
Discovering the Art Hoe Collective feels like saying... finally . Finally, a platform curated by people of color that showcases and elevates marginalized artists, treating their work with rigorous standards, critique and respect, same as we've always done with old dead white dudes. The submissions-based Instagram account that's turned into a digital movement first happened because a few high schoolers simply got online, got together and decided to disrupt the art world. As one of the group's members, Gabrielle Richardson, puts it, "Art Hoe is a group of people who saw a deficit in our community and decided we should be the ones to fix it, because we are the ones who need it."
Individually finish the sentence: Art Hoe is...
Gabrielle: Art Hoe is a family first and foremost. Art Hoe is a group of people who saw something that was a deficit for our community and decided that we should be the ones to fix it because we are the ones who need it.
Anajah: Art Hoe is about inclusivity and really creating our own space that makes sense because the art world is very confusing especially for people of color who don't understand the world they're trying to get into. It's a safe space and a supportive space for ourselves and people like us who can showcase their work and feel like it's being consumed properly and in a space that makes sense.
Alia: Art Hoe is a safe space created for queer, marginalized artists to be able to showcase their art and not be discredited based off of their sexuality or their race.
Taylor: Art Hoe is a movement for people of color.
Jheyda: Art Hoe is a space where we focus on accessibility and giving back to everyone in our community and making sure that everyone has a space where they belong and feel comfortable to share their art and their feelings and their sexuality and their bodies and their lives with us.
Working in groups is hard and Art Hoe is such a large collective. Nothing is always unanimous. What does your work dynamic look like? How do you process and proceed when you butt heads?
Anajah: Sometimes we do fight. We are very strong-headed. It's about coming to terms with what you want to do and voicing that in a way where it doesn't come off pushy and just trying to find a middle ground. There's always a middle ground even if you might think there isn't one. Sometimes people will come to us with opportunities and it will be split and sometimes we'll just have to decline because not all publicity is good publicity, especially for a collective of our stature. We can't align ourselves with people who, just because they like what we're doing, doesn't mean that they respect what we're doing. We put all our cards on the table and we don't debate, we discuss what's good and what isn't for us as a collective.
Gabrielle: What we've learned through this collective is growth does not mean allowing yourself to be stretched very thin or join every single thing. Sometimes growth is being by ourselves. We try not to rely on other people giving us opportunities and we try to just create our own opportunities because when you use someone else as an outlet for our message it can easily be sold and monetized for their benefit. Because of what we do we're easily in the position to be exploited and because of that we're very insular. But that leads to a lot of growth.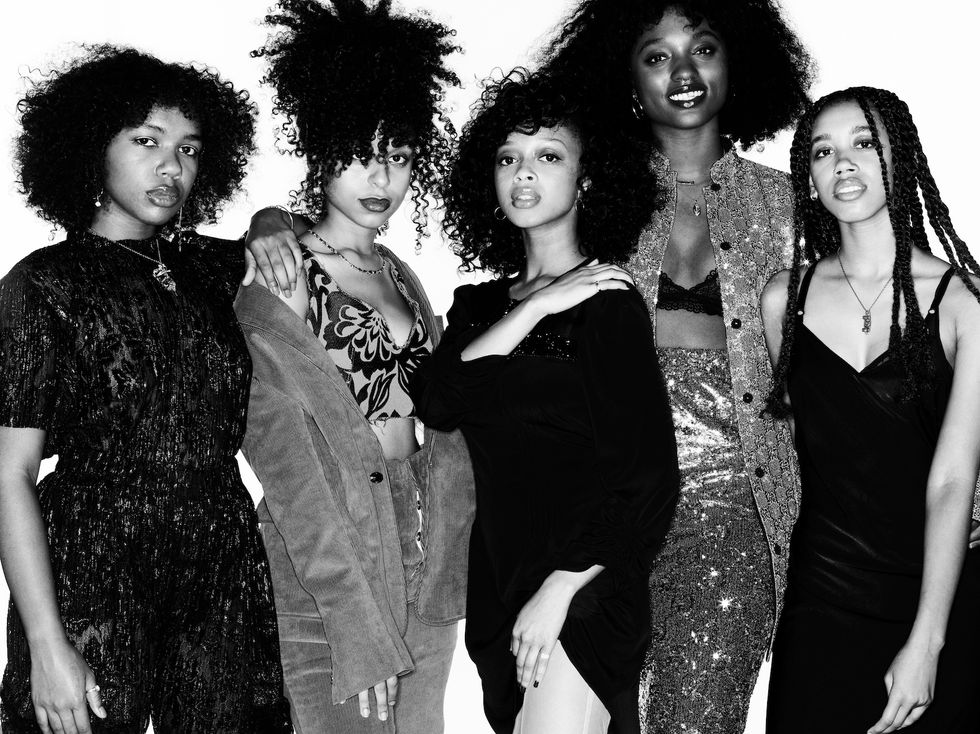 (Left to Right): On Jheyda: Clothing Area , On Alia: Jacket and Pants Hireath Collective , Top Kenzo , On Anajah: Dress No. 21 On Gabrielle: Top and Skirt Gucci , On Taylor: Dress Hireath Collective
I think something important to explore here is not just racism, and sexism but also ageism. How do you combat that? Being knowledgeable but young in a space dominated by mostly older white men?
Jheyda: Being a part of a collective has helped a lot of us. We've been a group force behind each other and [in order] to combat ageism [we have] to represent ourselves as positively as we can and we take ourselves very seriously. I think if you take yourself seriously and you present yourself like you demand to be taken seriously than people will ultimately respect you because they know you didn't come to play.
Alia: I think what's helped me with ageism is we put all our energy from our personal channels into the collective and we've attracted the right energy and the right artists and people who want to use the platform correctly. Mars, the founder, had an idea, and we all threw ideas out and made a collective that affected so many people's lives. We started when I was still in high school and so was Mars. We were young as fuck.
Anajah: Yeah we're young but we also have knowledge and have done enough to know right from wrong. Especially Sage. They're Sza's creative director and they know a lot of legal things that some of us don't. If we ever have legal problems we have Sage look over it or have someone that they know. So we try to use what is accessible to us because we don't want to be 'young and dumb.' I think it's important especially for artists to not let their pride get in the way of them asking for help especially in such a hard field. No one knows what they're doing as an artist. We're all winging it as people.
Taylor: I think it's very important to mention that Mars, the creator, was literally 15 years old. Not a famous 15-year-old, a regular 15-year-old. Other people can do this, too. They don't think they can but that's just a normal 15-year-old.
Gabrielle: I think older people acknowledge younger people are the future but only want them to continue in these machinations that have been going for years and deny them their own autonomy to create their own nuanced perspective. The world is constantly changing, our needs are constantly changing. People are creating their own things because these older groups and communities are becoming outdated and aren't satisfying our needs. People are afraid of the future.
How have you seen Art Hoe evolve and where do you see it continuing to go?
Alia: So we started as an Instagram page and now we do events and every Art Basel we're down in Miami and Afropunk, we're there. We do a lot of festivals and we'll probably start doing more. It's going to be more physical events of all mediums though. Jheyda is the photo and film curator; me, Anajah and Taylor are the performance, art and music creators. I'm based in LA now and we'll be doing panels there with amazing queer women of color. The same way Anajah did a workshop on how to send emails. We're putting people onto the how because there's nobody putting us on. Therapy sessions and finding ways to incorporate art into that.
Anajah: We really want the collective to keep growing. We want people to know that without people submitting and supporting us, and us supporting the people who submit to us, we wouldn't be anything. It's about the people who send their work in. It takes a lot of guts to share your work, especially when you feel like you're nobody. Art is really hard to do because people compare themselves to artists that are more successful than they are. We just want people to know that even if you have no support system, which a lot of us don't, or means, or connections, know that Art Hoe Collective is there. We're one of the very few collectives that are there to get your name out. You can contact us! We're all accessible, we're all online. That's' why the collective was created: we want to help people, we want to help each other.
Photography by Ben Hassett
Styling by Mia Solkin
Makeup by Mimi Quiquine at Starworks Group
Hair by Joseph Maine at The Wall Group
Nails by Julie Kandalec
Digital Tech: Carlo Barreto
1st Photo Assistant: Roeg Cohen
2nd Photo Assistants: Eric Hobbs and Chris Moore