Lilly Singh is a powerful manifestor. The YouTube star is now on her third vision board, and most of the things that have actually happened in her life have surpassed what was on them originally. Her second board had images of Selena Gomez and Priyanka Chopra (both of whom have appeared in her videos), her reaching five million subscribers on her YouTube channel (she now has nearly 15 million), a puppy (she's dog mom to poodle mix Scarbro) and a verified Twitter account (which, obviously, happened a long time ago). Her current board, which she made in 2018, has pictures of her as a guest on other people's talk shows — Ellen's, to be specific. "But... I'm sitting in the other seat now, which little Lilly would have never thought of," she says.
Big Lilly, 31, is the host of her very own NBC late-night talk show, A Little Late with Lilly Singh, and the first Indian woman, bisexual person and YouTuber to do so. "I didn't think someone like me, that looked like me and had my life, would be in the seat of a talk-show host," she says.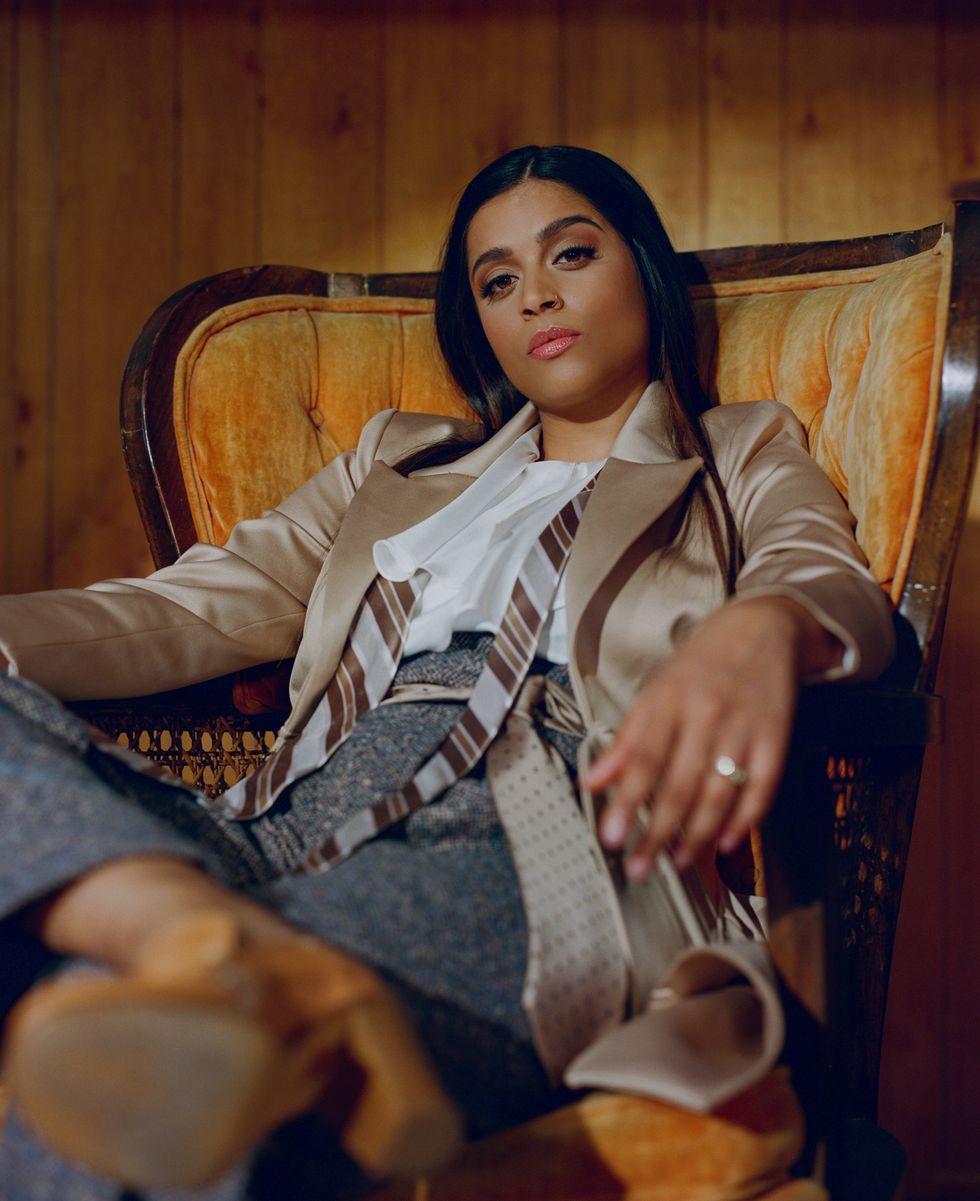 Top: Lisou, Jacket: House of CB, Ties: Stylist's own, Pants: Rachel Comey, Shoes: Maryam Nassir Zadeh
What would Little Lilly say about a future that saw her bonding with some of Hollywood's biggest stars? (Recently on A Little Late, she's thrown back shots with Natalie Portman and gotten Instagram thirst-trap tips from Tracee Ellis Ross.) She must have at least had an inkling about all of this . As a girl growing up in the Toronto suburb of Scarborough, Singh loved being the center of attention and gravitated toward anything creative or entertainment related. "I was just super attracted to the spotlight," she says. Singh was rebellious, but not in the typical sense. She did well in school, refused to skip class, and never lied to her mom — a rule she always keeps — but if she really believed in doing something, nothing would stop her until she achieved it. "If I wanted to dance and my parents were like, 'No, you can't dance,' I would fight until the death to make sure I could dance," she says.
This persistence has led to her current success, but she sure as hell worked for it along the way. In 2010, which is almost considered ancient history in the era of social media, Singh launched her YouTube channel under the moniker IISuperwomanII, where she uploaded comedy sketches, tutorials and motivational rants under titles like "If My Period Was a Person" and "Real Things White People Have Said to Me." Her videos, which have featured fellow YouTubers as well as celebrities like Selena Gomez, Zendaya and her personal hero, The Rock, grew to attract nearly 15 million subscribers. Her most popular video, "What Clubbing Is Actually Like," reached 32 million views, while "The Struggles of Having Long Hair" reached 27 million.
"I've grown up in a culture that doesn't talk about sex, doesn't talk about abuse, doesn't talk about inequalities, doesn't talk about harassment, doesn't talk about mental health. I want to talk about all of those things."
But she wasn't an overnight success or the product of a viral video, as she points out. "My first video got 70 views. My next one probably got 90. It took two years for me to even feel like I could maybe make this a career," she says. As the views slowly went up, she convinced her parents, who she was living with at the time, to let her focus on her channel for a year and put grad school plans on pause. (Singh had gotten a Bachelor's in Psychology and was originally planning to complete a Master's in Counseling). Her hard work paid off, and in 2013, she hit 1 million subscribers. But the point of her YouTube channel was not to make money, at first. Singh had started it before the term "influencer" was widely used, and before anyone could really fathom the scope of what Internet fame could bring, like a stable paycheck, much less lucrative brand endorsements and million-dollar homes. But she did see her new endeavor as a vehicle for different things, including a way to deal with her depression. "It was a great distraction, and it was something that was exciting and new that I didn't know anything about, so I had to learn," she says. "The other part of it was finding people that are like, 'Oh my God, my parents are also like this, and I've also had these relationship problems.' Or like, 'Yeah, I feel sad too, sometimes.' There's this really nice feeling that comes from the sense of community, whether it's in person or online. I think that's what I gained from YouTube."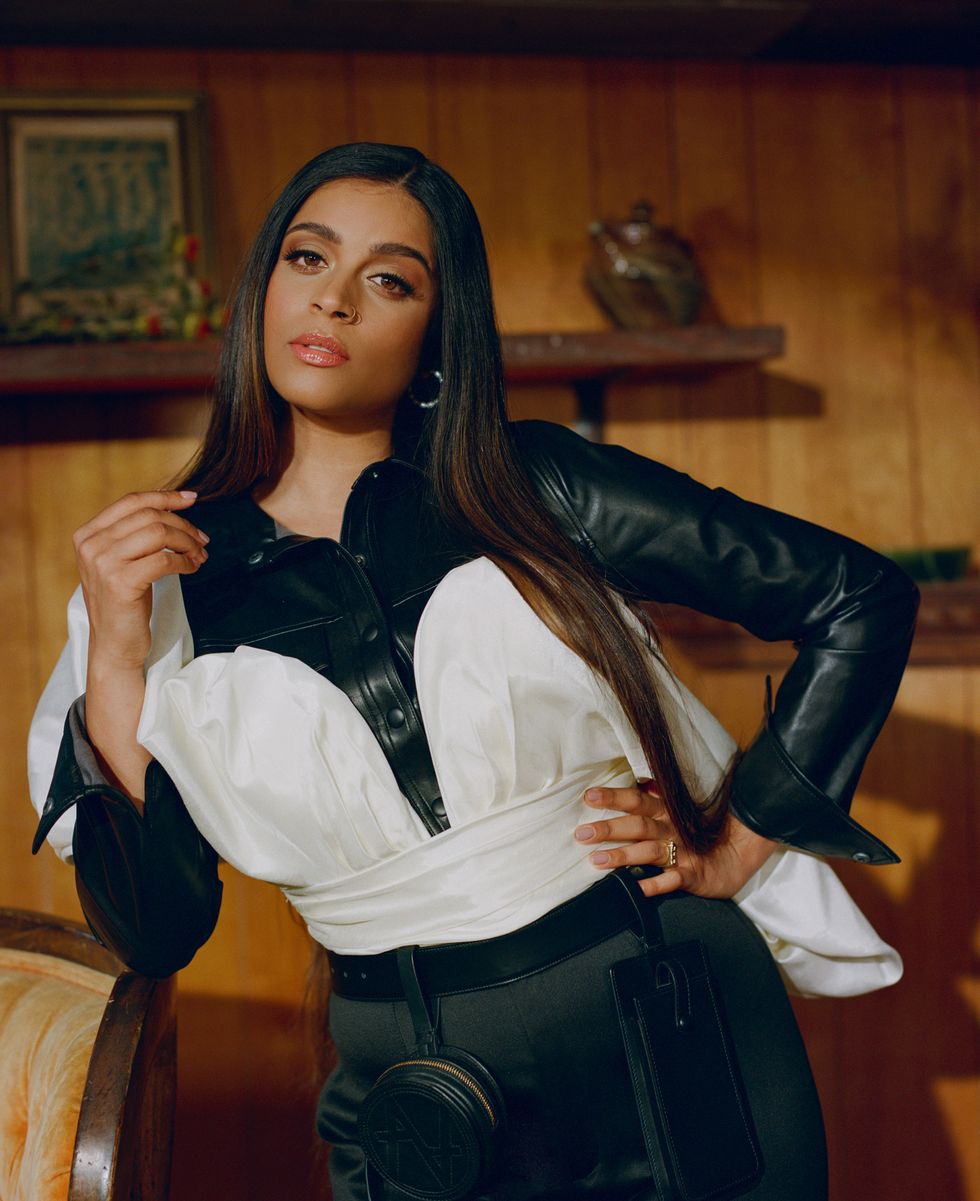 Top and corset: House of CB, Pants: Silvia Tcherassi, Belt: Annakiki, Shoes: Malone Souliers
Her success led to writing a book in 2017, the New York Timesbest-seller How to Be a Bawse: A Guide to Conquering Life, as well as partnerships with Smashbox and Calvin Klein and roles in Bad Momsand Ice Age: Collision Course. When the opportunity for her late-night talk show came around, she had "mild hesitation" about being typecast as a talk-show host since there are so many other things she wants to do, like make movies and TV shows through her production company, Unicorn Island Productions. After all, she considers herself more of a storyteller than a comedian or actress. So, she asked her famous friends, including The Rock, for advice. "Dwayne's the perfect person to ask because he's gone through so many different stages of his life and career, from wrestling to acting to producing to whatnot," she explains. "He said, 'You won't let [typecasting] happen because you don't let yourself be the YouTube girl. You've already broken that.' And I really needed to hear that."
At the Met Gala, Trevor Noah also offered up some wisdom that he gained from his own experience as a host. "He was like, 'I just need you to know and fully embrace that this will, while you're shooting it, consume your entire life. Do not let anybody tell you it's not going to. They are lying. Embrace that and step into that,'" she says. This prepared Singh for the months ahead where she transitioned from producing her YouTube channel to taking over the programming slot previously held by Carson Daly on one of the biggest networks on TV.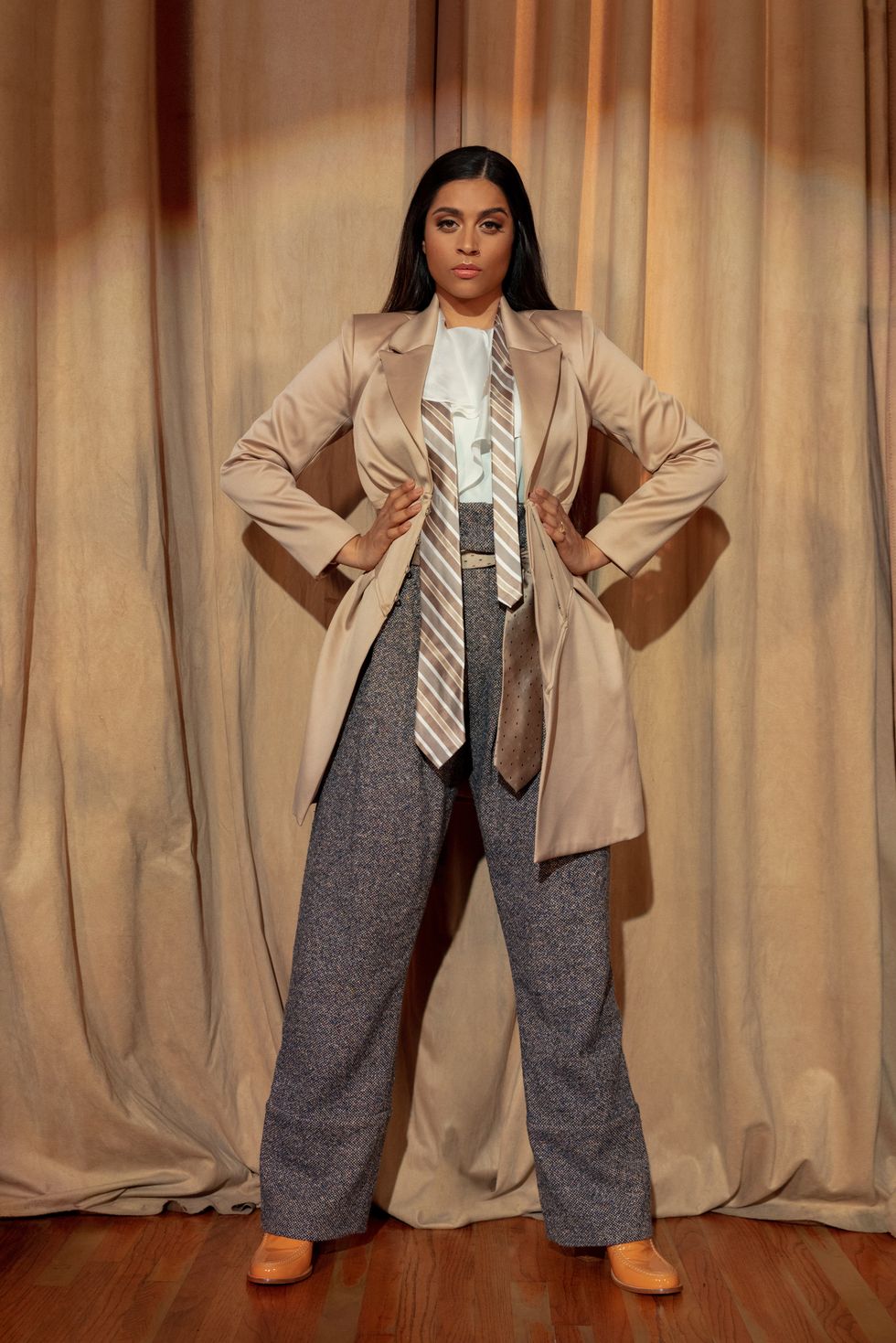 Top: Lisou, Jacket: House of CB, Ties: Stylist's own, Pants: Rachel Comey, Shoes: Maryam Nassir Zadeh
While there have been other female late-night hosts, like Joan Rivers and Wanda Sykes, who both had shows on Fox, Singh is the first woman of color to host on one of the "big four" broadcast networks since Cynthia Garrett, who hosted NBC's Laterin the early 2000s. Singh's show has classic late-night fare like opening monologues, sit-down interviews with celebs, silly games and comedic sketches, all with the same funny and positive vibe that made her famous, but tailored for an older, late-night audience.
Honesty has always been a big part of the Lilly Singh M.O. because she sees how much of a negative impact the alternative can have. "I've grown up in a culture that doesn't talk about sex, doesn't talk about abuse, doesn't talk about inequalities, doesn't talk about harassment, doesn't talk about mental health. I want to talk about all of those things, because the opposite of that doesn't help anyone," she says. Mental health is a topic that's particularly important to her; she's talked about depression and opened up about needing to take a break from her channel in November 2018.
"The number one emotion I like to keep in check to determine whether or not I need to take a step back is my gratitude. If I feel myself experiencing a lack of gratitude, I know that's a red flag for me," she says. "As soon as that starts disappearing and I start getting like, 'I can't believe I have to do this thing and I won't be able to travel to this place and I can't believe I have to meet these people,' that's when I have to check myself. One of the reasons I was really depressed is because I lost that sense of gratitude and let other things cloud my judgment."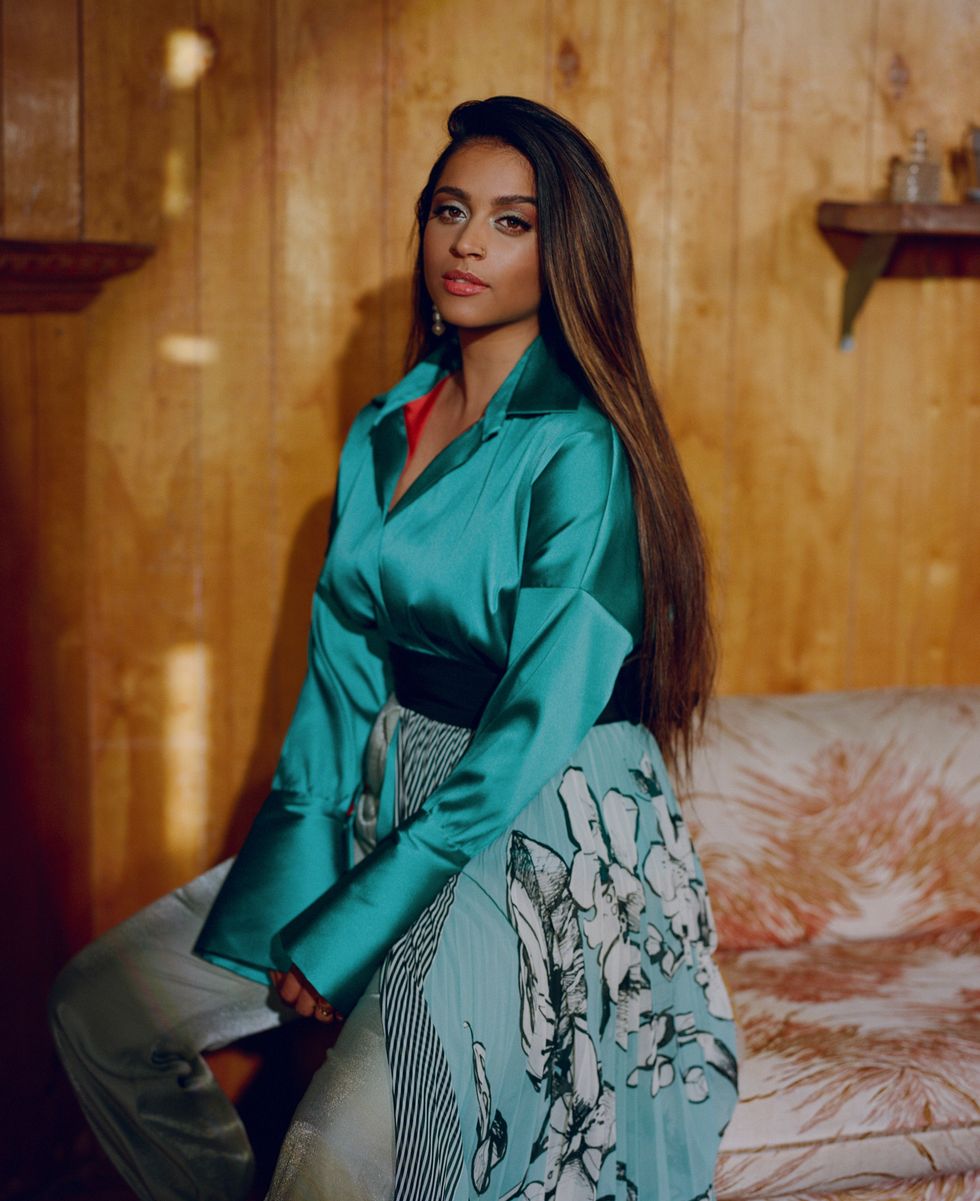 Top and corset: House of CB, Pants: Silvia Tcherassi, Belt: Annakiki, Shoes: Malone Souliers, Earrings: Pari Desai
While Singh is always mindful of how her actions and revelations might impact others, she doesn't think twice about sharing her truth. In February 2019, Singh came out as bisexual through a tweet. She decided to go on Twitter instead of producing a YouTube video because that "didn't feel right" to her. But it wasn't a planned-out thing; she just woke up that morning and decided to post. "Let me preface this with, it was 100% for me, but if I think about other people at all in this process, I wanted the South Asian community to see an example of someone that was like, 'This is not a big emotional, dramatic, heartbreaking thing. This is a celebration of who I am.'"
Above all, Singh wants to make sure her work impacts people's lives in a meaningful way. One of her goals is to carry out more philanthropic efforts, including taking a page from another vision board-loving, woman-of-color TV trailblazer — Oprah — and sending girls to school. Singh says this kind of work is "much more important than 10 million subscribers, you know what I mean?" She adds, "When I do things now, I always think, 'Is this going to leave a legacy? And if not, then, do I care?'"
Sign Up For The Morning PAPER
Nightlife
Story by Zach Shucklin / Photography by The Cobra Snake (Sponsored by Cuervo Tradicional Cristalino)