Get your ass up and work! It seems like nobody wants to work these days to prove how long Kendall Jenner's fingers really are — so Hailey Bieber will.
On Saturday, a certain rumor took over Twitter about Jenner's finger length. The source? A set of vacation photos snapped of the casual and carefree model/muse somewhere in a beachy locale. More specifically, the fourth shot in the carousel Jenner posted, in which she crouches on wet pavement in a strappy thong with her fingers outstretched into infinity.
At the time, Kris Jenner commented, "You are perfect 😍❤️😍," while friend Addison Rae simply wrote, "My favorite post of yours ever." Perhaps they meant to psych her up about the fingers, as tens of thousands of onlookers snarked about the seemingly absurd length of her hands.
To be clear: they do look absurdly long. But a brief overview of her Instagram shows other similarly troubled hand profiles, like in this set of selfies posted in July 2021.
Regardless, the internet was not satisfied, and Kendall's hands were roped into the very legitimate and ongoing conversation about the Kardashian's absurd Photoshop proclivities — habits that have even roped in their children on occasion. ​
Thankfully, this is a family that loves to communicate directly with the press, especially where controversy is concerned. Kendall was quick to clarify the "mishap" on bestie Hailey Bieber's Instagram Stories, where the two recorded a video exposé of Kendall's hands. It's filmed against a backdrop of railing and various objects like a Got2B glue canister, Blue Bottle Coffee cup and some indeterminate Erewhon drink — an art direction choice which will likely future-proof it against any finger-related deepfake claims.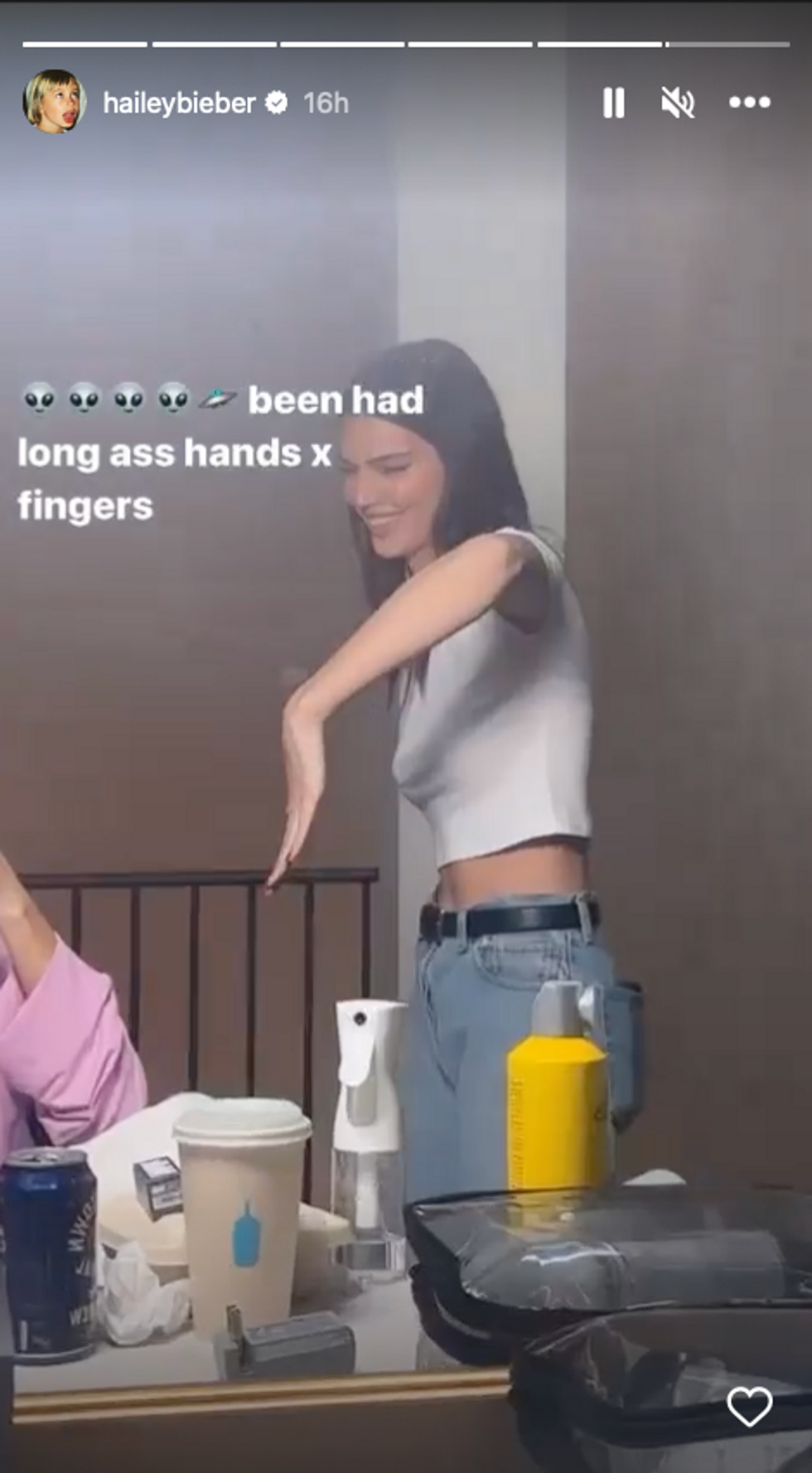 Photo via @haileybieber
In her caption, Bieber wrote her friend "been had long ass hands x fingers," which certainly settles the matter — for now. Give it a few weeks and Khloe will most likely give herself an extra foot.
Photo via Getty/ Kevin Mazur/ MG21
From Your Site Articles
Related Articles Around the Web
Sign Up For The Morning PAPER