Change of Scenery 
Alessandro Michele brought Gucci's spring 2019 show to Paris this season. The designer took over Le Palace, a 17th century theater, Belle Epoque music hall, and late-1970s, early-80s nightclub located in the city's Montmartre district. Before 84 models paraded down the venue's aisles and lined up on the stage under spotlights, a film featuring Italian experimental theater pioneers, actor Leo de Berardinis and director Perla Peragallo played on a large screen. This prelude felt almost like an invocation of the trailblazing duo, whose creative vernacular spanned set design, costume, lighting, sound, movement, and more.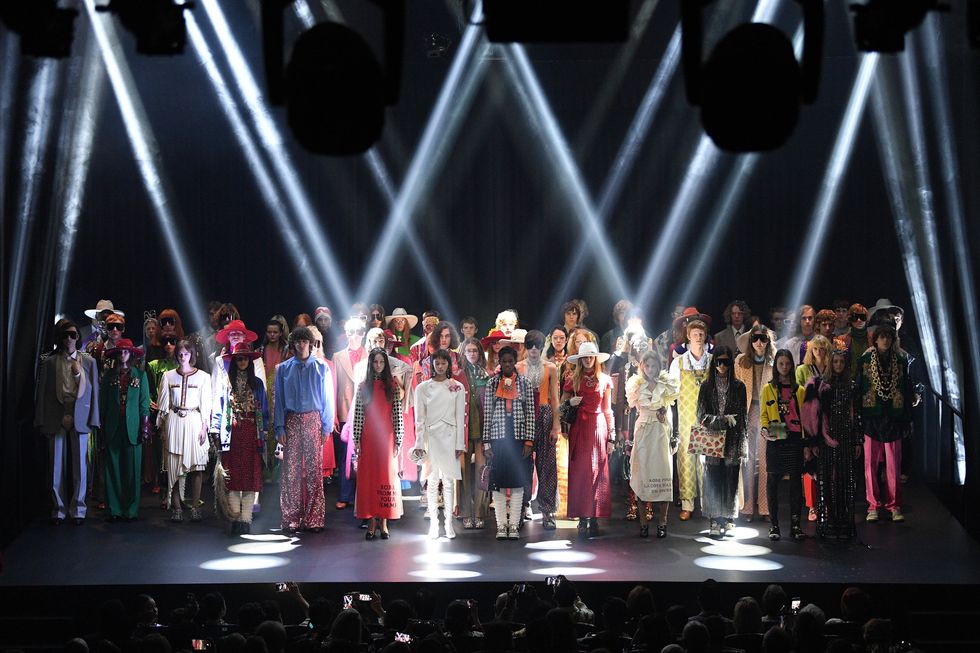 Image Courtesy of Gucci
Show Girls (& Boys)
Allusions to theater costume including fountain tiaras, fringe diamanté necklaces, handheld ostrich feather fans, fringe trimmed dresses, trousers, and blazers were peppered throughout the collection. Styled across genders, the theatrical accents capture the fluidity Michele's Gucci is known for. ​
Sex Club Vibes
Between riveted leather and bejeweled cotton jockstraps, inlets in trousers shaped like underwear, and nautical silken briefs layered over slacks, Michele's emphasis on the pelvic region was front and center. Underwear as outerwear, perhaps a nod to the venue's time as a nightclub, conjures up images of entertainers causing mass panic with the suggestive styling maneuver (Madonna in Jean Paul Gaultier, anyone?).
Paying Tribute
In an homage to the entertainment icons, Michele emblazoned the queen of country music Dolly Parton on a denim jacket, turned Mickey Mouse into a handbag, and made felt hat's inspired by late singer-songwriter Janis Joplin's own.
Surprise Performance
Jane Birkin sat inconspicuously at the center of the theater during the first half of the show. The English actress and singer rose from her seat, cueing an unexpected intermission during which she performed her 1983 song "Baby Alone In Babelyone."
Post-Show Frenzy
Gucci favorites Jared Leto, Faye Dunaway, and Hari Nef were joined by a high-profile list of Asian celebrities including Japanese actress Haruna Kawaguchi, Chinese actor Shawn Yue, and South Korean singer Kai. With admiring fans and photographers swarming outside the venue, the group caused a show of their own on Rue du Faubourg Montmartre.
Lead Image Via Getty / Images Via Imaxtree