Greta Isaac is gearing up to drop her next EP, I Think You'd Hate It Here, out April 1, and today the 26-year-old Welsh artist shares a taste of what's to come with "NUH UH." A follow-up to her previously released singles, "5'1" and "Polyfilla," her latest plows through with a massive hooky chorus: "You ain't ever seen a flower like this before," Isaac declares, as grizzly electro-pop production crash lands around her.
"'NUH UH' is manic, delusional, desperate and super charged to the point where I don't really feel like it's me who's singing it when I listen to it," Isaac says. "Sonically it feels like the moment you have a 'spark' with someone — a spike in energy, your eyes blacken, your skin gets hot and sweaty."
The "NUH UH" music video, premiering on PAPER, leans into the song's mania with a surreal take on the classic at-home fashion spread — only Isaac's unfolds without any of the glossy designer labels and decadence you'd typically see in a magazine. Her roast beef dinner is actually an old boot, her plants are made from wires and the heel of her shoe is a glass penis. Everything's a bit off, but it's glamorous nonetheless — just in Isaac's own twisted way.
Watch "NUH UH" by Greta Isaac, below, and learn more about the extreme collaborative process that went into making it.
What inspired the lyrics of "NUH UH"?
The lyrics are my favorite part. Even though the choruses feel like a very confident, sexually liberated woman, the verses give her true vulnerable unhinged identity away a little bit. I was inspired by the electricity we all feel when we meet someone we could be compatible with — that undeniable "spark." Our eyes blacken, our skin gets all sweaty, we get butterflies. Witnessing that feeling in myself, it's always felt like urgency and panic, like that special person could leave at any moment. I think the character in "NUH UH" just wants to be loved and told that she doesn't need to be extreme to be remembered.
In what ways do you think you've grown from your last EP, PESSIMIST?
I definitely feel much more confident in my decisions and ability as an artist. For a while I would doubt myself so much that I thought everyone else had the answers for me. I'm learning to work with that and figure out where that comes from, but ultimately I've learned to trust my ears and my eyes and my instinct so much more for this EP. A product of practicing that trust in myself is that I've learned to feel grounded and truly enjoy the process of creating — something I've always found really difficult, even as a child. The result of that is that I'm being much more ambitious with my ideas and even though the things that I'm creating, from the images to the music, all feel quite different to one another, there still feels like there's a common handwriting between all the aspects of my project — and that, to me, as my partner would say, is that I'm "always becoming." I love that.
How do you see "NUH UH" as a reflection of what's to come from your next EP?
To me, "NUH UH" is a song that embodies everything I love about making music. I love dressing up, as you might be able to tell by all my artwork, and to me, songwriting has always been used as a tool to "try on" different versions of myself, or entirely different characters altogether. This song feels unhinged, chaotic, a bit manic, but still super playful and fun. That's something I try and encapsulate in every song I write, sometimes at different degrees of drama. This feels the most dramatic and silly out of all the songs that are to come, which is why it's my favorite.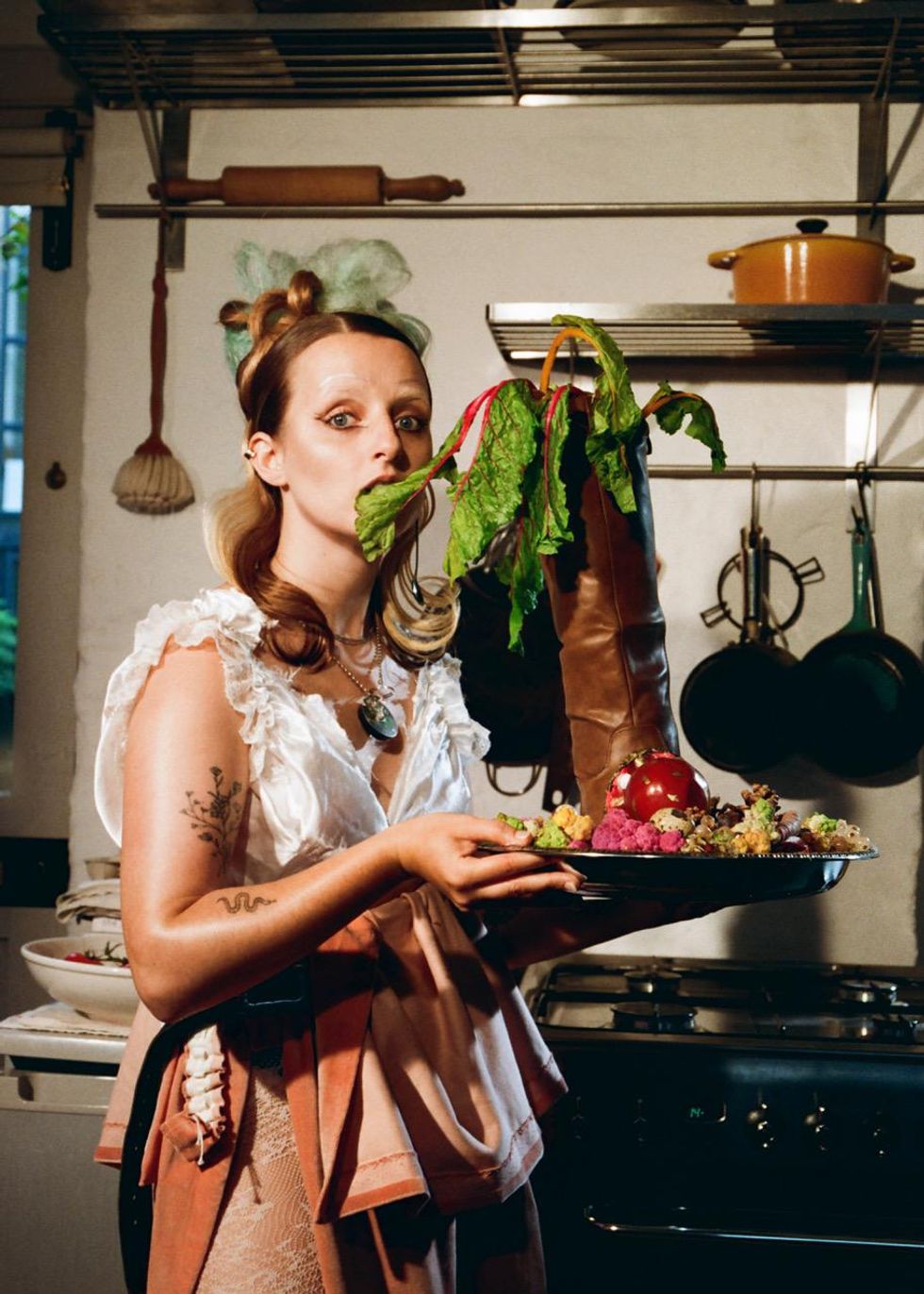 Who'd you work with on the video? How do you see the treatment as an extension of the song itself?
The video was shot by one of my good friends, Blake Temple, who has worked alongside me on the videos that I've directed for other artists too. We trust each other completely and even though I'm wearing some pretty mad clothes, Blake has always made me feel so comfortable in front of the camera. The video is a curation of moving images from a shoot me and my creative director and stylist, Suzie Walsh, conceptualized together last year. I wanted to bring my audience into my "home" where I show them a typical day in my dream life. Me and Suzie had this idea of a magazine spread titled "At Home With Greta Isaac," a concept we often associate with very clean, considered, expensive shoots, but in the video, we see that I desperately try and keep up with that expectation. What we ended up with was me watering some "plants" made of wires and grapes, a roast beef that was actually an old boot with teeth and, if you look closely, a fabulous shoe made with a glass penis heel.
I love how clumsy and funny it is, yet everything is so considered and meticulously chosen by me and my team. Everything you see is intentional. The visual palette of the video tells me everything I need to know about the character of "NUH UH" — she's desperate to please, digging her nails into anything and anyone that would give her the validation that she's the greatest thing to have ever happened. There's a performance that feels akin to the urgency in the lyrics and the fear of being abandoned. "Look at this strange boot I made!" I also had the insane privilege of working with Liza Radlov, who made all the beautiful props for the video, as well as the designers whose pieces I had the honor of wearing: Itiya Studio, Jie Huu, Congregation Design, Lady P, Ella Douglas, Genevieve Devine and Cenci Vintage. A huge thank you should also be given to Lukasz and Rebeca for allowing us to parade around in their house all day. They're a very special couple.
Talk more about going in such a wild, experimental direction with the beauty and styling.
I hadn't really thought much about styling, makeup and hair as a tool for artistic expression for myself until this past year or so. I started working as a creative director for my friend Orla Gartland, and along the way met some really talented and hardworking creatives that really opened my eyes to the idea that we can always push the boundaries of who we think we are or how we are expected to present ourselves. Ever since I started working with Suzie, she's taught me so much about sustainable fashion, innovative processes in making clothes, being resourceful, and repurposing simple things and making them beautiful. Karina Barberis, my good friend and long time collaborator in photography, taught me so much about storytelling through photos and finding wonder and life in mundanity. For so long, I was self-conscious about the way that I looked, that I could never provide what was expected of me as a woman in music. Giuseppe Stelitano, my hair artist, and Lauren Webster, my makeup artist, are truly my partners in crime and through them, I've learned to access parts of myself to explore that I would never have done without their help. Through breakups, a lot of therapy, appreciating the ordinary in life and getting to work with all of these amazing people, I've found so much more confidence in just trying things out. Having fun, being playful, dressing up.
Photos courtesy of Greta Isaac
Related Articles Around the Web
Sign Up for the Morning PAPER