In 1999, Coachella opened its doors to welcome bands such as A Perfect Circle, Tool, The Chemical Brothers, and Beck. Since then, the festival has established itself not only as the most anticipated music event of the year, but also as the largest intersection of art and fashion across countless communities. The excitement around this year's festival revolved around hashtags like #Beychella, Eminem's long-awaited return back to the stage, and Cardi B's baby bump. But this year, the festival complemented its A-list line up with a tightly curated art program.
Related | Beyoncé Pulled Out All the Stops for Coachella
Every year, the art program gets more expansive and thoughtful. Last year, artists included CHIAOZZA, a Brooklyn-based duo that contributed large-scale fantastical botanicals; Gustavo Prado, who contributed a multiform mirror sculpture; Joanne Tatham and Tom O'Sullivan, who produced colorful and surreal beasts; and Olalekan Jeyifous, who built a piece of interactive and digital architecture. For this year's festival, Coachella has showcased much more targeted works, sourcing artists from all over the world, each of whom explores the realm of mixed reality. Coachella commissioned works that have never in the past been commissioned by a music festival — and they've been working on this artist lineup for years.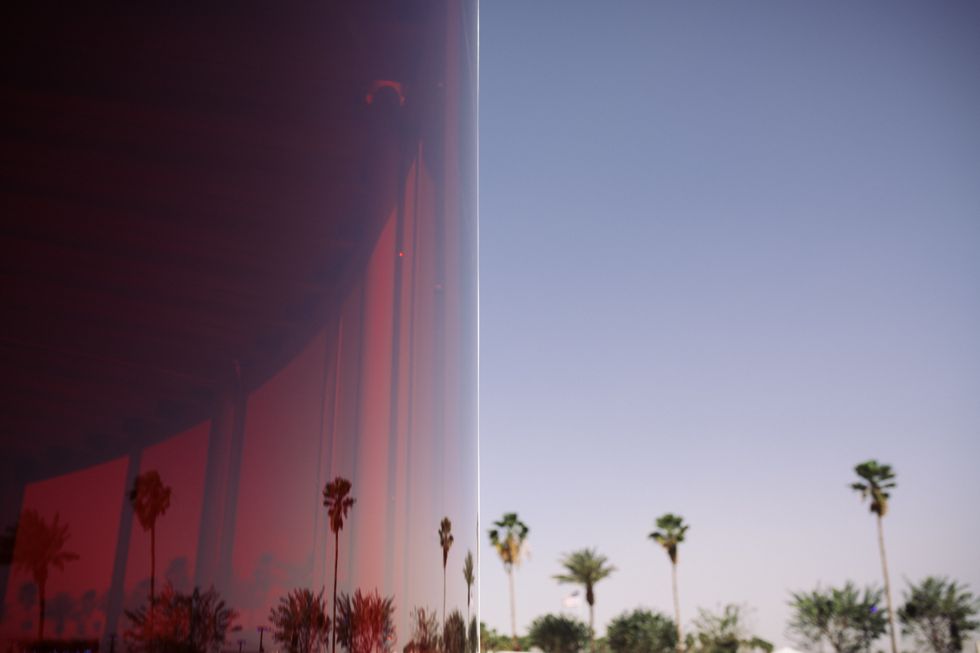 NEWSUBSTANCE's Spectra | Photo Courtesy of Coachella
Arriving on the field a couple hours before the doors opened to the public, I walked through the festival before the madness began. Imagine walking through the aisles of Best Buy moments before the Black Friday sale starts. As an active art critic, it was interesting for me to arrive at the festival with no explicit awareness of what the works would be­ — any information relating to the artworks was embargoed until the festival opened. I discovered the works knowing only which artists had created them.
While last year's program included works that rendered the reality in which they were installed surreal or distorted, this year instead focuses on providing viewers with shifts in perception, a new understanding of their environment and sociopolitical realities, and on engaging viewers directly through their phone to create new, original realities. Each work explores notions of community, displacement, and alternate reality in different mediums.
Edoardo Tresoldi, Simón Vega, Randy Polumbo, and Coachella alumni R & R Studios contributed sculptural work. UK-based NEWSUBSTANCE created a large-scale installation, and Adam Ferriss and Katie Stout respectively and intricately designed Augmented Reality interfaces located within the Coachella Camera in the app. I had the opportunity to speak with many of the participating artists. For the sake of clarity, I've broken down the artworks into three sections.

Sculptural Work that Fuses the Spectral with the Intergalactic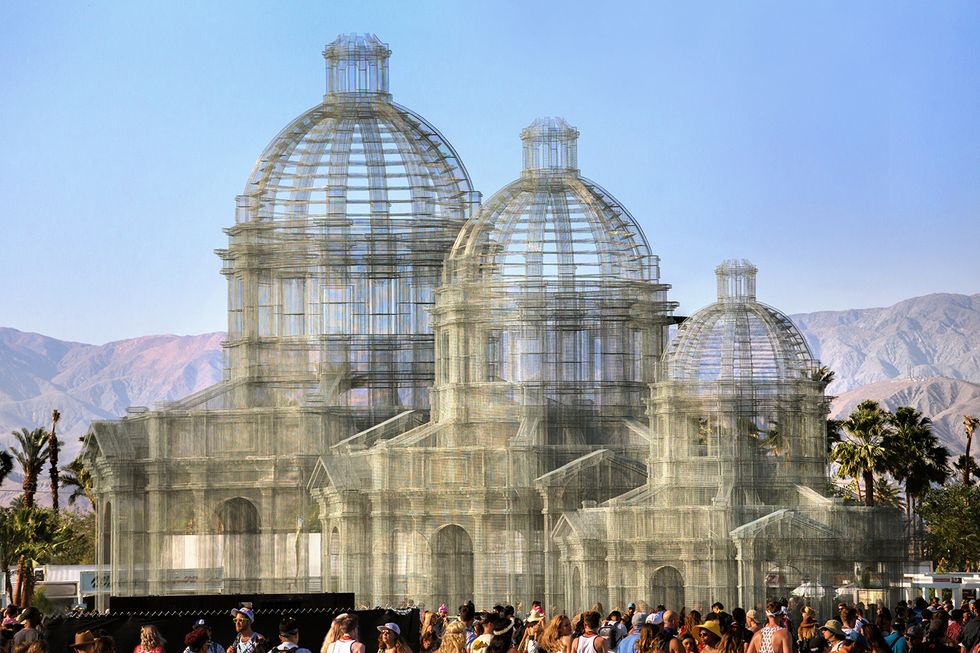 Edoardo Tresoldi's Etherea | Photo Courtesy of Roberto Conte
Milan-based artist Edoardo Tresoldi's site-specific "Etherea" is comprised of three remarkable wire mesh translations of classical Italian architecture. With a background in set design, Tresoldi started experimenting with wire mesh in the entertainment industry. Very quickly, the resulting transparency that seeped through the mesh fascinated him. "I used the transparency to create a connection between the viewer and the landscape all around," he says. In this work, the three sculptures vary in size and are organized in ascending order — 36, 54 and 72 feet high. But size is not what matters for Tresoldi. In an environment that swarms with people looking for an adventure, the space surrounding and inside of "Etherea" is surprisingly quiet. "It was important for me to create a big void of space, especially at night. Most of the installations are full of color and light. It was interesting for me to create this soft, delicate, and big voided area people could enter," explains Tresoldi. We can attribute the delicate aspect of the piece to the ways in which the sun interacts with the mesh. Seeping through select areas, the sun enters inside the sculpture as it would through a church window. "It's my way of celebrating the sacredness of the natural element through classical archetypes, and the relationship between man and nature," he says.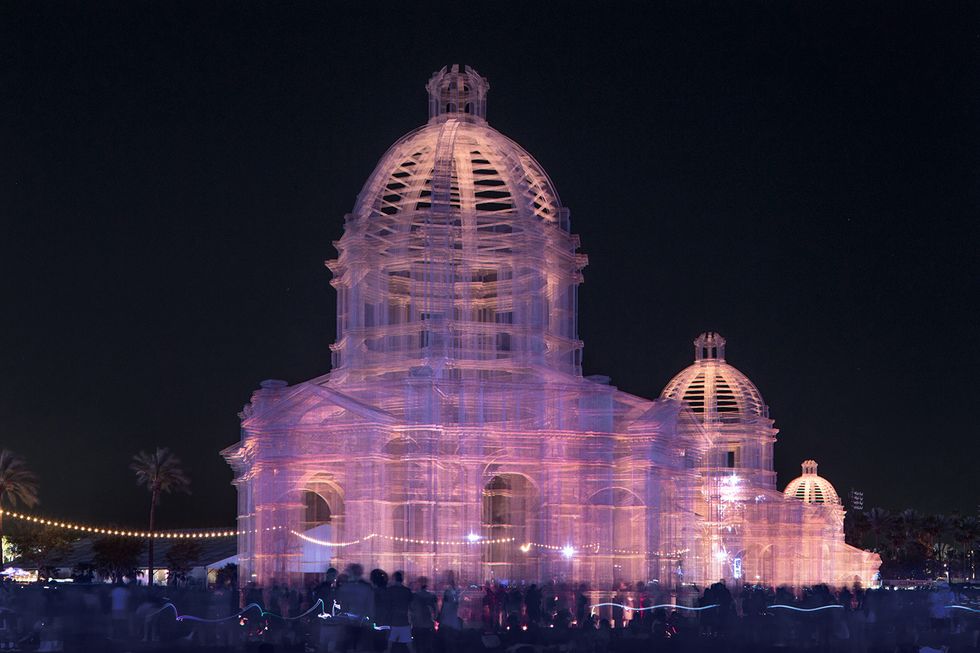 Edoardo Tresoldi's Etherea | Photo Courtesy of Roberto Conte
The interaction between man and nature is vital for Salvadorian artist Simón Vega. As part of a larger series entitled Tropical Space Proyectos, his 150-foot-long "Palm-3 World Station" looks at the ways in which Central America was affected by the Cold War. Borrowing from the informal architectures that surround him on a daily basis, Vega is invested in understanding how political situations affect the context in which people live, particularly putting in conversation what Vega calls "Third and First World powers" through their problematically different respective access to life-saving resources. Vega's work is modeled after the Russian space station Mir, one of the first the Soviets ever did. It was built with a modular design, meaning that additional sections could be added to the foundation. Mir contained seven modules, whereas "Palm-3" contains 30. "Utopias don't really fit anymore," says Vega. "Everything feels very dystopian, but it's important to think about where we are going to live, what sort of communities we are going to create, and what happens to the people who don't have access to the escape plan." To build his monstrous space station, Vega travelled to Indio, where the festival is held, to collect materials for the sculpture. By using local and discarded objects, Vega has effectively created what he calls a Third World spaceship in the First World. "I like that it's a Soviet space station landing in the U.S."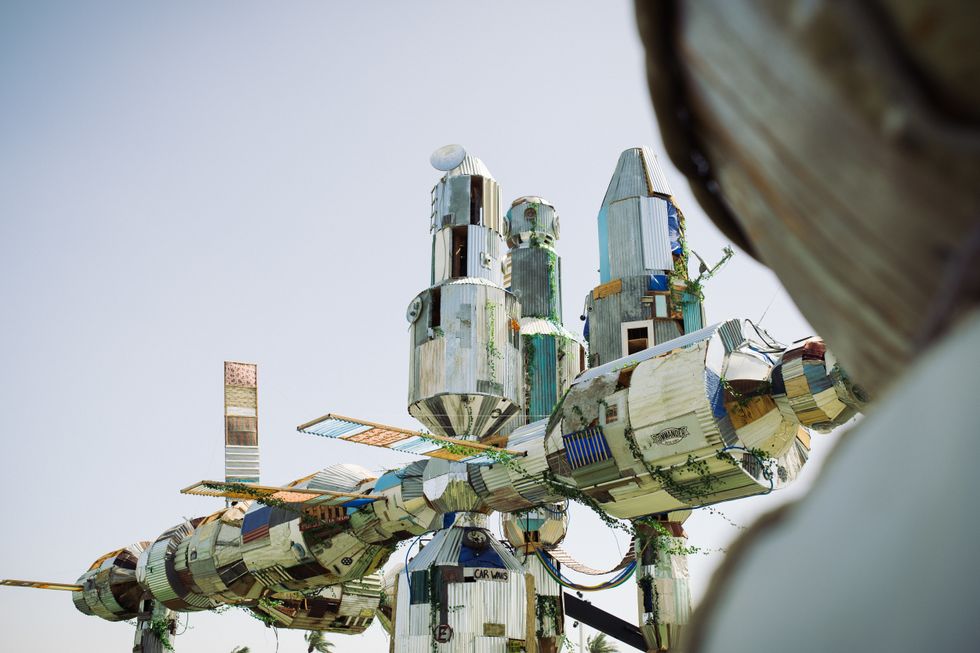 Simón Vega's Palm-3 World Station | Photo Courtesy of Coachella
Collecting found objects is a recurring theme in this year's art program. Right in front of Vega's work is Lodestar, New York and California based Randy Polumbo's 50-feet high sculpture. Made out of a Lockheed Martin Lodestar jet the artist found on Craigslist, the sculpture is a complete role reversal. While Vega's work considers the devastating effects of the Cold War's space race, Polumbo takes what was at onset a deadly weapon and turns it into a beautiful extraterrestrial object. Blending weaponry and intergalactic imagination, Polumbo adds a touch of fantasy to the equation. "I believe life and various activity can cause energy to be stored in an object... In this case, a cold metal jet, performing necessary and violent work, turns into an instrument of wonder, contemplation, and a crucible for human interaction," explains Polumbo. "I am especially excited about metamorphosis, transformation, pollination and propagation." It's clear that put in conversation with Vega's work, Lodestar is a direct invitation to consider the power of the imagination in thinking up nonviolent alternative scenarios in which humans can grow.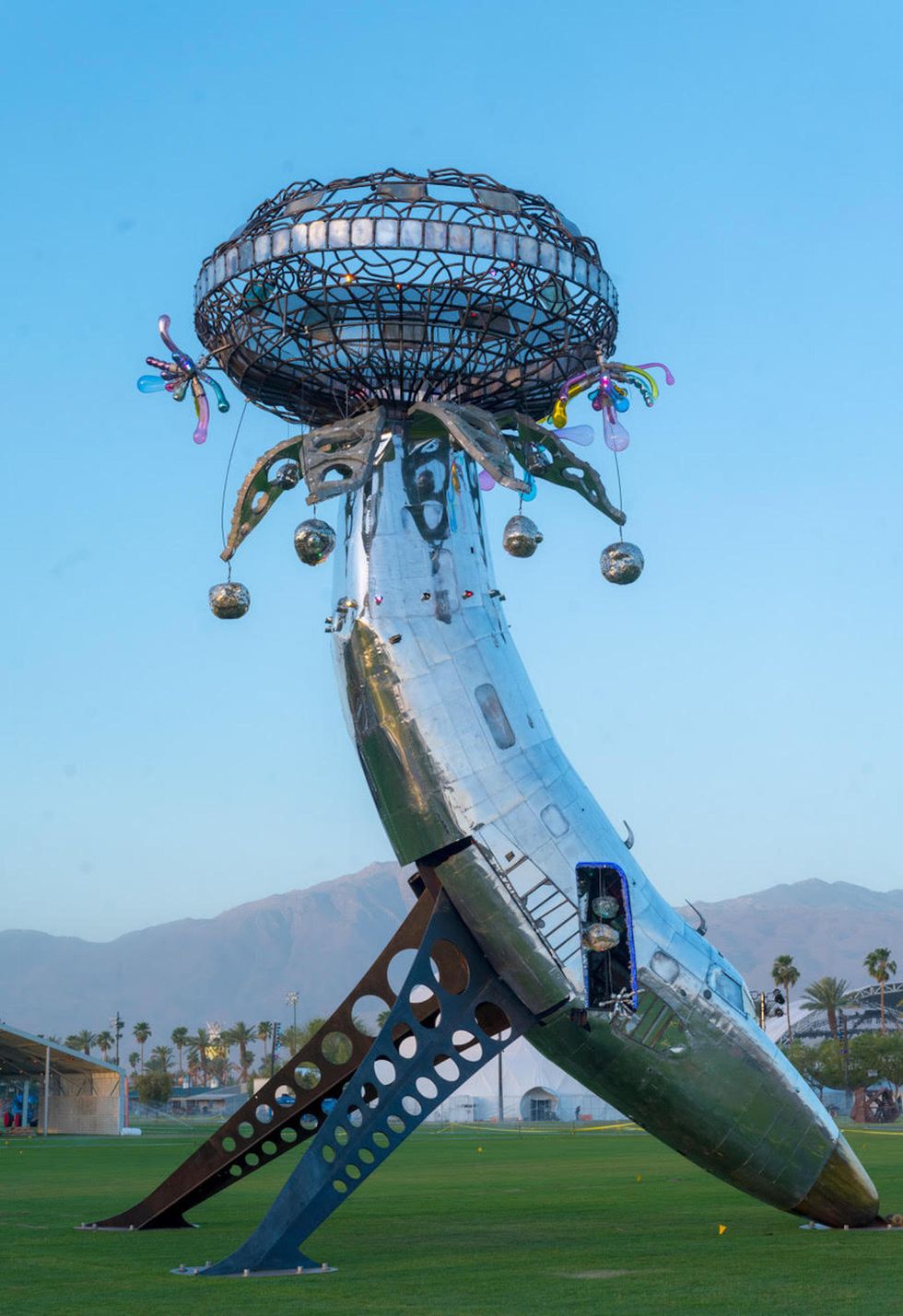 Randy Polumbo's Lodestar | Photo Courtesy of Coachella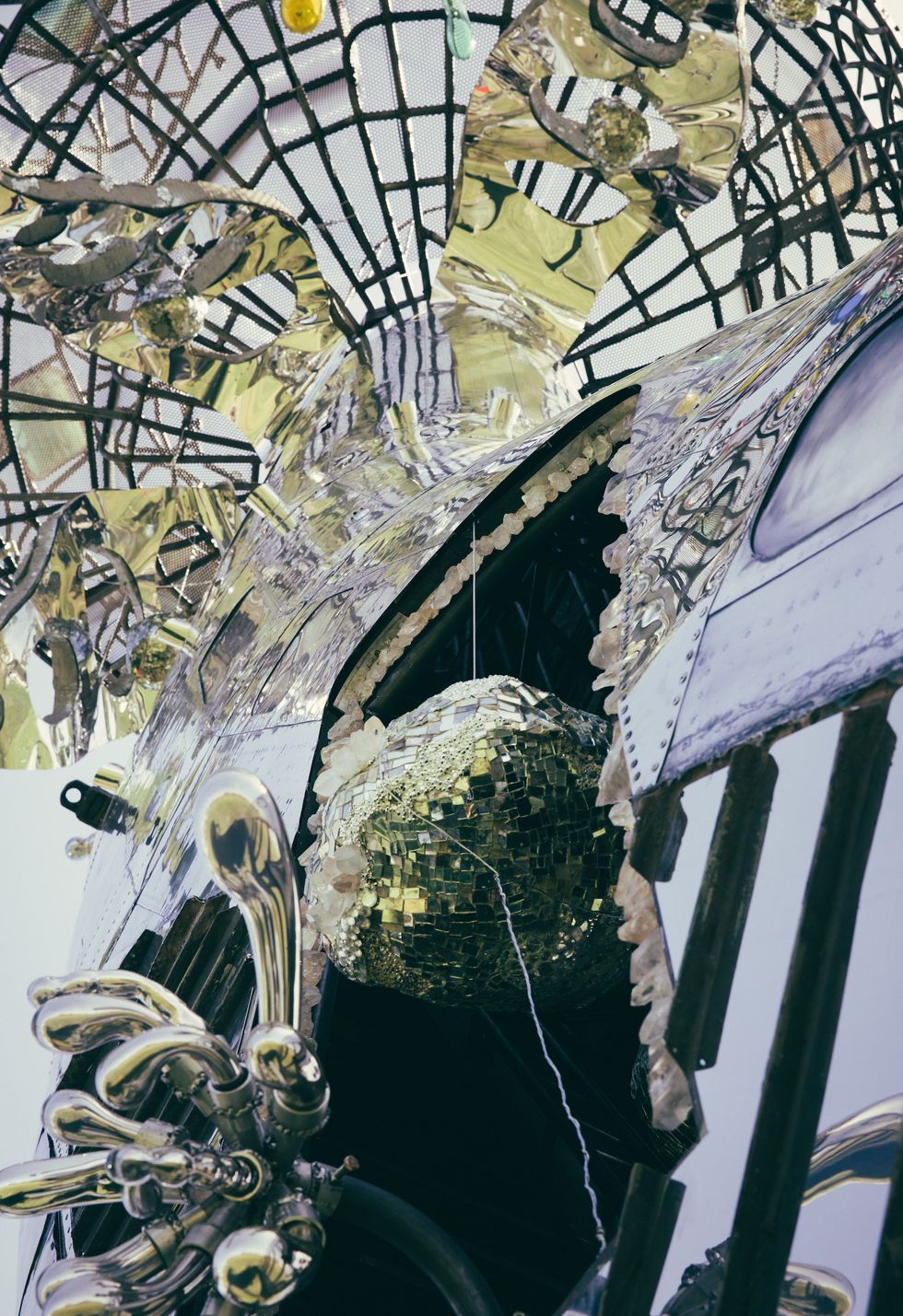 Randy Polumbo's Lodestar | Photo Courtesy of Randy Polumbo
Speaking of transformation: R&R Studios' "Supernova," a sculpture exploding 40 feet out in every direction. For those who don't know what a supernova is, it is the explosion resulting from the collapse of a star. In the universe, these explosions are blinding, though from Earth, we'll probably only see a star in the sky. Made up of 12 individual stars, "Supernova" changes characteristics as the day progresses. While impressive in the day time, it's truly at night that it comes to life, shining brighter than most stars above festival goers' heads. The duo had been included in last year's art program, contributing an installation, "Bésame Mucho," that attracted thousands of eager selfie takers. This year, the duo opts for the explosion, and it very much falls in line with the art program's line of inquiry: what is the changing function of light as it travels through a singular spot? While some festival goers might be looking for the quiet reprieve offered by "Etherea," others will surely get excited by the overflowing brightness and positivity exuding from "Supernova."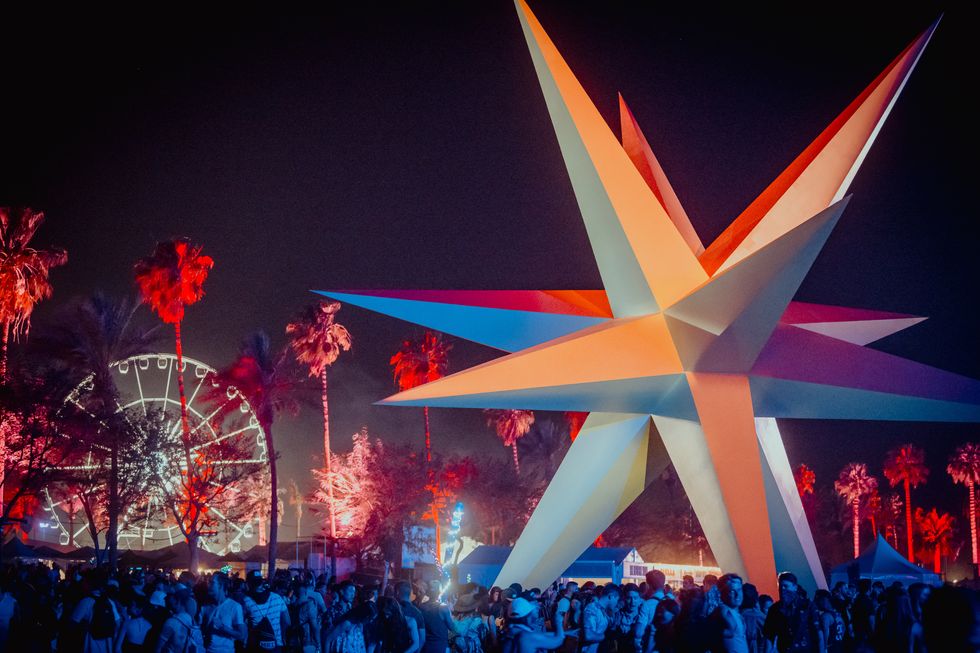 R&R Studios' Supernova / Photo Courtesy of Coachella
The Augmented Reality Artworks in the Coachella Camera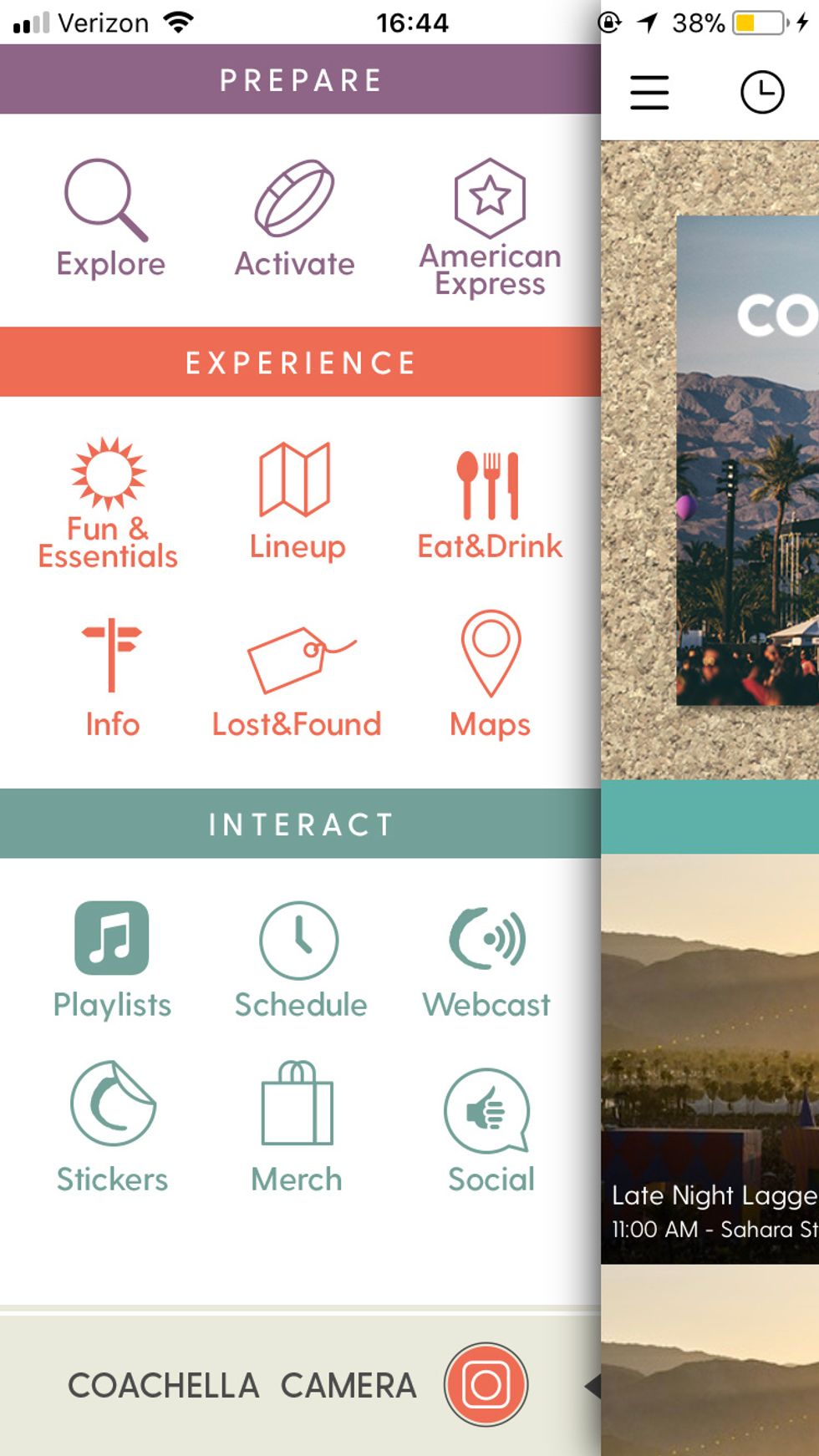 Coachella Camera | Photo Courtesy of Michael Valinsky
Coachella started working with Augmented Reality last year when they partnered with Santa Monica-based startup CameraIQ. At the time, festival goers could use Coachella's lenses to create AR content through a separate AR/VR app. This year, Coachella and CameraIQ worked together to commission original artwork by two artists that would be integrated within the Coachella app directly. This is the first time a music festival has commissioned original AR artwork. By opening the Coachella Camera, users have access to Coachella's mixed reality world, including two creative tools created by LA-based artist Adam Ferriss that can be used together or separately, and New York-based artist Katie Stout. These tools are immersive additions to an already highly visual environment, but allow users to create their own 3D space and share it with their digital network.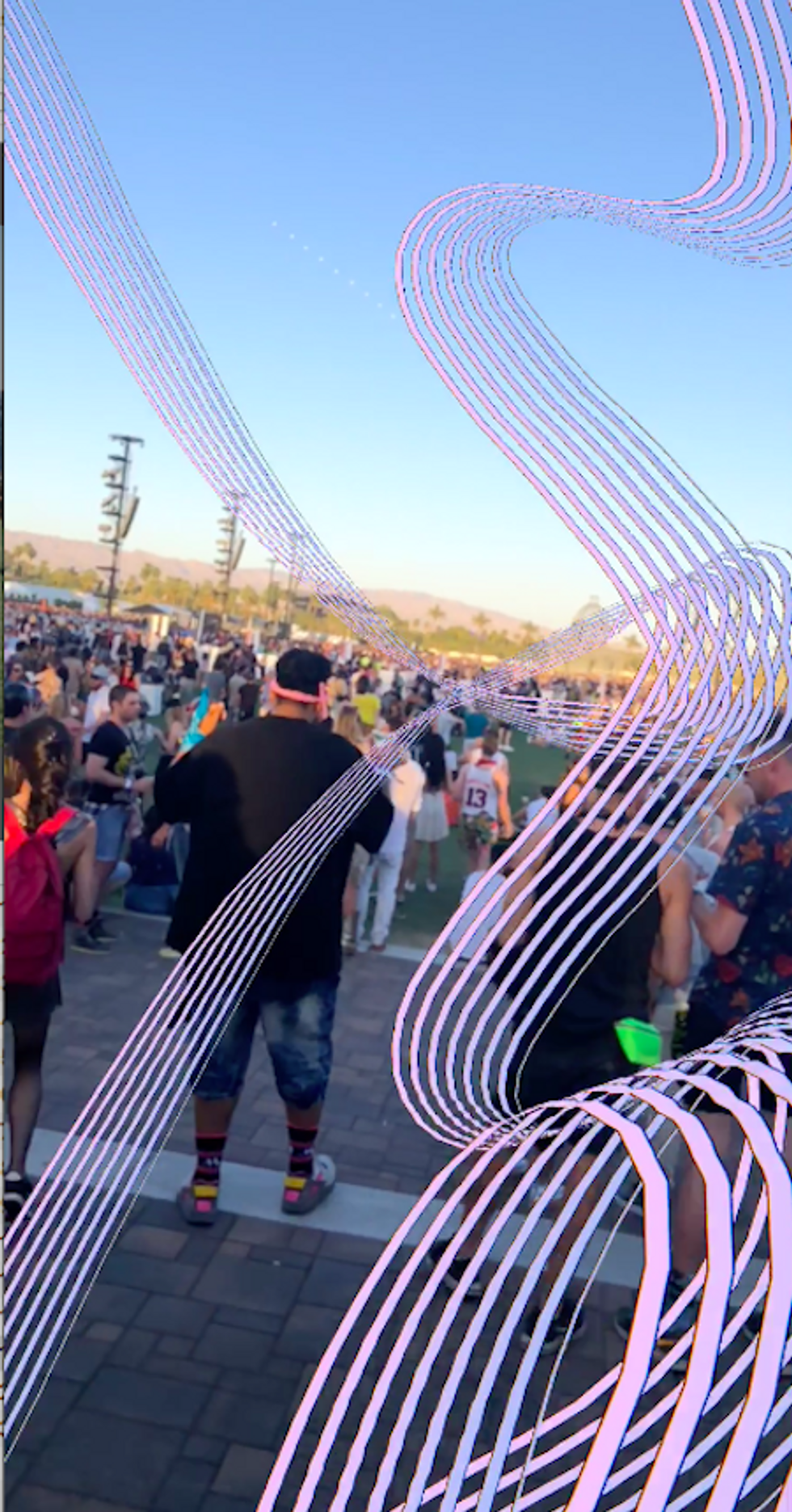 Adam Ferriss "Ditto" Lens / Photo Courtesy of CameraIQ
The "Lens" feature reveals Adam Ferriss' work, which is divided between the "Meta" and "Ditto" lenses. The first will take a snapshot of whatever the camera is looking at and leave the image hanging in space in Polaroid form. Users can then walk around their snapshot, take additional ones, and literally walk through a virtual memorial space. Once the photos have been taken, users can take a 10-second video or image of their work and save it to their Camera Roll. "People will already be taking a lot of pictures of themselves, so it made sense to do this thing that is a camera within a camera," explains Ferriss. The second lens, "Ditto," is more of a drawing tool. By pressing down on the screen and moving their phones about, users can create ribbons in the air. As long as they move their phone, the camera will continue to draw the ribbon. Similarly, users can record a 10-second video or image of their work and save it to their Camera Roll. "Part of my want and wish was to make something that was interactive, that would enable creation, and that wasn't just a static piece that you would just walk around," he explains.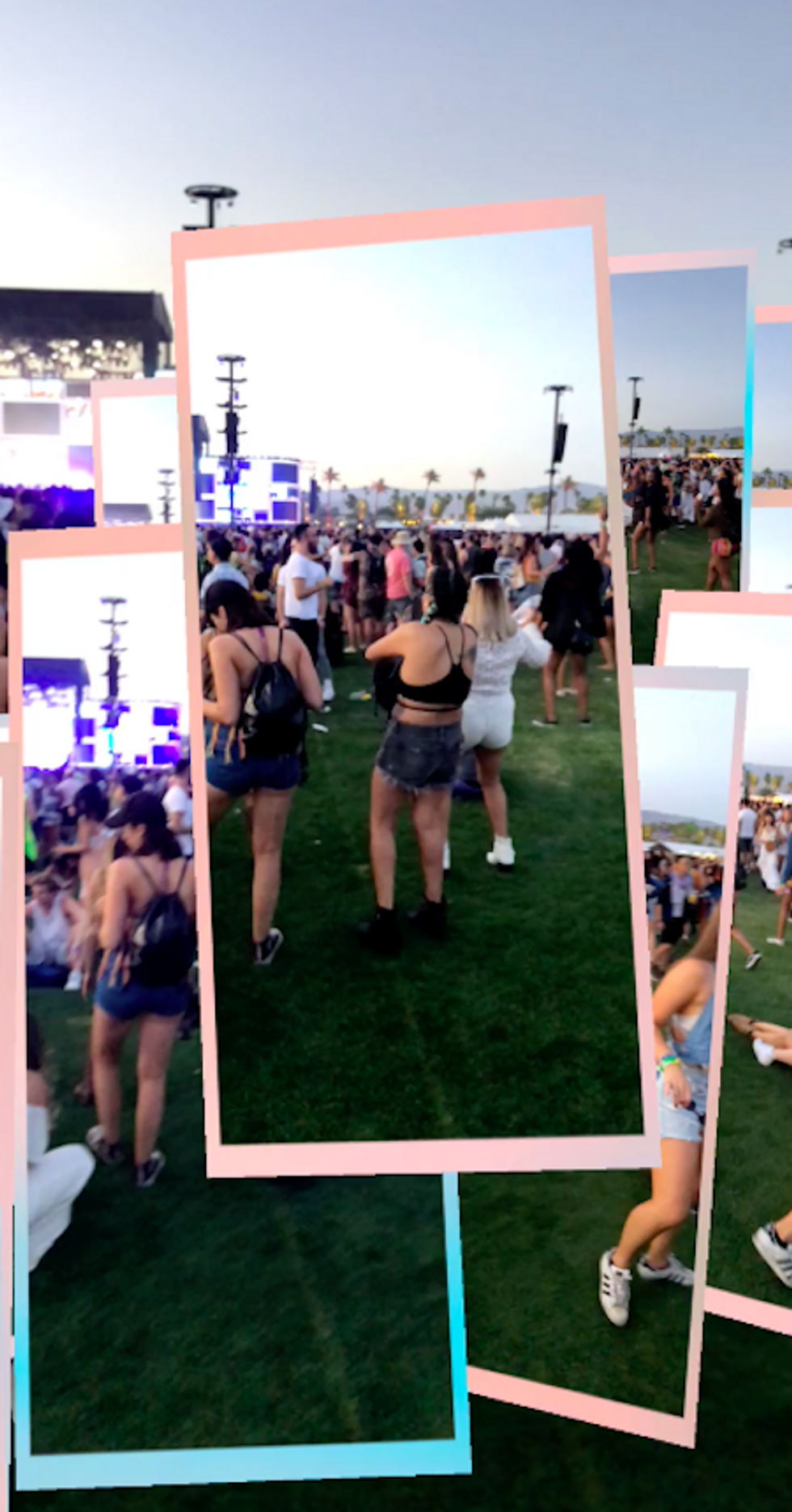 Adam Ferriss "Meta" Lens / Photo Courtesy of CameraIQ
Katie Stout's work is a bit more of an adventure. While Ferriss' work can be accessed from anywhere in the world, that of Stout can only be activated by a digital painting installed at the festival by clicking on the "Art" feature in the Coachella Camera. Festival goers should look out for a large easel located between the Sonora and Gobi stages. By pointing their camera to the easel in the Coachella app, users can activate Stout's sculptural work, which sprawls all around the easel. "I became interested in [AR] because of the joy of not having to work within the limitations of physics," says Stout. Experimenting with the medium for the first time, Stout has created a large-scale floating fountain, "wiggly gelatinous" forms, rock elements, oddly refracting light, and multiple other biomorphic forms. The artist wanted "to make it feel like the viewer was under the water," she says. She draws on her traditional sculptural work to create a mixed reality environment that, in the real world, would be completely impossible to create (the objects float and undulate at an unrealistic scale).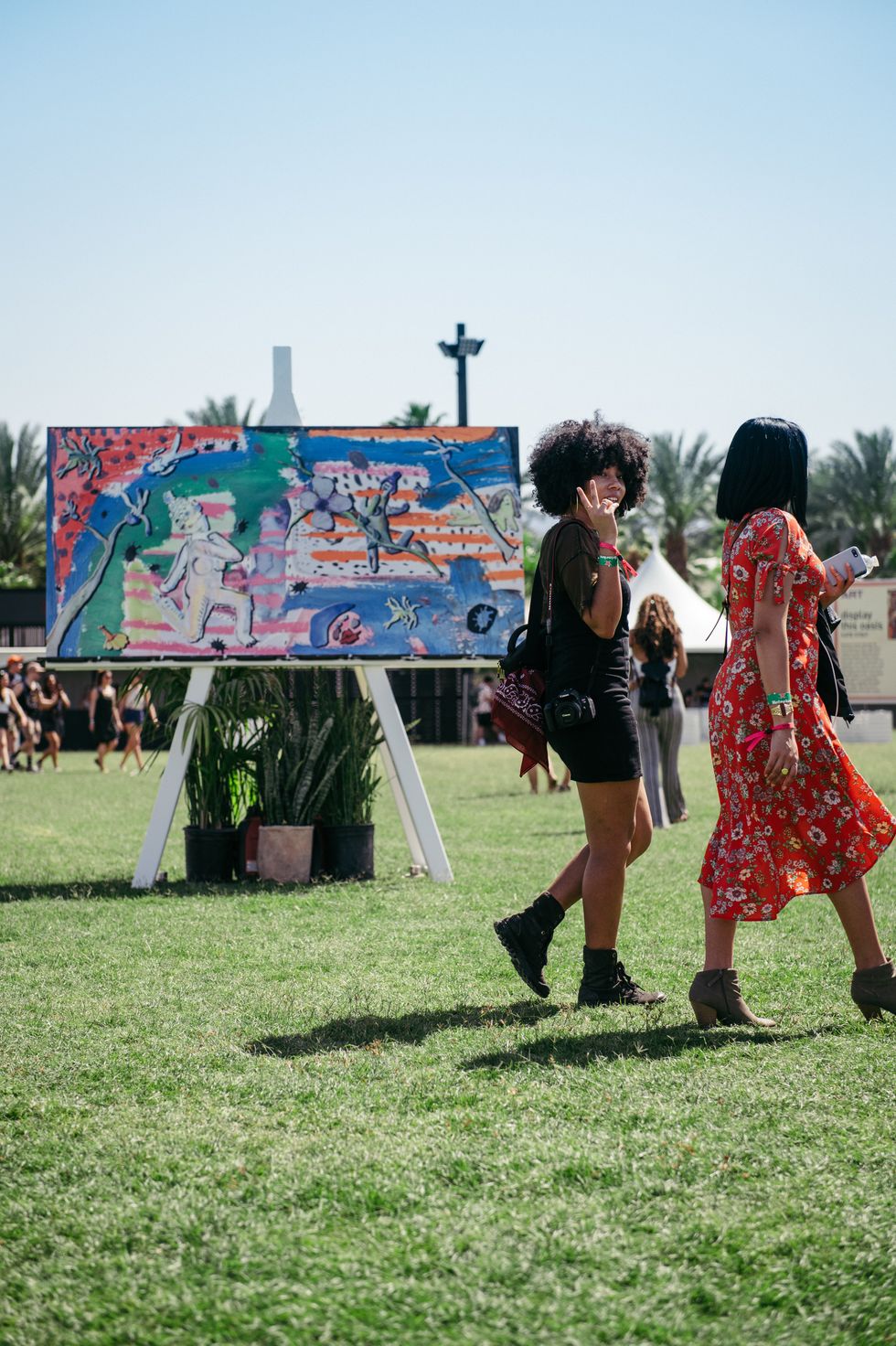 Katie Stout's Easel Onsite / Photo Courtesy of Coachella
The 7-Story Installation that Just Might Change Coachella's Aesthetic

For the first time in the festival's history, an art installation has been commissioned to be present onsite for three years. NEWSUBSTANCE, a UK-based design studio, has been in talks with Coachella about contributing a piece to the festival for about four years now. After much hard work and design, they have come up with "Spectra," a massive site-specific installation with a spiral design, a 360 degree observation deck at the top, and a color scheme that reflects the many shades of the Coachella sunset. "These structures make the public love the festival more," says NEWSUBSTANCE Creative Director Patrick O'Mahoney. "We really wanted to encapsulate people within the sunset. We wanted to bring people into the color spectrum," he continues. Once again, this artwork changes from day to night. During the day, "Spectra" lures festival goers inside, making them walk up its air-conditioned space to look at the entire festival from above. Because each curve has been assigned a different color, the view changes radically one step after the next. However, at night, "Spectra" shines as brightly as the rainbow, giving outside viewers a peak directly through its windows.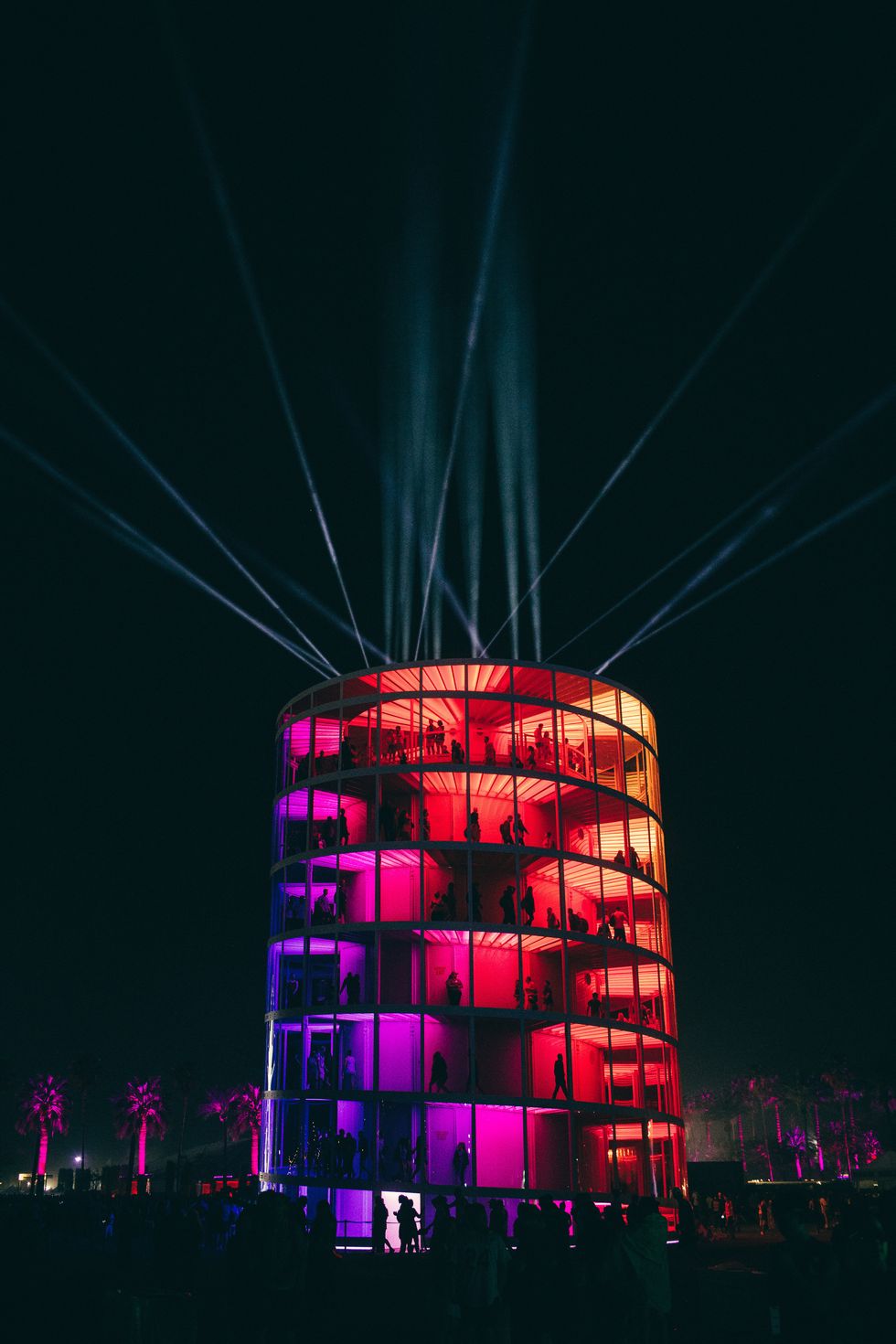 NEWSUBSTANCE's Spectra | Photo Courtesy of Coachella
While Coachella is known for its iconic sunset by the Ferris wheel, "Spectra" might just become a new fixture in the festival's aesthetic. It will definitely mark the year that Coachella changed what it meant to produce a music festival through its extremely engaging, dynamic, and multimedia art program. Not only has Coachella managed to include a roster of artists from all over the world, it has also enabled those without access to the festival grounds to interact through their app with some of its artistic essence. Many of the music festivals that include an art program do so as a way of generating more social content. However, it is clear from speaking to the participating artists and staff that, in including artists who explore our varying layers of reality, Coachella's is genuinely attempting create its own version of culture by intersecting music, fashion, and art uninhibitedly.
Featured Photo Courtesy of Coachella