Within seconds of talking to Brooke Candy, the artist has already shocked me — a skill she's built her entire career on. Only this time, it's not because of anything particularly polarizing, but because I catch Candy in a moment of extreme normalcy. She is about to go shopping for new pillowcases, which is surprising if you're expecting real-life Candy to be the same performer as the one on the internet. Internet Candy is someone who, I imagine, never has to do boring, everyday things like actually physically go to Target and buy stuff for her house, but rather someone whose bed is always adorned with black silk sheets and pillowcases to match, who has a mirror affixed to the ceiling above her bed.
Real-life Brooke Candy, however, has been to hell and back. Now, she cherishes the chance to settle down for a minute. "I have lived a very tumultuous, crazy, chaotic life. So these moments, I actually do cherish. I'm not drinking or partying, so this is about as crazy as it gets now." After a long struggle with mental illness and addiction, Candy has emerged — not unscathed, but choosing to bear her scars in an industry that would rather she cover them up. With projects like her upcoming debut album, SEXORCISM, as her ammunition, Brooke Candy is waging war on shame.
Since catching the eyes of millions of viewers as a co-star in Grimes's 2012 music video for "Genesis," Candy has cultivated an artistic persona based largely on her sexuality and the outspoken, give-no-fucks way she raps about sex. On "Das Me," her 2012 independently released debut single, she raps: "Next time they call you a slut/ Brooke Candy tells you not to give a fuck." The artist has consistently played musical shapeshifter throughout the last seven years, in part because Sony's RCA Records, to whom she signed in 2014, took more creative control over her projects than she was comfortable with. The major label sanitized her work into much safer, pop-driven tracks than what her fans had come to expect, like "Living Out Loud," which sounds like a Sia song — albeit a great one — with Candy's name attached. Sia served as a producer and mentor for Candy, a relationship that attracted Sony.
"Sony liked that Sia was involved," Candy says. "But they definitely just took me and tried to put me into a mold that already existed rather than helping me to cultivate the craft that I was already working with and strengthen it. It's hard for me to take advice or listen to a bunch of old white men that have no idea about what's going on in popular culture other than what they've seen that's already out. I don't care about their opinion and I don't want them to tell me what I need to be making to make them money. It kills the art, it kills the spirit behind making the art. And the reason why I'm making the art is essentially to stay alive. So in the end, it would've killed me."
Candy left RCA in 2017, and began the journey of reclaiming her independent spirit through one-off releases, from the ferocious, guitar-led "War" to the Lil Aaron-assisted "Nuts." Now, she's working with her friend Sega Bodega's label and collective NUXXE to release SEXORCISM. "How many labels have label heads who actually produce music? They don't. They just know numbers," Candy says of working with an artist-led label that empowers her unapologetic attitude. "For me, it's a really cool experience to do it this way. I flourish more in this kind of environment."
"It's hard for me to take advice or listen to a bunch of old white men that have no idea about what's going on in popular culture."
For Candy, embracing her body through performance is a vital emotional process. "I've had body dysmorphia and body issues my entire life," she says. "When I put on a little slinky onesie, I'm owning that. I'm owning that self-loathing, that past self-loathing and that lack of self confidence. I'm owning it and telling you, 'Fuck off, I love my body.'" The reaction to Candy's outspoken sex positivity hasn't always been kind. "Once in a while, there's a comment like, 'You're better than this. Why do you have to show your ass? Why do you have to wear that outfit? Why do you have to sing about your pussy?'" Candy says. "It's because we're owning it, we're taking it back. It's us reclaiming all of these things that you've said we can't do."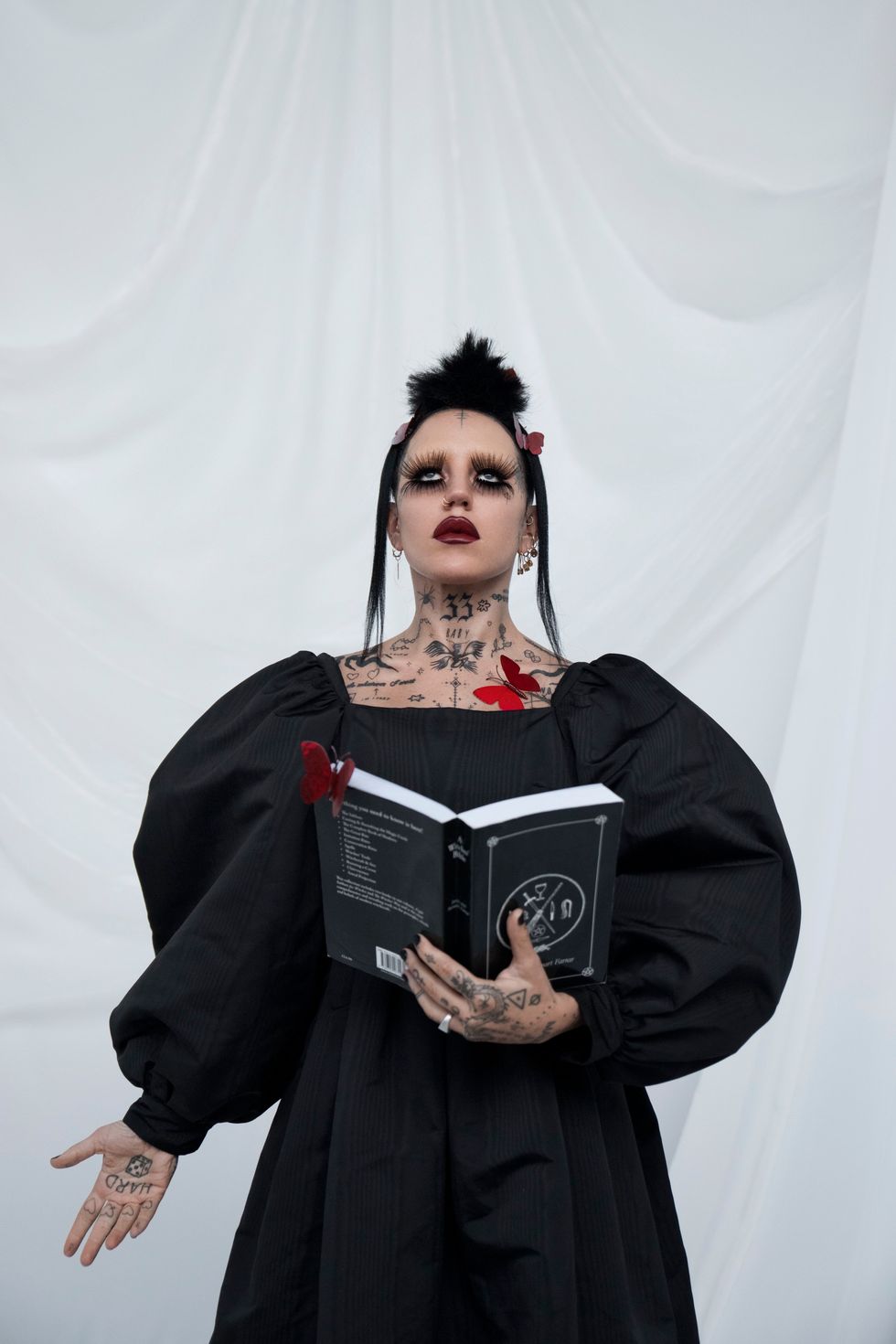 Dress: Ashley Williams
With the release of Candy's most recent single and music video, "XXXTC," featuring Charli XCX and Maliibu Miitch, it's clear that the freaky princess is thriving. "Triple X is always meant to represent something that you shouldn't be watching, something that's a little bit hardcore," she says, explaining the song title. The video, directed by Dejan Jovanovic and Luke Abby, definitely feels like hardcore viewing. A tattooed CGI snake slithers around Candy's body and down her throat while she raps, fully done up in ultra creepy-cool makeup by Selena Ruiz and sleekly surreal hair by Charlie Le Mindu. It's like watching pages from a forbidden fairytale come to life.
"Everything that I make, I want it to have a bit of surrealism within it," Candy says. "'XXXTC' has that. Even the song is a really bizarre grouping of me, Maliibu, and Charli. The video is nonsensical. What is it? It's the inner-workings of my brain and it's just surreal."
Lyrically, Candy doubles down on the sex appeal with rhymes like: "Pussy president, stately/ Pussy heaven-sent, save me/ Pussy hesitant, only good dick, maybe." She raps about sex, as have many women before her, not purely for the spectacle but for the underyling progress towards femme and queer sexual liberation that she hopes her contributions might foster. Chief among her aims is to obliterate sexual shame altogether.
"I just feel like human beings, and women especially, feel so much shame," Candy says. "I know how much shame I've felt personally, and the feeling of shame is unbearable. It's a feeling that we absolutely don't need to feel, but we choose to feel it because we're told that we're supposed to. My mission on this planet is to help women and all people, truly anyone that listens to my music, to just feel good in their skin and feel happy. To feel fine, being — if they want to be — incredibly sexual. And if they feel that horny impulse, to act on it. As long as it's consensual, as long it's safe, and as long as they're happy doing it, I want to encourage it."
Through her work, Candy wants to "rip the taboo from everything that's fucking taboo. I want to rip the word 'shame' and the feeling of shame out of this conscious universe. I don't want another human being to ever feel that ever again. And if I have to be the one who's in the trenches, helping and getting my boots dirty trying to make that happen, then that's how it has to be."
"I want to rip the word 'shame' and the feeling of shame out of this conscious universe."
This willingness to get her "boots dirty" is not to say that Candy is confident all the time. On "Happy," the lead single off SEXORCISM, Candy lays bare her struggles with self-image. "['Happy'] was my truest form," she says. "It talks about mental anguish and self-loathing, and things that literally every single human being feels, but no one wants to talk about because it's taboo and it's not glamorous."
The "Happy" video shows Candy performing in shibari, gripping a rope spider web, and being whipped from all angles. The visuals accentuate the beauty of Candy's tattooed body, while the lyrics offer the contrast of her inner fight to be happy. The song's refrain, "Bitch, you are happy," edited with extreme vocal distortion, sounds like a mantra you'd repeat every day until you finally believe it. It's heartbreaking and reassuring at the same time.
"For me, the most emotional and relatable art is made when I'm depressed," she says. "Because those are the things that people don't want to talk about, those are the things that are taboo within our society. So when someone that has people that are looking to them for guidance in some way, shape, or form, talks about it, it's much more relatable. But that doesn't mean that it's better."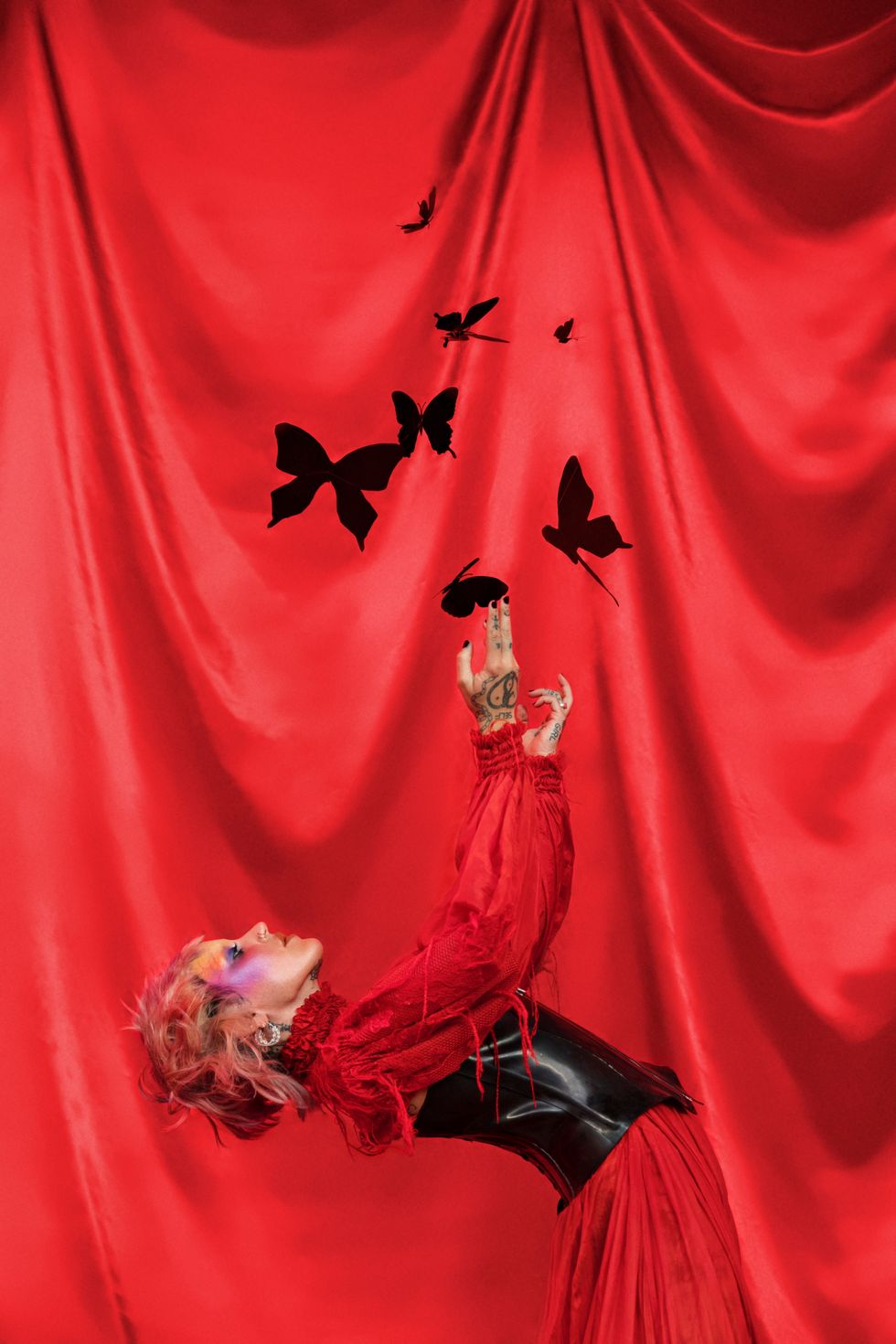 Dress: Linda Kokonen, Corset: Elissa Poppy
One central part of Candy's crusade against shame is her erotic film, I Love You. Released in August 2018, I Love You is a strikingly beautiful, inclusive, queer-centering, three-act adult film. Starring Abella Danger, Kira Noir, Jesse Prather, Remy Cruze, Venus Lux and Chanel Santini, it is the first adult film to feature full-length lesbian, gay, and trans sex scenes all in one project. It won praise from the fine art world, and was selected to be shown at the Museum of Contemporary Art in Barcelona. The film is one piece of Candy's work that comes from a place of total happiness, and it is the work of which she says she is most proud. "When I made I Love You with Pornhub, I was completely sober, I was so happy. I just felt like a fairy... That is a piece of art that I am really, really proud of."
Candy wanted to direct a queer erotic film partly because she identifies as queer, but also because she wanted to channel the way she thinks of sexual intimacy into a work of art. When the film premiered, Candy told PAPER: "I think the young gay community sometimes looks to porn as guidance because they live in communities that shun them, or don't put in effort to teach them about their specific sexual orientation, or how to explore it safely and with love. I wanted to create something that felt like a safe space, something that could teach them that sex is beautiful and can be creative and strange and filled with magic. That the sex they could strive to have could be art, that it could be unique and fill them with confidence and compassion."
Candy also wanted to deliver a long-overdue, fresher perspective to the porn industry. "I was set on fucking up the sex industry because the porn industry is so fucked up. [Pornstars] are underpaid, they are mistreated. The queer representation I don't think is appropriate. I just wanted to make something that was loving, sensual, and beautiful, and that is not what porn is about."
Candy knows something about the porn industry, having grown up with a father in the business. She spent her childhood in Agoura Hills, California, living part-time with her mother, a pediatric nurse, and part-time with her father, who, as the CFO of Hustler, had "boxes of dildos" in his office. In her 2014 cover story for PAPER, Candy shared memories of hanging out in Larry Flynt's office as a little girl, telling writer Lesley Arfin: "[It was] so gaudy and amazing. I'd eat ice cream and watch TV and just go from that to being with my mom, who had nothing. It was strange... It's this whole idea of duality that I'm just obsessed with."
Candy's unique views on sex are deepened by her experience in the sex industry, working as a stripper for roughly a year and a half. She says that stripping "definitely wasn't easy and it wasn't always glamorous, but it did teach me things that are invaluable. It taught me how to be uninhibited. It taught me how to perform at my most vulnerable."
That freedom from inhibition has sometimes landed Candy in roles she can laugh about now. Reflecting on her earliest collaboration with Charli XCX in 2012, an intensely Tumblr-era song and music video called "Cloud Aura," Candy is slightly embarrassed by her former self. "I literally just watched it and I was mortified. I'm in a robot Playboy bunny bikini outfit holding a 40 ounce, running down the street in stripper heels. I'm running away from the cops. I'm wearing a flannel and rapping with these long nails. I was 21 years old, my frontal lobe wasn't even developed and I'm just like, 'What am I doing?'" The two have since collaborated, joining forces on Pop 2's "I Got It," alongside fellow sexed up emcee CupcakKe and Pabllo Vittar. "Big tits, double D's/ No silicone and no saline," Candy raps.
This honesty is a recurring theme throughout our conversation. Candy reflects on her missteps over the last decade of her life, and expresses that she feels more content and secure in herself now. "I feel like my entire twenties, I was just really confused. I was just shaken up. I was making so many mistakes and everything was so scary and bizarre. Now I feel so much more comfortable and confident, and nothing really gets to me. I'm a sensitive person, but now, as I'm getting older, I interpret things differently."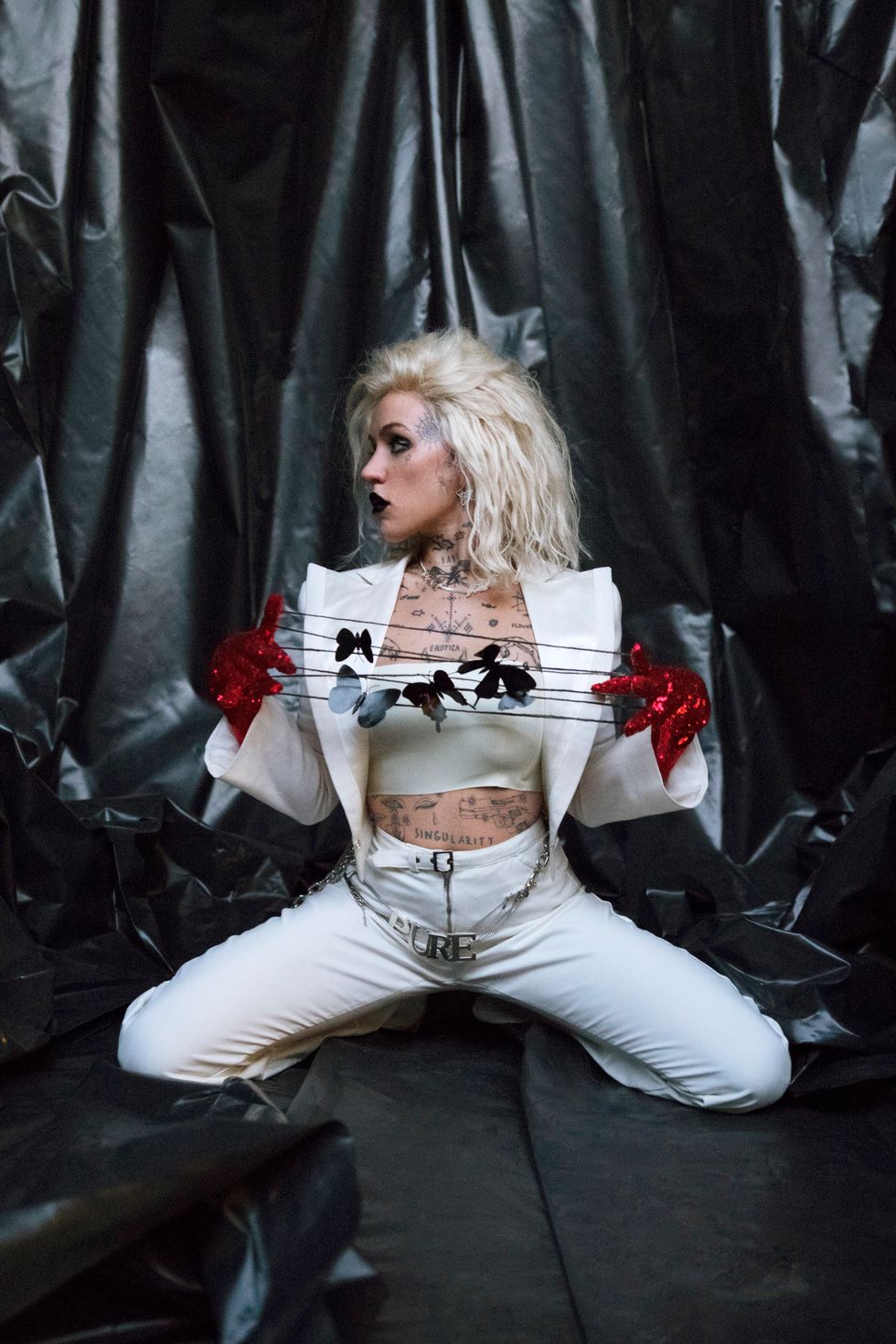 Jacket: Steve O Smith, Trousers: Versace, Top: Elissa Poppy, Shoes: Charlie McCosker, Necklace & Earrings: Ezah Ikuy
Candy's newfound calm and self-assurance is surely only going to influence her art for the better, making an already unwavering force for sexual freedom and shamelessness truly unstoppable. Her first full-length studio album has been a long time coming, but there's a sense that the wait was for the best. The album will feature a number of iconic female rappers, including Iggy Azalea and Rico Nasty, and of course Charli XCX and Maliibu Mitch. Candy says that almost every song on the album has a sexual undertone — "just fun songs that make you feel sexy and make you want to own your sexuality."
Body policers and slut-shamers, beware. Brooke Candy is coming for you, one bop at a time.
Watch the video for "XXXTC" here, and look for Brooke Candy's debut album, SEXORCISM, out later this year.