Only a few weeks after pop-punk princess Avril Lavigne sparked dating rumors with California rapper Tyga, it appears that the two have made it official — or are well on their way to doing so.
In less than a month, Lavigne has been a headline mainstay after being seen getting cozy with Tyga following a fancy Nobu dinner. Sources close to both of them told TMZ that there was nothing romantic going on. Fans were shocked at the unlikely pairing, especially because Lavigne was engaged to her partner of almost two years, Mod Sun. The two were even at a pre-Grammys party in early February. Then again, a lot can change in a few weeks.
When their representatives were contacted to ask if Lavigne's outing with Tyga meant a split happened, Mod Sun's were quick to respond and told PEOPLE, "They were together and engaged as of three days ago when Mod left for tour so if anything has changed that's news to him." Lavigne's reps declined to comment.
Eventually, their breakup was confirmed and Mod Sun took to Instagram to reflect on it all. "In 1 week my entire life completely changed," he wrote. "I just know there's a plan for it all. I'll keep my head up + always listen to my heart, even when it feels broken."
Since then, Lavigne has hinted at a rebirth while hitting Paris Fashion Week. In addition to wearing t-shirts with messages on them, she made a big statement when she sat front row at Heliot Emil sporting a blazer which said "unbreak my heart," "trust your instincts" and "be patient, good things take time."
She appears to have a companion joining her for the Parisian fashion festivities as well, and Tyga was spotted with the singer yet again. This time, the two hit up the Mugler x Hunter Schafer party. Things got a little steamy.
A picture of Lavigne and Tyga sharing a kiss immediately went viral. Now we have to wonder if this unexpected pairing made it official.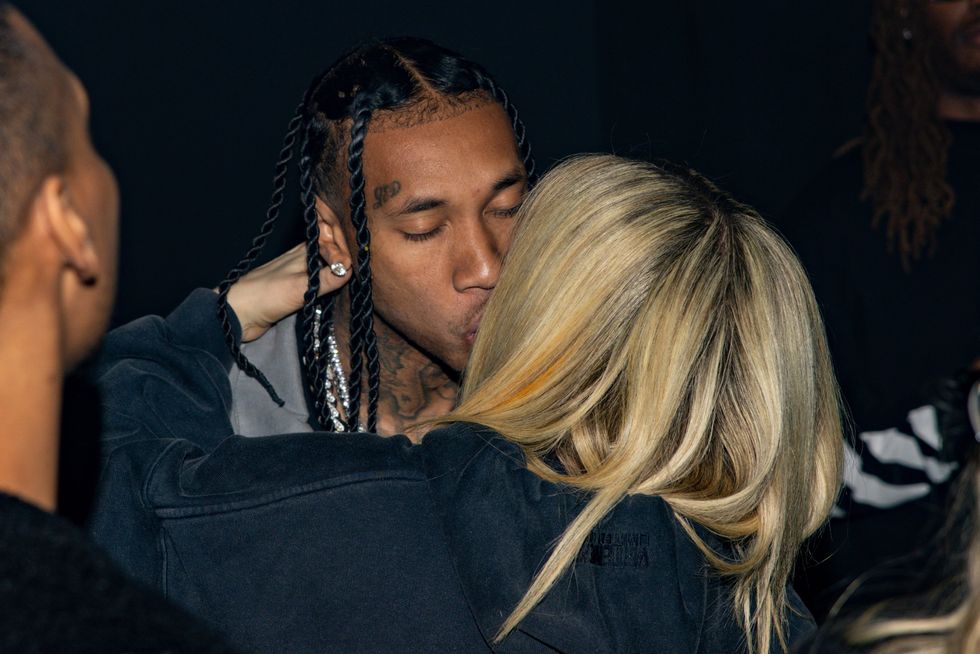 According to PEOPLE, sources close to the two say that "It's very new. It's very casual." It's to be expected as Lavigne exits an engagement less than a month ago, but it's good to see she isn't hesitant to explore.
Photo by Stephane Cardinale - Corbis/Corbis via Getty Images and Arnold Jerocki/Getty Images