Regarded among the "top five fashion icons of the decade" by TIME, Anna Sui has survived some major shifts in fashion. The Detroit born and bred designer, calls herself a "global citizen" for several reasons including her own Chinese heritage, but mainly for the sweeping worldly references within her work. The designer has not only been credited with "reinventing pop culture," but has also become one of New York's hottest contemporary designers since first launching her label in 1991.
Honoring her phenomenal body of work that finds inspiration in films, graphic design, art history, vintage styles, European and Asian decorative arts, among other things, the Museum of Arts and Design has now put together a retrospective on Sui's decade-spanning career.
After making its debut at the Fashion and Textile Museum in London, The World of Anna Sui features approximately 100 looks from the designer's archive, along with spotlighting her heroes as a youth and the importance of her collaborators.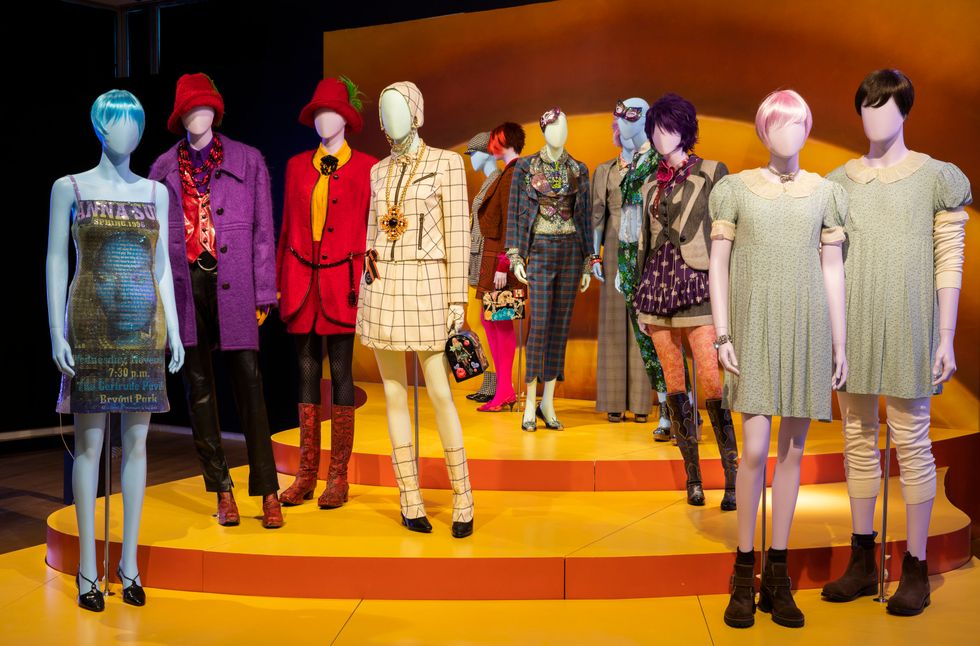 Arranged "thematically," the show is driven by Sui's 13 design archetypes — Rock Star, Schoolgirl, Punk, Nomad, and Surfer, to name a few— infused with "incongruent influences," including the London boutique Biba, pirates, pre-Raphaelite maidens, Yves Saint Laurent, and Minnie Mouse.
To kickstart the retrospective, Sui reflected on her legacy while speaking with long time collaborators including iconic makeup artist Pat McGrath and legendary hairstylist Garren. "I met Garren and Pat through Steven [Meisel]," she tells PAPER. "And Garren started working on my first show, and Pat started in... I think it was 1999 or 2000. And, we've just been working together ever since then."
McGrath's role in creating dramatic makeup looks that equally complement all major themes of Sui's shows was a feat in itself, and has been especially instrumental in underlining her signature aesthetic — something Sui reasserts throughout our chat.

The power dynamic of Sui and McGrath is exemplified through HBO's breakout teen drama Euphoria, where the cast's makeup famously features bright, colorful lids, with sparkles that became a talking point across runways this season. But not everyone knows that the now trending look finds its early roots in Sui's shows from 10 years ago.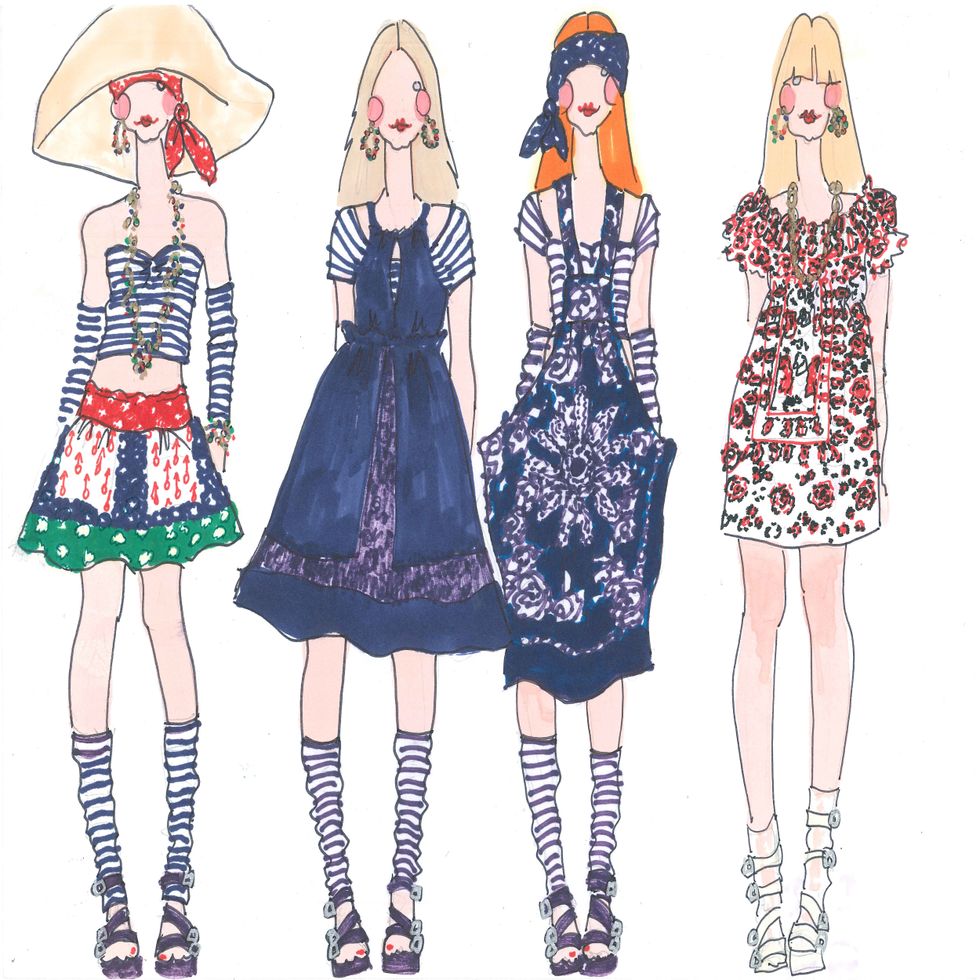 So when McGrath drew praise for her "Euphoria-inspired" lids and glitter at Marc Jacobs' Spring 2020 presentation at NYFW, it was a bit ironic. The artist, however, isn't bothered, and is in fact impressed that the show was able to present a diverse take on the style.

"I think that it is a different take," McGrath says. "It was inspiring to see people inspired by looks we have been doing for many years because those were show looks and editorial looks and suddenly everyone's doing it, you know? But it's good to see it catch on at that level where everyone is talking about it. You know me, the crystals and Swarovski, and the lines — I've had years of that, and so I'm glad everyone's now doing the same thing. Finally. I've always wondered when."
Speaking about working with Sui specifically, she added: "There's always magical stories as you saw with Anna. It's nonstop every day, and every minute. There's always something incredible that happens; there's always a big backstory. There's way more than just a look, let's say and there's a lot of fun and laughter that goes on."

And now, as The World of Anna Sui finally opens its doors, the duo is bringing elements of the fun and magic to the public. For a deeper insight, PAPER caught with the designer to talk history, inspiration, the state of contemporary design and what it takes to be a designer today.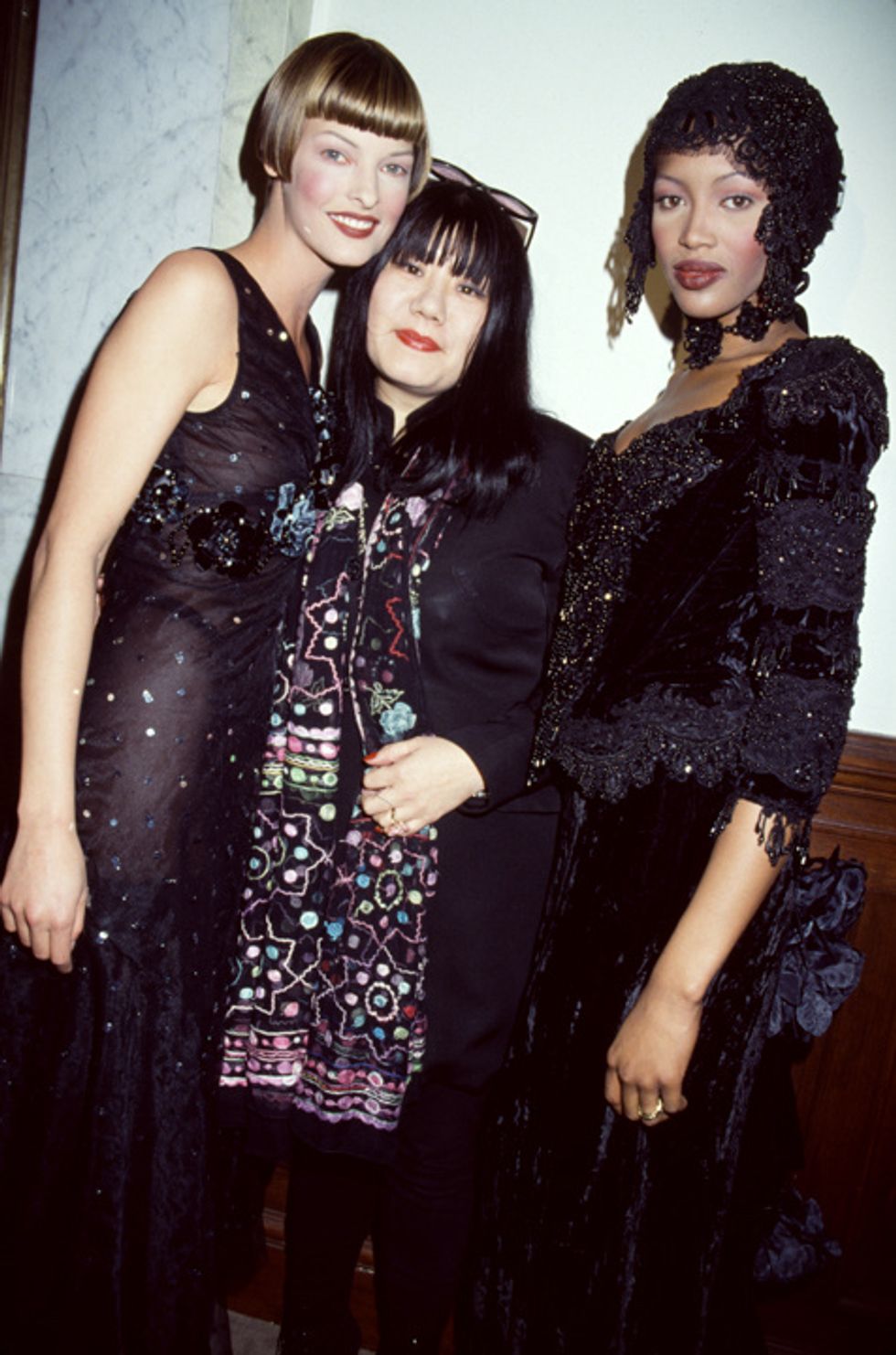 How did the exhibition come together?
The show started in London at the Fashion and Textile Museum, and then I met Barbara [Paris Gifford, the Assistant Curator at MAD] when she had the Counter Couture show and we just started talking and I was trying to have the show come back to New York. I met Garren and Pat through Steven [Meisel] myself. And Garren started working on my first show, and Pat started in... I think it was 1999 or 2000. And we've just been working together ever since then.

You've been credited with reinventing pop culture, also because so much of your work is inspired by film, music, and art. How do you keep reinterpreting your work?

I think it's that I'm just so interested in what's going on — what's new, what's happening. I can't say I'm a fan of reality TV but of course, I'm aware of it. But there's other things that I'm obsessed with, and I think TV has never been better. There's fun films, great music, it's just the things that interest me, and I'm lucky and fortunate to be able to use it all in my work. It's what I love. It's not anyone else's choice but mine.

And what do you think about the increasingly political landscape of fashion?

I think fashion is a mirror and it reflects what is going on economically, socially, politically, and it always has been. I think it has always been [political]. For instance, when women became liberated, they started wearing pants. You know, it has always been like that. For me, I think the primary political theme I want to push the most is optimism because it's such a dark climate out there. The news is so dark! I think that's why time after time, that's what I'm trying to show. A fantasy world, a dream world, and an optimistic world. And it's harder and harder these days.
Just about a couple of years ago, we were talking about designers doing close to 12 collections at the end of the year, and the "fashion burnout." Have you ever felt that pressure in anyway?
No, because first, I never really go as far as doing 12 collections. I always do three. And then, I don't have a boss that I have to answer to. My boss is my staff and my employees, and my customers, you know? That's who I'm answering to. I think that it's a little harder when there's somebody above always putting pressure on you to make the numbers. But it's different for me.

What are your thoughts on fast fashion? Do you think it has greatly changed contemporary fashion and the way people dress, buy, purchasing and supply patterns?

I think there's room for it all. I mean, I do think it has gotten too extreme, but I've done fast fashion myself when I did clothes for Target, I've done lower price things. And I believe in it, you know? Why not? Why not bring your DNA to a different customer? Make it more accessible .But, I think really, at this point, there's just too much.
Yeah, the environmental impact of it is indisputable. What do you think about thrifting and renting as alternatives?

I mean I practically lived at the flea market. It's like my favorite thing since I was a teenager. So, it's not a new concept to me. In fact, my whole apartment is furnished from the flea market.
What're some of your favorite thrift stores?

That's the hard thing now because we used to have all the best flea markets in the world here in New York. But they're all gone because of economic sales between department buildings. So now I shop a lot of Ebay, Etsy, 1stdibs, live auctioneers, but I love secondhand things and old things!
You also find a lot of your inspiration in cinema. Tell us about your three favorite films.

Performance is my all time favorite, because of my friend Anita Pallenberg is the star, along with Mick Jagger. I love Fellini's Juliet of the Spirits, again because of the dreamlike quality, but also because of the clothes. And then, I love Bertolucci's The Conformist. Again, the cinematography, can't be matched. It was just so stunning and the clothes! It was very political.They're all references in the back of my mind. I do look at film a lot, but it's usually mixed in with other things.



Lastly, there are so many opportunities for young designers now, but there's also a lot of competition unlike before. And there's a lot of different challenges. So what do you think it takes to be a designer today?

When I went to school, the graduating class at Parsons was 30, now it's 300. When I graduated, there was a huge amount of jobs. There was a very vibrant garment center in New York, that's barely there anymore here. At this point, it's so competitive. You have to be so focused, and so determined, and have a very good brand idea. You have to make a clear brand idea, and I think that that's the most important thing. It's to build that brand identity and the icons of your brand. Really target the customer you're going after. I always have the same thing in mind ever since I was a kid. I always knew exactly the kind of clothes I wanted. I knew who I wanted to sell to. I didn't want to do couture, I didn't want to do cashmere, I wanted to do fun clothes that people found accessible. And that's what I've always done.
Do you have any favorite designers today?

Yeah, I mean I love Prada. I also love LOEWE, and what Jonathan Anderson's doing. I think that the world had a huge loss with Karl Lagerfeld. Such a talent. Such longevity. I love fashion and how it changes every season. But what I'm focused on is what I want to buy.
The World of Anna Sui runs through through February 23, 2020 at The Museum of Arts and Design. Tickets are now available for purchase here.
Photos courtesy of The Museum of Arts and Design
Sign Up for the Morning PAPER