alextbh is a queer 22-year-old pop star on the rise from Malaysia who never thought he'd find his place in the music industry. But due to high profile gigs like opening for Sevdaliza, and impressive streaming numbers (more than 10 million streams on Spotify), he is fast making waves and gaining an engaged following in the process.
Unlike many peers his age who've been afforded the luxury of nepotism, Alex is an independent self-starter who has relied on DIY resourcefulness to get him where he is now. As a teenager, Alex was teaching himself music software programs so that he could produce his own beats; he designs his own videos with small crews of less than five close friends, wearing rented clothes from local boutiques; he brings pride flags with him when he travels for performances; and books his flights to Europe for musical collaborations.
Part of this scrappy self-determination comes from what Alex learns from the close-knit LGBTQ+ community in Malaysia (he currently lives in Kuala Lumpur, the nation's capital). But it's fueled by his desire to create a future for queer people in Malaysia that is much safer than the one he has grown up being exposed to. Sodomy is still considered a crime in the country, a leftover law from the British Empire's colonial rule. Also, social attitudes toward LGBTQ people are still largely influenced by Islam, which is the country's official religion. Advocacy and research organization Human Rights Watch reports that "Article 10 of Malaysia's Constitution guarantees that every citizen has the right to freedom of expression, but the Malaysian government violates that right on a regular basis," meaning that discrimination against Alex's community is pervasive and unregulated.
Regardless, alextbh is committed to serving his community and living his truth through the vehicle of R&B-inflected, adventurous pop music. His songs are smart, left-of-center, and explicitly honest. Songs like "Stoop So Low" call out men who abuse his feelings, and "Mornings (See You Again)" contemplate morning-after reflections in light of a hookup.
PAPER caught up with alextbh in Kuala Lumpur over-the-phone to talk about his experiences, and the exclusive premiere of his new video for "still mine," which Alex shot on location in Singapore with director Jasper Tan. "The song chronicles what some might see as jealousy, but honestly, I can't do long-distance," Alex said. "The video is cool, odd angles, including a series of shots of me in the middle of this fucking pond, getting dirty wearing Gosha Rubchinskiy. It looks chaotic, but documents how I felt when making the song. I didn't have to pay for it. What's better?"
How did you get your start making music?
I started writing when I was 13 with GarageBand on an iMac that my mom got me for my birthday. I really started exploring Pro-tools and using Ableton at 18. I would go on YouTube to learn all the tutorials on how to create certain synths, or drums, or drop beats. So I was all self-taught, really. I wish I knew to sign up for vocal classes, I feel like that's definitely needed at this point. Probably a couple of production classes as well. Honestly, I never expected myself to be in the music industry ever. It wasn't until I started putting songs up on Soundcloud and people noticing it that I realized, "Oh, this could be an actual thing, and I could actually do something about it." If it wasn't for my friends and other creatives around me that pushed me to do all of this I wouldn't have been here.
But alextbh started in 2016, fresh off my first heartbreak. I'm just a little twink trying to get it all together, and I realized music is such a good way for me to have that cathartic release. So I just kept writing and writing and writing and putting stuff on SoundCloud, it wasn't a big deal. It wasn't until I put up the song called "Stoop So Low" that Spotify started recognizing it and started putting it in huge major playlists. I freaked out, I never expected it. I spent zero dollars on PR, or publicists or anything like that. I didn't even know what publicists were! I learned a lot in the past year working with my manager in LA. It's so crazy, the story of me and him. We basically met a little over a year ago, but we never met in person until this year in May, when we decided to meet in London. I'd never been to London, so it was a whole crazy experience in itself.
What's it's been like for you growing up gay in Malaysia? What is your take on the current climate for LGBTQ people?
Honestly, I never knew that I was low-key homophobic and ignorant growing up. I realized it when I was in university and people were calling it out. I think most Malaysians, like queer Malaysians are more geared toward that because there's just not many people like us and there's not education, so you just think that everything you say is alright until people started calling me out. Then I was like, "Okay, this is wrong, this is not what it's supposed to be," and I started changing. When I was younger I wasn't really confident. I hate the term "straight acting," but that's the case where everybody I feel [does that], but that's only because it's extremely dangerous to be queer in Malaysia. When you realize being gay means risking getting raped and murdered in public, and trans people getting verbally and physically assaulted on a daily basis, I can't really blame queer people who choose this route [hiding their homosexuality].
But it's kind of like a lose-lose situation for both, because queer people have to resort to, "Oh, I have to be straight to society," but at the same time, straight people are just here antagonizing everybody. And it's not getting any better because we had a huge election this year, and when new government is elected, which, by the way, a lot of queer people voted for, a lot of people thought we were going to be progressive, we were going to step to the right direction, but that doesn't seem to be the case. There are a lot of bars and gay clubs that have been shut down recently, they did a huge crack down on that and it's just not a good year for queer people [in Malaysia]. But then again, I find it really interesting because for the past two years, I have only exclusively surrounded myself with queer people. I have one token straight friend.
"[Malaysia is] a really dangerous place. But it also serves as a message that us queer people should really stand up for what we fight for."
Me too! But what are some of the consequences there for being out?
Well, the last two years [since launching my music career] I've been living in this safe space and I live in this cute little bubble with myself, nobody can touch me. So, when I read the news, for example, this guy getting murdered and raped just because he looked effeminate, or a trans woman being assaulted, that's when I realized, "Okay, yeah this shit is not good in Malaysia." And it's really complex as well because Malaysia is a majority Muslim country, so it's just a matter of time before we have to bring up the conversation of integrating religion and LGBT+ communities together and be inclusive. It's very difficult to do it here, so I find that to be really interesting. I don't have any answers to it to be honest, I'm still trying to figure that out — and my friends, too!
I'm not Muslim but my Muslim friends are trying to figure that out as well. And I feel really sorry for them because they have this identity crisis. Imagine growing up as a Muslim, but you also start to explore your sexuality. Those two usually don't really coincide in Malaysia. That's a huge struggle for a lot of people here. I realize that once I step out of this bubble I'm in, it's a really dangerous place. But it also serves as a message that us queer people should really stand up for what we fight for. I guess that's why I never hold myself back in terms of my sexuality. I remember the first time that I performed, I wasn't planning to talk about my ex, but I brought it up, and everyone [in the queer community] was like, "Oh my god, gay icon!" And I'm like, "Okay, this is great." People were accepting me on the very first day. I'm really grateful for that, because I think if it wasn't for that I would probably hold myself back more. I remember performing in Singapore and bringing pride flags with me, parading around. I did that again when I opened for Sevdaliza this year, and that just felt so fucking liberating. People who listen to my music have my back.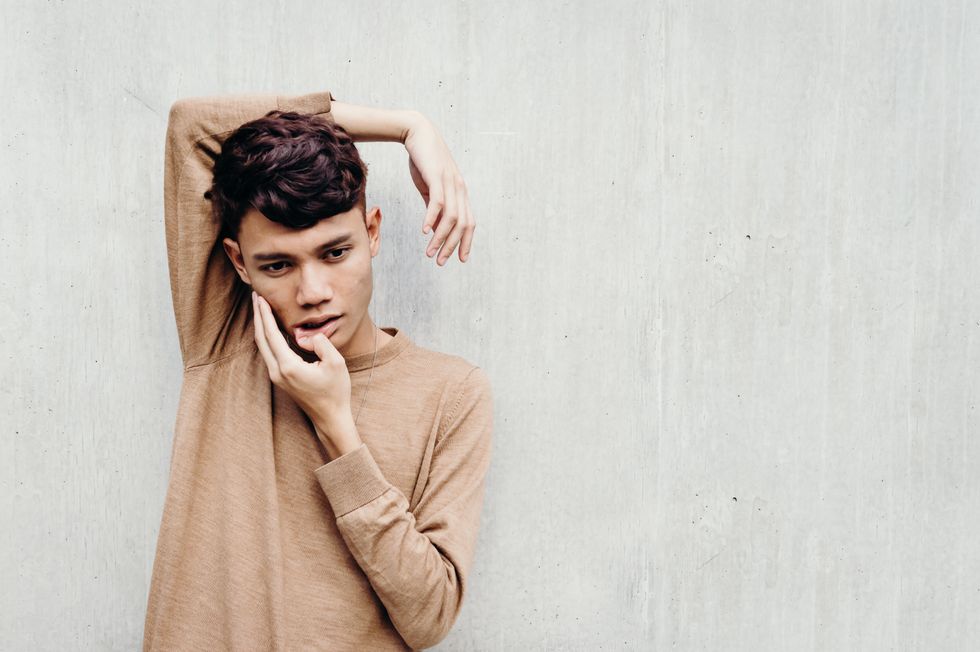 Photography: Julia Lowe
It's enlightening talking to you about this, because I believe Americans have a very different view of LGBT+ rights and visibility. Imagine how hindered we'd be if the entire culture still discouraged being out.
Absolutely. Your definition of LGBT+ rights are is very different compared to places like Malaysia and Indonesia. It's on another level, and we're [both] literally living in the same time, but I feel like we're trying to wait for somebody to fucking throw the first brick at Malaysia's Stonewall, or something. It's probably going to happen sometime soon, not gonna lie. It is tense right now. In Singapore, they're trying to appeal a repeal of Section 3778 which criminalizes sodomy. Same thing in Malaysia, and fun fact: it's actually a left-over colonial law from when the British ruled. I can't believe we're still using a Draconian law over here in Malaysia.
A law from the colonizer. That's so horrifying.
Exactly, a law left over from the colonizers. In history, queer people are born here. Even in Asian history, you can see in Hinduism, you can even see in Malaysia but it's really sad that people in the government are trying to erase that part of us, acting as if this is some liberal disease, as if they have the cure for the beginning of time.
"Being out is probably my only weapon against the government. If my voice and my songs don't do enough, then my existence does."
What I also find interesting is how committed you are to staying there and supporting your community. It seems that you've had to take great measures to be yourself, but also to protect yourself.
Yeah. I'm really toeing the line right now, and I'm really surprised the government's not spying on me, because I did a lot of questionable things. The more I do it, the more powerful I feel. And also, it's a great statement to make, especially in this climate when a lot of LGBT+ communities are in jeopardy. Being out is probably my only weapon against the government. If my voice and my songs don't do enough, then my existence does. Being onstage telling people,"Look, there's a Southeast Asian queer artist and he's just like everybody else." That message alone makes me feel really humble.
How does your family feel about you being out and making pop music?
First they were like, "What the fuck are you doing, I asked you to stay in school." And I was like, "Okay, you know what Dad, I'm just not going to tell you anything from now on," and so I didn't tell him anything for a year, and after alextbh started gaining a little bit of traction, my parents were like, "Oh gee, maybe you should do this," and I'm like,"See, bitch? I told you."