Sofia Black-D'Elia says she first got into acting "by accident." As a kid, she looked up to a group of older girls who were all enrolled in a commercial acting class, so she signed up, too. And it's a good thing she did. Now 25, Black- D'Elia nabbed her first TV role on All My Children at 17 before getting cast as Tea, a semi-closeted gay teen on MTV's American adaptation of the hit UK teen soap Skins. She followed that up with a scene-stealing part on Gossip Girl as Sage, a meddling teen who dates heartthrob Nate Archibald.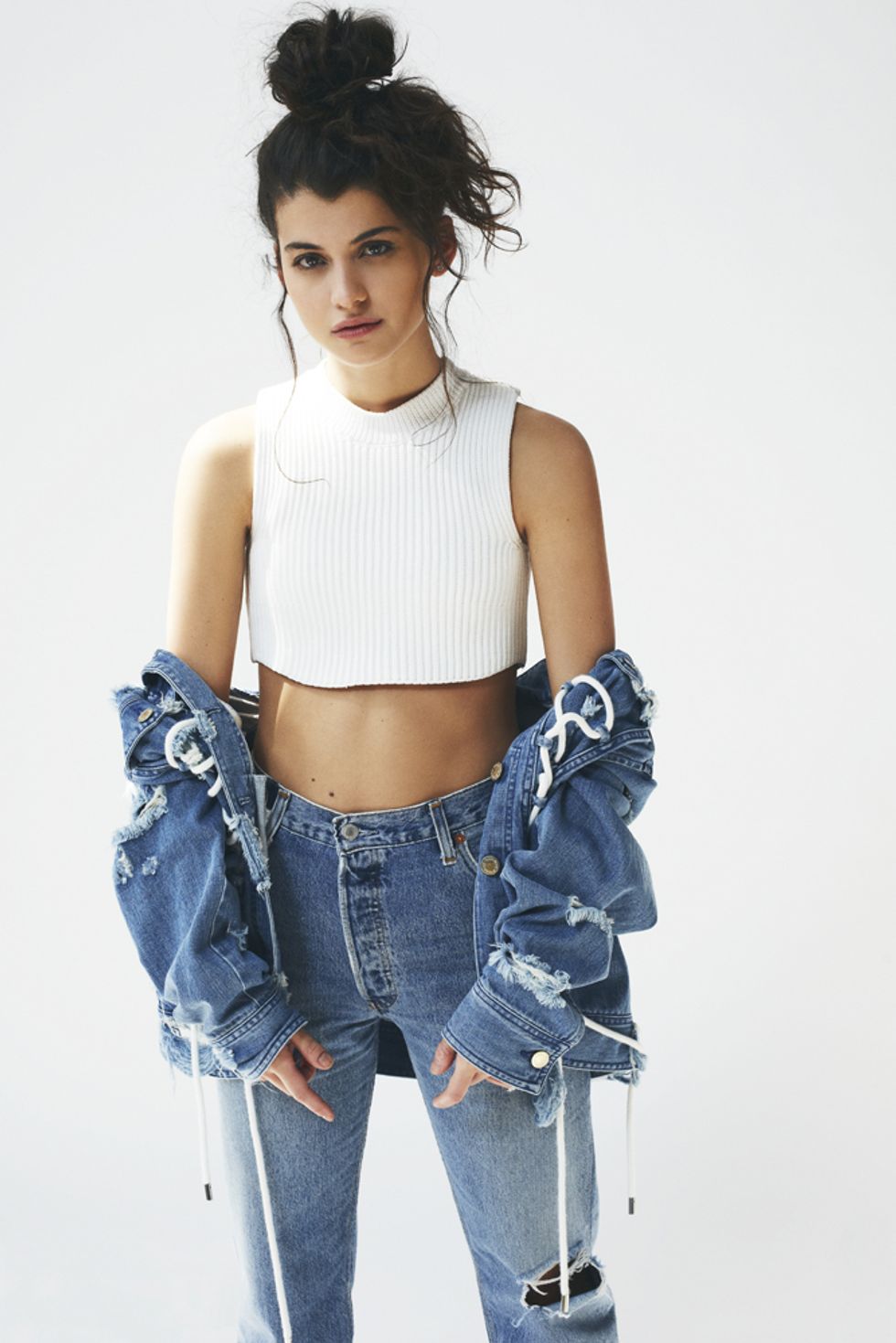 Top MM6 Maison Margiela; jacket Public School; jeans RE/DONE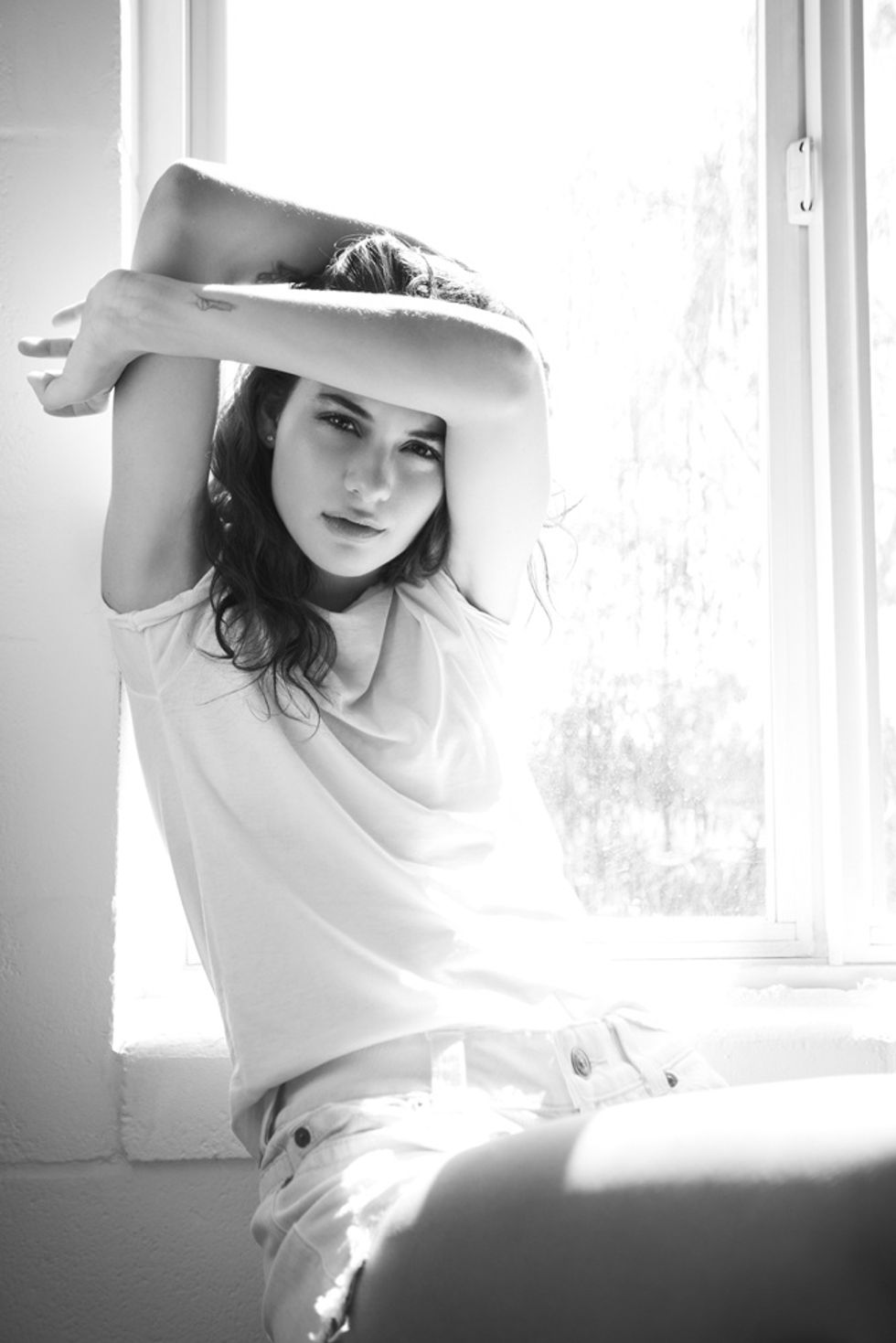 Shorts True Religion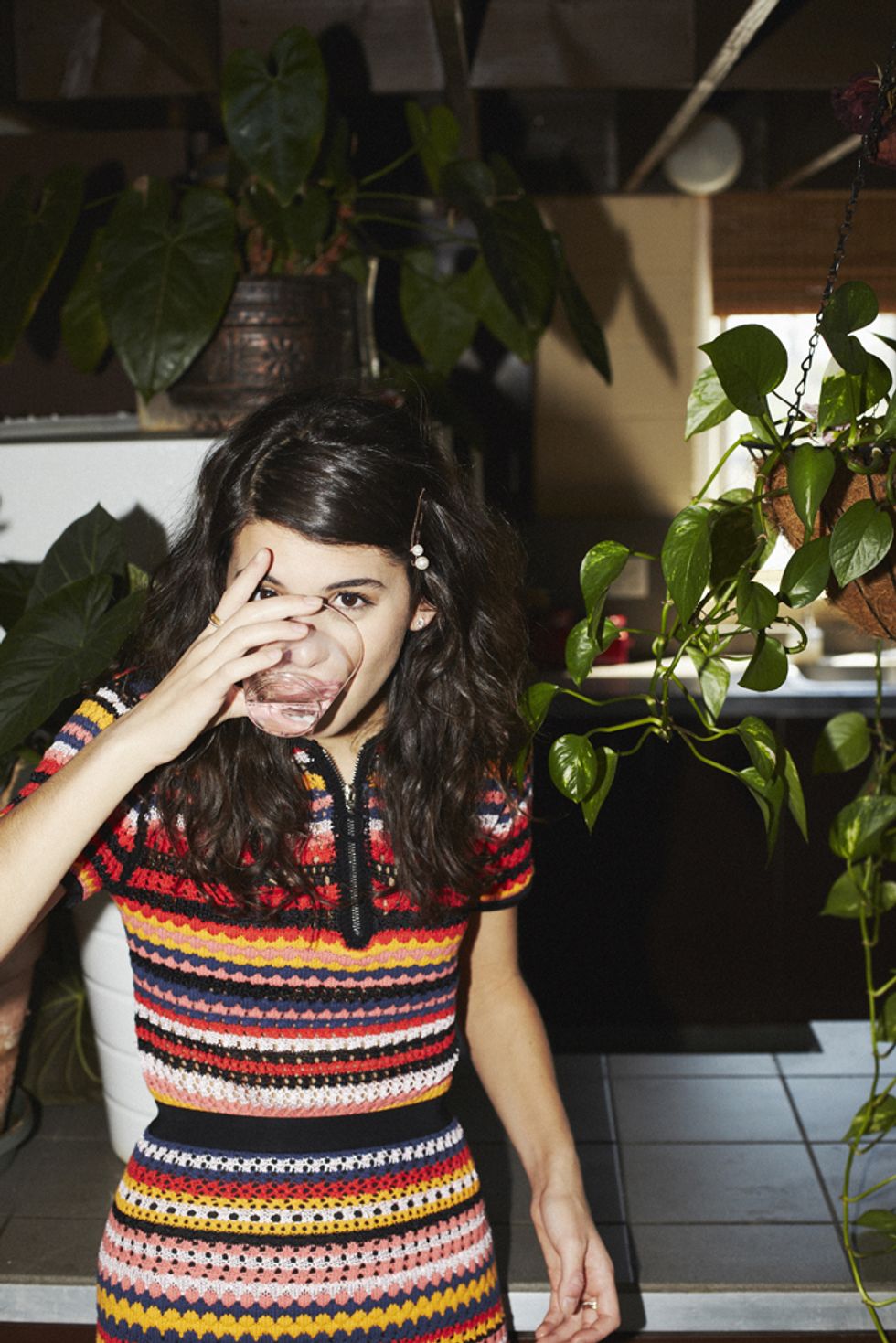 Top and skirt, Adam Selman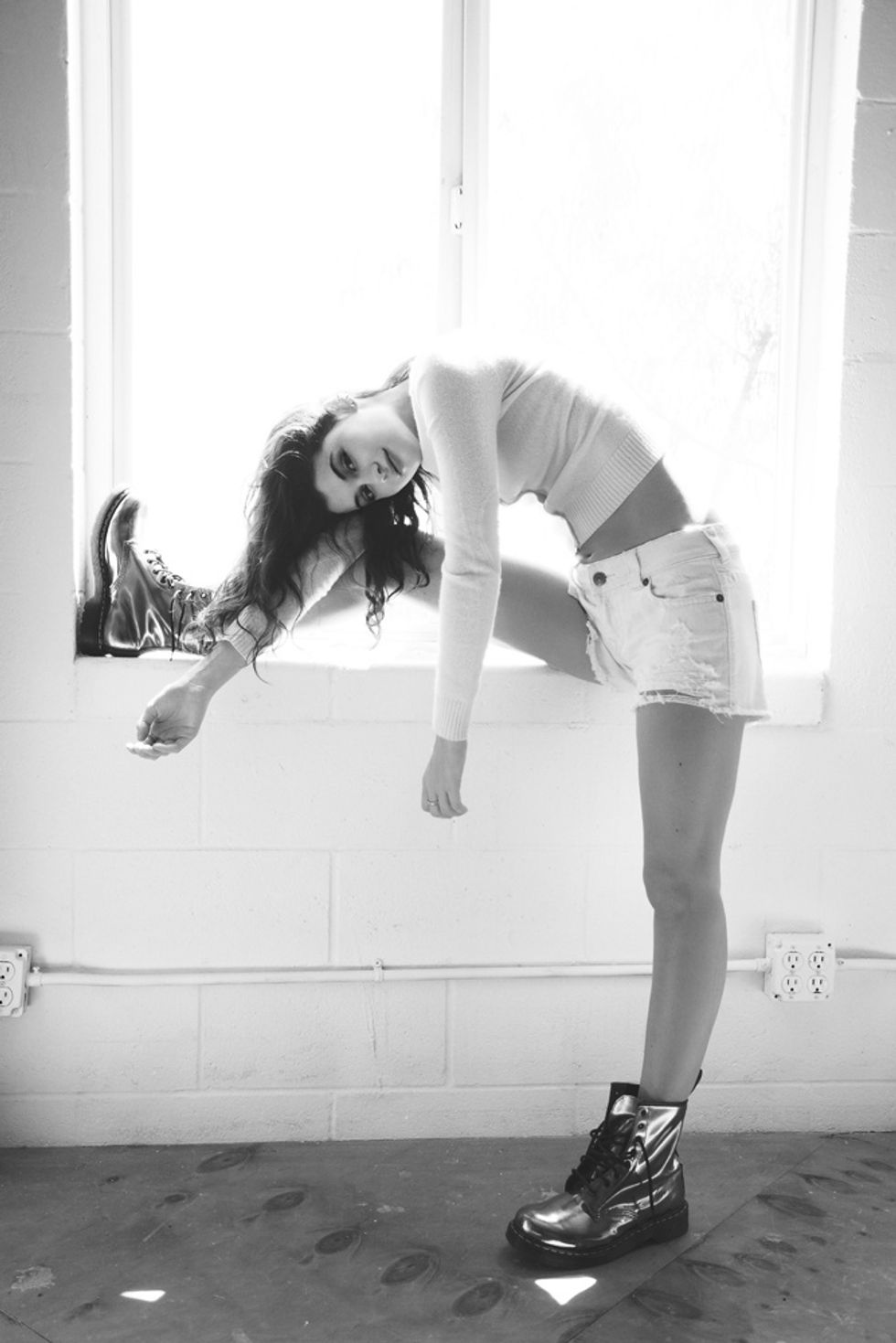 Cardigan Callipygian; shorts True Religion; shoes Dr. Martens
Most recently, the New Jersey native has taken on two similarly rebellious roles on two very different shows. In the first, HBO's The Night Of, she played troubled femme fatale Andrea, whose murder in the pilot episode is the driving force behind the plot. And in the second, Fox's The Mick, she plays Sabrina, a cigarette-smoking party girl who also serves on her high school's honor board and occasionally has to co-parent her younger siblings with her messy boozehound aunt (the titular Mick — or Mickey — played by It's Always Sunny in Philadelphia's Kaitlin Olson) after her parents go on the lam to avoid criminal charges.
Viewers of The Mick might be genuinely surprised to learn it's the first time Black-D'Elia is flexing her slapstick skills. She credits Olson's "maternal" nature as being critical to Black-D'Elia feeling comfortable in comedy. "Kaitlin is a safety net," she says. "I feel really lucky because I can't imagine doing comedy for the first time without that, and it really has been one of the most fun jobs I've ever had."
Like Sabrina, Black-D'Elia is outspoken, especially on matters of justice, and she "compulsively" shares her thoughts about politics on social media. "It feels frivolous and insincere to post things on social media every day and not acknowledge what's going on in the world," she says. Her commanding screen presence paired with her social responsibility has us wondering not if, but when, she will break into the mainstream as Hollywood's latest answer to the woke starlet. But for now, Black-D'Elia is plenty pleased with the "privilege" of "obscurity." Enjoy it while it lasts, Sofia — something tells us you won't be part of the fringe for long.
The Mick is your first comedy but you seem like a natural, particularly in this role.
That's very kind of you to say. I wanted to do this show: A) because Kaitlin has been an idol of mine for a decade; B) because the script was the funniest thing I read all year; and C) because I thought if I'm going to do this for the first time, I'm probably gonna screw up a lot, and I really want to screw up around people that I feel safe with. Kaitlin just is a safety net. Every day she reassures the entire cast, "I'm never going to let you go home feeling like you didn't do a great job at work. I will be here for you and I will help you through it." So I feel really lucky because I can't imagine doing comedy for the first time without that, and it really has been one of the most fun jobs I've ever had.
Does Kaitlin ever give you any advice?
All the time. She's given me advice on, like, how to be a woman in the workplace and how to assert yourself without the fear of being a bitch and how to take control over you own career, things that I really couldn't learn from anybody. I feel very grateful for her. She is obviously one of our greatest comedic actresses but she's also a really beautiful human being and I adore her.
I want to talk about your Funny Or Die video, which I loved. How did that come about?

The lovely folk over at Funny Or Die are fans of The Mick and The Night Of and said, "Would you want to come by or have a brainstorm about something you might want to do with us?" And I said I'd love that because I love those guys and I love the platform they give people. So we were talking about if I had any ideas that might be able to turn into sketches or that kind of thing, and I said I've been collecting on my laptop a list of copy and pasted character descriptions from scripts I've read over the years that I just couldn't believe a guy actually wrote. They had been working on something very similar, so we combined the two ideas into this short film about these guys that think they're really doing a service to women and really believe they're writing them very well. It was my first time ever getting to wear a wig and mustache -- and now I know why guys grow mustaches, because you could just play with it all the time. So that ended up being my favorite part of the day.
When you look for roles, are you specifically searching for multi-dimensional female characters?
Ideally, yes, but I'm not really in a position yet to handpick what I do. I still have to work when I'm fortunate enough to be given the chance to do so. I think in the future, if I I'm in a position where I can be really picky, I will definitely be more selective about what I do. I've been lucky recently in The Mick and The Night Of where those are two women that are fully formed people and they're really interesting and different from anything I've played, so I've been really lucky. It's something you're always cognizant of and think you wish you didn't have to be at all. But sadly you do.
You've said, "I like playing doomed girls." You do almost seem to get typecast as the badass chick, which in terms of being pigeonholed, it could be much worse.
Again, I feel like I'm still so at the beginning of this whole thing. I'm lucky in that I can create a character that I think is right for a story and if it's good enough they'll go, "Okay you can play with us and do this." I don't think that I'm expected to bring that to the table yet. I do find that I'm naturally attracted to female characters like that, but mostly I think I just relate to them easier than the girl that's got it all going on or something like that. So I think at this point it's just, like, what do I relate to and what can I connect to and then build a character out of that.
What are your interests outside of acting?
I find that my interests are very boring. I cook Blue Apron with my boyfriend. We're really into World War II docs. Right now, we're reading Sinclair Lewis's It Can't Happen Here. We're in a very dark headspace and I think that my typical fun hobbies have been kind of pushed to the side momentarily.
You are pretty vocal about politics on social media. Do you feel you have a duty to use your voice?
I don't know that I have that big of a platform, so I don't necessarily feel like I have a duty to be speaking to any group of people. I don't think anyone's following me that I have an influence over, for me it's more of a compulsion. I think it's the number one thing I think about, the number one thing a lot of other people think about, so it feels frivolous and insincere to post things on social media every day and not acknowledge what's going on in the world. I've never spoken out or been quote-unquote political for the sake of a duty or obligation or anything like that. It's honestly just because I cannot help myself from being honest. And that's not to say I don't understand actresses and other celebrities that don't use the platform for that, because I think it's a choice. But for me, because I am obscure, I think it's more of a privilege I can do that and no one really cares. I just have to block a few people every now and then, but it's not making a splash.
Anything else you want to get off your chest today?
I would just say that the protests are working and the energy that everybody in my generation has been bringing this year is inspiring and moving and I don't want anybody to get lazy. So keep calling your reps if you can and don't be discouraged by the fact that there's one snowball after the next right now, because I think this is a battle that can be won.
Stylist: Sammy K
Hair: Chad Wood at the Wall Group
Makeup: Beau Nelson for NARS at the Wall Group