The art of the music video is sacred, and rising pop sensation Zolita is eager to show off her cinematic chops. From her mind to the screen, the California-based musician masterfully directs, produces and edits these viral moments herself. Its been a challenge to top herself with each release since she first captured our attention in 2015 with the release of "Explosion," but the dark-pop powerhouse's wealth of ideas shows no signs of drying up.
Today, Zolita unleashes her long-awaited Falling Out/Falling In EP which features viral hits such as the tense "20 Questions" and the passionate "Ruin My Life." Although each track centers around universal feelings of lust, love and heartache, the openly lesbian singer roots her artistry in queer representation, which serves as the driving force for her music and has become a central point for each of her videos.
For the "Crazy Ex" video, which premieres today, Zolita wanted to capture the nostalgia of early 00's pop-punk that soundtracked teen movies and lived in our iPods. "Thematically it's the most unhinged," she says of the song. "And came to be when I imagined what my breakup would have been like had I been 'the crazy ex' and acted on every petty impulse I had." As purveyors of petty over here at PAPER, we can relate.
Below, watch the video for "Crazy Ex" and read on for PAPER's juicy game of 20 questions with Zolita.
Favorite song on the EP?
This is hard! "Ashley" is definitely my sentimental favorite. But "Crazy Ex" is my other fave because it's deranged in the most fun way.
Favorite lyric?
"I'd kill my career as long as you're right here/ I wanna sneak out of every party, stop trying to be somebody."
Messiest breakup you've ever had?
My messiest breakup is well documented in a past PAPER article... it was public and nasty!
When was your first kiss?
My first girl kiss (not gonna count the boy kiss) was on the eve of my 18th birthday in my college dorm!
Best gift you've ever given in a relationship?
A framed original Avril Let Go tour poster!
Best gift you've ever received in a relationship?
My girlfriend has an embroidery company. Probably all the special things she's made for me. I'm a sucker for personal, homemade gifts.
Most challenging part of making the EP?
It was the first time I went into writing the music first versus coming up with video ideas first. So, when I chose the 6 songs for the EP, they were all very thematically different, and coming up with a narrative through line for the video series was challenging!
Worst date you've ever been on?
My worst date was with someone who talked probably 99% of the several hours I was with her, and then at the end of the date said, "Ugh, you are such a good listener! I could talk to you for hours and you never talk about yourself!"
Best compliment you've ever received?
It makes me really happy when people compliment my laugh.
Who was your gay awakening?
Freja Beha the model was definitely my first true gay awakening. And Brittana, of course.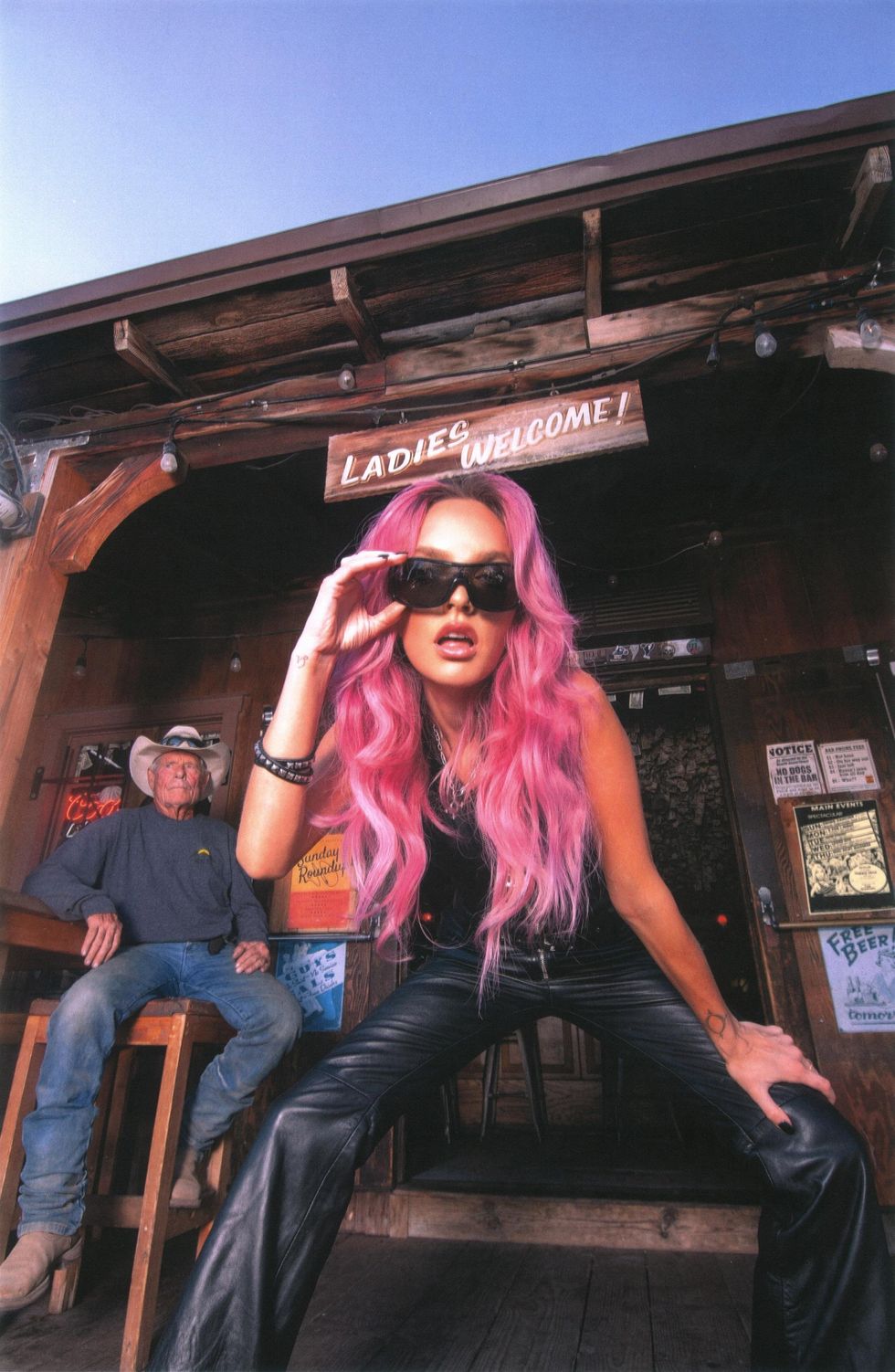 Photo by Amber Asaly
Most underrated song of yours?
"I F*cking Love You"
Favorite video you've shot for this EP?
Definitely "Crazy Ex!" To get to dance on a bar Coyote Ugly style, perform in the back of a moving car, cry in the shower in a wedding dress, shoot a sex tape and get arrested by a hot officer all in one video... I am living the dream.
Most memorable recording session?
From this EP, probably "Crazy Ex!" We had been working on another idea for hours and then I was like, "honestly guys, I hate this." Which is hard for me to do as a people pleaser. And then we wrote "Crazy Ex." So, big lesson learned. Honesty is rewarded.
Go-to feel good song?
"Perfect Day" by Hoku.
Favorite piece of clothing for your perfect "get your ex mad" look?
A really hot blazer with nothing underneath.
Biggest dealbreaker?
When someone is socially unaware or takes themselves too seriously. Also, if someone doesn't respect that Lady Gaga is queen.
Biggest takeaway from Falling Out / Falling In?
Falling out of love is messy and painful as hell, but the feeling of falling in love is so magical that it makes it worth it.
One thing you'd tell your younger self?
Stop wasting so much energy on trying to look hot and weigh less! Your talent and drive are what will set you apart and attract all the right people.
One thing you'd tell your older self, 15 years from now?
Relax and enjoy the people you love! You deserve a break.
One thing you want to take into 2023?
I want to consume more art and fill up my creative cup. I've been so focused on output.
From Your Site Articles
Related Articles Around the Web
Sign Up For The Morning PAPER