What's a sophomore slump again? Three years post-debut, Zolita returned in May with Sappho, her second EP, and the openly queer pop singer-songwriter sounds more self-assured than ever. Hard work, skilled artistry, and a genuine desire to be visible for those who need it most have culminated — and now, in this holy month of Pride especially, everything's coming up Zolita.
A filmmaker at heart (and by education), Zolita's artful videos have stood as pillars in her music career. But in following up on 2015's Immaculate Conception, she grabbed the production reins more tightly, striving for a sonic signature not explicitly tied to visuals. That inaugural release was generally dark in theme and hopped genres, serving a diverse platter that included delicate, melancholy ballads about unrequited love, sultry bass-heavy slow burners, and a side of gloomy electronica so structurally loose it was almost abstract.
Related | Kehlani: the Softer Side of Savage
And while that journey in listening remains an intriguing one, Sappho, by comparison, feels more satisfying. That's because Zolita's pop is decidedly pointed now: Every song is anchored by an irresistible hook and, in the lyrics, there's a feeling of unshakeable resolve. In this new crop of tracks, Zolita appears to know what she wants not only in her music, but also in her life — and whatever she hasn't achieved already is soon to come, because she's certain about the path she's chosen.
PAPER caught up with Zolita over the weekend, just weeks after she'd relocated from New York to LA, where the bulk of her team is based. Our conversation about the new EP led to talk of practicing magic, working with her girlfriend, and what Pride Month means for her personally.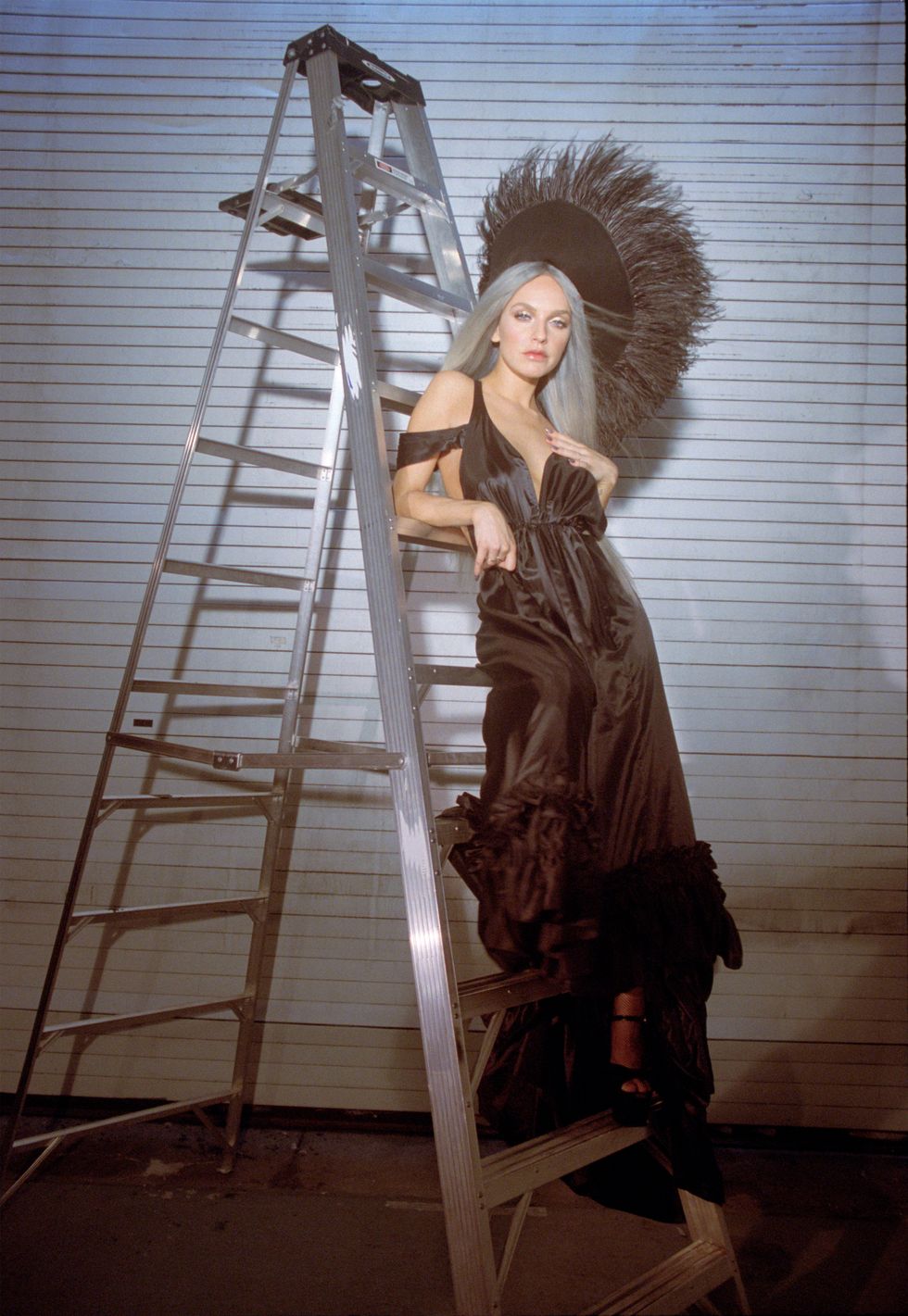 Dress: Kelsey Randall, Hat: Lanvin, Shoes: Pleaser
How is Sappho different from Immaculate Conception?
With the first EP, it was more just me writing the songs in my bedroom on guitar and then bringing them to a producer. I didn't really know very much about the production process. I really put it in the hands of my producer, who I did trust a lot. But with this second EP, I feel like it's more my interaction, [and] I really wanted to have the songs stand on their own two feet, just like I know the videos can. I feel really strong about my video aesthetic; I went to film school, so I just feel very strongly about my aesthetic in general, and I wanted to feel just as confident in my sonic aesthetic. So with this EP, it was me more exploring different sounds and trying to figure out what I like for Zolita.
Related | Hayley Kiyoko Knows What She Needs
Let's discuss the first single, "New You." What is the song about, and how did you conceptualize the video?
I wrote "New You" in my notes on a train; this was before I went into the studio. This is like the last song that we did, actually, for the EP, and I loved it so much because it almost felt like a follow-up or a sister song to "Explosion" [from Immaculate Conception.] Because "Explosion" is super cathartic, like emotional vomit almost. And "New You" feels the same way to me, it's just obviously it's a different scenario, but it's also one that some queer women I think relate to. So thematically, the song is about the pain of someone you love changing a lot, and into a person that you hardly recognize. And more specifically, it's about my experience when a lover cheated on me with a guy.
For the video that I directed, I wanted the video to feel just as cathartic as the song feels to me. The first idea that I had was me sitting on just a bunch of TVs playing memories of this relationship with this person, the good and the bad. Then my favorite part of the video, in the climax scene, there's the contrast between the shower scene and the fire scene. I think it really shows the contrast of what I was feeling – that fiery anger, then also the devastation of being betrayed by somebody that I loved so much. Then in the fire scene, I also have a spell scene, and I definitely explore that theme and aesthetic in my videos because I practice magic in my real life.
When [the cheating] first happened, I was so angry, and I blamed the guy a lot for it. I wanted to put a hex on him. I never do black magic... it's a waste of precious energy, when you could be doing stuff for yourself, manifesting for your own life. Doing harm on others is just not a good thing. But of course, in the moment, that was the first time I ever wanted to put a hex on somebody. But I ended up writing a rebirth spell instead and realizing that reconciliation is possible... and that's the spell that I used in the song. That's the actual spell that I did use in my real life and I ended up recording in the video.
That's a great message to send, even for people who don't practice magic. Let's talk about "Come Home With Me" next. As someone not especially well-versed in the subject, I really appreciated the exposure to classic lesbian art.
I directed that with my girlfriend, Jacqueline de Gorter, who is also a filmmaker. We've been wanting to do a collaboration for a pretty long time. When we went into that project, we just loved the idea of recreating classic sapphic paintings. And then looking into the paintings and deciding which ones to recreate, we realized that either they were all painted by men or they were anonymous. So that also helped with the direction that we wanted to go: We were thinking about how, throughout history, men have constantly claimed queer women's stories as their own, and told their versions, and how men have appropriated queer women's stories to capitalize on them. We wanted to reappropriate their versions, and tell them through an authentic lens, as two women who are actually in a queer relationship.
And I think the three paintings that we chose, at least two of them, are pretty recognizable to people even if, like you said, are not well-versed in art history. So that was pretty fun for young fans to know exactly what we were referencing, and it was kind of like a treasure hunt too for them, once they realized that's what we were doing. [The paintings are Gabrielle d'Estrées et une de ses soeurs (unknown), Sappho and Erinna In A Garden Of At Mytilene (Simeon Solomon), and an Egon Schiele painting.]
It was super fun to direct with my girlfriend. She has a pretty different aesthetic than I do, so it's really cool to see how they came together. And also to star in a video with her was so different than [previous videos]. I usually cast actresses or friends, and it just felt so much more natural, obviously.
Releasing it during Pride Month is super fitting, too.
Exactly. Yeah, it makes me very — like, I wrote this on my Instagram, but I'm just so grateful. Like, me in the closet six years ago during Pride Month, I would never have believed that me now would be making a video like this with somebody that I love so much, so I feel very grateful for that. And to be able to put that on the Internet without a middle man is so amazing, and then to have people connect to it, and find it — it's very exciting.
Related | SOPHIE's Whole New World
How have you spent Pride Month so far? Any special events?
So I moved to LA [from New York] right around when Pride came up, and my girlfriend flew in for Pride. So exciting. We had spent Pride in New York last year, and we had said, "Oh, how cool would it be if every year we went to a new place for Pride?" So we're starting on a good note.
It was really cool, because the last time I went to LA Pride, I was in the closet, and it was my senior year of high school. I knew I was gay but I didn't want to come out yet, and I went to the parade as an ally. It just made me so excited to be there, and so hopeful. I was really excited to be a part of the queer community because I saw how loving and accepting and beautiful and creative everybody was. I think that's why Pride Month and Pride events in general are so important. I think they're mostly important for the young people who are still questioning, or maybe don't have the strong sense of community or come from places where they don't have a strong sense of community, or come from families that aren't accepting of them. I think also just for exposing people to more queer art, I think Pride Month is a special month.
How was LA Pride?
It was fun. I had the most fun at the parties, the side parties, and I went to the them. party which was really fun. We went to the LA Pride Festival, but it was super sad because they oversold the tickets and we ended up not being able to get back in to see Kehlani, so that was pretty disappointing. But we went home and watched the livestream of her, and she killed it. Even though I think all the speakers blew out several times and her in-ear monitors weren't working, she still hit every single note and put on the performance. It was actually nice to watch it in bed with my girlfriend instead of sandwiched between a ton of people. But, of course, I was a little disappointed.
But it was cool, too, at my pool party — I grew up around this area, so at my pool party, I invited people that I have been friends with since high school. It was just cool, the people in high school I was so afraid to come out to or was so afraid for them to find out that I was gay, they were just so accepting — and it's just cool to have them now, at my Pride party, celebrating. It feels really good.
Stream Sappho by Zolita, below.
Photography: Paige Maccready
Styling: Zac Weiss and Jarrett Edward
Makeup: Tony Tulve
Hair: Will Schaedler