From the beaches of Jacob Riis to DragCon NYC, Brooklyn's most versatile queer performer West Dakota has been serving head-to-toe glitter looks all summer.

At New York Fashion Week, Dakota took this obsession with shimmer one step forward, as she emerged literally coated in gold ombré body paint while sporting a beaded halter neck piece and panty. The dramatic look was part of designer Rio Uribe's glamorous beach vacation vibe for Gypsy Sport, which he put forth for Spring 2020.
The Lower East Side runway was lined with palm trees, as the designer made sustainability a major focus — a cause he has rallied behind for the past few seasons. Staying true to his message of eco-friendly fashion, Uribe chose biodegradable glitter brand BioGlitz to slather the models in full body shine.
"Our biggest issue with the current glitter industry is how much waste it creates," BioGlitz co-creators Saba Gray and Rebecca Richards previously told PAPER. "Regular craft and cosmetic glitters are made of plastics derived from petroleum, mixed with aluminum, then cut into micro-particles making them impossible to recycle."
To fix this issue, BioGlitz uses all Forest Stewardship Council (FSC) certified plant-based ingredients to create their glitter, which is "made by transforming the cellulose of eucalyptus trees into rolls of plant-based plastic" and then coating them in ".1 percent aluminum and cosmetic pigments."
Gray and Richards think BioGlitz, which is available to purchase online, "is a step towards our dream future free of all plastic, divested from fossil fuels, and completely committed to the health of our planet."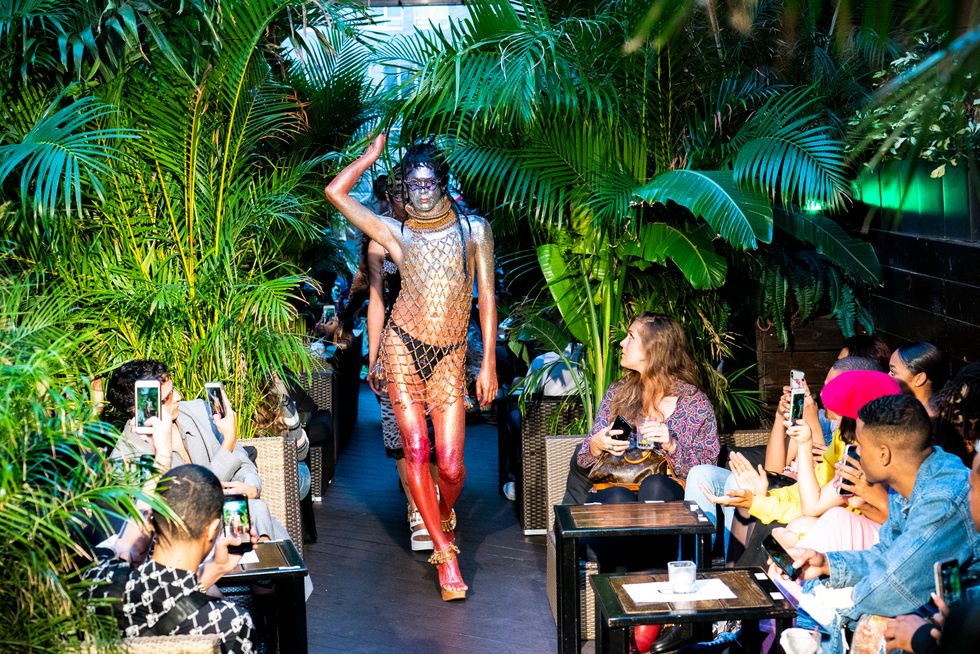 While the shimmering body paint in blue, silver, and gold definitely had everyone's attention, there were even more stunning beauty looks for Gypsy Sport Spring 2020. Lips lined with dark colors, topped with a light nude lipstick, and super gleamy gloss, ultra-stylized hair rolled into tiny circles, winged eyeliners extended to its fullest.