The story of Serena Tea's drag career is the stuff movies are made of. The 21-year-old Bronx, New York native (and PAPER Predictions nominee) got her start in the New York DIY performance art underground, quickly ascending to stages around the country, from RuPaul's DragCon in Los Angeles to Bushwig's annual performance and music festival in her hometown. All the while, she has built an engaged audience by delivering show-stopping sets, complete with original, handmade costumes, and energetic ballroom-influenced choreography.
Last night, Serena broke new ground as the winner of Bushwig 2019. This year's show, held at Knockdown Center over the weekend, featured drag performances by everyone from Lady Bunny to Charlene Incarnate, and music performed by artists ranging from Slayyyter to Jasmine Infiniti. Serena's performance incorporated high-impact choreography to a dynamic medley of songs by reigning pop queens, including "Femmebot" and "Vroom Vroom" by Charli XCX, "Megatron" by Nicki Minaj, and "Shut Up and Drive" by Rihanna.
And speaking of show-stopping, Serena, playing the role of transformer during song transitions, literally entered the stage as a car— with a license plate reading "Serena Tron," of course.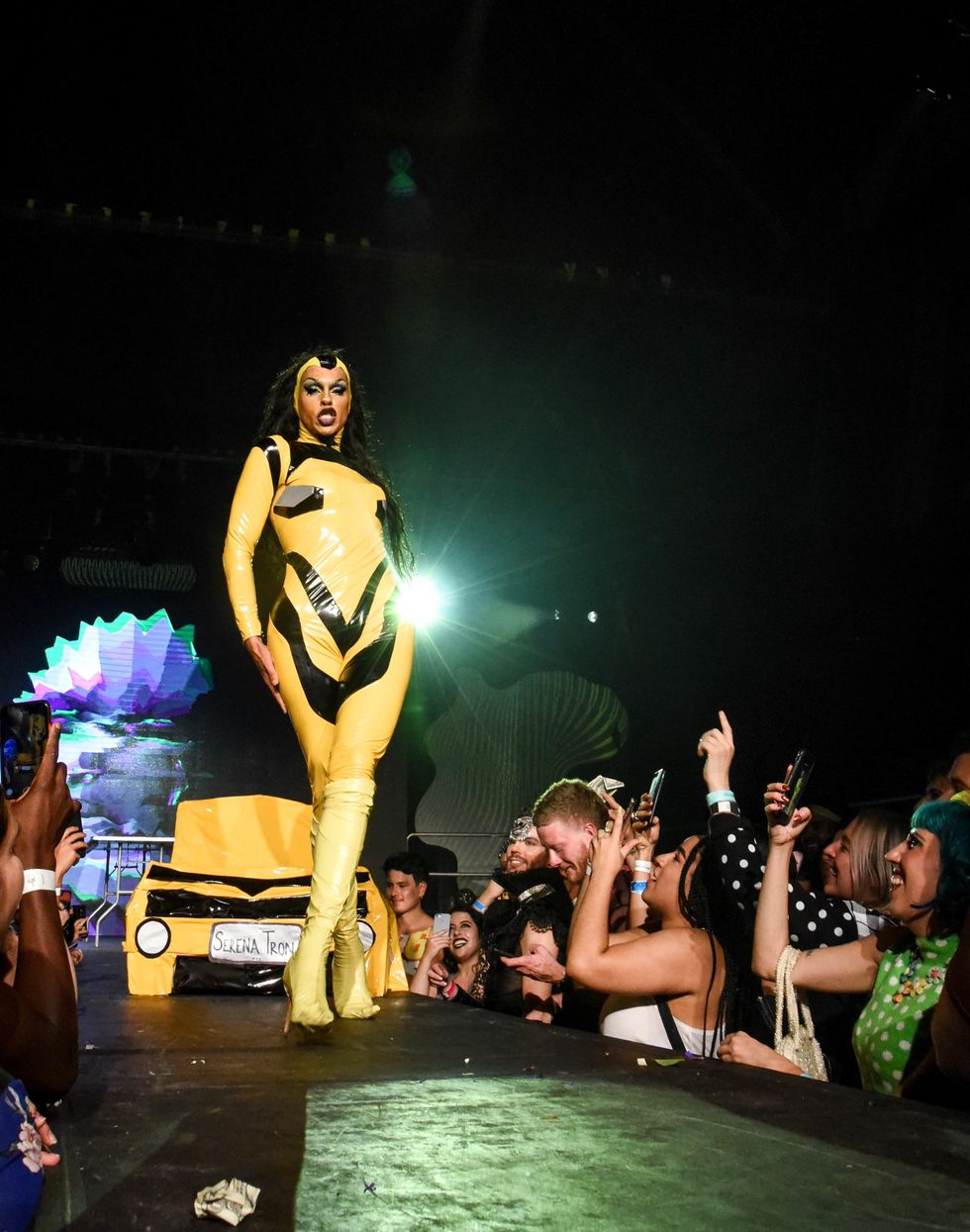 Serena tells PAPER that organizing her performance was a community effort, explaining that she lives in a house with seven other queer performers who were involved with New York Fashion Week, DragCon NYC, and Bushwig, all of which took place over the weekend. "It took so much effort, like every performance I do," Serena says. "But everyone in my house made sure this went perfectly. To see it paying off is incredibly special."
Furthermore, Serena's experience as a performer has led to her being an instantly recognizable fashion darling. Last fall during NYFW, she opened Laurence & Chico by vogueing, and has walked runways from Gypsy Sport to Palomo Spain. She also starred in Milk Makeup's recent Pride Month campaign. Clearly, Serena is well on her way. Her Bushwig win only cements her rise, though winning wasn't her goal. "I'm never thinking about being the best," Serena says. "But I am here to make people feel good. That's really important to me."
The festival has fast become a destination for drag artists before they hit international recognition, including Aquaria, Aja, and Sasha Velour, to name a few. While Serena Tea is in great company, such visibility yields even greater responsibility.
"I don't know how to feel about the win just yet," Serena says. "But I know I'll have the title until 2020. What can I provide for Brooklyn, especially as the election is coming around? It's cute to do drag of course, but I want to do and say something that matters in my performances over the next year. If I'm going to have eyes on me, I'm going to do my best to try to change things happening in the world."
Photography: AJ Jordan / Witch House PR