Healing
When Gypsy Sport's spring 2019 show was scheduled on 9/11, its founder and creative director Rio Uribe contacted L.A.-based healer Domonique Echeverria (a longtime friend who practices reiki on him) to lead a moment of silence before his show. "After some brainstorming we decided to take the entire audience out of fashion week and deeper into their own awareness," he explains backstage. Echeverria opened the show at Samsung 837 with a meditative pause for the victims of 9/11, their families, indigenous people, and our Earth before calling for the audience to look within and seek healing for emotional damage. It was both a tranquil and powerful experience in the middle of a frenetic fashion week.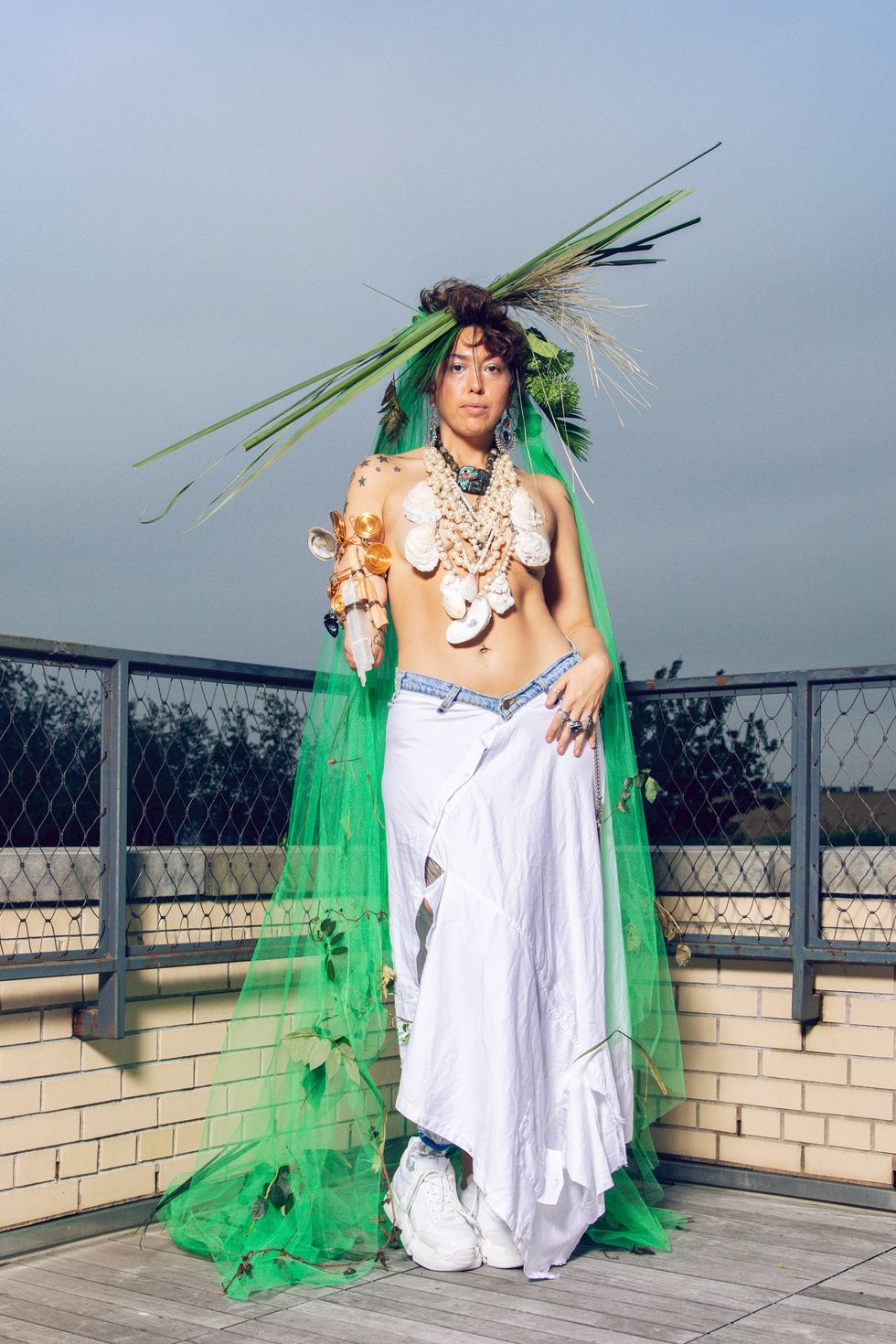 Feminine Energy
"The collection is all about strong femininity," Uribe says citing Echeverria as an embodiment of it. As is characteristic of the styling at Gypsy Sport shows, feminine silhouettes weren't relegated to select bodies. There were however, acknowledgments of the female anatomy and allusions to fertility throughout the collection. Low-rise skirts, shorts, and jeans accentuated the hips, while slashes and tears in garments exposed breasts and pelvises. A metal bra and stomach jewelry piece covered in cowrie shells, pearls, and beads nods at female fecundity.

Mother Earth 
Between the blades of grass, leaves, and palm fronds jutting out of voluminous hair, "moss" covered box-frame handbags, and a satellite images of the Earth used as a print, nature and the cosmos were a major theme in Uribe's lineup. In light of global water crises, ongoing mass pollution, and the exploitation of natural resources, Uribe's message of connecting to our Earth felt especially relevant.
Denim Wizard
While design technique often gets lost in conceptually heavy shows, Uribe has managed to magnify it. The designer's manipulation of denim (90% percent of which was recycled) is especially striking: plackets from jeans connected by belt loops create a perforated strapless dress, jackets made up of latticed denim strips mimic tweed, and expertly appliquéd floral cutouts punctuate pieces throughout.
Foot Loose
Gypsy Sport shoes this season were made in partnership with Swear London, a customizable luxury footwear brand. The chunky sneakers, crafted with denim in a gradient scale of blues and greens, caused quite the stir backstage, when a few pairs mysteriously went missing. The perfect mash-up of fashion's current obsession with the '90s and crunchy style, the collaboration pieces were just too tempting not to snag.
Killer Cast
Made up of friends, collaborators, family, and those Uribe has followed for some time, the Gypsy Sport cast featured an array of body types, gender expressions, races, and ethnicities. Models included Madonna progeny Lourdes Leon, RuPaul's Drag Race star Nina Bo'nina Brown, dancer-cum-activist Leiomy Maldonado, and trans performance artist Imma Asher.
Photography: Jonathan Grassi