From an early age, Russian-born, London-based artist Ушко (Ushko) expressed an interest in music. Moving to Moscow with her mother as a child, the artist got her start at the age of six as a part of the United Choir of Russia performing both opera singers and pop stars on the Red Square. It wasn't until she got her hands on a copy of FL Studio as a teenager that Ushko started working on her own songs, incorporating touches of pop, UK bass and deconstructed club against a backdrop of post-Soviet era trance and drum and bass.
Finding an escape from the drugs, poverty and political unrest that runs rampant through her homeland, Ushko turned to her music as form of personal liberation, emphasizing raw emotion in her work and establishing herself as a fixture on the European club circuit in the process. Then the pandemic hit and war broke out between Russia and Ukraine and Ushko found herself fleeing along with collaborator and partner Moa Pilar to London in an effort to escape the violence and turmoil. Now, with a new lease on life, Ushko finds herself reconciling her nostalgia for the music she grew up with and the untenable political climate that forced her from her homeland.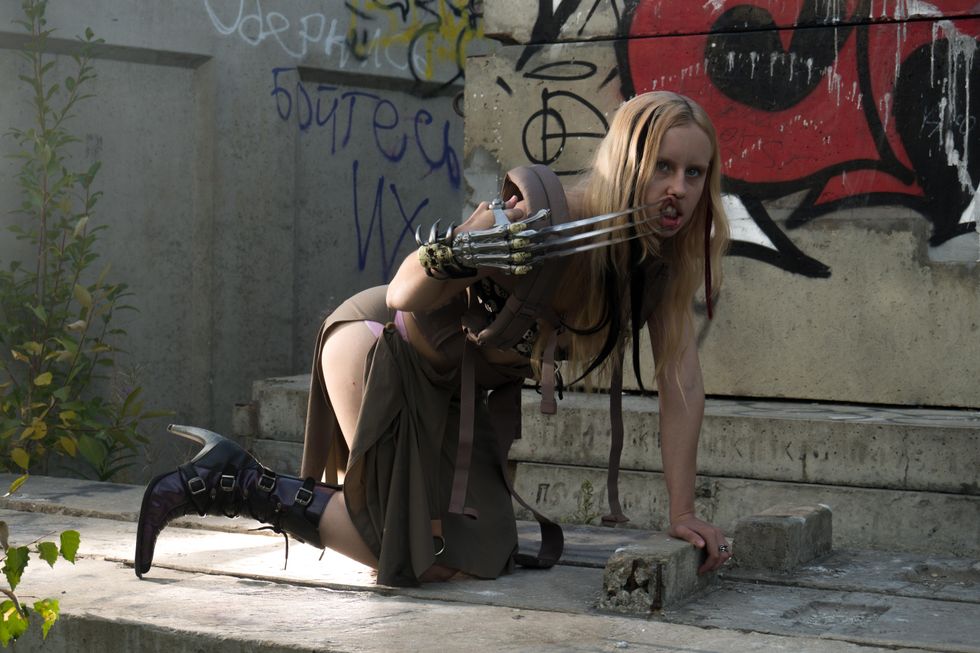 "This song and vid is about someone being emotionally unavailable and you can't reach this person," Ushko tells PAPER. "In my village in the Vologodskaya area we had a witch with trained birds, and she was sending them on long-distance flights to bring her good or bad news; so do I: if I can't reach you with my words and you're not answering my texts I'll send you a Blue Tit bird ("sinitsa" in Russian) to get my message delivered (the message is how much I don't need you)."
Making her debut as the first artist signed to Club Cringe's record label, Ushko returns today with the first offering off her forthcoming album, Wet_Hits, with "SMS." Enlisting the talents of Moscow-based electro-pop producer Kedr Levanskiy, the new single sees Ushko putting an ethereal spin on a classic UK garage/2-step beat, marrying classically trained vocals with a gauzy layer of synths and a nasty low end for a little slice of rave euphoria.
As an added insight into Ushko's inspirations, the track arrives alongside a visual directed by Moa Pillar that taps into '00s rave aesthetics with pixelated webcam footage floating amidst a sea of Y2K digitalia.
"The video looks like this 'cause Moa Pillar was traumatized by eerie PS1 graphics in his childhood (and he also has a shitty computer)," Ushko adds.
Check out the PAPER premiere of Ushko's "SMS (feat. Kedr Livanskiy)" below.
Photos courtesy of Club Cringe
From Your Site Articles
Related Articles Around the Web
Sign Up For The Morning PAPER