Asking New Yorkers to show up to nightlife before 8 PM on a Saturday would, under normal circumstances, raise some eyebrows — everyone knows that, at this point in the evening, the best company should be just waking up, not getting in a cab. But these are hardly "normal circumstances." One month into the Second Great Vibe Shift, everyone's laid off, California sober or breaking up (if not all three). So why not queue up in Gowanus at 7:50 PM and see the city's finest club rats show off their tricks?
On Saturday, January 28, Butler Street bore witness to Diskokina: Fifty Invisible Bullets in my Hair , a spectacle of cybercore "club theatre" that transformed the cavernous motion-capture warehouse ZeroSpace into an arena for multimedia mania. Co-presented by ZeroSpace, sibling-led "image house" Team Rolfes and avant-garde hyperpop conglomerate Club Cringe , the one-night-only stage show — whose healthy five-hour runtime rivaled only the works of Ivo van Hove — featured a loosely linked lineup of five "mixed-reality" A/V experiences (Team Rolfes' "3-2-1 Rule" with Lil Mariko and GFOTY ; "Club Cringe Live" with Frost Children , umru , Mother Cell, Kalifa, DJ Wallhax, Tendryl, Angel Money, DJ Trick and more; "Fractal Frantasy" with Sinjin Hawke and Zora Jones; Von's "Bloody Mary" and "Torus").
​"We have, for a long time now, been working on this kind of more dialogue, narrative-based media," producer Sam Rolfes tells PAPER . "And it just so happens we found the perfect place with the perfect people."
As a motion graphics designer, Sam has created visualizations for artists like Lady Gaga, brands like Nike and entertainment channels like Adult Swim. But the cutting-edge computer-generated visuals Sam brings to life with his brother and creative partner Andy have (with some exceptions ) mostly appeared as accompaniment for performers other than themselves. With Diskokina, Team Rolfes wanted to create a scripted saga where technology itself — specifically live motion capture, interactive game design and VR puppetry — headlined alongside human talent.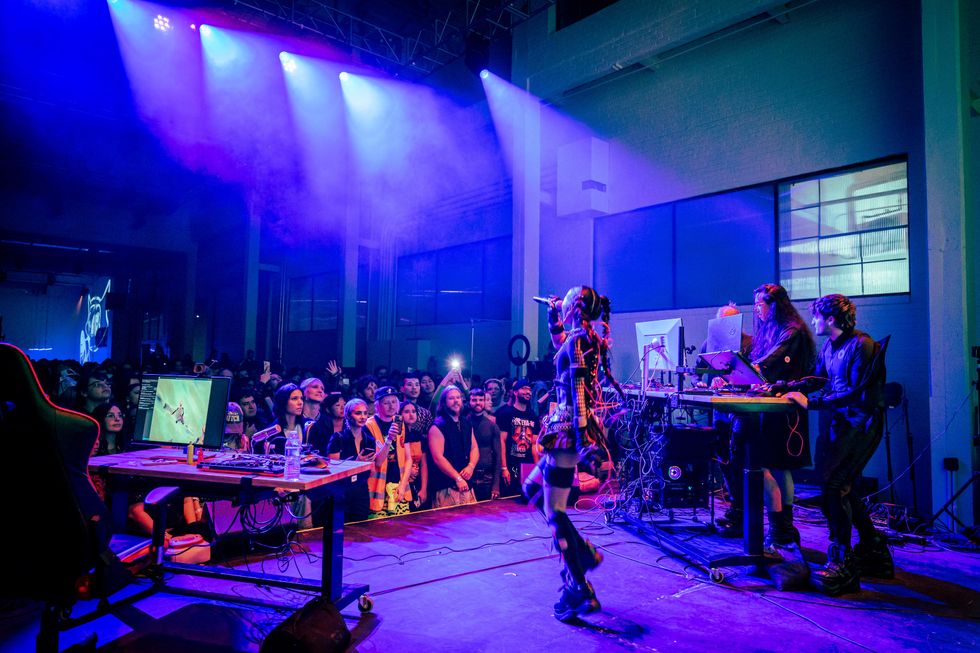 "We're kind of presenting an antithesis to experimental tech tools being just a tech demo," Sam says. "We're trying to perform with it."
In broad strokes, performing with VR entails donning a motion capture suit (or using a special cameras) to transmit one's movements into a video game or virtual reality environment (powered by 3D design platforms like Unreal Engine). A performer then "plays" a live game using their body as a game character. Performers thus appear twice in "mixed-reality" shows: once as physical presences in front of fans and again beamed onto LED screens as virtual avatars, tweaking out and leveling up.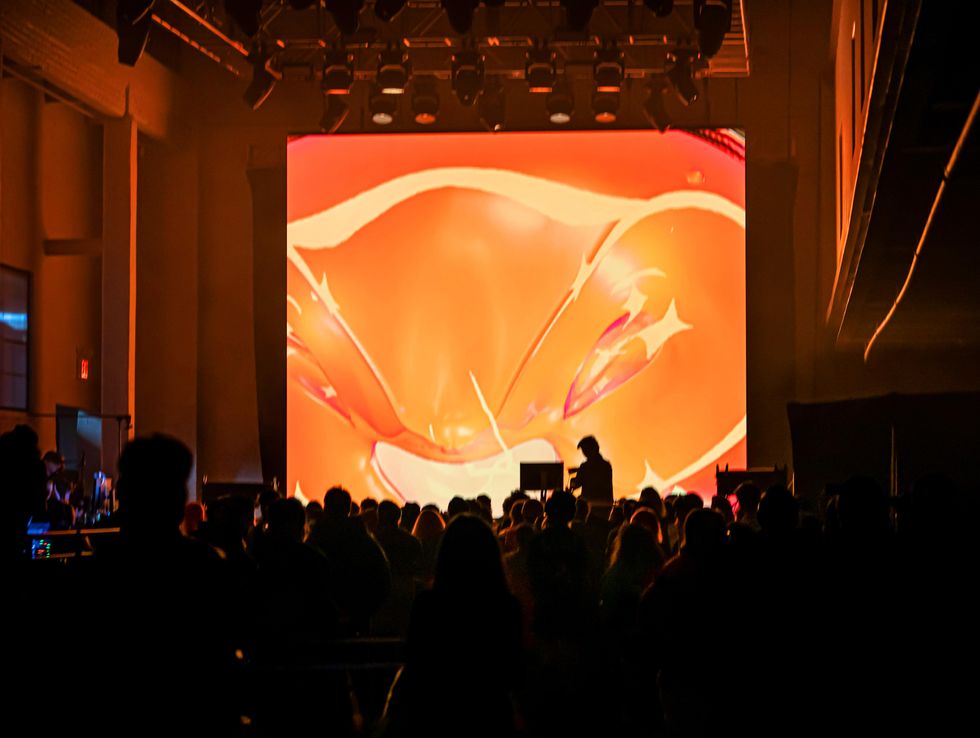 In recent years, live mixed-reality performance, which Team Rolfes and digital projects like CompUSA Live have experimented with since at least 2019 , has gained a wider audience as "the metaverse" goes mainstream. At the 2022 VMAs, Snoop Dogg and Eminem showed off emerging motion-capture technology in a mixed-reality performance as their Bored Ape avatars, a test case many reported as cringe . But no Bored Apes were involved in the making of Diskokina, and, at Diskokina , "cringe" isn't a dirty word.
"This is all kind of like a metaverse parody at the end of day," Sam says. "We're using all these little emerging tech tools, but we're acknowledging that they're all inherently slapstick."
At 8:15 PM sharp, the evening kicked off with sex-positive musician Von 's sacramental stage show "Bloody Mary." When Von exited, declaring, "In the name of the father, the son and the holy cunt, welcome to Diskokina," the audience was introduced to Kina (voiced by Maya Filmeridis), an animated flying sprite dubbed "the world's first AI superfan" who served as the evening's mascot and host.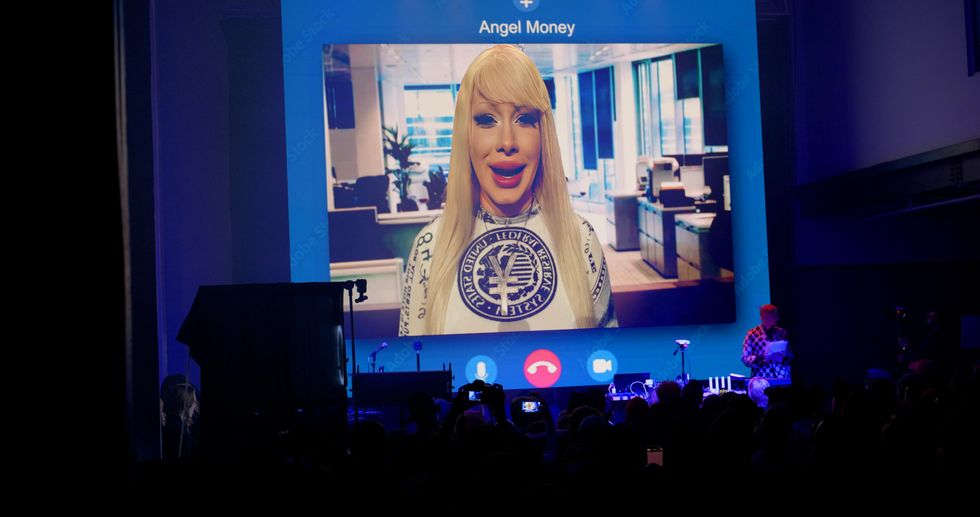 "Everything we show Kina will contribute to her training set," Sam said at the time, encouraging the already stunned audience to cheer and dance.
If the crowd needed a little coaching at the outset, who could blame them? A/V performance can trigger sensory overload even in its tamest forms, and as Diskokina unfolded — with intermittent Skype skits by Angel Money, pulsing electronica from Fractal Fantasy, interstitial music by umru and Club Cringe going Cheaper By The Dozen mode with 12 cast members onstage – no one could say the vibe was understimulating. Crammed into a sold-out warehouse, attendees seemed unsure whether to look at the howling hyperpop stars, the giddy glitching pixels onscreen, the noses pressed up against the second-floor window in the VIP area or the Wizard-of-Oz -style coders stationed at monitors behind black curtains stage left.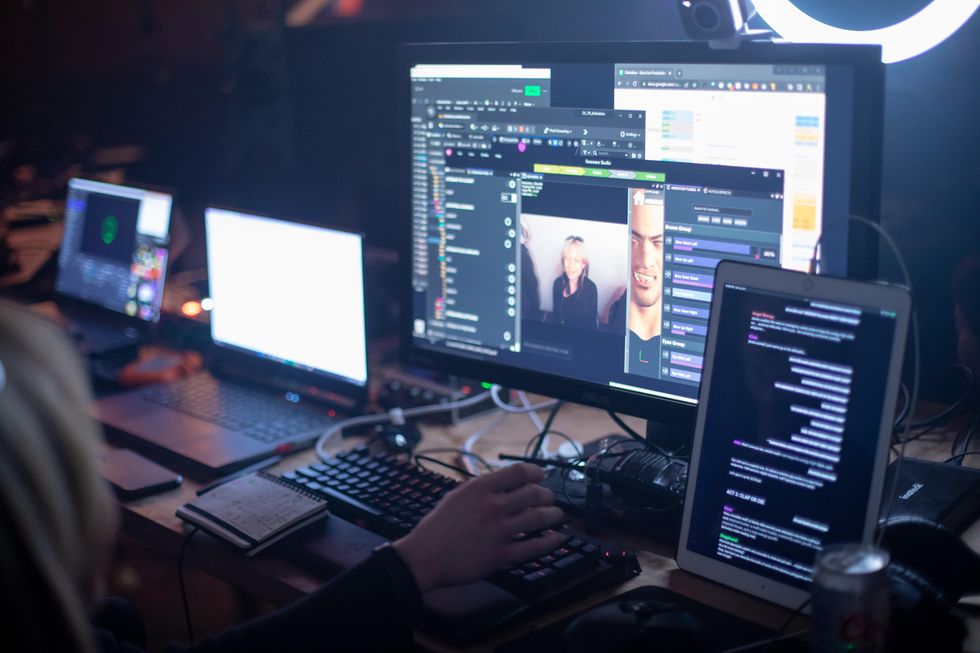 That the production team also seemed unsure how to describe their (albeit indescribable) A/V epic only heightened the playful chaos; while the official descriptor of Diskokina is "real-time club theater," I also heard parts of the show described as "almost like a Disney ride" (by writer Liby Hays) and as a "jukebox musical mixed with two-person dialogue, think a little bit of Waiting for Godot except 100 years from hence" (by "3-2-1 Rule" writer Jacob Bakkila).
Whatever Diskokina was, its unique synthesis of rave, extended reality showcase and live theatrical show hasn't been brought stateside in recent memory (or perhaps ever), though Bakkila explained that audiovisual experiences like Diskokina are far more common overseas.
"Speaking candidly, there's so much more opportunity for experimentation and theatrical experimentation in Europe, due in no small part to social climates, but also due to things like the ease of grants," Bakkila said.
For those of us who can't hop the pond to Berlin anytime soon however, Diskokina worked just fine as a night on the fringes of the future. But at 1 AM, all roads — even the cutting-edge rave-theatre path less traveled by — lead back to Market Hotel; leaving mo-cap suits in the green room and some poor creature's vomit on the bathroom tiles, the club rats scurried off to the afterparty, where, upon hearing slow thumping bass notes emanate onto Myrtle Avenue, Lulu Prost declared, "looks like they're doing the under 100 bpm challenge."
Photos courtesy of Sam Rolfes