In a year when transgender people are being explicitly threatened with "eradication" by our political leaders and beyond, documentation of the LGBTQ+ community is more important than ever — their very valid, real existences, both privately and publicly, that are worthy of preservation and perseverance.
Rising photographer Ramie Ahmed is among the critical artists capturing his queer friends and family, as a core member of the Angelito Collective creative agency. Whether he's on-site for New York cookouts celebrating the prolific work of trans women or lensing protestors outside the iconic Stonewall Inn, 24-year-old Ahmed is highlighting people in their truth.
Now on display at School of Visual Arts' Chelsea Gallery through March 27, Mentors is a group show pairing students with esteemed working artists. For Ahmed, SVA tapped fellow queer artist Clifford Prince King to offer his professional insight, which resulted in Ahmed's series of intimate portraits — one of which features Angelito Collective member Kam in full glam.
Below, PAPER talks with Ahmed about the work he's making now and his plans for what's up next.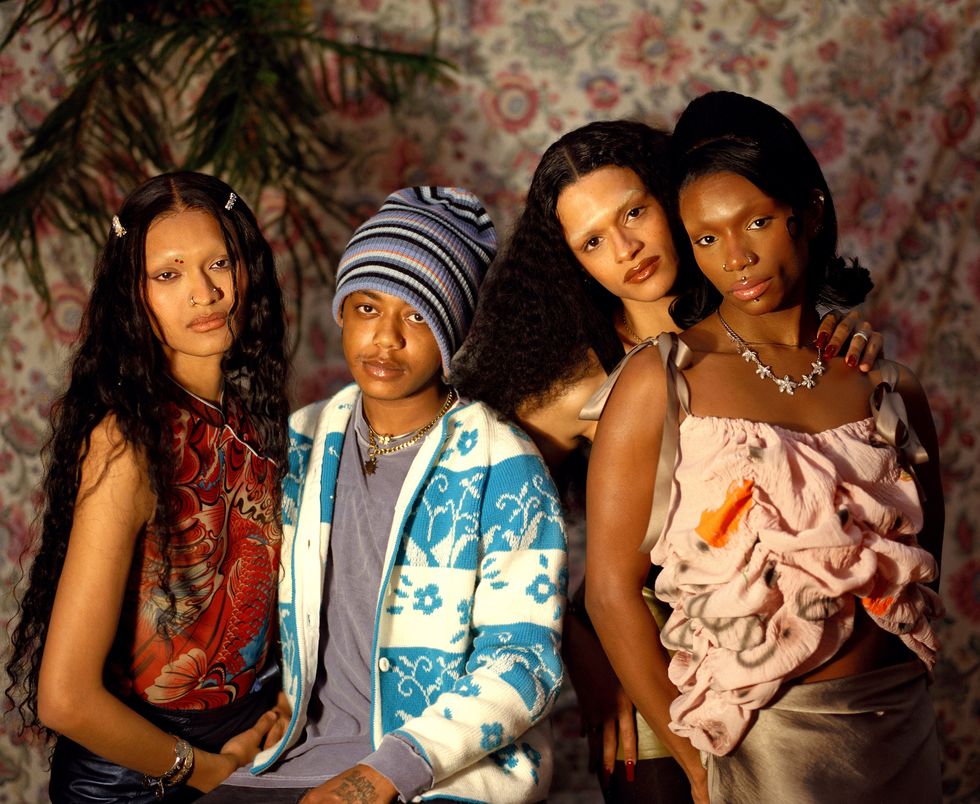 Where did you grow up and how did that impact the way you approach photography today?
Growing up in Trenton, New Jersey, before moving to Robbinsville, New Jersey, in 2013, has undoubtedly influenced my approach to photography. If anyone is familiar with these towns, you know they are total opposites in terms of wealth and population. After moving to Robbinsville to enroll in their high school, I became more aware of how people stereotype and perceive a large community they are unfamiliar with just by what they hear. It was unexpected to experience, but let's say intriguing.
What perspective do you think you're bringing to photography? There seems to be an ease and comfort in your subjects and the way you depict them.
I want whomever I may be photographing to understand that we're in this together and that just because I have the camera and this "power," it wouldn't be possible for me to take the pictures I've taken without them. I feel it all goes back to doing everything collectively, as a community because without others where would we all be? Whenever my friends say they're honored to be in my photographs, I always respond, "No, I am honored," because they're entrusting me with how they see themselves and how they want the rest of the world to see them.
How did you get connected to the Angelito Collective, and what is your role or relationship with that group of creators?
The night their short film "Toxic" premiered in a gallery basement in SoHo in 2020, my friend Kam, also a part of the collective, introduced me to the other members. This gallery created a domino effect in my life. I started spending a lot of time with the girls and just taking pictures of their parties because I was fascinated by how they managed to maintain their sense of community and have a good time. As our friendships and working relationships developed, I was asked to join the Angelito Collective with photography as my primary discipline about two years later.
Have you always been interested in photography? How has your relationship with it evolved over the years?
Truthfully, I had absolutely no interest in images or even becoming a photographer. It was when I graduated high school in 2017 that I enrolled at my local community college. By doing this, I bought myself some time while looking for a sense of direction that ignited a spark in my interest. I spent time in basic academic classes like physics, math and literature, which were never particularly interesting.
When it came time to apply for an elective, I decided to take a "black and white film photography" course, not realizing what I was putting myself into. Initially, the dark room and its process confused me, but I eventually found it intriguing and spent countless hours processing film and printing, sometimes until the photo lab closed. I finally felt that motivation that I had been searching for. Since then, I have had so many conversations with other photographers, experienced new things and had multiple photography courses. As a result, I have a better understanding of how to view images and how powerful they can be, but the learning is still ongoing.
In a time when we're inundated with images, how do you think photography can cut through the noise or add value?
In my opinion, when looking at the "overflow" of images at face value, yes it does seem a bit noisy, but it will always add value because each person has a distinct set of life experiences and their own way of navigating the world. I think perception is everything, and when we look at problems or scenarios there are always many different lenses you can look through, which can change everything.
Why do you think it's important to document your community, especially those who identify as LGBTQ?
For me as a photographer, it's consequential to preserve such beauty ensuring inclusivity because so many people are trying to erase and isolate members of the LGBTQ community from the "normal" society. So [I'm] showcasing to those who might not understand that people who live authentically are also human, that underserved communities are still here to represent to stand up for what is right in every space, whether that be on a gallery wall or in the streets protesting for equal rights.
A lot of your work thus far captures gatherings, like group celebrations, fundraisers or protests. What about those environments excites you as a photographer?
I admire witnessing people gather together as a community, engaging in friendly conversation, and rejoicing and working together for the greater good because a sense of solidarity keeps individuals sane and gives them hope that anything is possible.
What was it like working with Clifford Prince King as a mentor for the set of images you created for SVA's Chelsea Gallery? What did you learn from that experience?
Working with Clifford Prince King was truly magnificent. Clifford believed in me and the message I was conveying visually without trying to steer me on a different path, and for that, I truly valued having him as a mentor. And in short, I can say that Clifford's optimism taught me how to continue finding beauty in everything.
How do you see your work evolving as you grow into your photography?
As I continue to discover more about myself and how I see the world through my camera as I make art. The more I immerse myself in my craft, the more my identity will come through in my photographs which allows me to evolve as an artist.