There are few parts of our culture more vulnerable to alarmist moral panics and taboo respectability politics then technology and sex. Even as they become more and more intertwined — it's 2018 and we live, talk, meet, and fuck on the Internet! — their intersection is hard to discuss at all in our culture, let without condemnation or freak-show sensationalism.
British editor and visual artist Iris Luz wants to change that. With her new porn magazine PC Erotic, she is insisting on honesty about how deeply technology penetrates our lives — and wants us not only to not fear tech's influence on sex, but to celebrate and laugh about the worlds it's opening up. And she's looking at you — all you "paranoid aunties."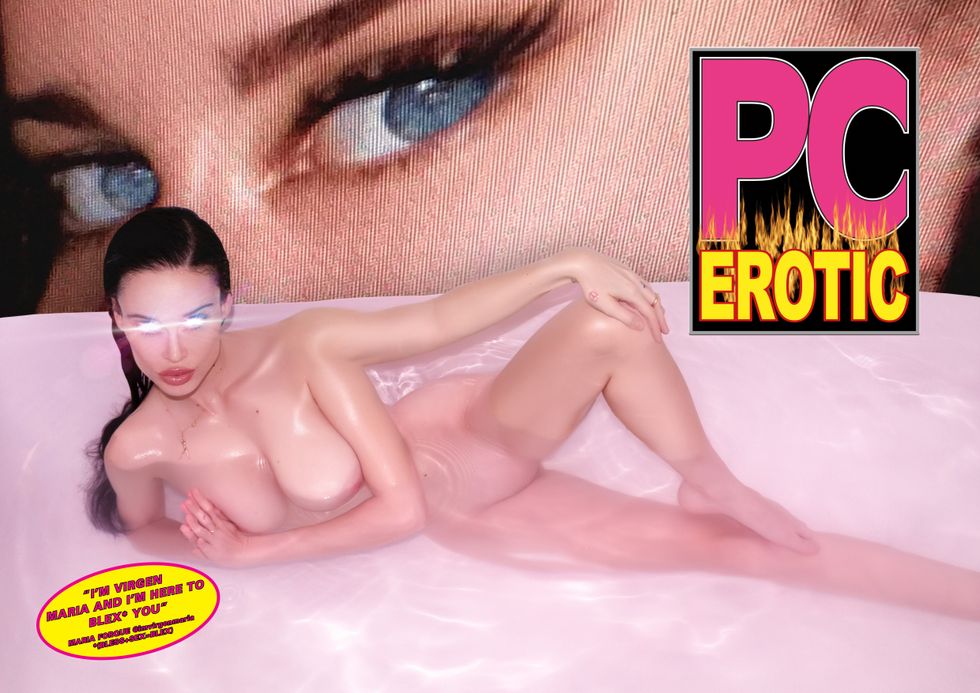 Published by Ditto Press, PC Erotic is modeled on a "typical lads mag" — except that its first issue is covered by an uncanny airbrushed alien shot by digital sex artist Maria Forque, and promises features about tentacle porn, mukbang, bimbofication, killer porn drones, robot sex, and an interview with tech dominatrix Mistress Harley. PC Erotic skewers the crude CD rom aesthetics of the '00s to reveal the humor and hypocrisies of our culture, as if to say "if we have this on our shelves, than why the hell aren't we talking about any of this stuff?" Without taking cheap shots at porn or sex work, it's a glorious sex and tech positive mix of satirical, and seriously informative content that pays homage to the British tradition of satire.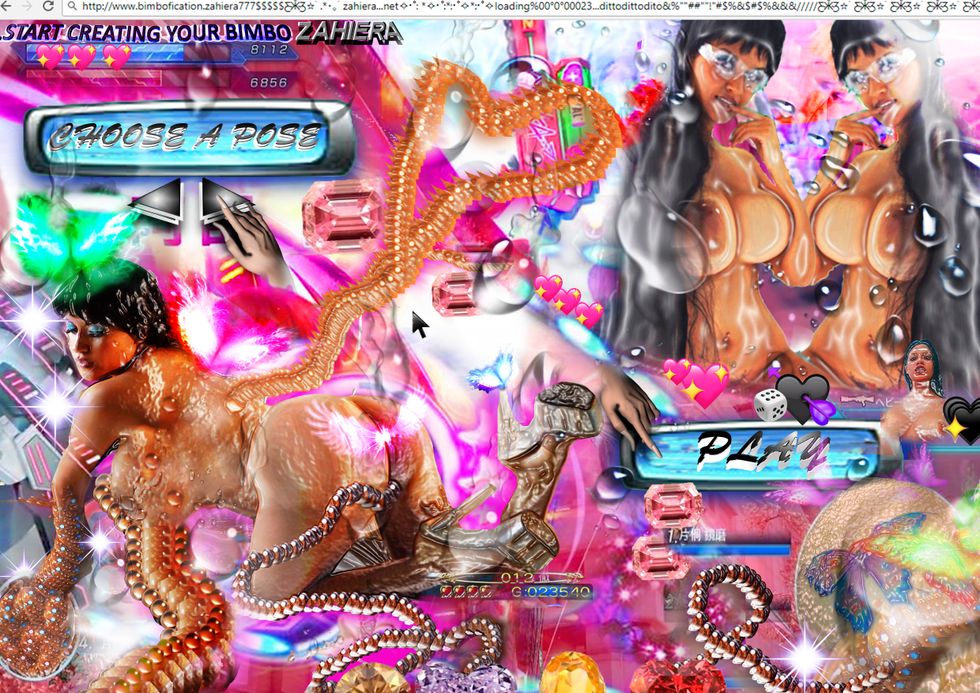 Luz isn't a utopian tech optimist, but simply wants people to pay attention, be open-minded and recognize that whether we like it or not, tech is changing sex. She spoke with PAPER about why she's tired of shows like Black Mirror, and how everyone can benefit facing our "radical new world of technology and sex" head-on.
What did you feel like was missing from our cultural dialogue about sexuality that you're hoping to provide with PC Erotic?
The inspiration behind the mag is how intimacy has changed thanks to technology, to put it shortly. It all came about because I was tired of hearing people complain about silly things like, "HOW DARE FACEBOOK KNOW WHAT BOOKS I'M READING!" (looking at all the paranoid aunties out there), and seeing shows like Black Mirror or the press use our technological advancements to instill fear.

Specifically, within sexuality and the sex industry, I feel like there's a heightened level of scrutiny surrounding the platforms people use and how the government and people act towards it. The Backpage scandal really got me thinking that we need to open an honest and sane dialog about tech and sex that doesn't drift into the farcical and foreboding — instead we need to figure out in a pragmatic manner a new set of rules and perspectives to live harmoniously within this new realm. New scenarios as to what sexuality can be have been materialized thanks to technology, and I'm just here to encourage people to be open-minded and talk about it (even if it's through tentacle bimbofication).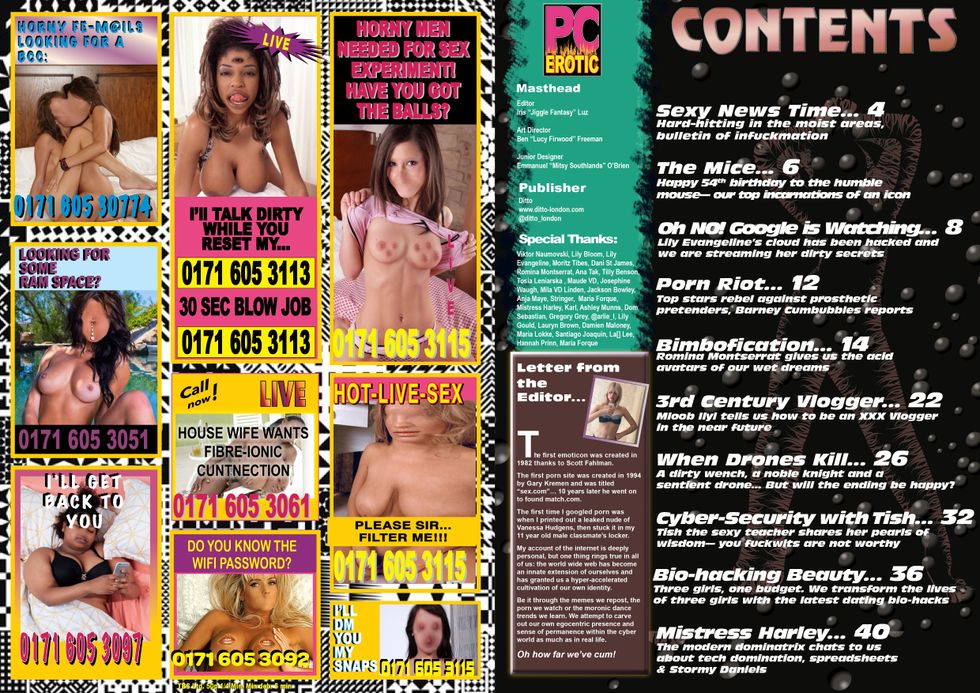 What are the biggest ways you think technology is changing sex and sexuality?
Technology has provided, believe it or not, a deeper sense of connection with one another. When I interviewed Mistress Harley, the first Techdomme, she made me understand that tech offers to us a sense of deeper and more lasting connection within the realms of our social abilities. You're always in touch with the people you love and can learn an infinite amount about their identity through social media, something you probably never could absorb IRL.
Additionally, tech has provided us with a platform to interact and connect with people we probably would have never found outside of the Internet. By seeing yourself and people like you on the web, you become more in touch and confident with yourself and your sexuality (shoutout to the Fishkin and Furries of the world!).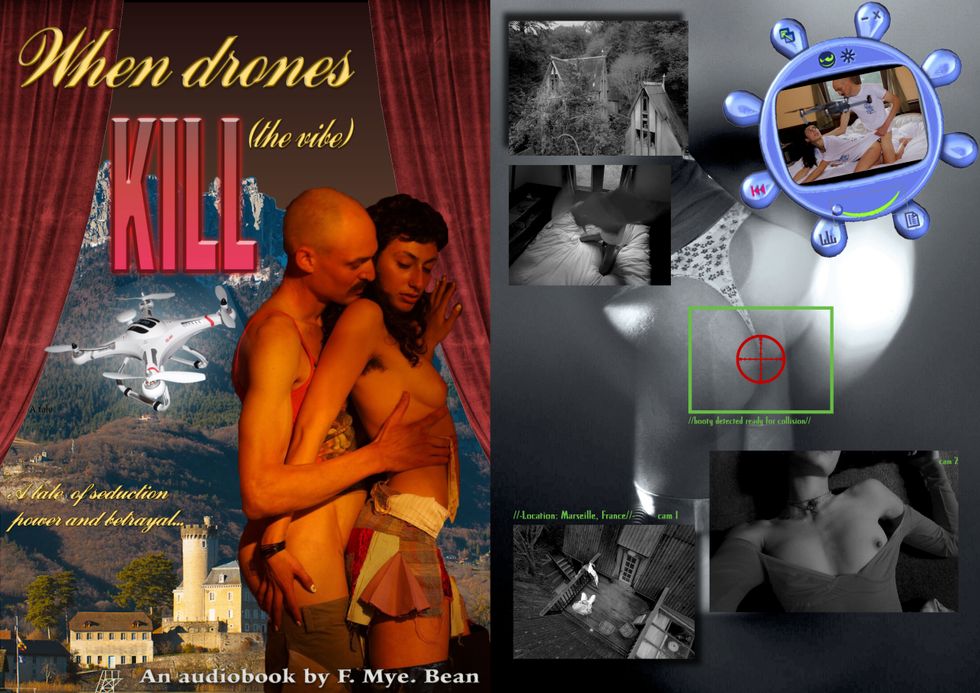 Explain your decision to style the PC Erotic like a traditional "trashy" porn mag.
An idol of mine, Cicciolina, was the inspiration behind choosing a traditional "trashy" porn mag facade. When she decided to move from a pornstar in the adult industry to a political candidate, she was met with many people saying she was an abomination and an embarrassment to Politics. However, she utilized her identity to show the farcical and comical state of affairs within fascist Italy, and used humor, beauty and sexuality to make a point. The fact that we used a typical lads' mag aesthetic is our way of transforming something perceived as demeaning or misogynistic, into a tool that is not only attention-grabbing and funny, but makes us reflect on our tumultuous relationship with sex and tech.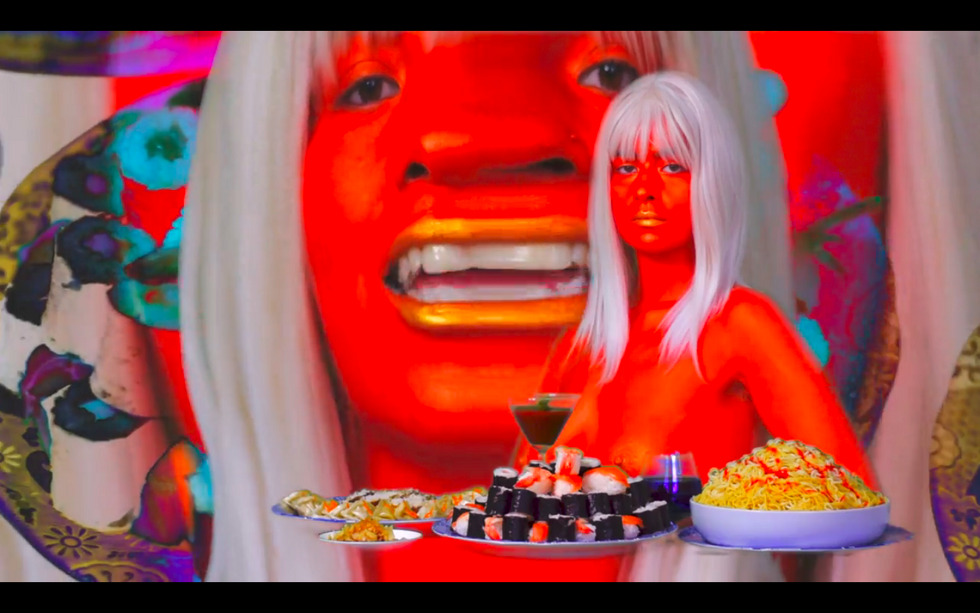 What audiences do you want to reach?
The great part about PC Erotic, I believe is the fact that anyone can enjoy it. It targets as much free-thinkers as it does conservative individuals. Apart from children (OBVIOUSLY), I believe everyone can benefit from being confronted with a radical new world of technology and sex. For some it'll give them real insights into technological advancements and for others, it'll be a chance to read a different point of view from theirs on what sexuality can be. I really just want anyone to talk about what they think on the subjects explored, for better or for worse.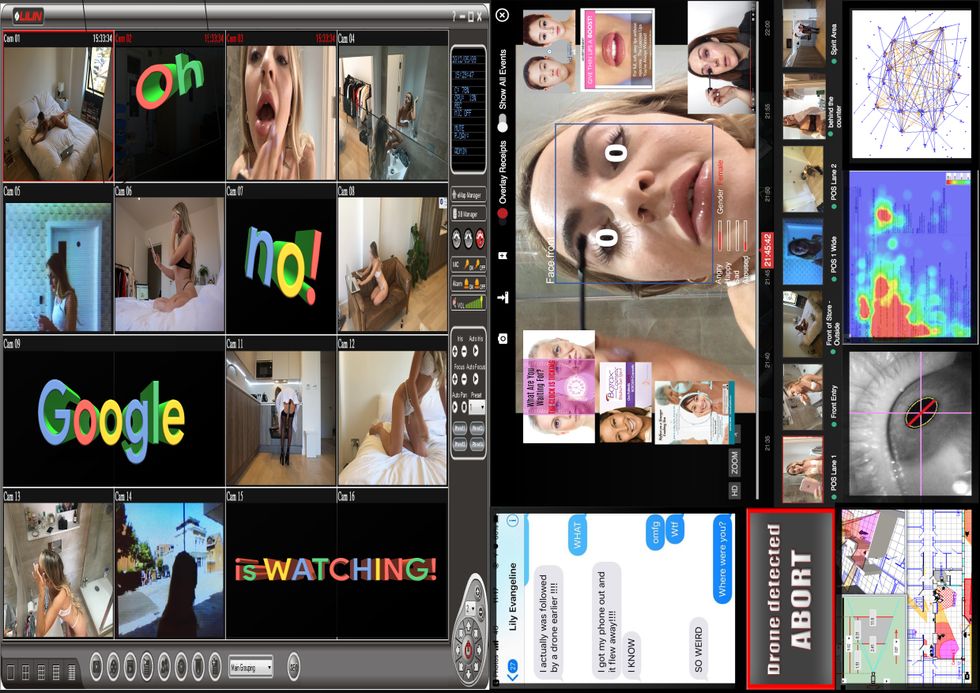 It feels like there's a lot of incredible artists/creatives working on issues of sexuality whose art still goes beyond to what's palatable to our culture, even as we become more open-minded. Are you hoping to give a platform to some of these folks?
We're in this limbo stage where certain visions and explorations of sexuality within art are accepted and celebrated daily but not others, which isn't great because it once again instills a mold of what explorations of the subject are deemed "ok" and "cool." Whilst there are a lot of artists exploring this theme, I want to especially support those that do it honestly and true to their identity, and not as a person following a trend of what is deemed valid at the minute. What fascinates me most in a person is how they express what they think and feel rather than the subject they choose to cover.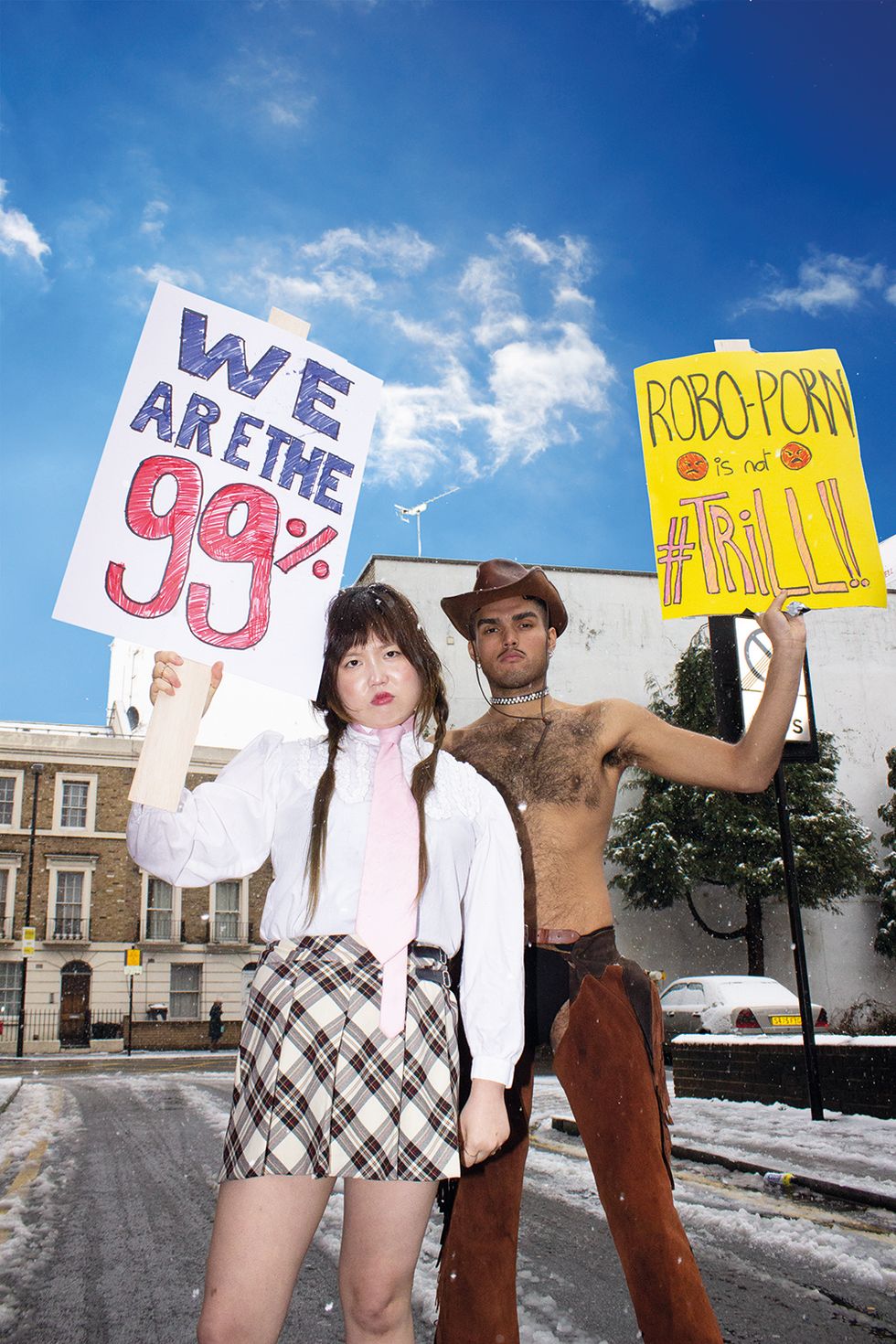 The magazine is a combination of satire (like the fictional porn riot in Canada) and non-satirical content (like the interview with Mistress Harley). What was your intention in using both forms of editorial expression?
So in Britain, satire has always been a very strong tool within comedy to talk about current affairs. Many of the shows and content that inspired me the most use it too (TV Go Home, Brass Eye), I think low key it was partly me wanting to make an ode to British comedy, but also to not drift into a dialog about tech and sex that was daunting.
Mixing both tones was important to me to show how intimacy and tech are to be taken seriously and not be undermined but shouldn't be something we're afraid of. We also just wanted something people could read and get actual practical info from because I also believe at times, that our coverage of technology and its advancements can be either quite hard to find on the Internet or quite hard to understand. When you read this I want you to take away two things: "here are some real revolutionary technologies people are using and exploring right now " and "Tech isn't here to hurt you."
Issue 1 of PC Erotic is available now, buy it here via Ditto.
Photos courtesy of Ditto