Twenty six-year-old Riley Reid may not be the archetypal porn star ingrained in our American brains, but she is increasingly the one America wants. Last year, Reid's name was the most searched for on Pornhub, and her videos racked up more than half a billion views (549,853,831, to be exact). Petite with big eyes and long brown hair, Reid represents "everyone's favorite girl next door — America's sweetheart, if you will," Pornhub VP Corey Price says.
As our insatiable appetite for adult entertainment grows, Reid is perched at the top of a pyramid increasingly made up of amateur performers trying to make it big like her. PAPER caught up with Reid for a candid conversation about her favorite types of scenes (romantic BDSM), harassment in the industry (people are actually too busy having sex), sacrificing love for work (she hasn't yet), and why the porn industry should get more respect.
PAPER: How did it feel to find out you were the most searched person on Pornhub in 2017?

Riley Reid: I knew that I was always ranked pretty high every month, but I found out after the fact when the article came out because a bunch of fans sent it to me. I know I'm popular, but I was not expecting that.
How have your feelings about the industry changed since you first got started eight years ago?
My perspective was completely wrong on what I thought porn was. I only watched amateur porn, and I didn't realize there were big famous porn stars besides the Pamela Anderson-type. So I knew there was like the blonde, big boobs and voluptuous woman type of thing, but mostly I would look up things like "two hot lesbians," and skip straight to the sex and past the storyline.
Related | Pamela Anderson Models Her New Cruelty-Free Shoes
Then when I started in the industry and saw there were famous girls, like Jenna Haze, that were like me: petite, young looking, small chested, brunette. I had no idea that existed, and I had no idea how famous she was. I didn't know there was a Sasha Grey, or that your girl next door types could be so popular and famous in porn.
I've never been in the experience of [Rashida Jones' Netflix series] Hot Girls Wanted or anything like that. I've never had a pimp instead of an agent. But I still was in the lower end of the industry in the beginning. I worked my way up and now I only shoot for the best companies, but I've definitely learned that those situationsdo exist.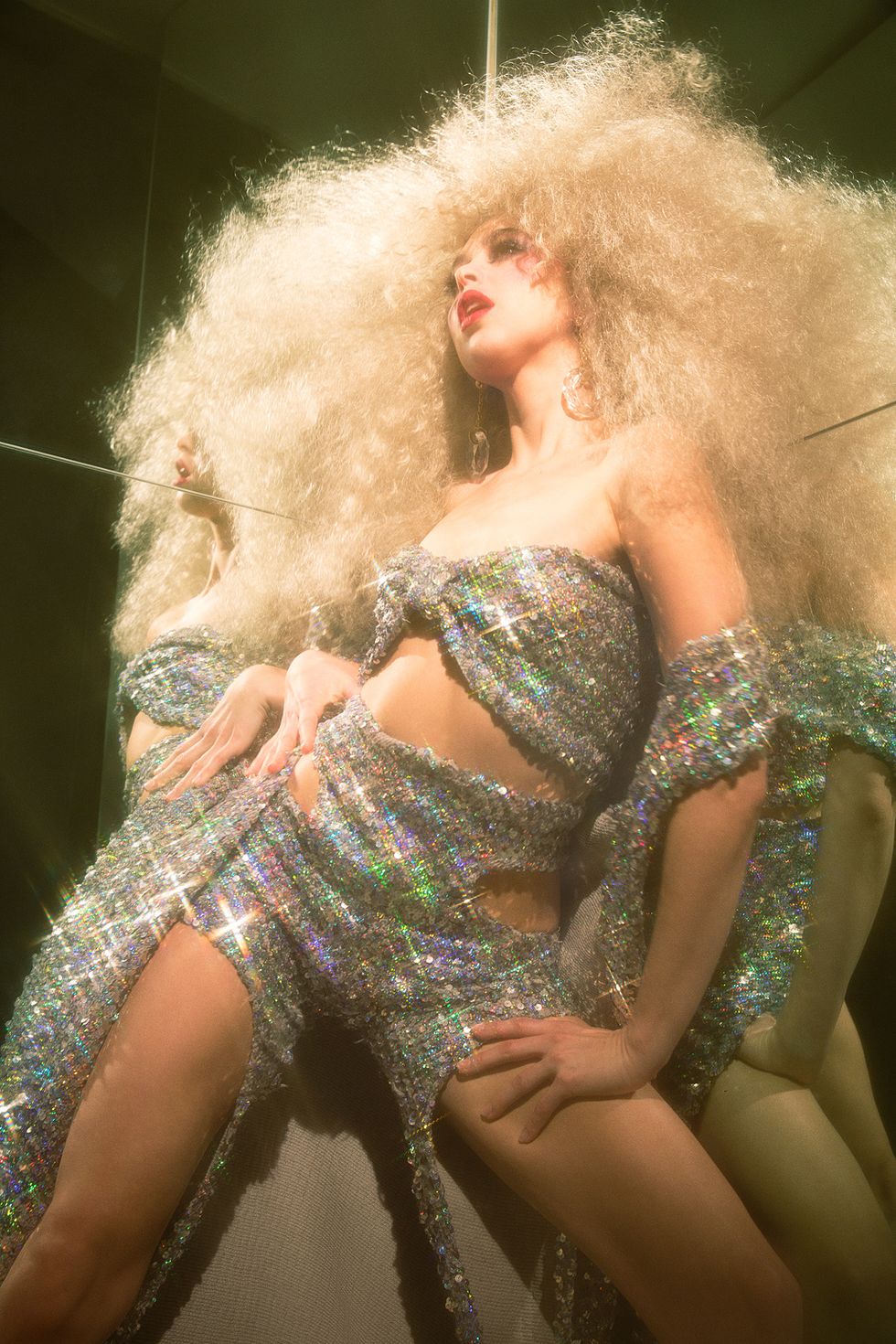 Full Look: La Maisons Fashions, Earrings: Madam Baloge NYC
The stigma around watching porn is really changing. Have you seen that shift too?

Definitely. Maybe people aren't as religious or something, but the culture has changed and become so much more accepting. Even mainstream songs have lyrics like "eat the booty like groceries." Kim Kardashian was a porn star — look where she is now. It's become fashionable and trendy to be a slut. It's the Tommy Lee-Pamela Anderson dream come true.
Related | No Filter: An Afternoon With Kim Kardashian
How do you balance your own romantic relationships with this work?
It's complicated. I was in a romantic relationship for about three years, but a couple of weeks ago we took a slight hiatus just because it's hard. Since I've been in the industry, I've had three relationships. My first one was a fellow performer and we were together for about two years, and we got along in pretty much every way. There were no quarrels about porn; even if he was shooting with some girl that I didn't like, I didn't care because you're just making your money, I don't care about that type of stuff. That was a great relationship, but he wasn't there emotionally. So that was just its own thing.
The other two afterwards were people out of the industry, and being with them as a performer has been very complicated. It's never been complicated for me, but it's very hard for someone to be accepting towards sharing their lover. Most people in our culture aren't raised that way. It's hard to find a person who has the same kind of mentality.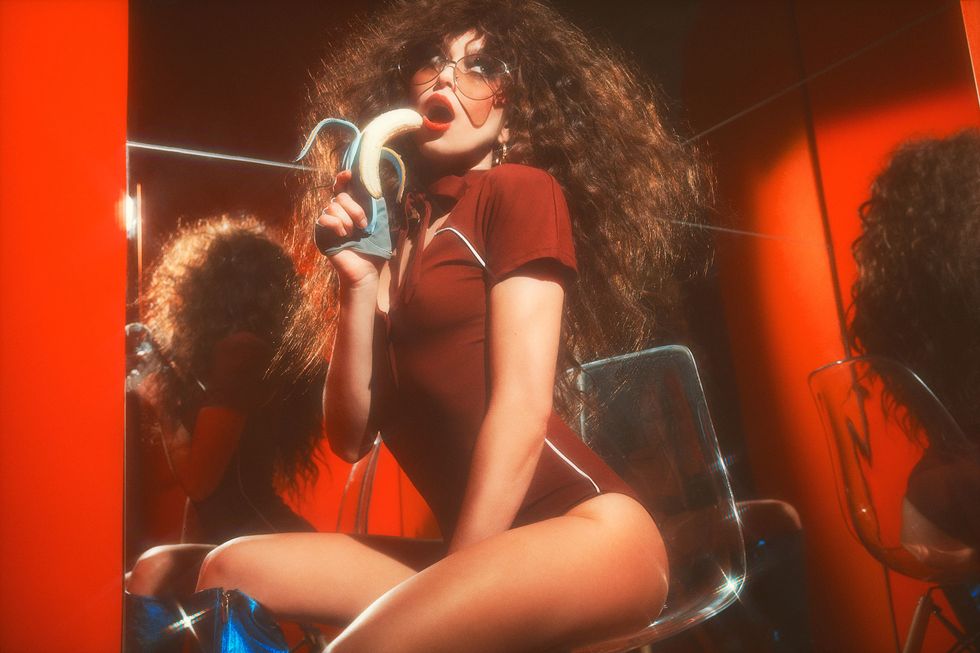 Bodysuit: Camp Collection, Boots: JF London, Sunglasses: Mabel
People are mostly raised with the model that monogamous relationships are ideal.

Sometimes for me, I just feel like it's on an intellectual level. If you're too emotional, it's going to be too complicated. I don't mean to be like, "you're too dumb." But maybe you have to be able to have a certain understanding. My boyfriend and I, we connected on every level, even when it was complicated for him, he'd just be sad. But it was still hard to be with a lover who doesn't really like it when I'm going to work. Because being a sex worker, that's very important. I'm always putting myself out there. Someone is penetrating me, so I need to be in a positive space. And it's been hard for me to decide if quitting for my significant other is the right choice. But I think maybe not. That's something I battle with. I love my job, and I don't ever want to have to quit doing something for somebody else. I want them to accept me.
What do you love most about it?
The freedom. Being able to do these funny skits — these really over-the-top ridiculous scenarios that don't really happen in real life. I get to live that fantasy out. I may have never gotten the opportunity to dress up a gay boy in a pony outfit and have strap on sex with him. It's also made me so much more open-minded. If my lover ever said, "I want you to fuck me in the ass" and they're a man, I would never speak shamefully of him or think anything wrong of it. I would date a transgender person.
Being on set and getting the opportunity to experience those types of things is amazing. Like the shoot today [for PAPER] was so fun, but if I had a dildo that I was stuffing inside myself it would have been that much more of an experience.
Are there other aspects of the industry that you're interested in?

I have my own website, and I produce, write scripts and style things for it. I do everything besides hold the camera, basically. I recently had the opportunity to really take control of this project I'm so proud of. I cried when I watched it actually, because it was so beautiful to me and so special. It was a dom/sub situation, and it was a girl-on-girl strap-on scene, where one girl signs the contract to be my sub and I dominate her. The way it was shot was very beautiful and very sexy. And it's just something that I'm extremely proud of. Being able to direct and produce it and make myself feel the most sexy with my crew and my set and my production — that's me living out my fantasy.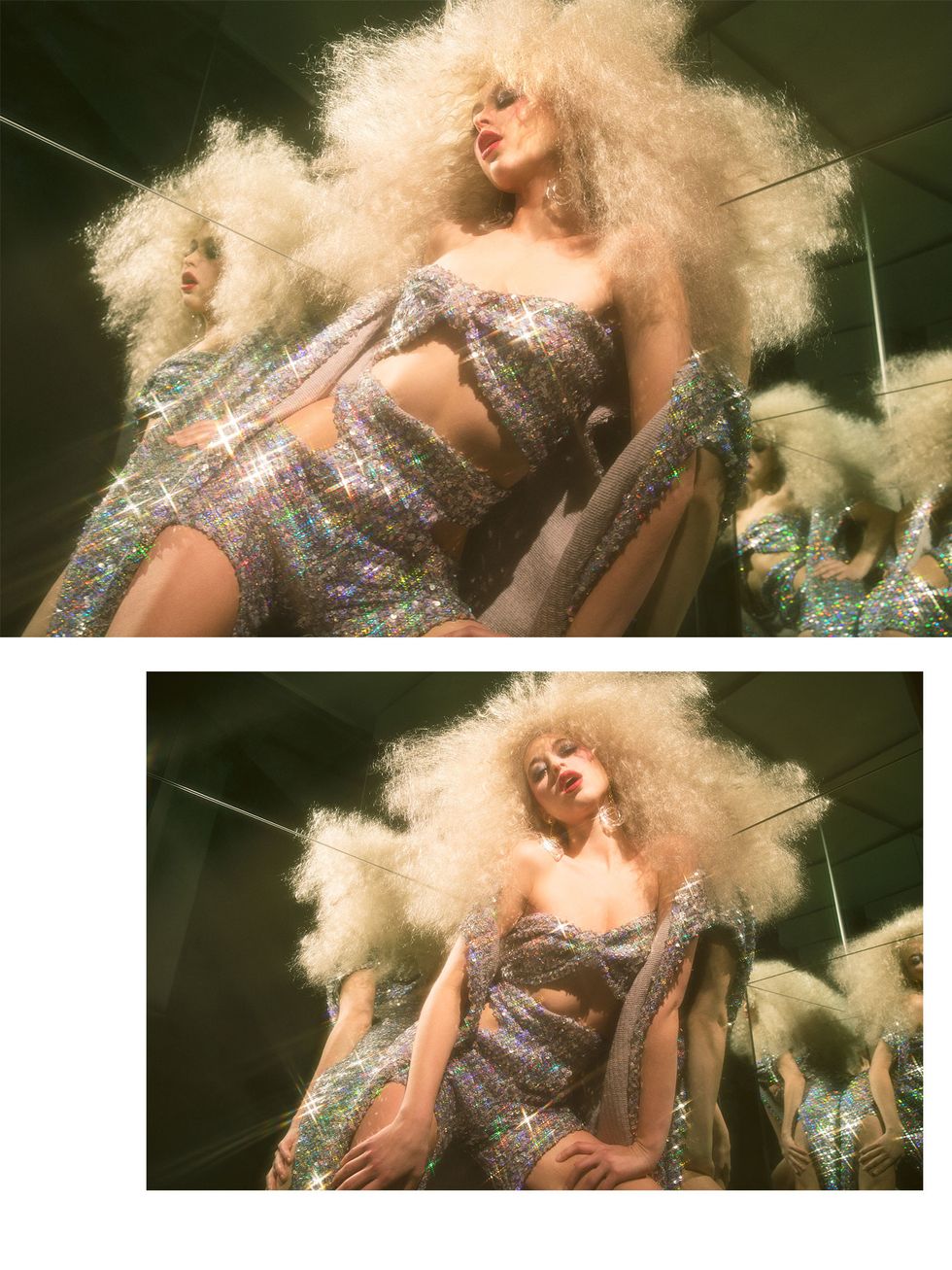 What's your favorite kind of scene to shoot?

Scenes that are more cinematic and have more of an emotional value to them. Romantic BDSM scenes. Doing femme-dom, and dominating or even being the sub. It's more of an artistic direction, because of the style and the fashion and the latex. You're not just fucking in the bedroom or the couch in the living room "with my step-dad." Those are really my favorite, but that's not really what I do, because I have the face of a more youthful character, so that's mostly what I'm playing. It took four years before I shot my first "hot wife" scene. I was like, I'm finally playing somebody's wife?! I'm not the teenage babysitter?! But I don't ever think I'll be a MILF; I'll just always be the hot wife.

You're a long way from a MILF.
Oh god, I'm a boob job away from a MILF. Which I'm not going to do, so I'll never be one.
Parts must be really dictated by your physicality.
100%, you have no control. The petite boys will always be banging the older women. I hardly work with younger guys. Most of the guys I work with are older guys because that's what the people want to see.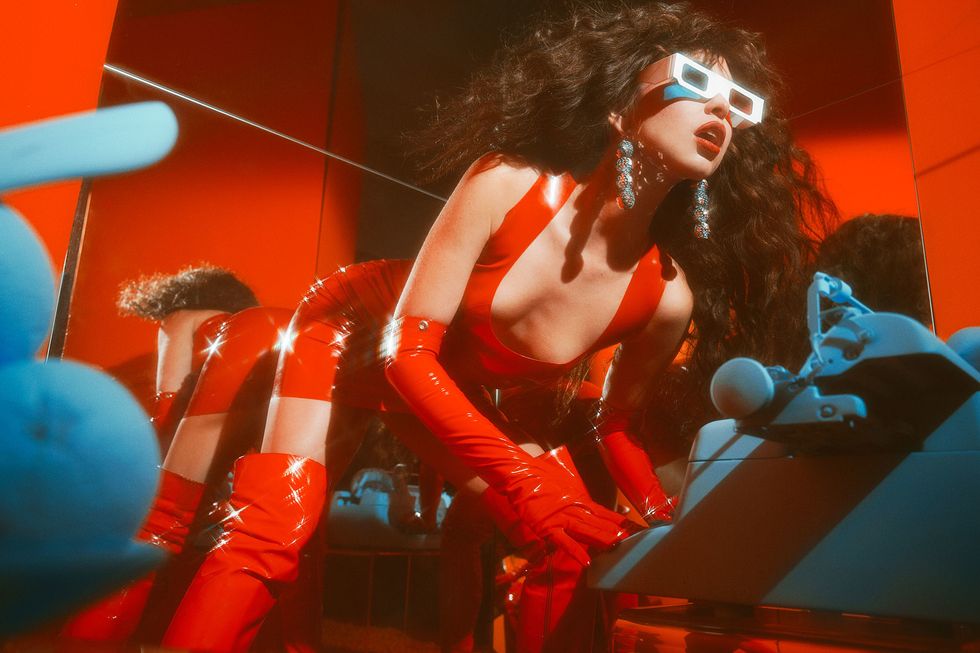 Red Dress: La Roxx, Earrings: Madame Baloge NYC
The #MeToo movement has brought sparked conversations about sexual harassment in the workplace. Is that something that you've encountered in your industry?
I'm actually honestly surprised there hasn't been more of that in my industry. I feel like because we have sex, and girls are walking around naked, the energy is so different. Sex is what we're doing. So it's not like it's a touchy subject or anything like that. There is no sexual tension. Like the sex is happening. You're watching the sex happen. It's not like a car dealership where there is sexual tension, like if there's a little cleavage it's exciting... it's like we're looking at the cleavage. And taking really close up photos of the cleavage.
The taboo is what makes it —

Exciting.
Do you get a lot of weird DMs or obsessive fan mail?
I don't pay attention to a lot of that. As much as I am on social media, it's very work based. I don't post like, "Hanging out with my dog today!" And I don't read my comments, because I know a lot of it is people seeking attention and it's not from a healthy place. I definitely get a lot of emails I can't avoid, and I've had some scary situations and some super fans who've stalked me via the Internet. I don't really respond to too many of my fans, even if they send me a nice email. I don't think it's healthy to develop a cyber relationship with them, for their health. I don't think they'll understand the boundary.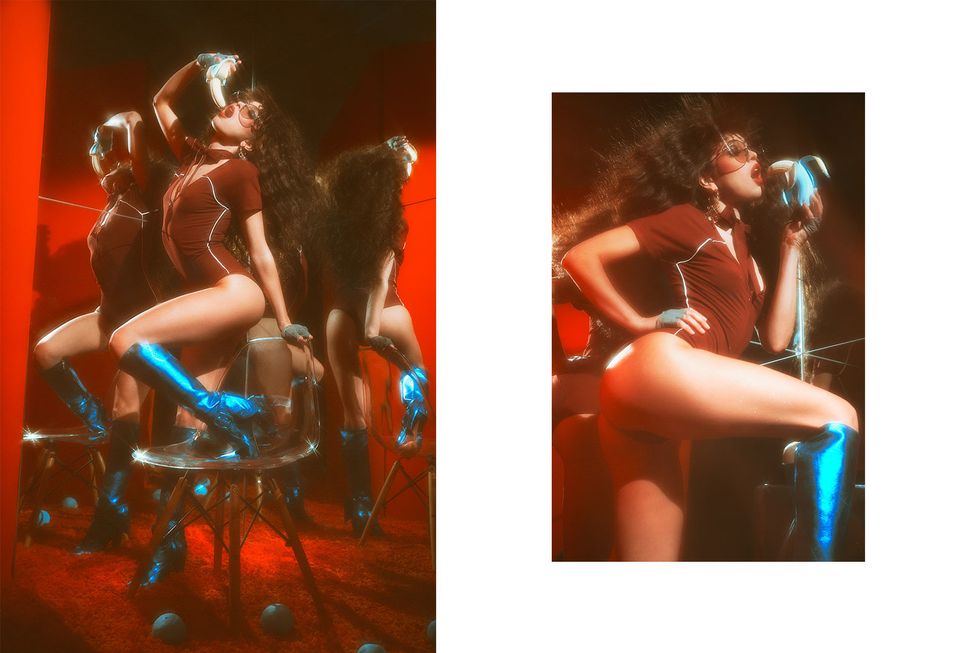 What do you wish people understood about your industry that they don't?

I wish people would accept us more, and that we didn't have this trashy stigma. We are getting more accepted, but when I do occasionally post my intellectual thoughts and post like, "I'm like a big Sam Harris fan," a lot of fans are always surprised at the fact that I have a brain. Having a relationship is really hard, and I don't want to be a mom because of the stigma and the way people treat us.
Even Chelsea Handler recently, she said Trump is okay with rapists, child molesters, porn stars and Russian hackers. And I was like, "Really? You're putting us in that category?" We deal with a lot of that even in regular business. I can't get MailChimp to let me use their services, I can't get Shopify to open an account with me because I do porn. I can't be a regular customer because I'm in porn and to me that's very hurtful, because I pay taxes and I'm not an underground drug dealer. I wish we wouldn't be treated like we're doing anything wrong, because I don't think we are. We help a lot of people. It's a creative outlet and just because there's penetration involved doesn't mean there should be shame.
Photography: Brian Ziff
Styling: Jess Turner
Hair: Sienree
Makeup: Mynxii White
Set Designer: Eamonn McGlynn