In the past two years, playwright Jeremy O. Harris has written two widely-acclaimed works, Slave Play and Daddy, which examine topics like African American history, interracial relationships, queer sexuality and white supremacy's lingering horrors, completed an MFA at Yale School of Drama, interviewed Rihanna for the New York Times and modeled for Gucci…all before the age of 30.The Black, openly gay actor/playwright fearlessly confronts issues of sexuality, race and bigotry in his work, placing him in a distinguished lineage of artists and social critics like Zora Neale Hurston and Langston Hughes. Next up for Harris is Slave Play's Broadway debut this fall, and he's co-writing Zola, a viral (but very real) sex-trafficking film co-written by Harris and the film's director, Janicza Bravo. — Michael Love Michael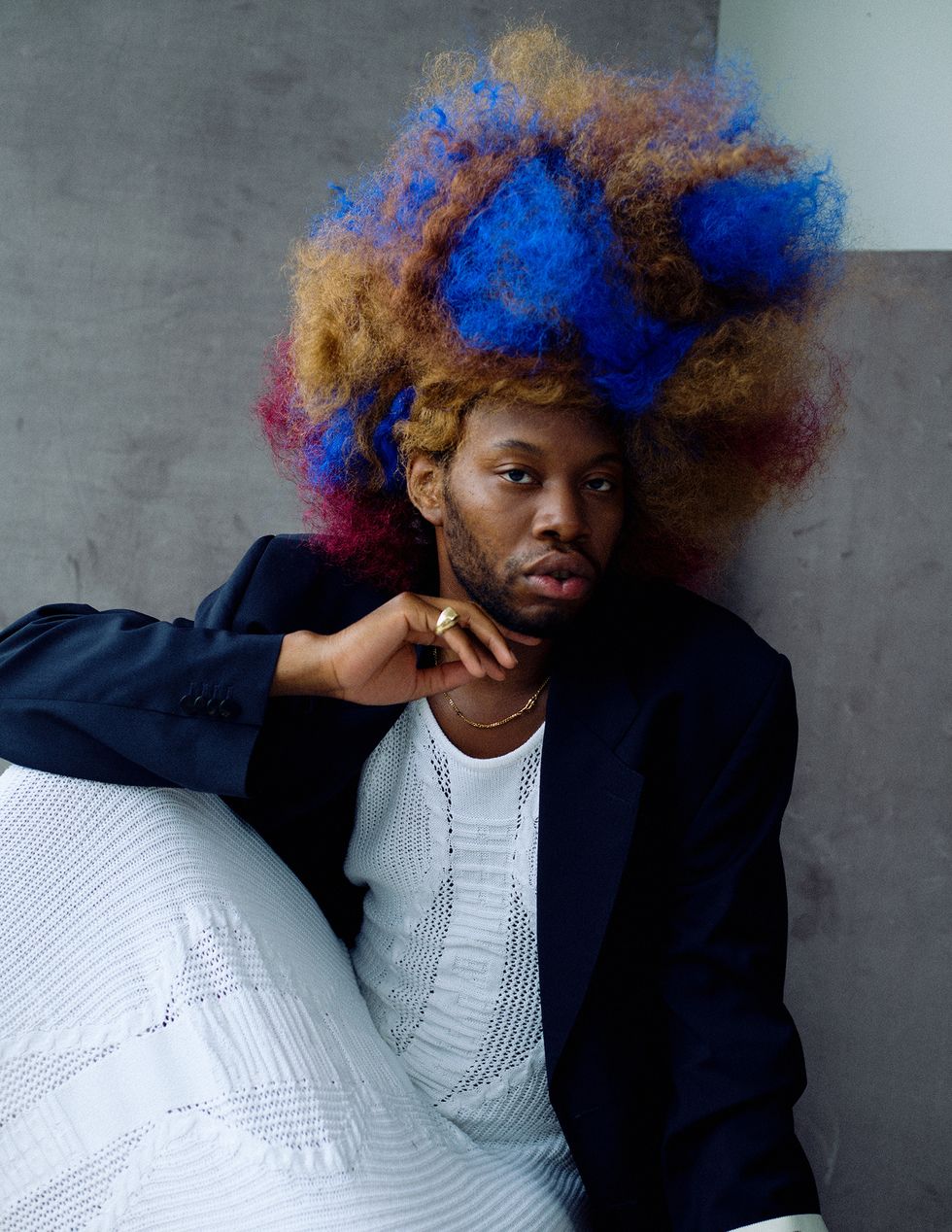 Jacket: OFF-WHITE c/o VIRGIL ABLOH, Dress: Pyer Moss
What has been your best night out?

I don't know if this was the best night technically because it was a date that ended without me and the boy ending up being together but it was pretty magical. We went to see Hadestown, had an amazing Italian dinner, took an Uber to Paul's Baby Grand where I realized I lost my full phone in the car. Then we sat outside of the Roxy Hotel holding each other and talking about why we might not make sense as a couple for an hour until our Uber driver came back with the phone. Then as we both walked down the street a bit sad I decided to show him the Soho Grand where I used to live a bit, and we ended up getting invited into a open bar party at 4AM with Zoe Kravitz and Donald Glover and a bevy of other insane people where we partied till the sun came up.
What's something you wish no one knew about you but everyone does?

That I own a Trump shirt that my friends Courtney and Tate stole for me at the GOP convention in the hopes I'd do something with and I decided to "queer it" by walking around it in it as a crop top for months before he was elected. The pic is now on the internet and some of those pockets I avoid believe I'm a Trump supporter or was… and I never have or would've been. It was just a moment of Gemini trolling.
What's an interview question you never want to be asked again?

Anything that begins with "as a black queer man..."
If you weren't doing this, what would you be doing for a career?

Probably going to school to be a lawyer.
What's the craziest thing you've done in 2019?

I left rehearsal for my thesis play, got on a direct flight to London. Prepped. Then interviewed Rihanna, got on another plane. Then flew back for rehearsal under the guise of having been "sick" so I wouldn't get in trouble.
What's your biggest irrational fear?

That I'm not actually talented and that all this has been a fluke.
When you want to get attention, what do you do?

I generally don't have to try?
Do you Google yourself?
I'm a Gemini.
Where do you want to be when the world ends?
Watching the last season of My Hero Academia.
What's the last screenshot you took?

Of a Twitter troll saying something nasty that made me laugh.
What trend that you participated in do you never want to see again?

Fidget spinners.
What's your go-to karaoke song?

"Private Dancer" by Tina Turner.
What's your favorite meme right now?

Any meme that Lil Nas X is a part of.
Sign Up For The Morning PAPER