Join us at PAPER in June and July as we celebrate Pride online with a series of digital-only covers, features, and galleries celebrating and supporting the diversity, beauty, resiliency, and humor of the LGBTQ community. In today's digital cover, we spoke with Deaf model Nyle DiMarco about life before America's Next Top Model, coming out on social media and representing two unique communities.
Nyle DiMarco popped into the pop culture conscious after appearing in cycle 22 of America's Next Top Model. His disarming blue eyes, rugged looks, and irresistible charm made him an easy winner for the season, and a heartthrob for boys and girls alike. Their amorous feelings were stoked when the model responded to a tweet asking about his sexuality. His answer: "fluid." An accompanying link further explained that he identified as sexually fluid, an identifier for those whose attraction is not limited to binary genders and can change over a lifetime.
The following year, DiMarco was cast as a contestant on Dancing with the Stars, a primetime show that pairs celebrities with professional dancers and has them compete with each other. Despite its family-friendly broadcaster and Middle America audience, the show seemed unconcerned with DiMarco's sexuality. What did prove difficult, though, was that the model is also Deaf and has been since birth, meaning he was already at a disadvantage in a competition hinged on musicality. It didn't matter. Just like he conquered ANTM, DiMarco won America's hearts, stealing first place on DWTS.
Winning reality television competitions is all well and good, but DiMarco has become so much more. He's a role model, a leader in two minority communities, proving that disabilities and sexual preference have no effect on a person's ability to succeed.
Read below to catch up with him about his plans for Pride, his new social platform responsibility, and his hopes for the LGBT and Deaf communities (and then watch him jump on trampoline in his underwear).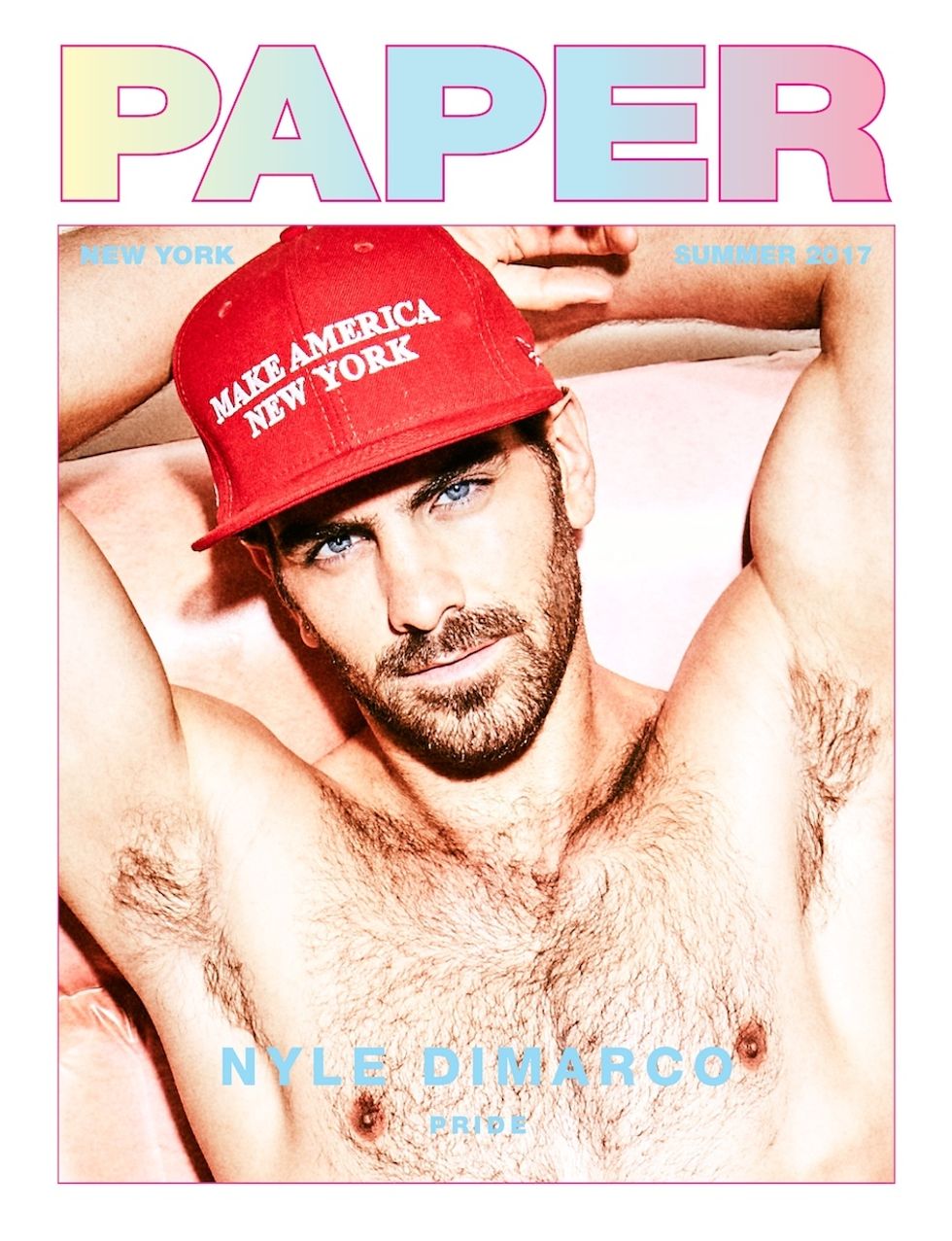 In 2015, you came out as sexually fluid. Were you surprised by the response?
My Deaf community is small; we understand the value of embracing one another in order to flourish as a community. We cannot afford the infighting when there is a bigger fight: the system that oppresses us.
Growing up, I never felt the need to come out, especially being a Millennial. We just did not care who showed up at the door step. When stardom hit, I immediately saw the wave of questions to my sexuality. It made me feel closeted for the first time, so when somebody asked, I casually replied because sexuality shouldn't be a big issue.
When it blew up, I was surprised at the reaction because they all were positive, including so many media outlets. So many people related to me, both women and men. So many felt a sense of relief because they weren't the only one.
I immediately saw the importance because I know so many deaf people struggling with identity. They learned about me, that a Deaf-identified person can be successful.
Do you feel like you are also a role model for the sexually fluid, on top of the Deaf community?

I do feel like I am a role model regarding my sexuality, as well. I have been getting messages from friends and fans that they feel they are finally able to relate to and accept themselves as fluid—or whatever sexuality they want to identify.
I feel that I identify myself more as a Deaf person, though. I have been Deaf ever since I was born. I am the fourth generation being Deaf; My two brothers, parents, grandparents and great grandparents are all Deaf. I have over 25 Deaf members in my family. The culture and identity are deep within me. I also do a lot more activism for the 70 million Deaf people worldwide because I feel there are not enough Deaf spokespeople.
Do you think social media has made it easier, in some ways, to be open about sexuality and find supportive communities?
Absolutely. Social media is wonderful. I believe that social media has given people confidence. They are free to roam and find new friends that are similar. They find identities. They become brave, outspoken, and not afraid of speaking up because they know there are people behind them, allies.
How do you feel about the future of the LGBT community in America? Are you hopeful?
I am confident; however, there are still thousands of hearts and minds that need to change and open up. I'm more worried about the children struggling to find their identity during the new administration and especially after attacks on LGBTQ communities—Pulse nightclub, for one. I feel that the current administration is banding us, tighter and stronger—silver lining. That is what makes me hopeful.

What will you be doing on Pride Day in New York City?
I will be working a lot, but I will definitely celebrate with my friends! Perhaps at the parade, when I can!
How do you navigate the dating world in 2017?
I used to have Tinder. I got booted several times because they thought I was an imposter! In all seriousness, it is often through friends, work, parties—and maybe Instagram!
What would your perfect dream date be?
"Forget the fancy dinners, let's play one-one-one basketball game. Dip into the beach. End the day with a simple dinner."
America knows you from your time on America's Next Top Model. How did you first get in front of the camera?
When I was 18, people started to encourage me to give modeling a shot. I did not want to pursue because I was in school in Washington D.C., earning my Bachelor of Arts in mathematics, with the hopes of earning Masters in Deaf Education and then teaching math at a Deaf school. I also did not realize modeling agencies existed (you could say I was naive). After I graduated, a deaf photographer—who is now my close friend,Tate Tullier—wanted to shoot me. I decided to finally give modeling a shot after five years. Then America's Next Top Model reached out to me on Instagram asking me to give them a chance and to apply.
The rest is history.
Judging by your shoot for this story, you're very comfortable baring all in front of the camera.
I am comfortable in my own skin; everybody should be in their own. Growing up my mother had nude statues, nude portraits, and nude educational books all over the house. Every time we were curious and/or asked why, our mother would always say, 'Body is art,' and then engage into discussion that beauty comes in many forms.
Find out more about how you can support the Deaf community at the Nyle DiMarco Foundation website here.
Grooming by J Patrick @ Wilhelmina using Amika
Sign Up For The Morning PAPER