For our new digital cover series Takeover, we chose five of our favorite women who're making a significant impact on the music industry right now. Normani, the breakout pop star of supergroup Fifth Harmony, has quickly ascended to the top of the charts, making a solo name for herself. Today, she'll be taking over PAPER with guest edited pieces and answering fans' questions on our Instagram.
The day after a stunning performance of two new songs at Tidal X — her very first solo performance showcasing her own music, if you can believe it — Normani arrives at the PAPER office looking about as stripped down as a pop star can be, with little to no makeup and a hoodie to match. Normani the performer is fiercely present, with a multi-dimensional voice and dance prowess matched by few modern singers of her peer group. Normani the person, then, is surprisingly soft spoken, a fact she acknowledges with a smile when I move my phone closer to her to better capture a recording of our conversation.
"I know, I'm so soften spoken," she laughs. Her voice is at once soft, deep and steady as she tells the story of her family's life-changing move from her hometown of New Orleans to Houston, Texas in the aftermath of Hurricane Katrina, when she was just nine-years-old.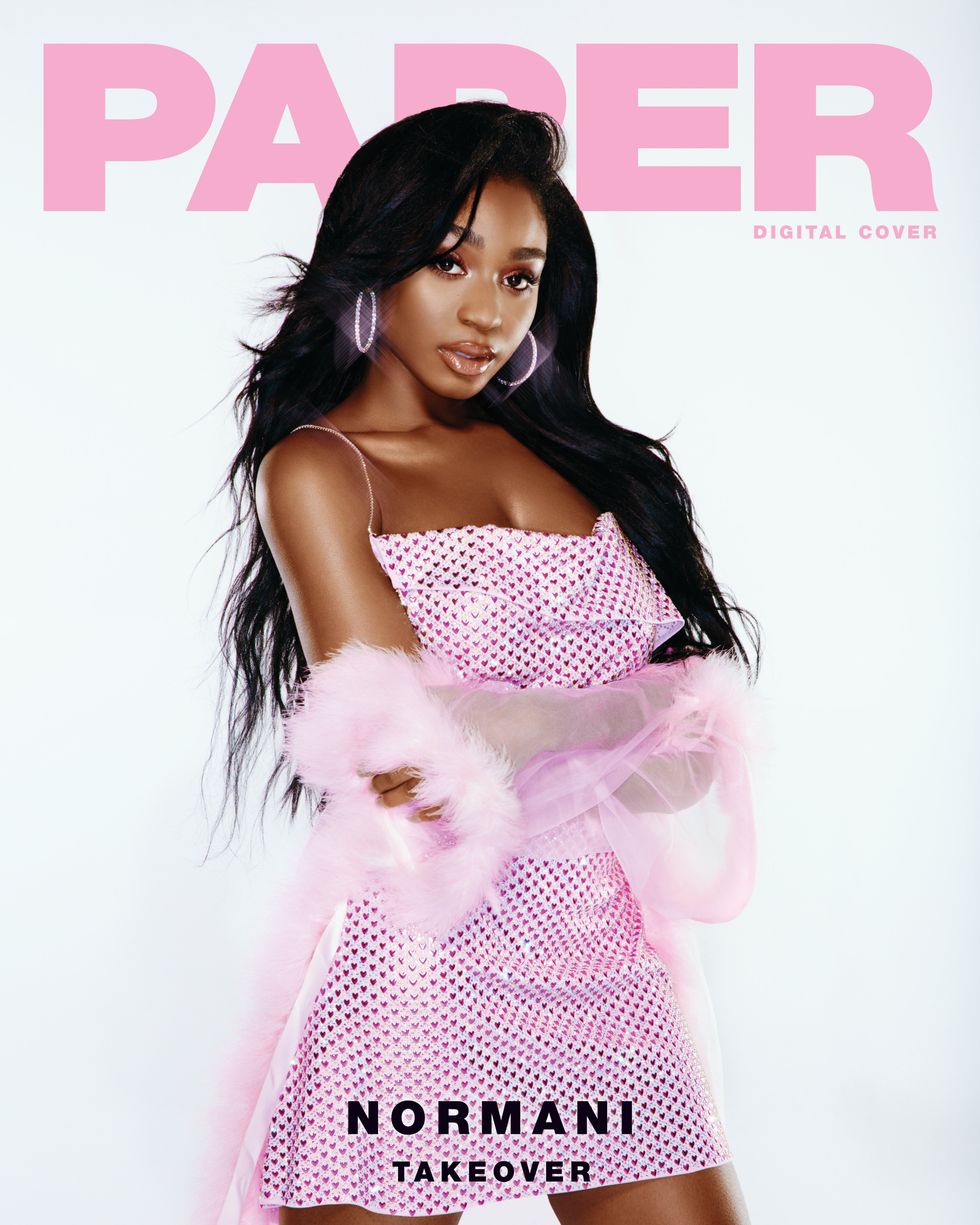 Dress: Adam Selman, Diamonds: Norman Silverman
"It changed my life forever," she said. "I was so young. We had initially lived with my grandmother, and then we moved into a new house. Three months later, the hurricane hit. It was our dream home, but the hurricane happened and we moved to Houston. It changed my life forever. "
While New Orleans served as a backdrop for her early musical education—"we literally have a festival for everything"—Houston's own legacy as the hometown of one of the world's greatest performers of the past few decades had its own allure for a young Normani.
"We had to start over completely. My mom asked me in the car, 'So where do you want to go, Dallas or Houston?' And I said Houston, and one of the reasons was because of Beyoncé" she said with a laugh. "I will say that was one of the main reasons."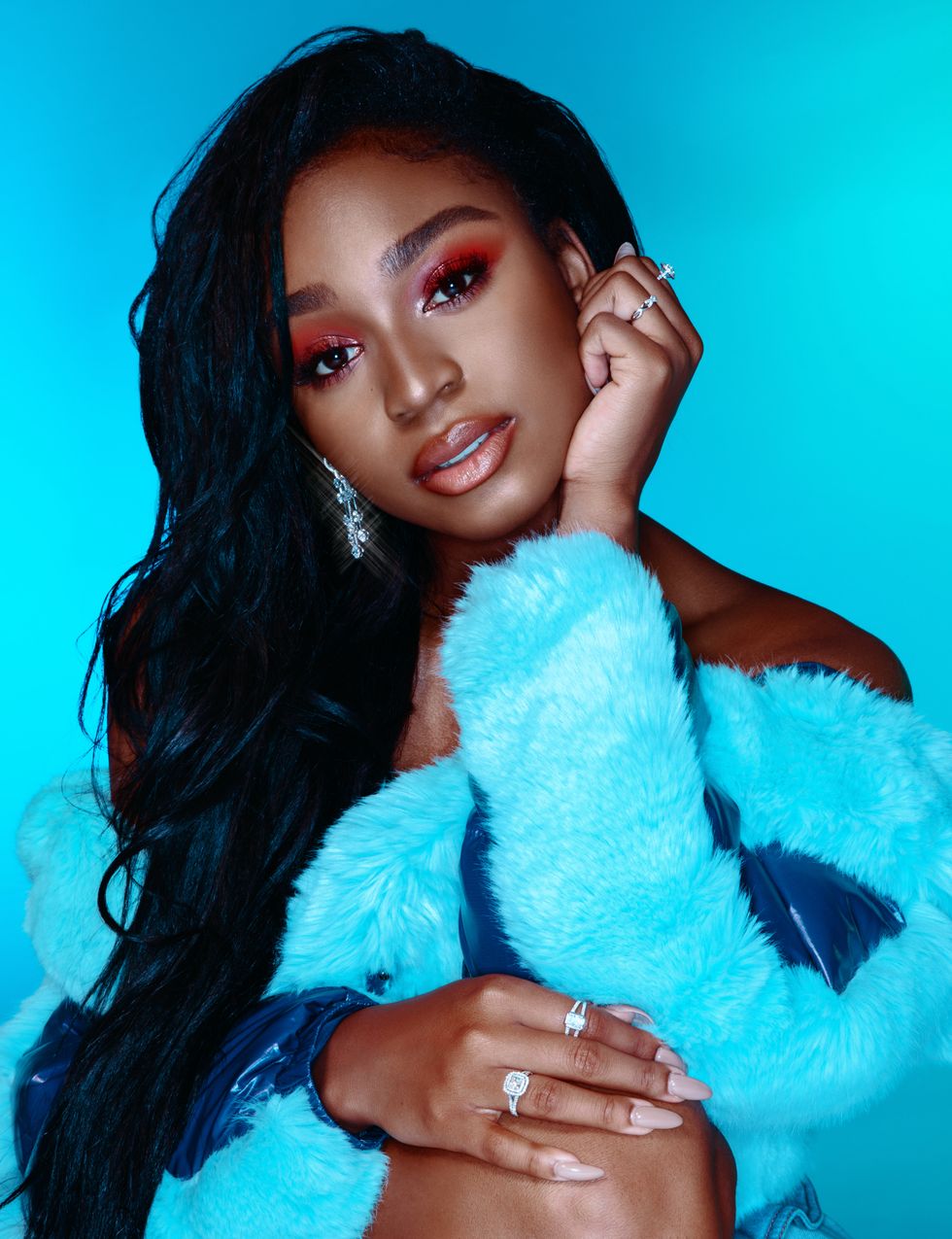 Jacket: Opening Ceremony, Skirt: Givenchy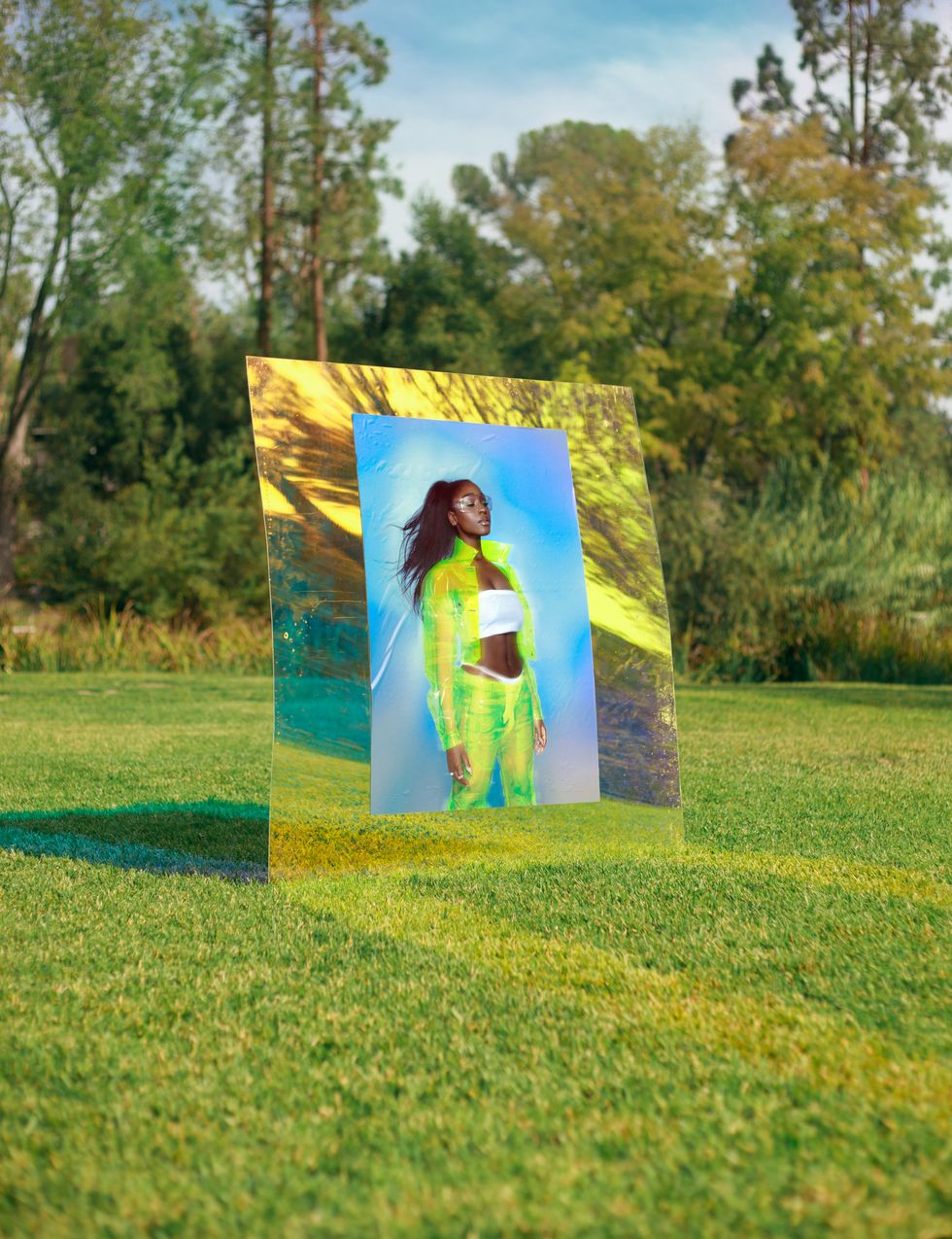 Since then Normani's connection to the beloved singer has only grown closer and more complicated. A self-avowed fangirl of Bey (her first Instagram is a signed birthday note from the singer), Normani, especially of late, has often been compared to her idol. Online forums comparing side-by-sides of their performances, noting their impressive dual talents for singing and dancing (where so many performers only have one), their quiet, grounded humility off stage and self-professed dedication to church and family are just a few of the factors that make the two seem karmically aligned in pop culture history.
And while a comparison to Beyoncé can't possibly feel like a bad thing, especially for a young artist breaking out with a solo career following years in a formulated group — Fifth Harmony — Normani is less pleased with being called by someone else's name than simply enjoying the cosign of her hero as she ventures out into the world, truly for the first time, on her own.
"I am NORMANI," the singer wrote on Twitter following a fresh wave of comparisons after her Tidal performance went viral. "I was born NORMANI. I will die NORMANI. PERIOD."
Knowing exactly who you are and where you come from is key, recent history tells us, to remaining sane and grounded under the intense glare of fame. At 22, Normani has already had her share of painful public figure moments, most notably in 2016 when she was targeted by racist trolls on Twitter to the extent that she had to temporarily leave the platform. It all started with a video interview she gave with her fellow Fifth Harmony members, and a barely discernible moment that online commenters quickly decided was an example of her throwing shade at Camila Cabello. This somehow became fuel for relentless racist bullying that Normani addressed in an interview with Refinery29. Normani is clear-eyed looking back on that experience:
"I wish that I could've told myself that everything was going to be okay," she said. "That's what I would tell myself then. It was probably the most devastating point in my life. Especially because I had never been exposed to something like that on that level."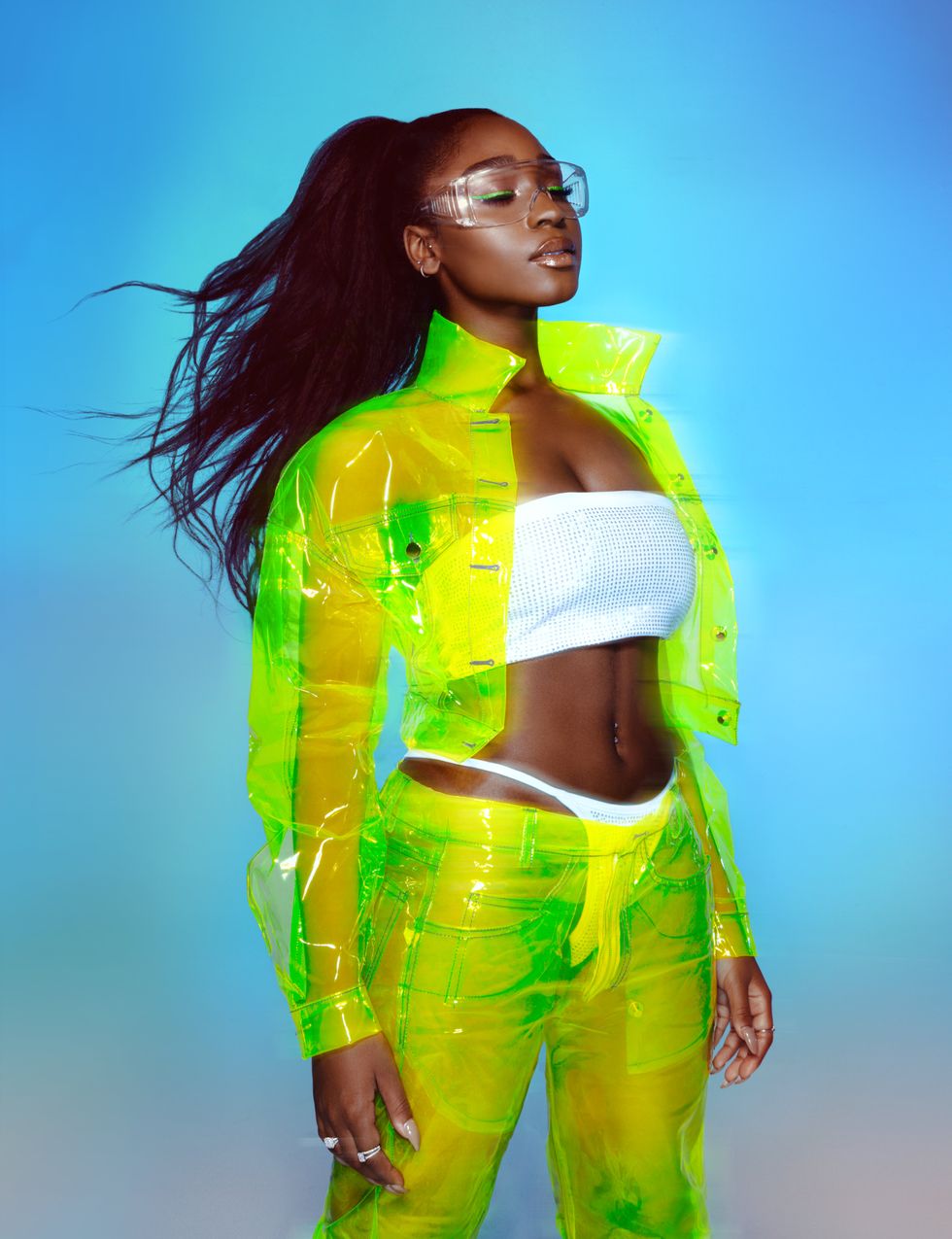 Suit: Brashy Studios, Top & Thong: I Am Gia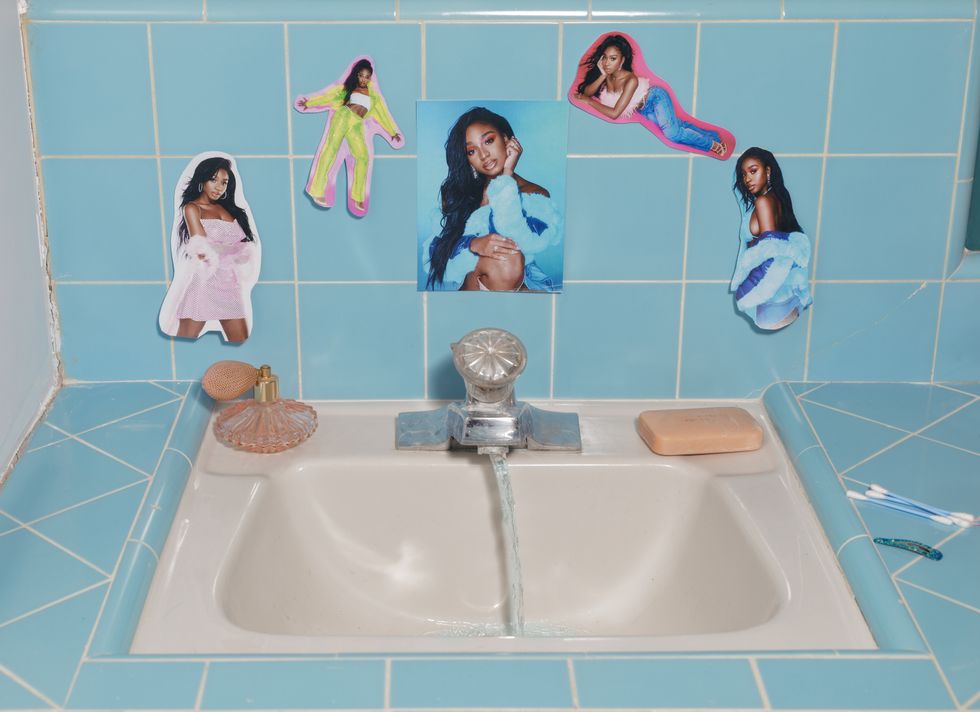 As family-oriented as they come (her parents waited in the lobby during our interview), the pain of the experience crashed like a wave through her circle.
"I was on tour during that time so for me to FaceTime my dad and him feel helpless because he couldn't comfort me... we're very religious, so it just went back to, 'You are who God says you are, and they know not what they're doing.' You forgive them for God, forgive them for yourself, and know your worth and know who you are. God wouldn't put you in this position if you weren't meant to be here. And my parents told me that I'm beautiful and I should, as I've always felt, feel beautiful to be a black woman. Nor should I ever want to change that."
"I always felt that I had to work, and still have to work, twice as hard to prove myself."
As one of three black students in her entire school, Normani learned early on that to love herself for exactly who was would be the difference between a life of self-hate and a life fully and joyfully lived.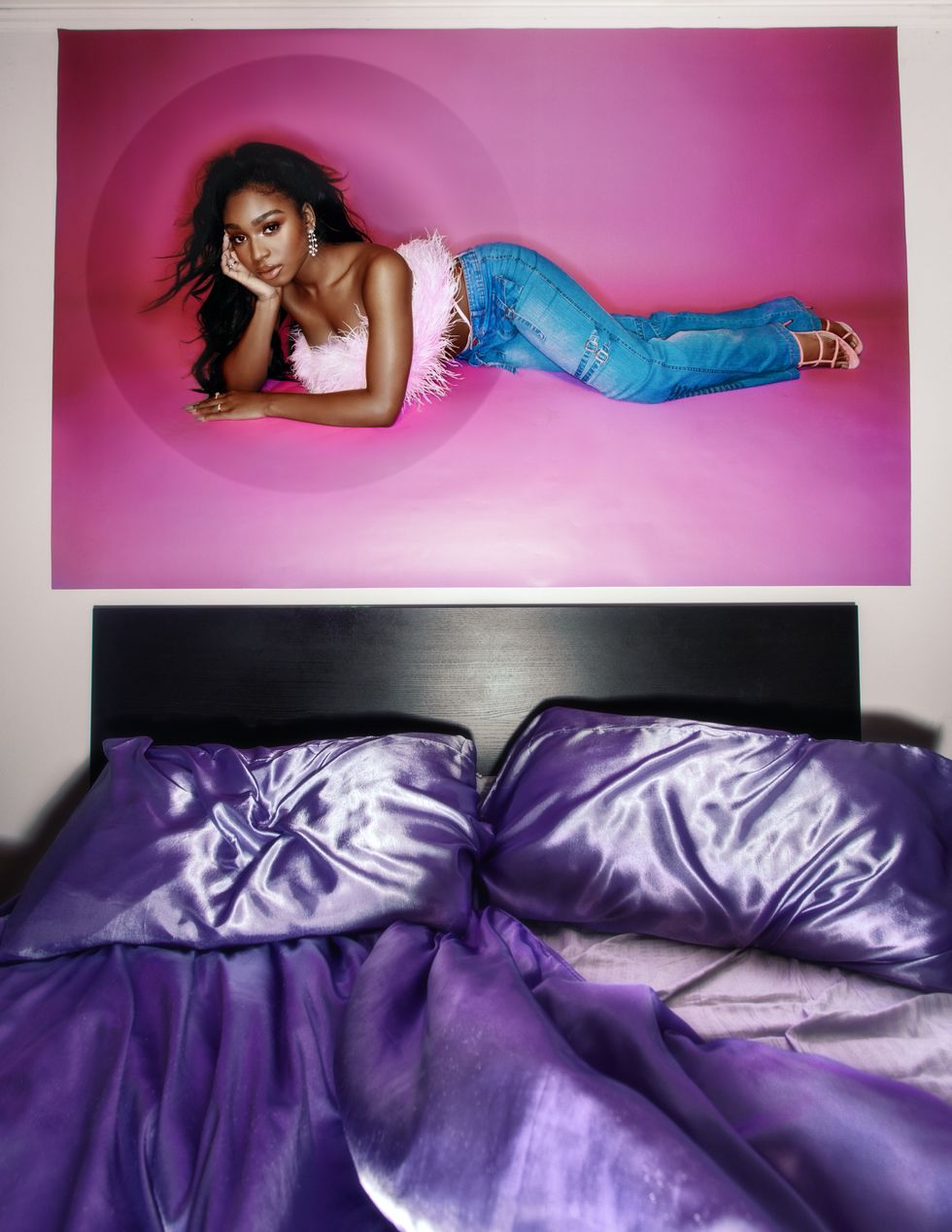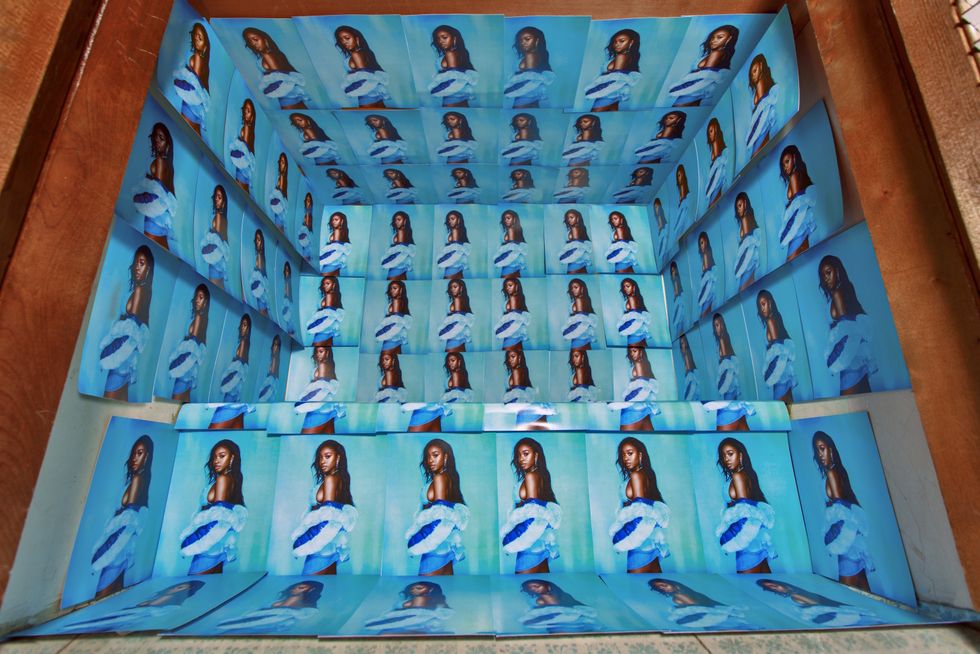 "When I went home [after school], my parents always made sure that they told me I was no different, and they told me I was just as powerful and just as beautiful [as the other kids]. I would ask questions like, 'Why isn't my hair this texture? I want my hair straight.' But they always instilled in me to love myself for all that I am."
The pressure of being the only black girl in a group branded for the mainstream pop world, unsurprisingly, wasn't lost on Normani. When she first auditioned for the X-Factor, the show that would introduce her to the world, she was just 15. By the time she met her new bandmates — Ally Brooke, Dinah Jane, Lauren Jauregui, and Cabello, she knew that her experience would be different whether she liked it or not.
"I felt that the day that I was put into the group," she said. "I will definitely say that I felt that every single day. It's nothing that the girls did, but it's just the reality of it. You see a group, you see one black girl, and just the way that society is and where we're at especially socially... I always felt that I had to work, and still have to work, twice as hard to prove myself."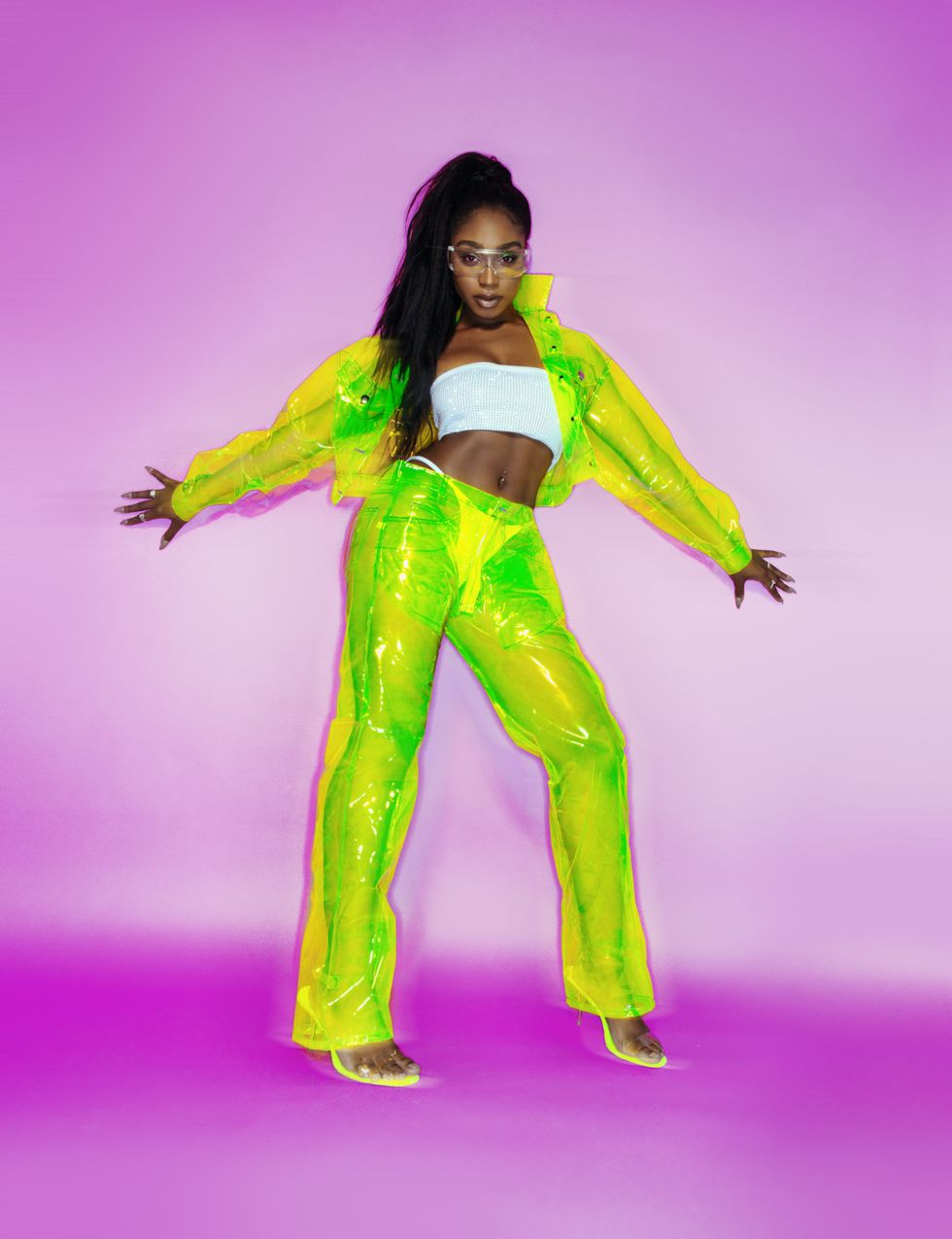 Suit: Brashy Studios, Top & Thong: I Am Gia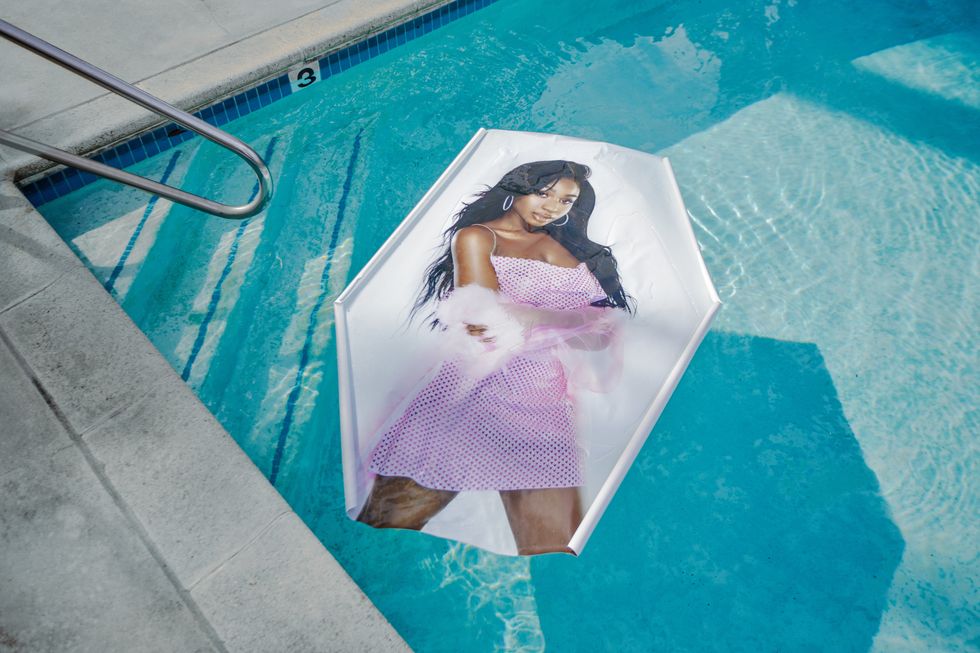 To take care of herself, then, involves leaning on her religious upbringing and the community she has found through church as a young adult living between Houston and LA. Though she didn't grow up singing in the church choir as some fan pages claim, she is a passionate gospel fan, listening to her 'Praise and Worship' playlist before bed or during particularly challenging times (could there be a Normani gospel album in our future?)
"I am very religious. Anytime I can, I go to church. And I have such an amazing group of friends that I met in LA," she said. "I typically ask for my Sundays off. I try to prioritize and make room for myself and have moments where I can also have some normalcy. I like to do escape rooms. Just normal people stuff."
Life in Fifth Harmony also prepared her for the spotlight, serving as a literal bootcamp for modern stardom. A natural born performer, Normani has been singing and dancing for most of her life, and participated in gymnastics and even pageants as a young girl.
"I couldn't stop bouncing off the walls of my parents' home, so they were like, we need to put this girl in something! It started out as dance, and then gymnastics, and I did both simultaneously, and then vocals came into play," she said. And while pageants may get a bad rap, she says ("From the outside, people just see the glitz and the glamour and pretty girls walking on stage") the focus on service and self-presentation taught her to be self-possessed in the public eye.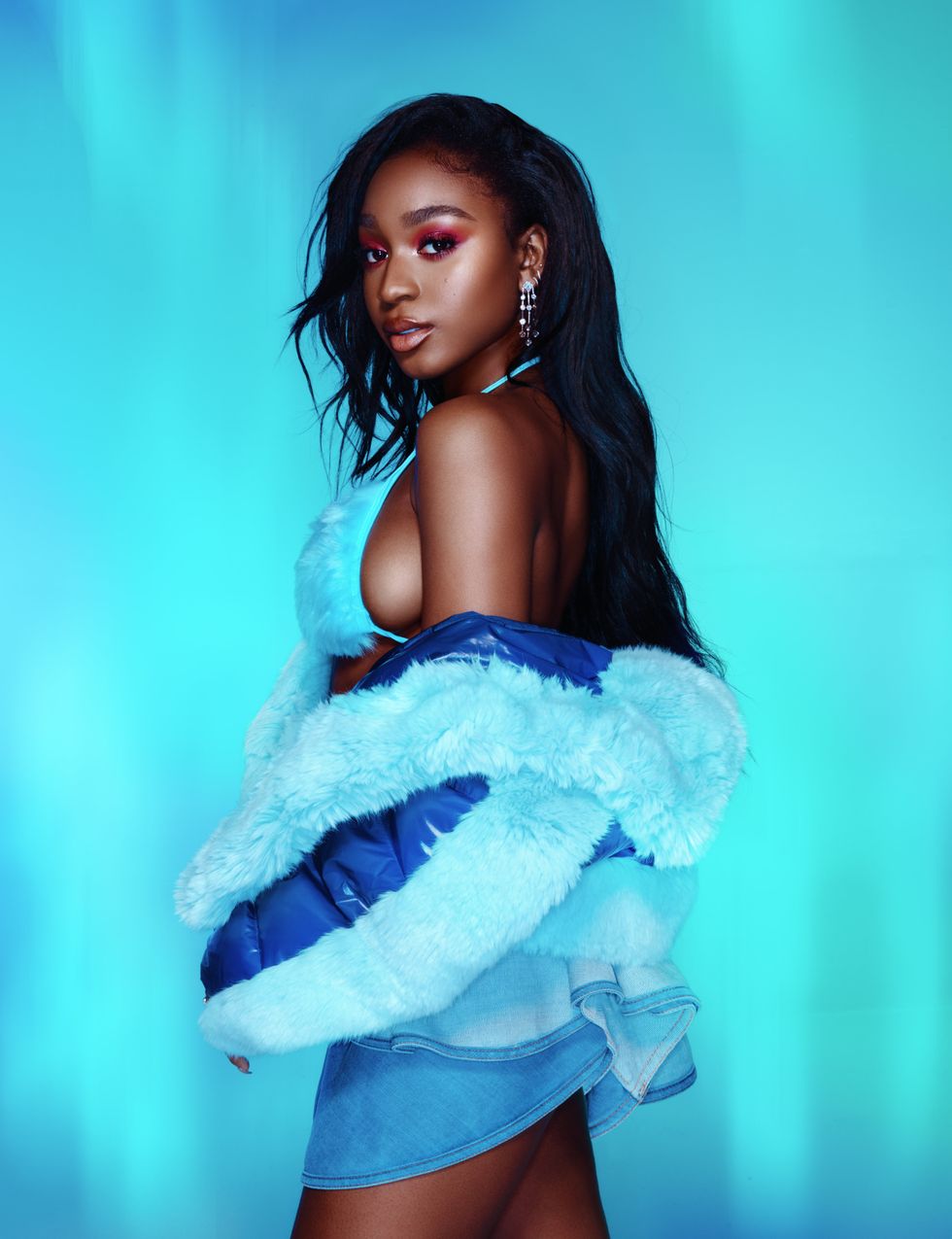 Jacket: Opening Ceremony, Skirt: Givenchy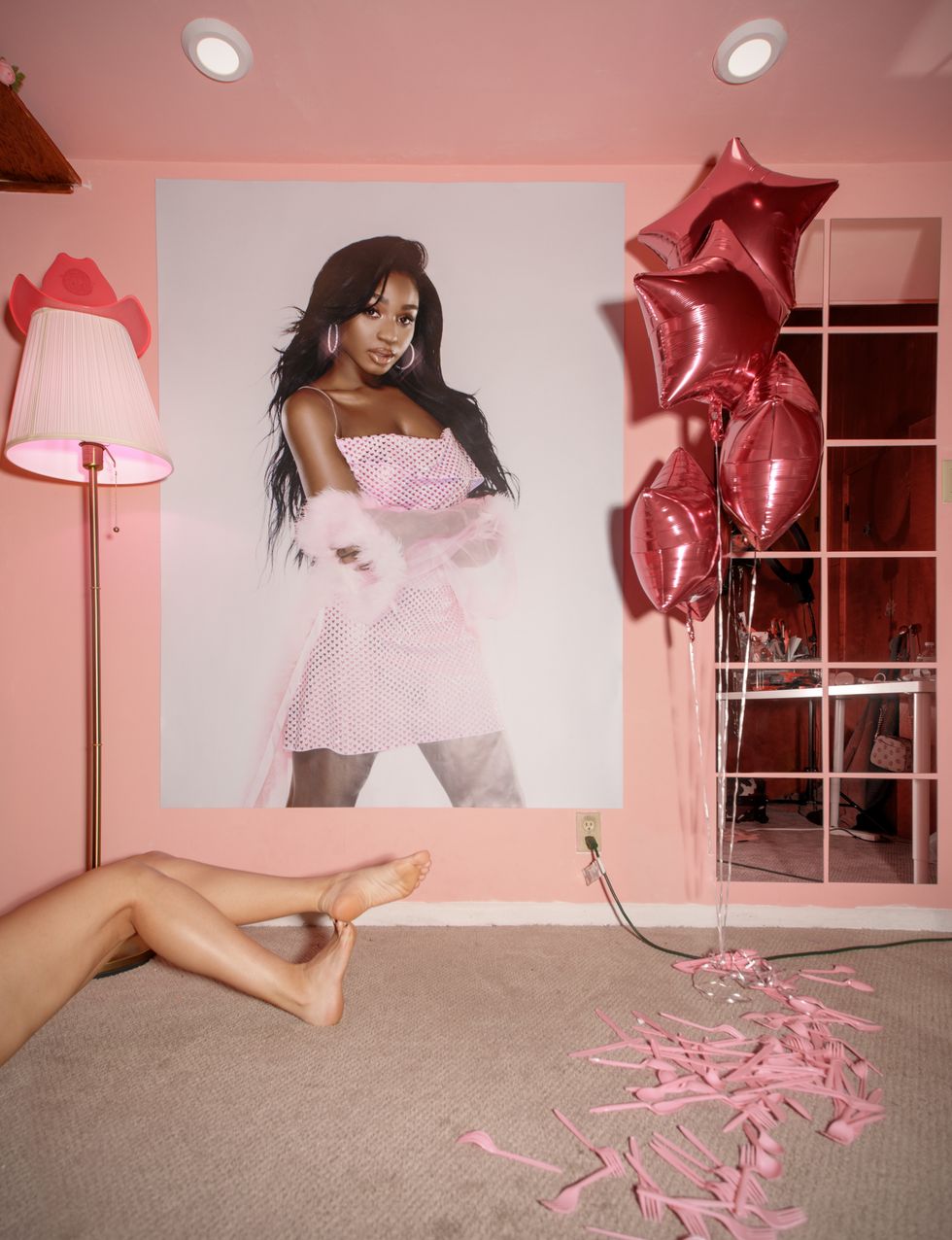 "I'm a very shy person in general, so pageants kind of forced me out of that shell," she said. "The stage also does that, but they were so helpful in the sense of being able to communicate." Fifth Harmony offered the added bonus of learning to exist in the public sphere with the support of fellow artists going through it right next to her. "There's just something special being able to call something ours versus just yours. Everything that I went through in the group, and everything that we went through together, prepared us to be able to do what we're doing right now. That process was necessary for me to be in the position to have the knowledge that I do moving forward, and being able to apply what I've learned from then to my career now. It was crucial. I needed that."
Coming out of that experience by announcing a 'hiatus' this March (Cabello had already left the group to pursue her solo career), inspired a mix of excitement and fear in Normani. "I was in that environment for six years, and that's pretty much all I knew. That's how I was introduced to the rest of the world. So then it's like: okay, what is she going to do on her own? There's also pressure that I put on myself — and what artist doesn't?" And though she says she would be open to collaborating with her former bandmates in the future ("a little reunion!"), her current focus is on the career she's launching for herself. "There's this excitement and thrill you get knowing you can tap into a different part of you that you haven't even been introduced to."
So far the benefits have outweighed any cons of going solo. "It's a brand new world of self-discovery for me, and I'm still in the process of that. There's been so many things that I've been able to do. I've been able to write more, and I've even been having fun in terms of producing. I've learned that I actually have that ear and that I know what I want. I'm learning the terminology and all the technical side of it. I'm really hands on in every single aspect of my music."
And she's hit the ground running. Her single with Khalid, the inescapably catchy "Love Lies" was number one on the pop chart for 2 weeks and had been on the charts for a record breaking 24 weeks before that, which she said was purely serendipitous. "Khalid literally said, 'I don't want to go in and make a hit for the sake of making a hit.' And then we made a hit! We just created our favorite song." They just wanted to create something their friends "would be proud of and would bop to," and they simultaneously FaceTimed their best friends and "literally had a party" while writing the bridge to see if it worked (it did).
She's currently deep into recording sessions, teasing out her sound to put together what will be her debut album. If the sleek production of her collaborations with 6LACK ("Waves") and Calvin Harris ("Slow Down") are any indication, we may be in for at least a few more chart-topping hits. The sound of the album is equal parts "sultry, smooth, dominant, empowering and entertaining," she says, woven together with her favored R&B tones while also drawing her the wide range of influences — Destiny's Child, TLC, Norah Jones and Shania Twain all get a shoutout.
Though there's no official release date for the album (sometime in the first half of 2019 seems likely), Normani's vision is clear as day. "I see the vision before I even make the records. I want to create records for women that haven't been created yet — records that women need. The record that I need to feel good when I don't feel so good. My job as an artist is to be as honest as possible."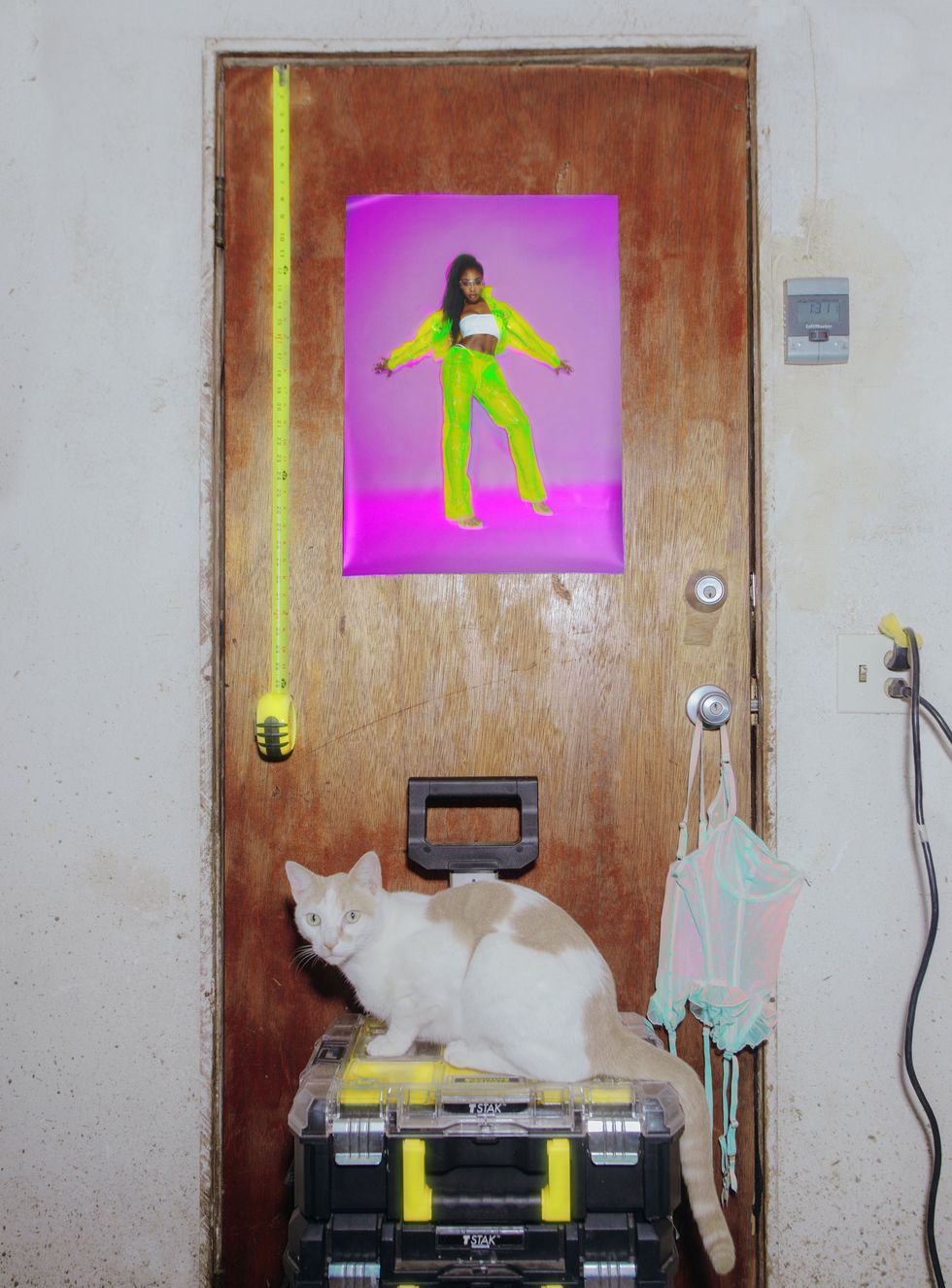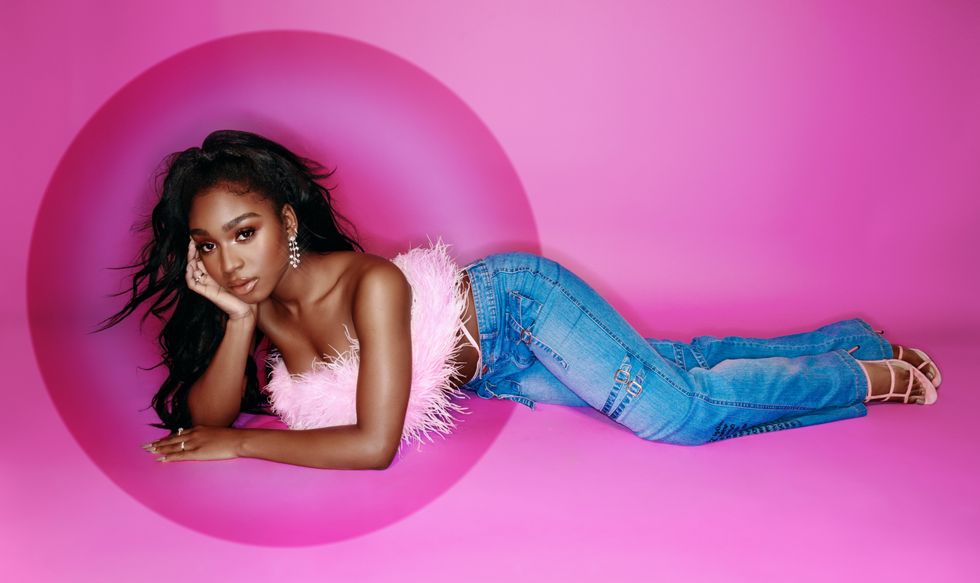 Top: Adam Selman, Pants: LFT Hand, Shoes: Jimmy Choo, Diamonds: Norman Silverman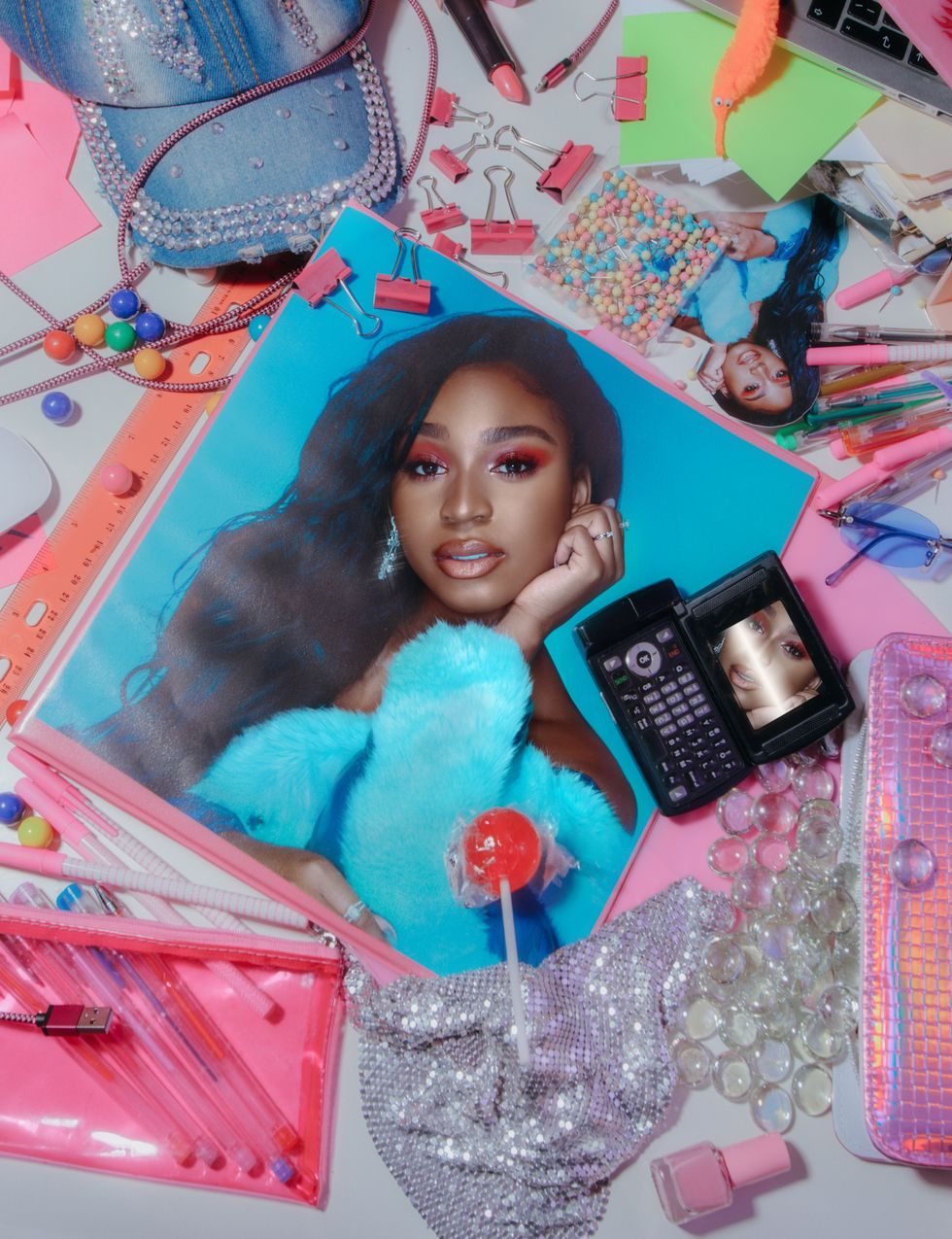 That message is being heard loud and clear, new as her solo career may be. In one of the few rousing moments of this year's VMAs, Nicki Minaj defended Normani from a joke by Tiffany Haddish implying Cabello would be the only successful solo star of the group, saying, "Don't be coming for Fifth Harmony because Normani is that bitch." Normani said with a smile, "I love me some Nicki Minaj. Her being the one on top for the last decade and a black woman inspired me in so many different ways. I always go back to like, Rihanna and Bey and the list really does go on — Alicia Keys."
It all, she says, "goes back to representation." Which is why even though the experience of 2016 severed trust between herself and her online followers, she knows it still matters that she's doing what she's doing on such a public stage. "Honestly, and I feel so bad, well not feel bad, but, my fans are always wanting me to engage more. But I feel a disconnect happened because of my experience. The only urge that I have to get on social media is because I know I have fans that genuinely love me and deserve my attention. But that experience made me step back a bit. Which is why I typically just don't get on."
There are positive moments that stick out, though. "I posted this one photo with my afro, with my natural hair, and so many girls were like, 'Oh my God, I never liked my curls but you make me build up the confidence to take a selfie.' All because of one post. Simple things like that go such a long way and make such an impact in how people perceive and see themselves."
As grounded as she makes an effort to stay, and as long as she's been in the spotlight, the experience of living out her creative dreams is still a surreal one for Normani. And who can blame her? She's already been in the industry for six years, and yet she's still just introducing the world to the full range of her talent. "I loved and really owned more as I've become an adult that my power is in me being me. There's just so much that I'm figuring out and learning about myself each and every day. It's like an outer body experience. I'm proud of myself, and I've grown in so many ways. I've always dreamt of being in this position, but I didn't necessarily know how I was going to get here. So the fact that I am and people are rooting for me so heavily... it's really something."