Marshall Vincent didn't know a change of scenery would inform his best music yet. But it turns out that a move to Berlin from New York put the self-made singer, songwriter, and producer into the clarifying creative headspace he needed.
Vincent has produced music publicly since 2013, including a string of one-off singles and covers (if you haven't heard his steamy version of Rihanna's "Kiss It Better," what are you really doing with your life). But with his new EP Right Down, released earlier this month, Vincent has expanded and solidified his solitary, bedroom-recorded R&B, complete with shimmering electronic textures and a vocal presence so pristine and front-and-center, you wonder if it's part apparition.
Right Down opener "Burden" is an invitation to the listener, and a rejection of a relationship's dead weight: "I'm not pre-disposed to deal with your shit/ 'Cause I am done/ And just know you ain't my burden," Vincent sings. And with that, comes release, and a willingness to encounter still greater, deeper intimacy. (Vincent tells PAPER "Burden" will get a video treatment soon with local contemporary hip-hop dancers).
PAPER catches up with Vincent on the heels of the EP's release, and we learn about his musical vulnerability as a form of protest — best believe, anytime a queer Black person expresses desire and need in public, it's radical.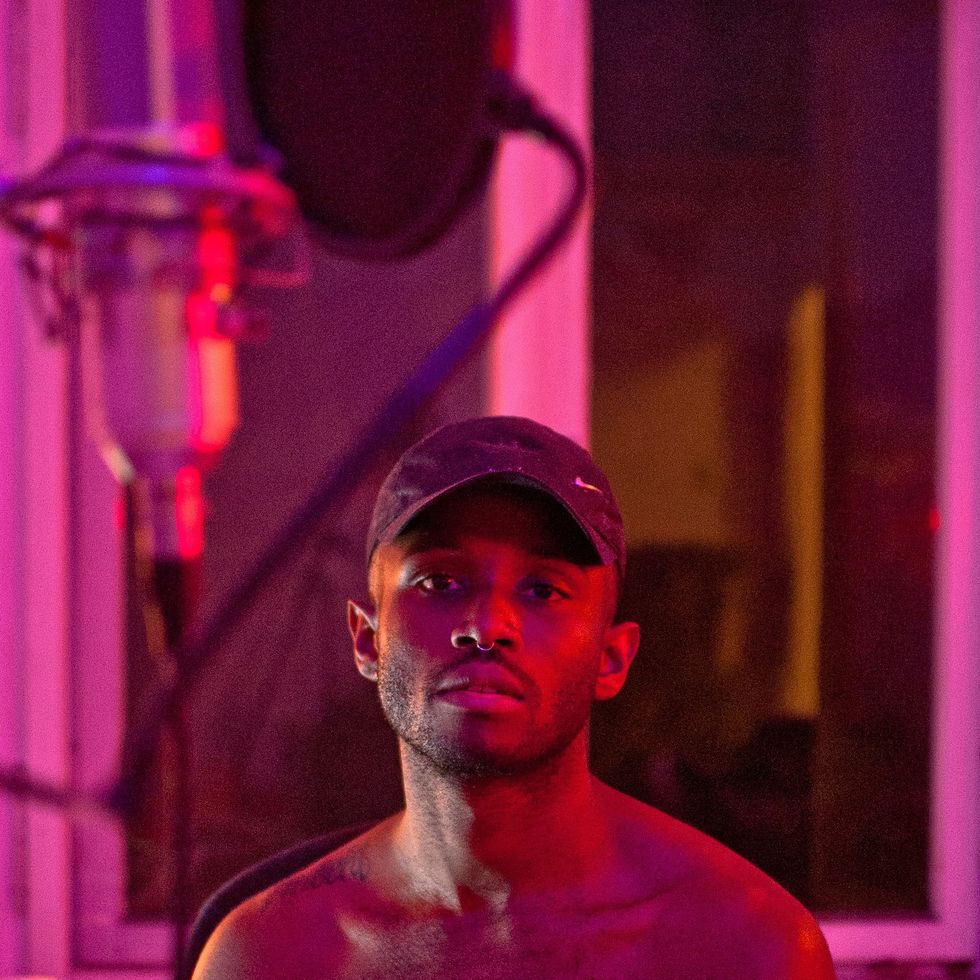 Tell me about the transition from New York to Berlin as an artist, and how you feel like that's served your creative process.
In New York it was a lot of me squeezing the time to work on my music in between me working to live. It was a lot of moments I felt I couldn't develop the sound I wanted to, so it felt like I was always edging towards something. I moved to LA for a bit as well, and [in] LA I had more time to work on it too — I developed more of a distinctly pop sensibility. But then I ended up moving back to New York, and then I had a comparison, so I realized that New York interferes so much with your creative process if you don't have the means to give it time.
"Get outta here!"
Exactly. When I moved here [Berlin], everything is so beautifully tenfold to where I had time to develop the type of music that I wanted to make. It became much less about the type of music I wanted people to like; I can sit down with myself and say, "Hey, what are you saying?" I think that's so important with [artistic] work, that question of "what are you saying?" You have to discover that.
"As a Black queer person, deserving to be a human being is extremely political — and something I deeply believe in."
As far as Berlin, do you find it to be welcoming as a queer Black musician? It's not always easy for POC to find their scenes or places, especially in spaces that may be predominantly white.
Well, to be honest, I think I got very lucky. Three days before I moved here, I realized there's about a week span where I was at HappyFun Hideaway [in Bushwick, Brooklyn] each night. I just had a feeling that I needed to go there each night for some reason. There was one night I was leaving, and I ran into my friend Michael outside, and he was with his friend Mark. Mark is originally from Europe in Berlin, but he lived in New York for two years and was just visiting at the time. They're both Black and queer, and Mark was like, "You're moving to Berlin?" and I was like, "Yeah!" So, he was like, "As soon as you get here let me know, also there's a group called 'Black in Berlin' and we meet all the time and have talks, it's a communal space." I entered Berlin with more Black friends than I had in the states, to be honest.
What?!
Yeah, we all just connected. I was going out with a group of Black gay guys, and that was really great. It was so nice, because I had never had that experience [in the states], not to say I didn't want it, for sure I did. It was just ironic that I went to Berlin and had that. As far as how it is now, my group is so diverse and from so many different places — it's really beautiful. If there's anything that's of question, or anything that bothers us, it's such a support group. Also, there's a lot of non-POC people who say, "Yeah, we get it." That's it, it's no pat on the back — it [support from non-POC people] should be standard. I think it's much better with my blackness here in a lot of ways. Sometimes, of course, it veers into fetishizing but I have no qualms calling that out.
As far as the album itself, there's a lyric in the title track that goes, "You want someone to love you right down," and to me, it feels like this confession of a need for intimacy and love, which is so salient. I think world societies, especially in Western culture, can be so cynical about love. It's like we're always supposed to be "savage," acting like we don't care and playing the "who gets to care less" game. What are your thoughts on intimacy?
That's a fantastic question, because that's my protest! I am very politically opinionated and active. I thought for many years, "Okay so why aren't you writing political songs?" and my opinions about stances and what we deserve in the realm of what is viewed as traditional politics speak much better with me saying them — but also I deserve to be a human being. As a Black queer person, deserving to be a human being is extremely political, and something I deeply believe in. When it came to me finding my purpose, I [realized], "I'm talking about my experiences with love and being very honest about it," and that is so political. That is so beautiful, and so honest and something that we don't see often. We don't hear that vulnerability from many artists in general, let alone a person of color.
I'm okay with being viewed as soft or melancholy — that's what I want, I want this understanding. That's the central theme of the whole album, openness to feelings and being rejected. It has an arc, it's a brush-off, and it's a seduction technique, and then you get to these real moments where you're just talking about your vulnerabilities, talking about not getting there, and that's why the album is called Right Down, that's why the song "Right Down" is very straight to the point with that [idea of], "I'm in love with your flaws, and you need someone to love you right down." That's where that comes from. Discover who you are and do it on purpose!
"Who gets to claim space? I do, and that's my biggest form of protest: being myself."
And in public!
Yeah, and in public! And Right Down, the whole concept is very much about that. The last song, for example, is one of those instances of being completely vulnerable, thinking about your youth and how much you don't care now, wondering "does that mean something?" There's so little of a queer Black person that means a lot to say, often times we're not given the space to be real people. That's completely false, and I'm not going to listen to someone try to box me. I have a new song called "Desire" that I'm working on that touches on fetishization. It [and some of my work] can be looked at as an analysis of who gets to claim that space and how violent it can be when other people have it against Black queer people. Who gets to claim space? I do, and that's my biggest form of protest: being myself.
Courtesy of Marshall Vincent