To the strains of Malcolm X's excoriating cries of "Ya been hoodwinked! Bamboozled!" a slow but steady drip of models sauntered along the 2nd Floor mezzanine of the Museum of the City of New York at Fifth Avenue and 103rd St — that nebulous zone where the UES's starchy border meets Harlem's rich, beckoning corners.
Usually, the employment of Malcolm X as mood-setting background for a fashion show would be something of a head scratch, hackneyed even, but this was an exceptional case. Malcolm X Legacy, a line of streetwear backed by the slain iconoclast's five surviving daughters — Attallah, Qubilah, Ilyasah, Gamilah, Malikah & Malaak Shabazz — opened Harlem Fashion Week with its first runway show last night. The line, designed in partnership with Yvonne Jewnell, added reworked skirts and tops, a reversible anorak in kente print, and duffels to the range. In this moment of merch, the timing couldn't be more apt.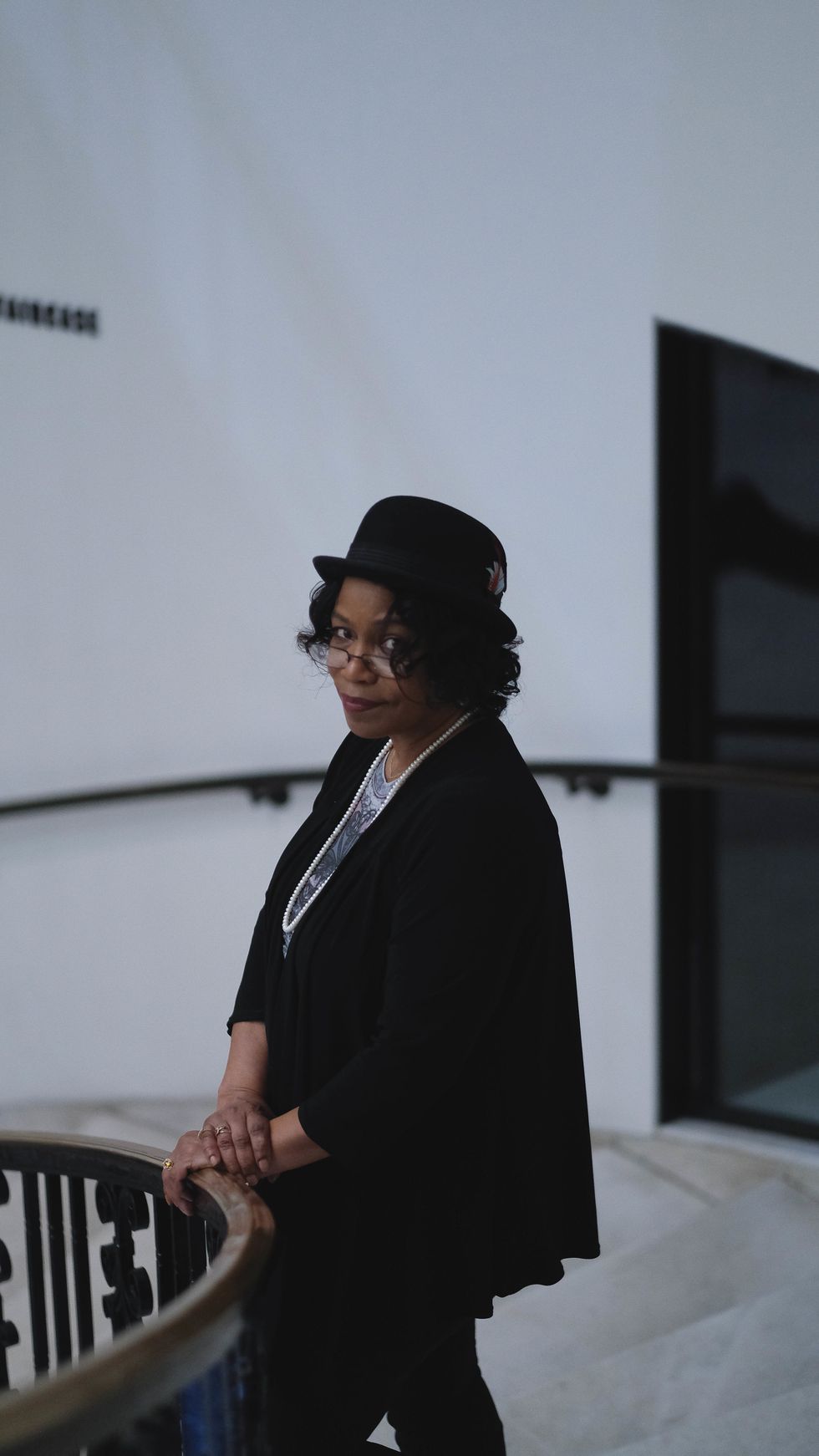 Qubilah Shabazz
"It was one of the ventures my sisters and I decided to embark on to further my father's legacy especially during this time of Black Lives Matter — to focus on the principles that he formulated when he started the OAAU [Organization of Afro-American Unity]," said Qubilah Shabazz, 57, the second eldest daughter of Malcolm X and Betty Shabazz, and only sister in attendance on Sunday. "The collections is based on those principles: the principles of restoration, re-orientation, education, self defense, unity, and determining our future for ourselves rather than have them determined for us," she continued. Those principles were evident in the presentation with models strutting confidently and twirling to the intermittent cheers of the show-goers (a more long gone from otherwise stayed NYFW shows).
The legacy of Malcolm X would seem an ambitious proposition for a clothing line to be sure, but who perhaps better to take it on than the living embodiment of said legacy: "It's not so much taking back the legacy. It's propagating the legacy... to instill confidence amongst the people that are oppressed. Hoping that they don't feel the need to take the dictates from others in society on how to live their lives," Shabazz explains. Playing no doubt to a hometown crowd on 103rd St., the audience appeared to have no misgivings towards the notion. Veronica Webb, the model and actress who coincidentally had a small role in the Spike Lee-directed 1992 film Malcolm X, sat front row, gleefully snapping and posting pictures like a beaming parent.
For a generation one or two removed from Malcolm X's lifetime, it also offers an entry point for education: "I'm a millennial," said Jewnell, "so I didn't even really grow up in that era, I didn't have that first hand information. But working with the sisters was amazing, just to hear their points of view. What they wanted to bring to life about their father. Building on unity, pride, and self respect." Pride was in no short supply at the museum yesterday evening and it will be curious to see if the brand can ultimately hang with the merch craze that is still gripping fashion. On what she hopes the pieces project on the street or store shelves, Shabazz says without hesitation: "Power and confidence."
Photography: Mich Cardin