Lorde's decision to cancel her Israel concert in December was met with accusations of bigotry, namely by the Trump-supporting Breitbart bro and Rabbi Shmuley Boteach, an actual bigot who castigated Lorde for promoting "a global antisemitic boycott of Israel" in a full-page Washington Post advert.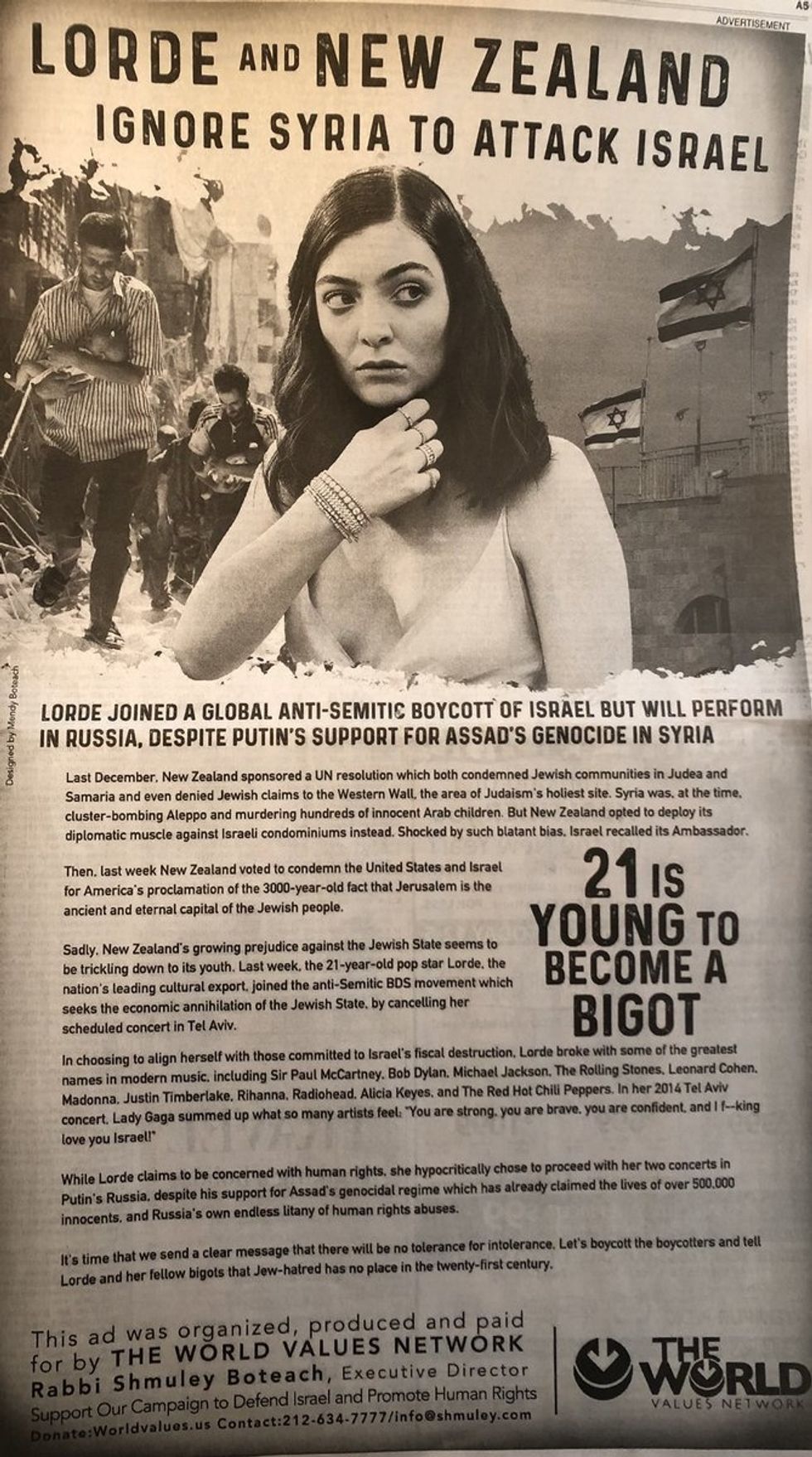 Boycott those who boycott! Definitely don't listen to @lorde. I'm giving you a "green light" to go ahead and get he… https://t.co/7ANG0JQ4KP

— Shmuley Boteach (@Shmuley Boteach) 1514713618
Her decision was largely informed by two activists of Jewish and Palestinian descent who wrote, "Today, millions of people stand opposed to the Israeli government's policies of oppression, ethnic cleansing, human rights violations, occupation and apartheid. As part of this struggle, we believe that an economic, intellectual and artistic boycott is an effective way of speaking out against these crimes." Their central argument for human rights is strengthened by, and unconcerned with, differences in cultural background. They urged Lorde to use her platform to raise awareness— she did. And considering the discourse-inducing backlash and media coverage, it worked.
In a rallying effort, over 100 musicians, actors, and creators (including Brian Eno, John Cusack, Kathleen Hanna, and Mark Ruffalo) have signed an open letter supporting Lorde, and furthering the recent wave of artists and entertainers banding together and speaking out against a system of harmful silence.
"We deplore the bullying tactics being used to defend injustice against Palestinians and to suppress an artist's freedom of conscience," the letter reads. "We support Lorde's right to take a stand."
To the dismay of Melania "Anti-Bullying" Trump, a trend of identifying and exposing "bully tactics" blazed from the White House through pop culture, and the fire has only just started.
Image via YouTube

Sign Up for the Morning PAPER