What You Missed This Halloween in NYC (According to Linux)
Story by Linux / Creative direction & photography by Airik Prince / Art direction by Chris Correa
Nov 10, 2023
This is What You Missed Last Month (According To Linux), in which nightlife it-girl Linux takes us behind the velvet rope and into the VIP section of Scene-City. Through her extreme (sometimes exaggerated) lens, Linux gives us the tea on what really happened at every party-of-the-century that floods our Instagram feeds. (A note from the author: don't take what she says too seriously — she's just a club kid after all).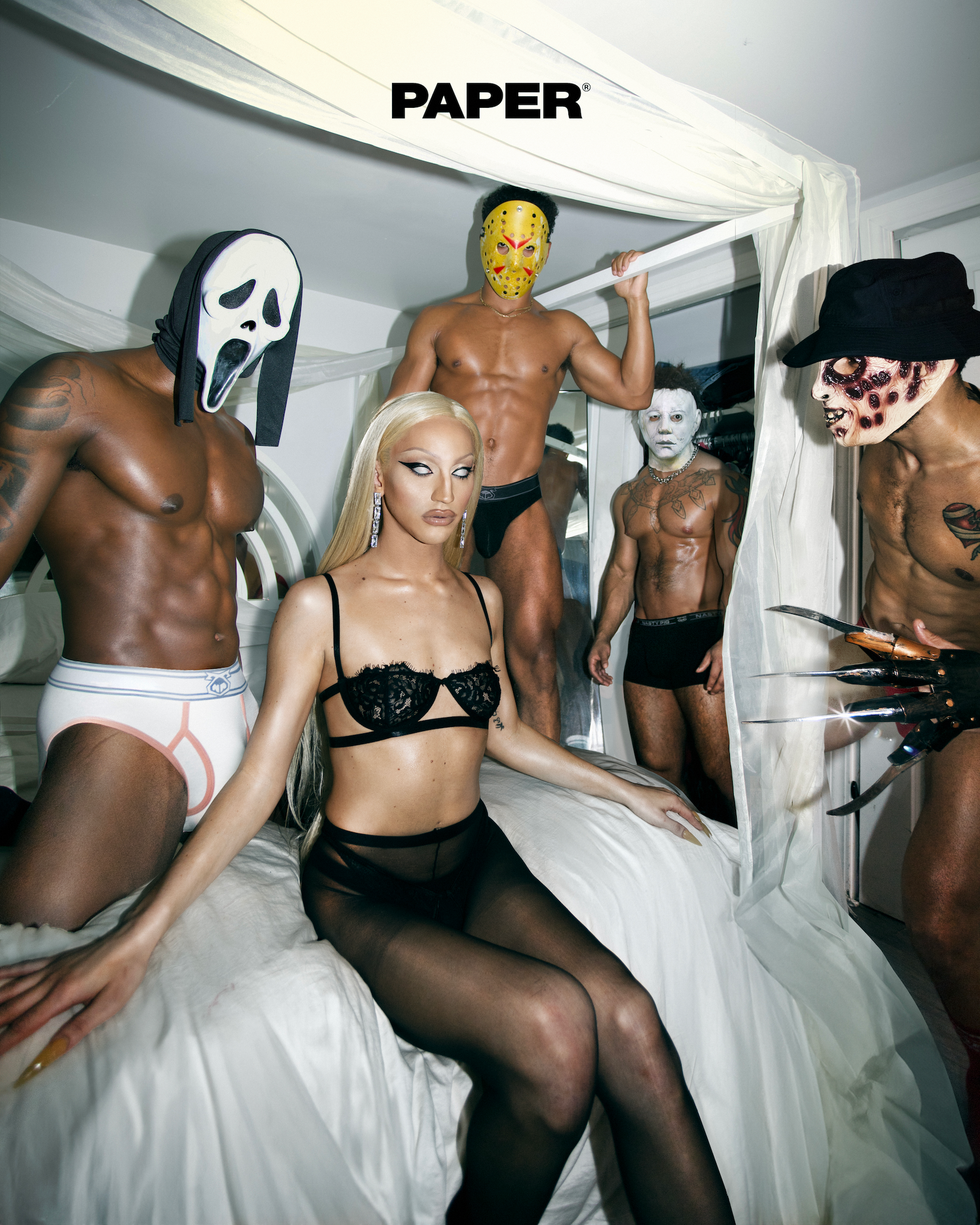 Underwear: Nasty Pig
The only thing scarier than Halloween? Monogamy! On a planet of eight billion hotties, why on Earth would we want to waste our time with only one of them? The same goes for parties, especially in a city like New York. On any given night, there'll be a red carpet gala, an illegal warehouse rave and a dungeon sex party all on the same random block in East Williamsburg.
In our rival city of Los Angeles, the clubs close by 2 AM and you spend hours in traffic, leaving you confined to typically only one event per evening. That dilemma ceases in New York City, where a single night out is nothing short of a marathon. Make it a party-fueled holiday like Halloween and our options nearly quadruple, resulting in so much party-crashing with solittletime.
I'm Linux, the New York Downtown It-Girl. Over the years I've made it my life's mission to attend the hottest parties the City-In-The-Center-Of-The-Universe has to offer, and pen each and every detail of what happens and who attends so that you, my fabulous readers, can get a sense of exactly what you missed. All Hallo-week, I made sure to whore myself out by hitting every event, attending upwards of five parties per night. You may not like me, (in fact, you might actually hate me) but no one can deny that my dedication to the craft is unparalleled. So come along with me as we party-hop through New York's favorite holiday of the year and I'll promise to be as real as possible... raw is law!
With the return of PAPER, a formal welcome-back statement is in order, but for now let us just focus on the holiday at hand. And to stop anyone from taking what I have to say too personally, let me lube you up a bit with a little drinking game. Every time I say Halloween... take a shot! (Or a dose, if you're watching your calories!) If you're lucky, you'll be half as wasted as I am right now writing this.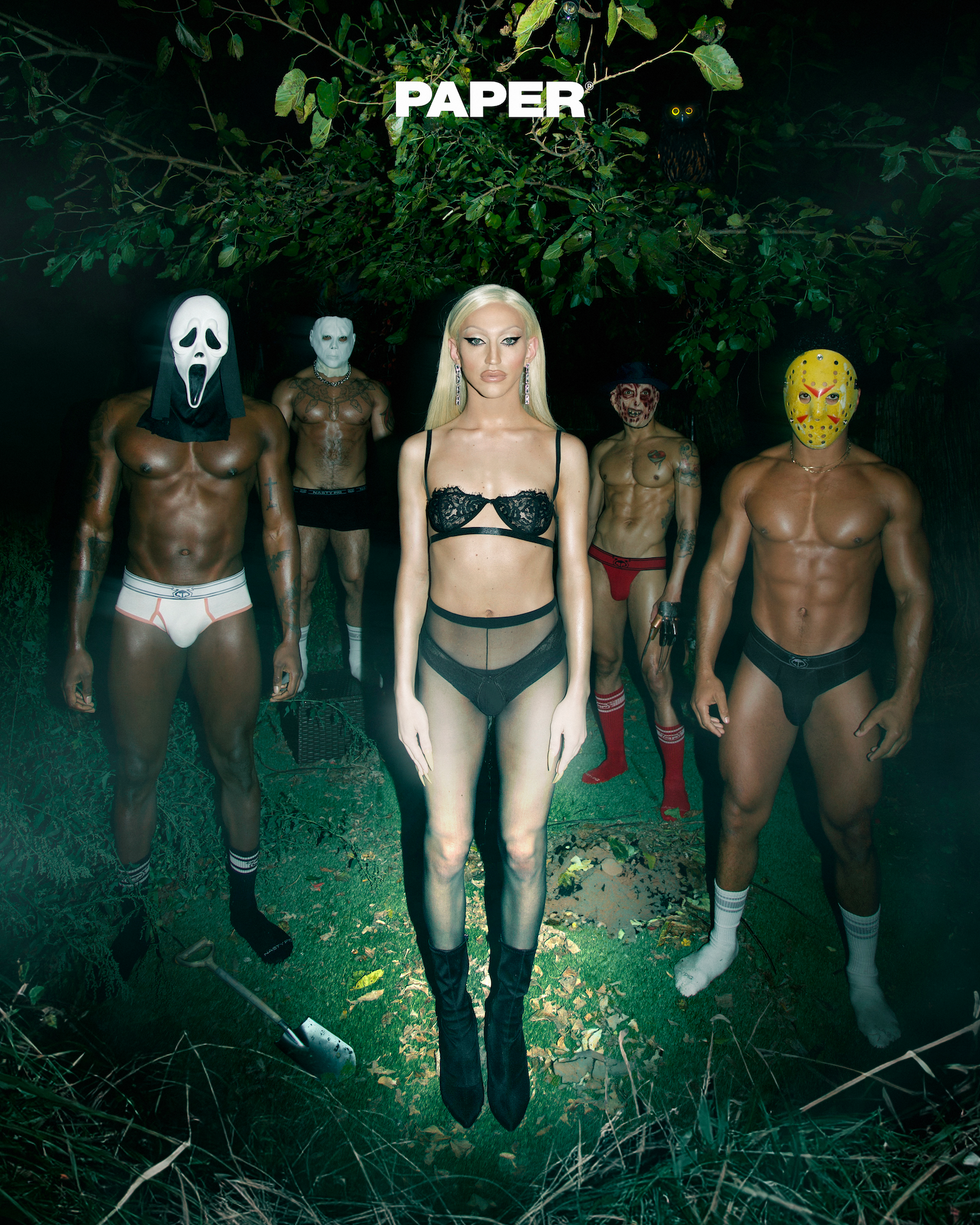 Underwear: Nasty Pig
10/28: The Death of Unter
What is New York nightlife without a little controversy? The long-running warehouse-hopping underground rave series by Seva Granik, Unter, took its last breath this Halloween season. Famous for its niche themes, inconspicuous promotion, cool-as-fuck crowd and music that would make Berghain blush, Unter decided it was finally time to bid adieu. For 18 straight hours, Granik filled four stories in Williamsburg (at a venue that definitely isn't up to code) with the most I-can't-believe-you're-not-European attendees imaginable.
With a door policy so strict that could (and does!) make the baddest bitch weep, Unter ensures that only the most cunt are inside. A factor that plays equally as much a role as the party itself are the many scandals the rave manages to find itself in at any given era. There was the time Unter's email got hacked and a scathing expose was sent to everyone in their address book. Then was the "trannys get in for free" / "oh wait, no they don't" debacle that shattered the city. After throwing the legendary Ket Gala with Unter back in Spring and jealous I wasn't getting a feud of my own, even I threw my hat in the ring when I was convinced they were stealing my staff and party concept for Paul's Dolls.
Regardless of the headwind of bad press that surrounds Unter, even the archest-nemesis cannot deny its success is well-deserved. The fact that so many hate Unter while all still attending themselves is a testament to just how great the party was. For years, Seva and the team at Unter brought culture to a city where culture was otherwise nonexistent. They also somehow managed to create an inclusive safe space that you actually wanted to be at. The impact of the rave's presence is something that can be seen by shameless Unter copycats all over the world.
As one would expect, the final Unter was no exception, rather further proving the rule. From start to finish, the cement walls of whatever warehouse Seva rented for the evening rumbled as booming techno music filled the basement and only the heaviest of house blasted on the top floor. In the floors between, fashion and art's elite waited in long lines for the Port-a-Potties so that they could finally boof that mephedrone. Pay attention carefully and you'll notice the slight crunch under one's heels from the shattered glass of abandoned G-droppers. Lurk too deep into the corners of the grimy building and you'll accidentally walk in on a drug-fueled femmes-only five-way. No, you can't join.
We often say "nightlife is a place for one to release their demons," but this an understatement when perceiving what goes on in Unter's universe. Because here, Satan roams free, and girl, it is sooooooo fucking cunt. Notable sets from the finale came from Volvox, Juana and The Carry Nation.
RIP Unter, possibly the greatest party New York City has seen in a decade. You will not be missed; you will always be forgotten.
10/29: An Orgy of Circuit Parties
Paper Magazine x Cohart @ Wiggle Room
After raving my tits off at Unter, I decided to trade my oonz-oonz for cha-cha-cha and dedicate an entire evening to circuiting around Manhattan with the muscle gays. But before I could party in a club full of off-duty OnlyFans creators, I wanted to feel an ounce civilized by popping by PAPER's own Halloween party.
In collaboration with Cohart (sickening new app for connecting artists that everyone needs on their phone!), PAPER threw a Halloween bash at Wiggle Room in Alphabet City. The two-story establishment made way for drinks at the bar upstairs and table service downstairs. The thing I love about PAPER parties is any bitch you've seen in that magazine will be there. It's so nice to finally ask for that 15th raise from Justin Moran in person (even though I always submit my articles late).
Ladyfag's Battle Hymn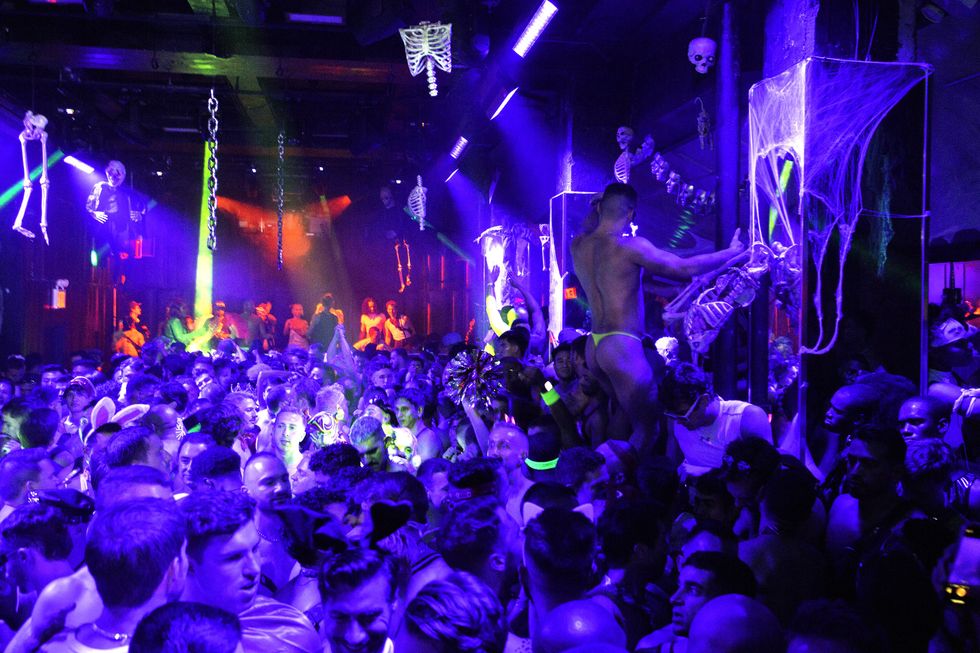 Photo by Santiago Felipe
After slaying the PAPER event, it was time to start my tour-de-GHB and pump on through to my night of circuit parties. I was ready to spook my cunt! The first stop was Battle Hymn. If you're a regular reader of mine, you know how sacred this party is to me. For almost a decade, Ladyfag has been filling out the once-called Flash Factory, now-called Mission Nightclub with thousands of horny and high men at her monthly and holiday dance-fest. To protect her kids from the flames of the dancefloor, she sets them up alongside the club in exclusive-feeling bottle service tables. And she keeps her celebrity friends with her in the DJ booth section to protect them from her kids. In that booth, Eli Escobar, Mez and Occupy The Disco spun 'til the wee hours of 5 AM. The evening's unwritten guest of honor was an incognito Riccardo Tisci (need his load!). How poetic, in a room full of a thousand shirtless gays, the only one we wanted to see naked was the only one wearing his clothes... dammit, Riccardo!
Alegria @ Palladium
Up next for the night (now morning) was my all-time guilty pleasure party: Alegria. Before you laugh at me, let me explain to you why this party is so good. There's three things every party needs to be successful: People, music, production. Ric Sena's 20+-year-running party excels at all three... and more. Attendees from all over the world migrate to NYC to attend a holiday weekend Alegria, leading to an environment of many languages and cultures meshing together, chasing one singular high. The stage resembles that of a theatrical Las Vegas staple show but with the inimitable soul of New York City. This year's Halloween Alegria was no different.
It took place at Palladium, in the heart of Times Square. The current Palladium is no doubt a nod to the legendary mega club and theater of the 1990s, which is now owned by NYU. In order to get into Alegria, one first had to take many escalators underground to the intake area. Drinks and party favors were being sold at real concession stands. Once inside the main room, one was thrown onto a dancefloor along thousands of people, with the focal point being a stage that had dancers in state-of-the-art costuming on a Monster Ball-level stage design. I like to dance right up to the front of the stage, so I can see the details of the performers' looks.
When the partying got to be overwhelming, there was stadium seating surrounding the dancefloor (we were in a theater, after all) where people were free to sit, fuck, sleep or do drugs. It was... iconic. My friends and what seemed like the rest of New York City stayed there rolling our faces off until the last song, a circuit remix of Leona Lewis' "Bleeding Love" played at around 7:30 AM. We exited Palladium to a Times Square drenched in torrential rain — but that didn't mean the party was over. We then headed over to Daniel Nardicio's (owner of Ice Palace in Fire Island's Cherry Grove) after-hours spot a few blocks down, where two stories of circuiting went well on until Monday afternoon. My Halloween marathon was so far a major success. Consider my cunt spooked!
10/31: Clout Crashing on Halloween Proper
Ivy Getty's Halloween @ Jean's
Finally, after what felt like a week straight of celebrating Halloween with general admission, it was time for me to stroke the ego by crashing every celebrity-filled Halloween party I could find. Remember girls, guestlist is merely a suggestion. My first stop was Ivy Getty's annual Halloween party at Jean's in NoHo. For those that don't know, the iconic Ivy Getty is an actual downtown it-girl... whereas I just play one on TV. Her halloween party followed suit and was the perfect start to my evening of clout-farming. Immediately upon walking in, I saw Anya Taylor-Joy, Quincey Jones and Getty posing for pictures in their matching Totally Spies costumes. After getting a glass of G.H. Mumm champagne (only the best, tonight we party like a Getty) at Jean's super chic bar, I found myself bumping into multiple supermodels and HBO series regulars. (I'm still currently trying to befriend one of them, so I'll take it easy on the name-dropping!) Isabella Massenet DJed and the music resembled the youthful and fun-spirited sound Ivy typically has at her parties. Guests could also get complimentary tattoos by Fun City. Tattoos at a party are such a vibe.
Susanne Bartsch's Boom! Weimar Rave @ The Standard Hotel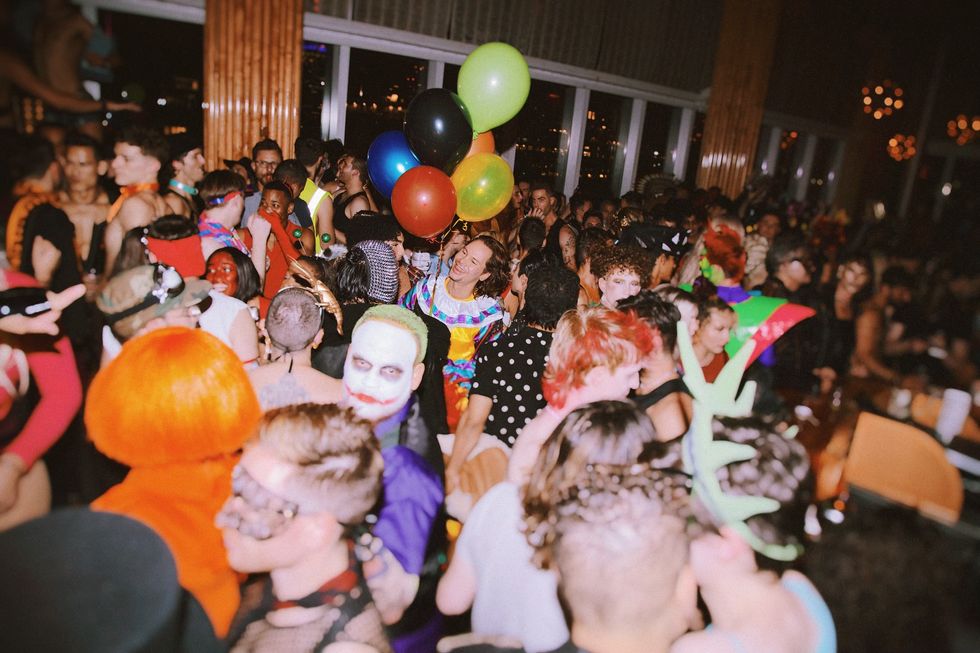 Photo by Deonté Lee
After I kissed Ivy (and her husband) goodbye, I hopped into a car to The Standard Hotel in the Meatpacking District for Susanne Bartsch's Halloween party. The theme was Weimar Rave and it took over the entire top floor of the iconic hotel. While Boom Boom Room was dedicated to the 1920s Berlin aesthetic, the club across the hall, Le Bain, was focused on the techno culture of today's Berlin. Out of all the parties I went to all Halloweek, it was at Susanne Bartsch's Weimar Rave where I saw the best costumes. A sea of Hollywood-level looks jumped to the best of the best DJs in Bartschland, while Susanne herself oversaw her kingdom like the Queen of the Night that she is. I could've stayed at this party forever, and for a moment I almost did. Sets from Griffin Maxwell Brooks, Boyyyish and Berlin's own Tom Peters stood out. The evening stood as a grand finale of another incredible summer Susanne had at the same club.
Heidi Klum's Halloween @ Marquee
After peeping the clock at almost 2 AM, I remembered it was time to jump in a car once again and face New York's final boss of Halloween: Heidi Klum. It's been a long while since I've hit up NYC's infamous nightclub Marquee. You know, the one that nearly invented bottle service? (Forgive me by the way, for at this point I was drunkenly past the point of no return. As my friends and I like to say: I was making "the face.")
When I arrived, the red carpet was well beyond closed, but that didn't stop me from yelling at the door girl, dropping a few [hundred] names and a few [hundred] dollars and making my way inside the party. Mind you, this was my first Heidi walking-in, and I quickly realized just how many straight people there are. This may have been my last Halloween party of the season, but it was definitely the first Hetero-ween party I had been to so far. Scanning the room for girls like me, I darted towards besties James Charles and Dylan Mulvaney. By the time we sat down, Sofi Tukker played their last song and the lights started coming on. Fuck, I flopped! Not wanting Halloween to ever end, we poured ourselves into a downtown cab for a nightcap at The Box. Everything gets a little fuzzy after that, or at least that's what the NDA I signed says. Till next time, New York City...
Creative direction, photography, hair and makeup: Airik Prince
Art direction: Chris Correa
Models: Doryin Thames, Zero Marz Labeija, Elijah Wilde, David Christian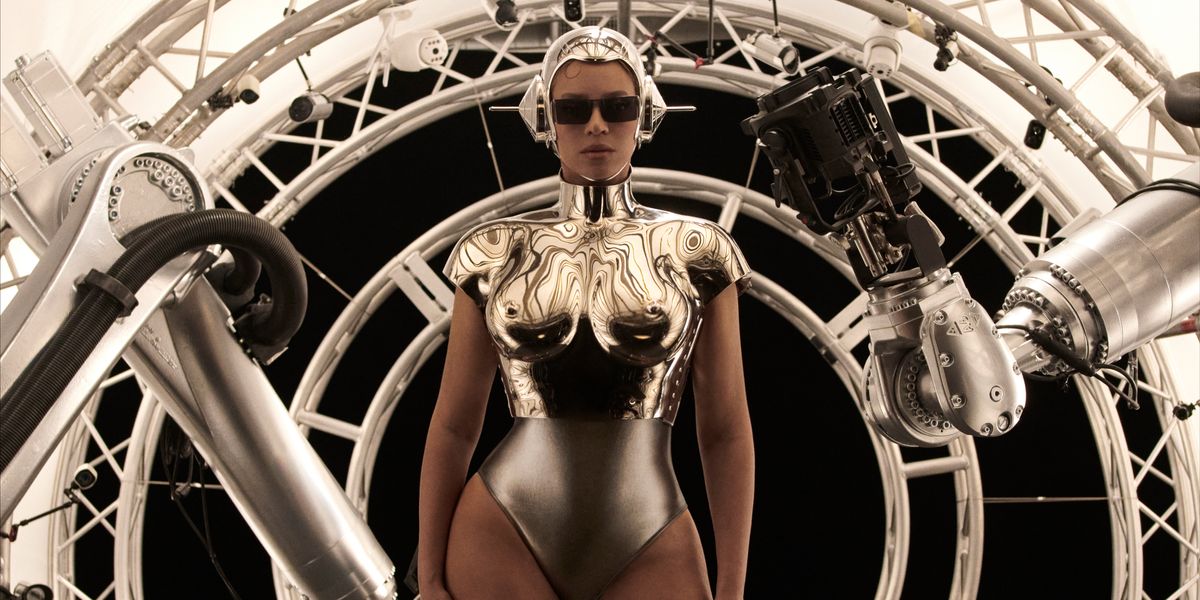 Music
Story by George M. Johnson / Photography by Mason Poole / Styling by Shiona Turini / Hair by Nakia Rachon / Make-up by Rokael Lizama / Creative direction by Andrew Makadsi
Story by George M. Johnson / Photography by Mason Poole / Styling by Shiona Turini / Hair by Nakia Rachon / Make-up by Rokael Lizama / Creative direction by Andrew Makadsi
01 December