This article is a sponsored collaboration between Google and PAPER
Click here for the Spanish translation of Karol G's PAPER cover story

Who gets their own face tattooed on their own body? Not many people, we'd guess — but Colombian urbano superstar Karol G did it. On her right forearm is an outline of her mug, and it's situated alongside two iconic celebrities — Rihanna and Selena — to boot.
Karol G laughs when asked about the tributary and simultaneously self-applauding trifecta. But this is later in our interview, about a half-hour in; by now, we understand the meaning of the tattoo is only partially a joke. The rest, it seems, comes from serious confidence.
In the '90s, Selena fought for fame in the male-dominated genre of tejano and won. In the wake of her tragic, untimely murder, her legend was crystallized, but any fan will assure you, though, that if Selena were alive today — had J. Lo never portrayed her on film — no doubt her celebrity would be even greater. And Rihanna, of course, is Rihanna.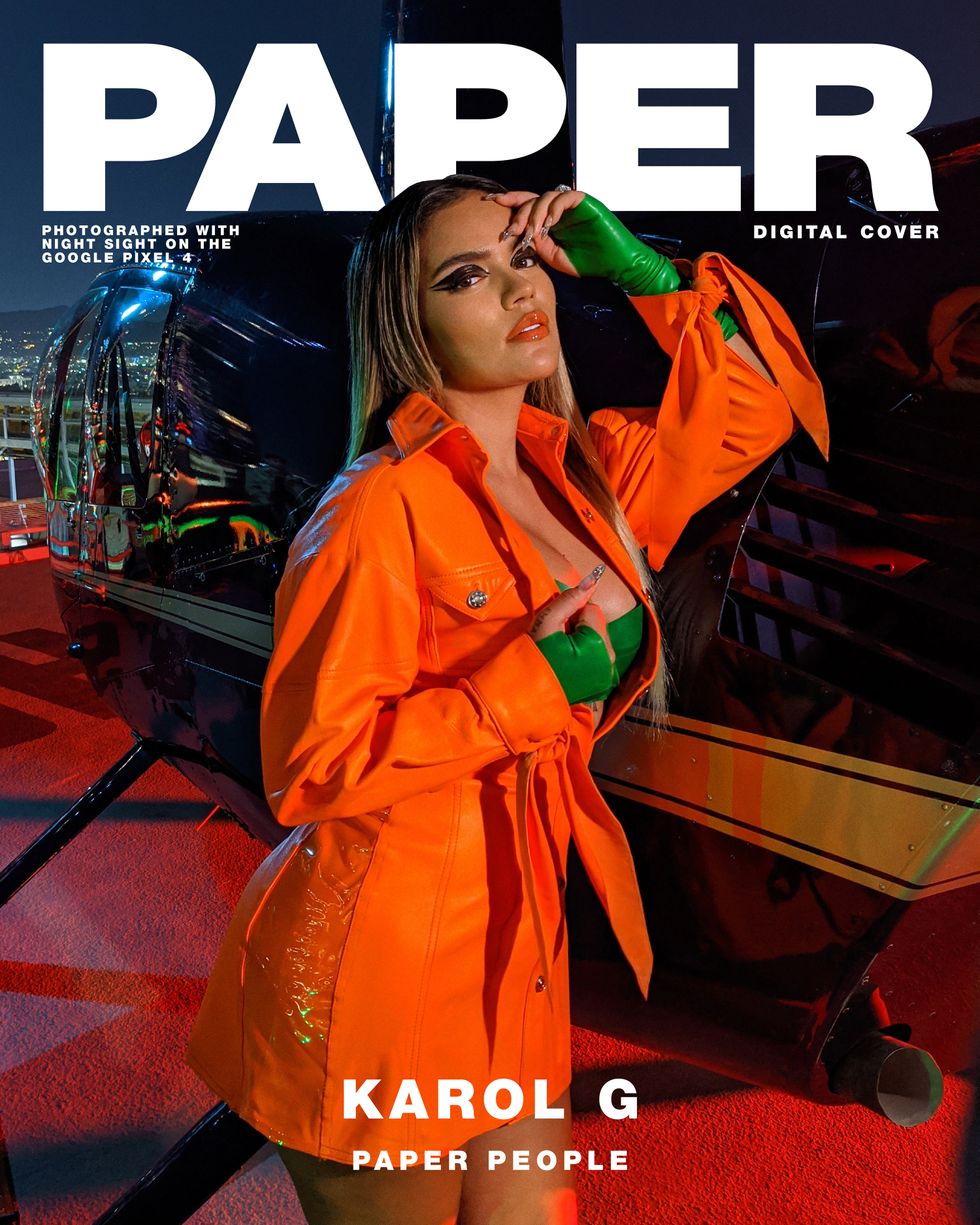 Dress: Christian Cowan, Bra and gloves: Vex, Earrings: Anissa Kermiche (Photographed with Night Sight on Google Pixel 4)
You can be sure that anything Karol G does — including this appearance in PAPER, photographed in Night Sight on Google Pixel 4, in which Sandy Armeni shifts the artist from her signature sporty-femme style and into chic, runway looks that still radiate a certain toughness — is nothing less than exactly what she wants to do. At the LA shoot, the star worked closely with the crew to get shots that complement Karol G's brand.
But the alliance Karol G chose for her tattoo is not just aspirational. Born Carolina Giraldo Navarro in Medellín, the 28-year-old artist has worked tirelessly since childhood, from schooling to small-club touring to a 2010 stint on Colombia's X Factor — to become the star she is today.
Karol G is a bonafide leader in the latest wave of reggaeton and Latin trap superstars whose Spanish-language hits defy arbitrary — yet still rigid — industry guidelines.
One of her fan favorites to date is "Ahora Me Llama," a joint track with Bad Bunny, which has amassed more than 756 million views. Earlier collabs with Puerto Rican singer Nicky Jam ("Amor de Dos") and Colombian urbano star Andy Rivera ("Mañana) together surpass 200 million; altogether she's collected at least 20 additional videos clocking in at more than 100 million views, several Top 10 Latin Billboard appearances, and two albums, Unstoppable (2018) and Ocean (2019), each peaking at No. 2 on the same charts.
Today, at 12 million YouTube subscribers and more than 4.8 billion views, Karol G is at a point where she could take a beat, relaxed in knowing their name is so well-etched in the mainstream canon that they can break for a year and return to much fanfare. But Karol G — and maybe a lot of other mainstream-popular Latinx artists of right now — all of them contributing to what's becoming an undeniable permanence that, yes, reggaeton and other styles in urbano are commercially viable, and as worthy of respect as any other mainstream genre — will do no such thing. She's a workaholic of epic proportions, refusing even to take full advantage of the team that surrounds her. They've got jobs to do, of course, but relinquishing too much control is not her thing.
"They nag me about it all the time," she says. "But people fall in love with an artist, and the influence of others [can affect their unique vision], and they lose their identity. I won't allow that."
Following her instincts and staying true to herself all this time has, after all, brought positive results.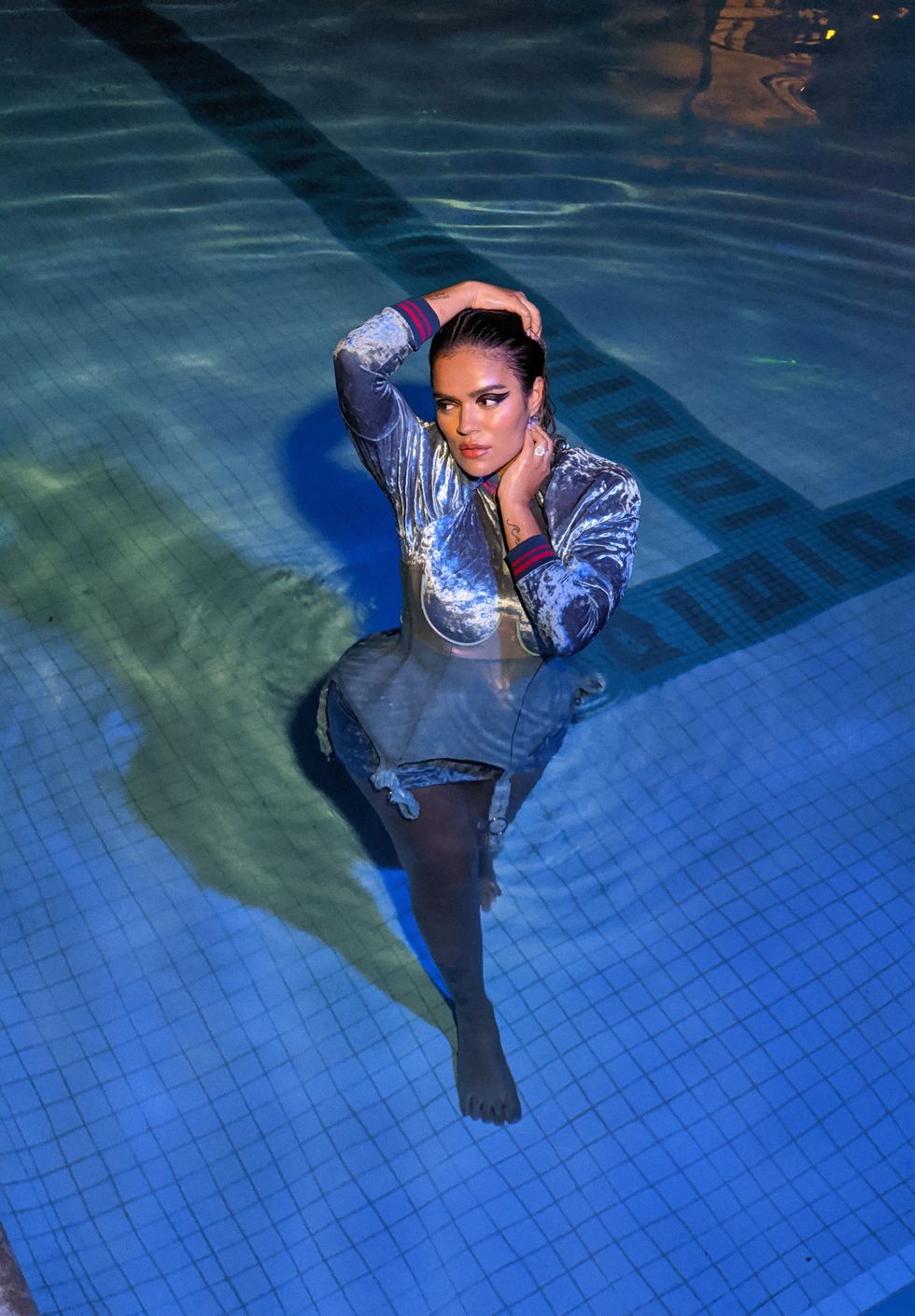 Dress: GCDS, Corset: Vex (Photographed with Night Sight on Google Pixel 4)
Last year, she turned down the opportunity to appear on the sex-positive "Sin Pijama," ultimately sung by Becky G and Natti Natasha, because of a lyric about smoking weed. Karol G doesn't smoke weed, and so opted out from the track, which became an instant hit.
A month later, however, Karol G released her own track in a similar vein: "Mi Cama," a breakup bop in which she owns her sexual agency, with lyrics reflecting digital accents that sound like the perpetual creaking of a busy bed. It too became a hit.
Ocean itself is another testimony to Karol G's unrelenting authenticity: The album hits on reggaeton, but also ballads, includes a reggae-fusion track with Damian Marley ("Love with a Quality") and even a Karol G-centric reimagining of English reggae singer Pato Banton's "Go Pato."
It was early on, though, that Karol G learned the importance of standing firm. Universal flatly declined support, solely on the basis of gender, during an early approach.
"About nine years ago, I went to Miami for the first time; my parents got me a meeting [with the label]. I presented my project," she says, "and they liked it. But they said I could maybe be a songwriter, but a woman making reggaeton? That wouldn't work."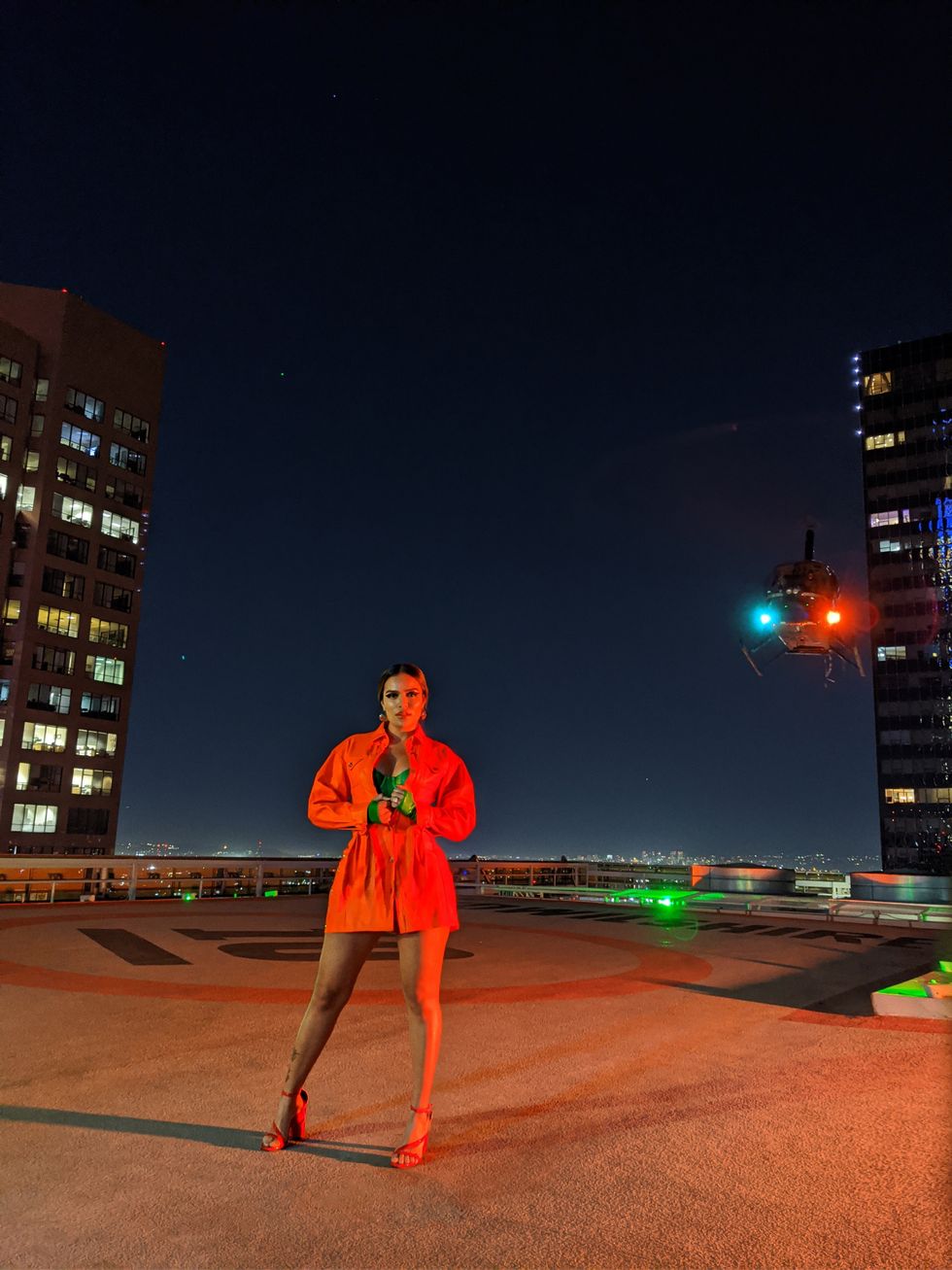 Dress: Christian Cowan, Bra and gloves: Vex, Shoes: GCDS, Earrings: Anissa Kermiche (Photographed with Night Sight on Google Pixel 4)
To the chagrin of many men in the industry, Puerto Rico's Ivy Queen by the early 2000s had broken into mainstream reggaeton — she's commonly known as the Queen of Reggaeton. Few other women got a spotlight back then, though. Even those that provided crucial hooks on big hits (like Puerto Rican singer Glory on Daddy Yankee's "Gasolina" in 2005) didn't get their due, or even explicit credit.
In the wake of the misogynist rebuff, Karol G did not falter. She and her father, also a musician and a pillar of support, toured Colombia playing clubs, colleges, and city festivals.
"I always said that if we'd made money per miles, we'd be millionaires," she laughs. "It was a long process... and because of it, I can truly enjoy what's happening now."
The tides eventually changed, and the genre has evolved immensely — maybe because women like Karol G never stopped beating down its doors. Turning down the "indecent proposals," as she calls them, from executives and businessmen, along the way, Universal ultimately signed Karol in 2016. (And now, her father has returned to make music, and she's very much the supportive fan.)
Collabs with established male artists like Nicky Jam, Bad Bunny, and Ozuna, Karol G says, were critical to her ascent. Those guest spots gave her a chance to shine, she says, leading fans to her solo work.
"Now I feel like being a woman works in my favor; people want to hear us," she says. "They want to know our point of view, they want to know our process."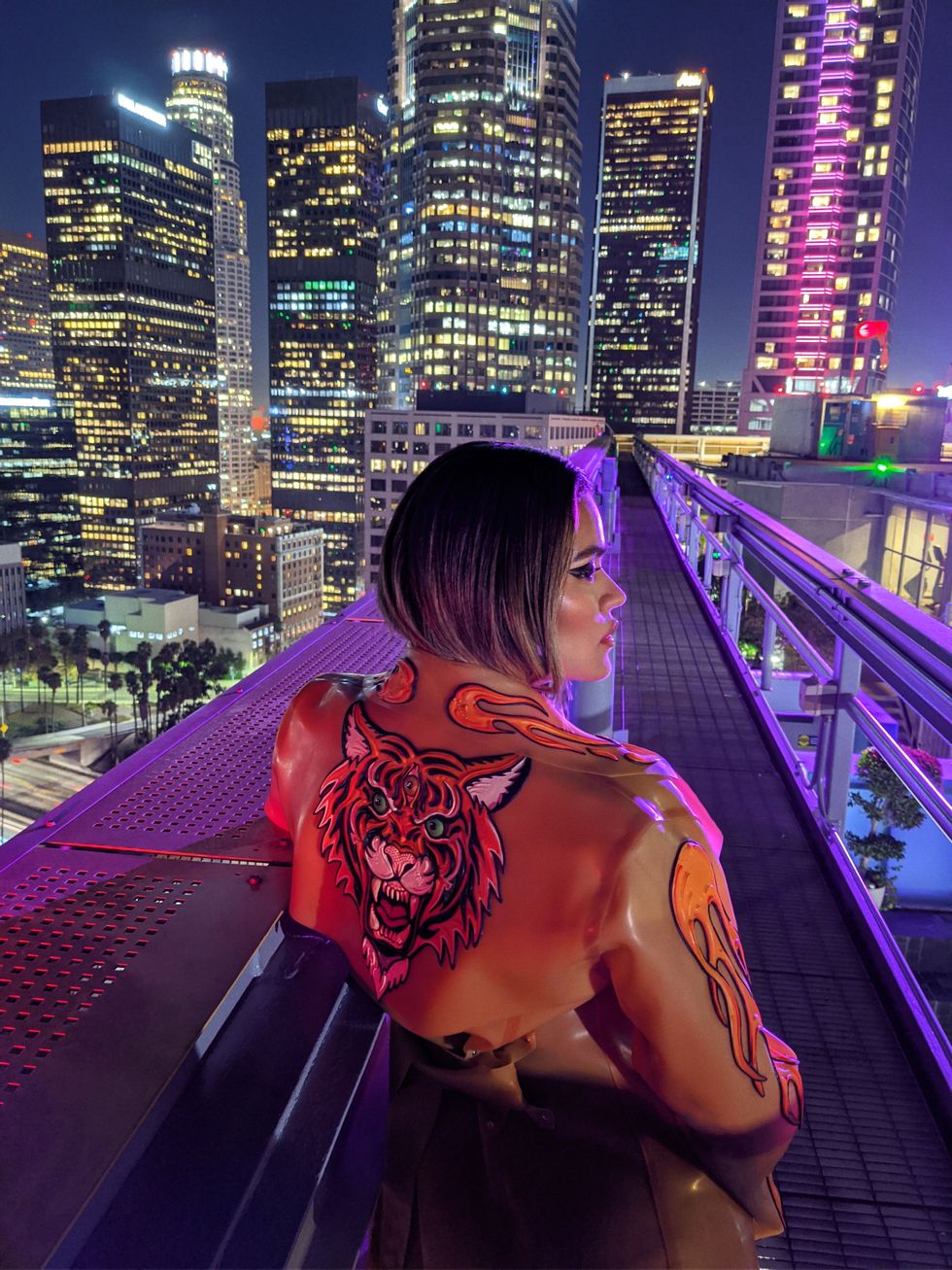 Bra and jacket: Vex, Pants: Area, Bodysuit: Savage x Fenty, Necklace: Patricia Field (Photographed with Night Sight on Google Pixel 4)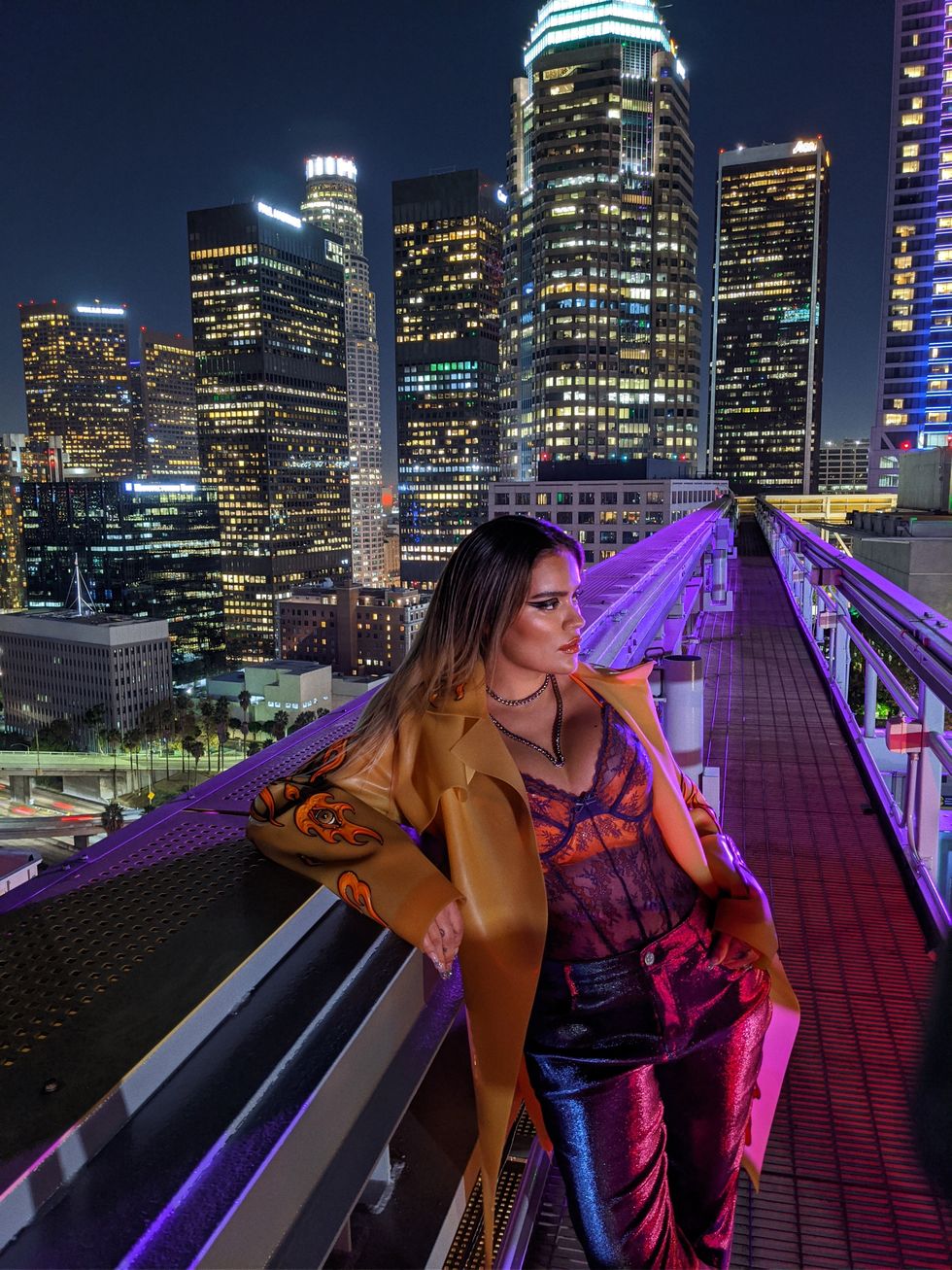 Bra and jacket: Vex, Pants: Area, Bodysuit: Savage x Fenty, Necklace: Patricia Field (Photographed with Night Sight on Google Pixel 4)
In reggaeton's next wave of mainstream popularity — which includes or combines not only reggaeton but also Latin trap, dembow, and pop — Karol G is mostly right. More and more women, from Natti Natasha to neo-perreo pioneers like Tomasa del Real, have become commanding figures in the genre, often reframing its pervasive male gaze to the female POV.
But while KaroL G believes equity has been generally achieved, this year's Latin Grammy nominations show otherwise. Not a single woman was nominated in any urban categories. (Last year, Karol G took home best new artist.)
Her most recent album, Ocean, didn't qualify anyway, Karol G points out. But she joined in the chorus of artists like Puerto Rican icon Daddy Yankee and Colombia's J Balvin who, in response to the noms, campaigned on social media for the Academy to rethink its attitude toward reggaeton by posting an image of its classic gramophone marred by a red X, along with the caption, "Sin reggaeton no hay Latin Grammy" (Without reggaeton, there is no Latin Grammy.)
"It's about asking for more inclusivity for urban artists," Karol G explains. "There's [too few] urban categories… and music in those categories isn't really considered for Album of the Year or Song of the Year."
Despite that out-of-touch misstep, what matters most to Karol G — for herself and for other reggaeton and Latin trap artists — is the umbrella genre of urbano's rapidly and continually growing fanbase.
"The good and important thing," she says, "is that the public is listening to us. They're going to our concerts."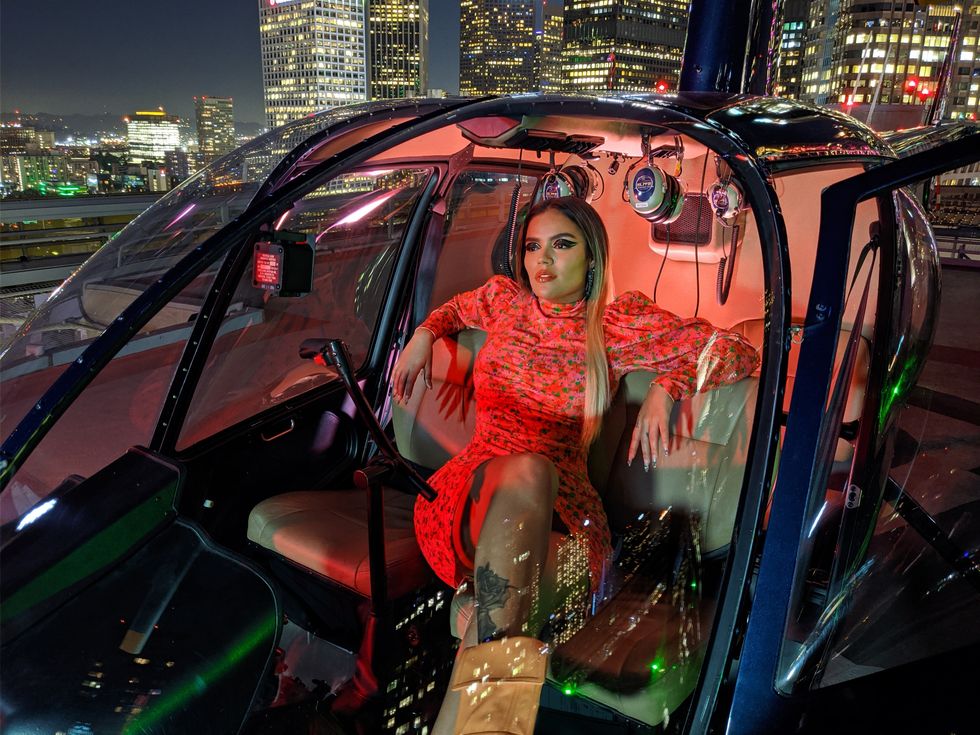 Dress: Brogger, Shoes: Natasha Zinko, Earrings: Area (Photographed with Night Sight on Google Pixel 4)
She's currently on tour with Gloria Trevi who, in the late '80s, became one of Mexico's most famous pop-rock singer-songwriters, known for her wild, untamed hair that matched her onstage antics (she was once banned from TV for flashing her underwear during a live performance). Trevi remains renowned and revered despite a major controversy: She spent nearly five years in prison for corrupting minors — her arrest followed allegations that she was running a sex cult with her then-boyfriend and manager — but was cleared of charges in 2004 due to lack of evidence.
Last March, Karol G teamed with Trevi on the lyrically sharp-toothed number "Hijoepu*#" last March. Her thoughts on Trevi's past aside (there's a general consensus that Trevi, who was quite young when she met her manager, was herself exploited), it is obvious that Karol G believes in second chances — that people can change.
It's especially evident in her response to questions about fiancé Anuel AA. Now a frequent collaborator on songs (and a tour), the two made effectively made their relationship public early this year with the duet "Secretos," then set out onto a short tour a few months later. A year earlier, however, the Puerto Rican trap singer was shunned for a diss track, "Intocable," that managed to be both misogynist, and homopobic, as well as take shots at Hurricane Maria survivors and a Puerto Rican celebrity living with HIV. Promoters in Puerto Rico promptly canceled his upcoming show. Along with scrubbing the internet of the song, Anuel soon released a public apology, saying this mistake was even worse than landing in federal prison on an illegal firearms charge in 2017.
"I saw the entire [mess]," Karol G says. "I'll tell you. I would say that before, the Anuel that I heard years ago did not have a closeness with his music. When he came to me to do a song... I had the opportunity to know this person — who wanted to evolve, who wanted to grow, to be better."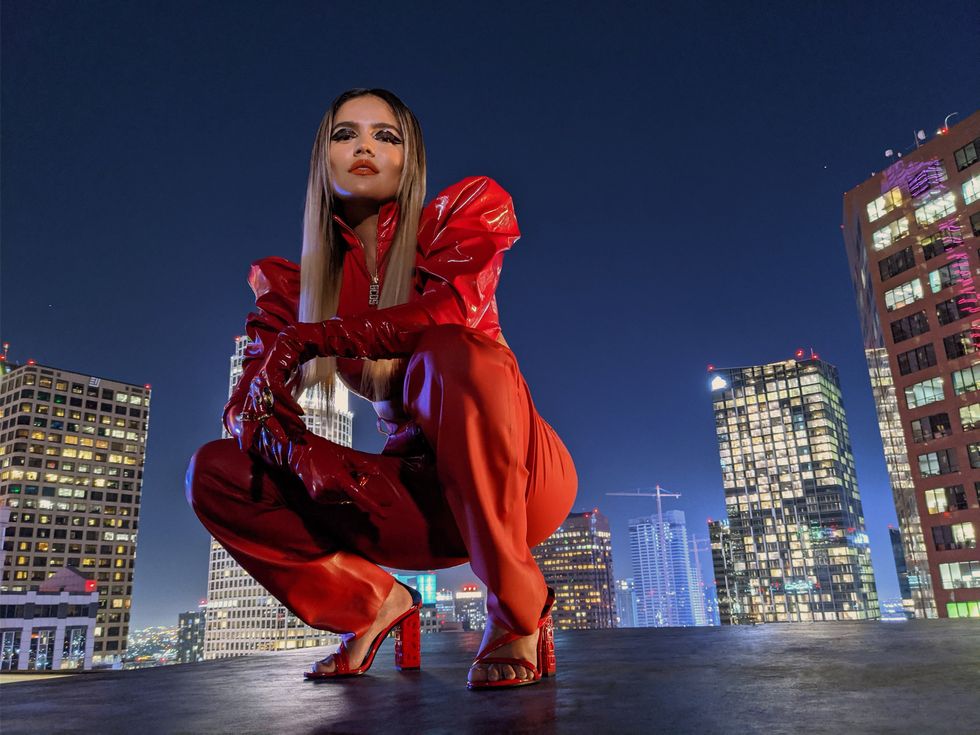 Top and shoes: GCDS, Pants: Vex, Gloves: Wing & Weft, Bracelets: Machete and Lady Grey, Rings (Left to right): Via Saviene, Joanna Laura Constantine, Lady Grey (Photographed with Night Sight on Google Pixel 4)
Friends of Anuel, Karol G says, credit her for his changes. But she points instead to his "inner child," noting that he's trying to leave behind transgressions committed in his past.
"I think that's beautiful, and it's even more beautiful because I can accompany him through it," she says.
You can't deny that a 28-year-old with her own face tattooed on her arm — again, alongside two icons — unabashedly believes in herself. And having basically conquered the mountain of machismo that makes difficult a woman's ascent in reggaeton, Karol G does its future a favor by wielding her confidence so brazenly. It's an invitation for more women to join her, whether as artists, producers, or executives, and for gatekeeping men to let them in.