"So we're all just here to see Jinkx, right?" says Rickie, the festively dressed twenty-something young woman sitting next to me in Row F at the Ambassador Theatre for the Broadway revival of Chicago currently featuring Drag Race Queen of Queens Jinkx Monsoon as Matron Mama Morton. Rickie has flown in from Lubbock, Texas especially to see Jinx, as has the middle-aged woman from Dallas seated in front of me.
Since Jinx took over the role, it's been standing-room only at the Ambassador. Tonight, five queens from the current season of RuPaul's Drag Race, which airs its 200th episode tonight, are also in the crowd: Marcia, Marcia, Marcia; Jax; Robin Fierce; Amethyst and Luxx Noir London, all decked out in glamour drag, have shown up to cheer on their sister.
Marcia has performed on Broadway in Kinky Boots and she tells me her dream role would be in Wicked. Elphaba or Glinda? "Oh please," she laughs, "always Glinda!" Jersey native Luxx Noir London came to Broadway shows on school field trips. "My first show was Pippin, the revival with Patina Miller," she says. "That was the most iconic moment of my life ever." Now, that's what I call a Broadway queen. Jax started off with Disney musicals, Mary Poppins and Tarzan, but her favorite theater moment was seeing Billy Elliott with her father. "I think that was his way of telling me he knew I was gay," she says.
Amethyst loves Rent. "I think I'd be really good at it in drag," she says. The Robin Fierce is super inspired by Kinky Boots. "That inspired my drag and that's why I sing in drag," she tells me.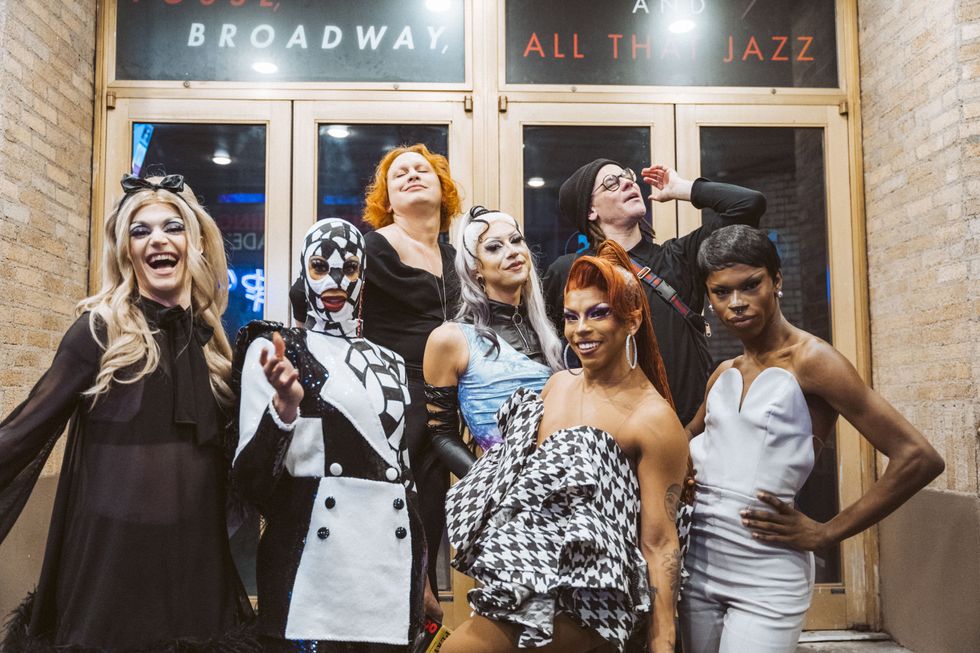 The energy in the house is electric, like the opening night of a monster hit, only this production has been running since 1996. When Jinkx first comes onstage, the roof nearly blows off the theater. The Jinkx fans' love also spills over onto the entire cast. The audience loves every minute of the show and is particularly enraptured anytime Jinkx is onstage. R. Lowe, who has played Mary Sunshine in the show for 18 years, says, "It's a resurgence of the show. It's been so energizing for all of us. It's one of the most amazing things I've ever gotten to experience on stage."
After the show, mobs of adoring fans wait for Jinkx at the stage door. Each night Jinkx stays until every fan gets an autograph or photo.
PAPER caught up with Jinkx by phone on her way to the theatre to hear about her groundbreaking run and how she can handle eight grueling shows a week.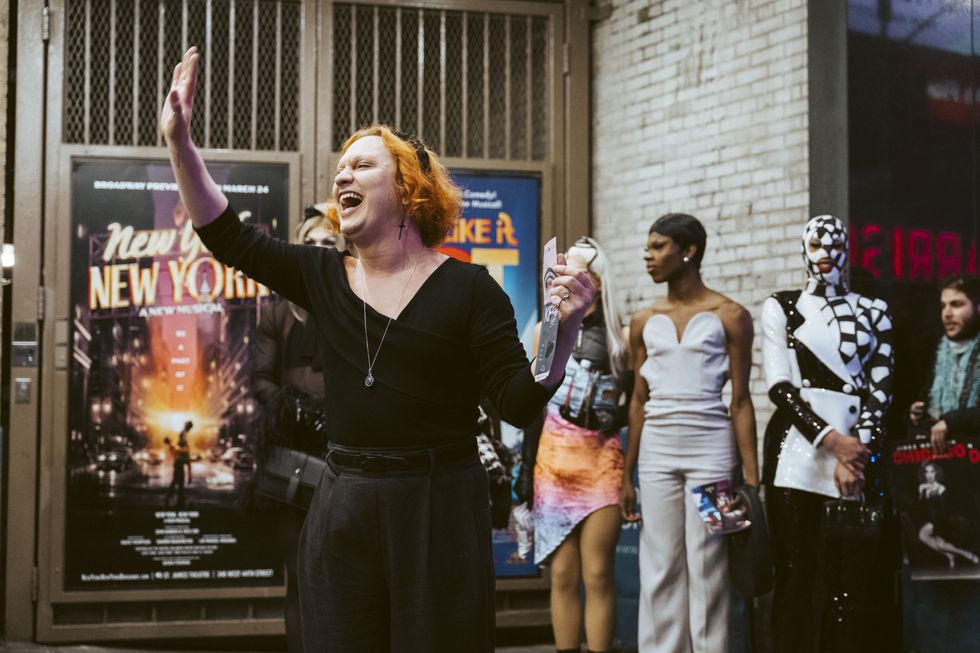 Congratulations. What a sensation you've caused! How does it feel?
It feels really surreal. But at the same time, it feels like this is what comes from lots of dedication and hard work and tenacity. But yeah, it's very surreal. I started my career as a dive bar drag queen. Now I'm on Broadway. It's taken its time for society to progress and art to evolve and all of that stuff, but it's a wonderful feeling.
Do you remember the first Broadway show you saw?
The first show I ever saw was the touring production of Rent. I must have been nine years old, and most of it went over my head. I didn't really fully understand the story, but I understood that it was people acting and singing and dancing on stage all at once, and I wanted to do that.
How is Broadway easier than being a dive bar drag queen and how is it harder?
Let me start with what's easier. What's easier is you've got a whole team of people supporting you and supporting the show. That's something that can't be overlooked when drag is very much a DIY art form. While it involves a community, while it involves your drag family or your coven or however you want to refer to it, a lot of the work falls on the shoulders of the artist and those closest to the artist. When you're working on Broadway, there's a job for everything and everyone has a job. Normally getting into drag takes me about three hours with me and an assistant. On Broadway, it takes me about an hour and a half because there's someone there to help me with the wig, there's someone there to help me with the costume, and all I have to do is slap my makeup on.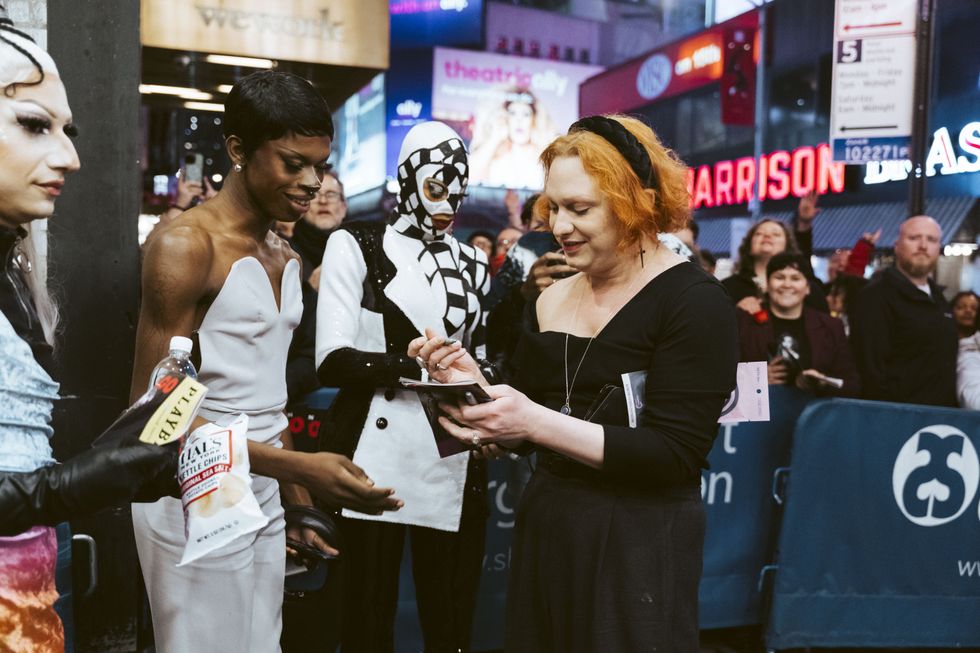 You did such an amazing job on Little Edie and Judy Garland on [Drag Race's] Snatch Game. Was there some movie star or some singer that inspired you when you were growing up?
I think I learned everything I need to know about comedy from Lucille Ball. Then there were female stand-ups that influenced my comic sensibility and philosophy over time, and that includes Margaret Cho, Sarah Silverman, Maria Bamford, Devon Green, Madeline Kahn. And I would add Meryl Streep to the setlist. Meryl Streep, though she's known more as a dramatic actor, her comedic sensibility is every bit as honed and skilled as any other one of her talents.
I saw you on CBS News Sunday Morning, that's a big deal, congratulations. I think you were talking about the audition process. Did you do any spells or resort to any witchcraft to help get the role?
Not to get the role of Mama, there wasn't a specific spell being cast for that. But I have had a couple of ongoing spells to help with my anxiety and my depression, and then one that's just kind of manifesting success. Well, it started as a spell and then it transitioned to a charm. A charmed artifact that I carry with me at all times.
Well, they're doing a good job because you're doing fabulously and having huge success. I love seeing on your social media the different friends who come visit you backstage. Have you had any surprise celebrity guests or favorite visitors back there?
Yeah. Jesse Eisenberg was a complete surprise to me one night. Very, very sweet. And very complimentary. He brought his family and the whole family was sweet and lovely. Most people I've known were there. But occasionally people post that they're in the audience and I don't know that they're there. So, Sam Smith was a big surprise. Joe Locke, Ben Platt, they all discreetly posted they were in the audience, and I never would have known if it weren't for Instagram, but fabulous. It's just been really fun getting to perform for such a wide array of different theater lovers.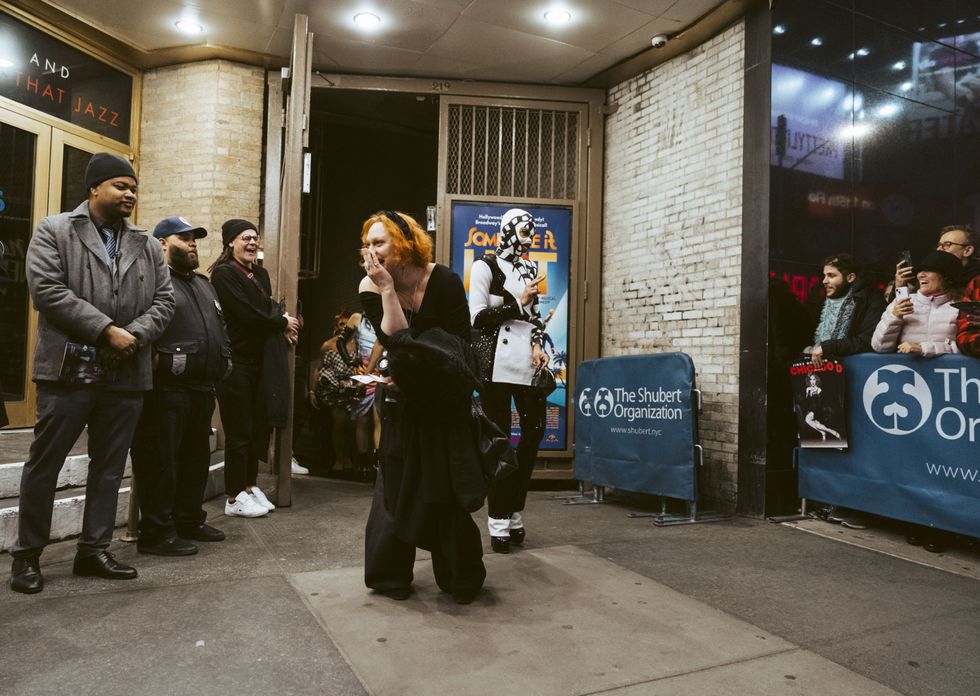 Absolutely. I know that a lot of people are coming because they're your fans. Do you get a sense of how many people are Drag Race fans or just Broadway fanatics?
I don't know how to get a sense of where the overlap is between Broadway fans and Jinkx Monsoon fans. But what I do know is the audiences have been, I think, a little bit more celebratory, and perhaps raucous than my castmates are used to. But they're loving it. My cast mates love how vocal and joyous and enthusiastic the audiences have been. We're all getting laughs where we want to get laughs, we're all getting claps where we want to get clapping. It's been a very generous experience across the board. Every cast member has been so generous, and I think it's because the audience has been generous. The audience being generous, the cast wants to be more generous and then it goes round and round. It's like that line that Roxie has in the show where she says, "The audience loves me and I love the audience, and the audience loves me for loving them, and I love them for loving me, and we all just love each other and that's because none of us got enough love in our childhood."
And that's showbiz, kids! I've seen the show honestly like 15 times with different replacement casts so I will let you guys know afterward. I'm sure that this crowd is particularly excited and delirious and appreciative. But now since this is a story about women in prison I have to ask, have you ever been arrested?
No, I've never had any run-ins with the law whatsoever. I mean, that were my fault.
If you were on death row and had to choose your last meal what would it be?
I know it would include french fries. French fries are my favorite food.
And maybe baked Alaska because it's difficult and would take longer to make.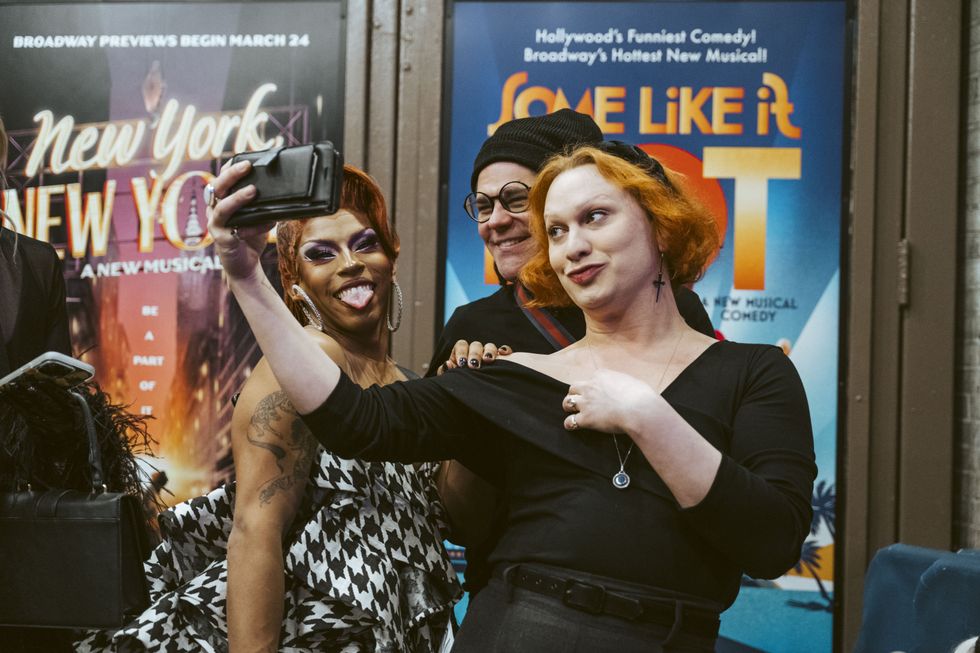 Do you have any dream roles on Broadway now that you are the toast of Broadway? Do you have any other roles in sight like Mama Rose or anyone that you'd love to play?
I think I need to age into Mama Rose a little bit. I'd love The Witch in Into The Woods. I think my dream role of all time is Mrs. Lovett in Sweeney Todd.
Brilliant.
I always loved the show The Drowsy Chaperone, which is written with a lot of the same sensibility that I share and have always been attracted to in my work. So the Chaperone is a dream role as well.
I always say it's amazing what Drag Race has done; some people give me a hard time. But I say that RuPaul is kind of like a Gloria Steinem for the LGBTQ world. Because of her, my mother knows who famous drag queens are and so do people all across the nation and the world. So what do you think about the Drag Race phenomenon? It seems like so many of you wonderful queens, Bob, Eureka, Trixie, have infiltrated places in show business that drag queens from 20 years ago would be shocked and delighted to see happen.
Yeah. It's funny, because the phenomenon of drag race has led to lots of different outlets of entertainment and show business. Lots of TV shows do a drag episode or a drag cameo character. I think the ones that have been successful have been the ones that actually include famous drag queens that have already proven that they're very good at what they do. And I think the ones that have been less successful are when they have had cis, white pretty boys to play drag queens. That's not something you can learn in a day. They think it's the makeup and the costume that makes the drag queen, but it's not, it's the lived experience. It's committing your life to this. It's the authenticity that draws in the audience.
Drag Race is showing the world look at all these drag queens with all these talents. And if people want to be a part of that, they need to include actual drag queens and stop trying to synthesize it or replicate it in an inauthentic or disingenuous way. So what's really exciting to me about being in Chicago is that I proved to the world through Drag Race that what I want to do is musical theater comedy performance. And then I was cast in a role that allows me to do that. And that's what I think is going to keep progressing the culture of drag, giving drag queens opportunities to do the things they've shown you they're good at.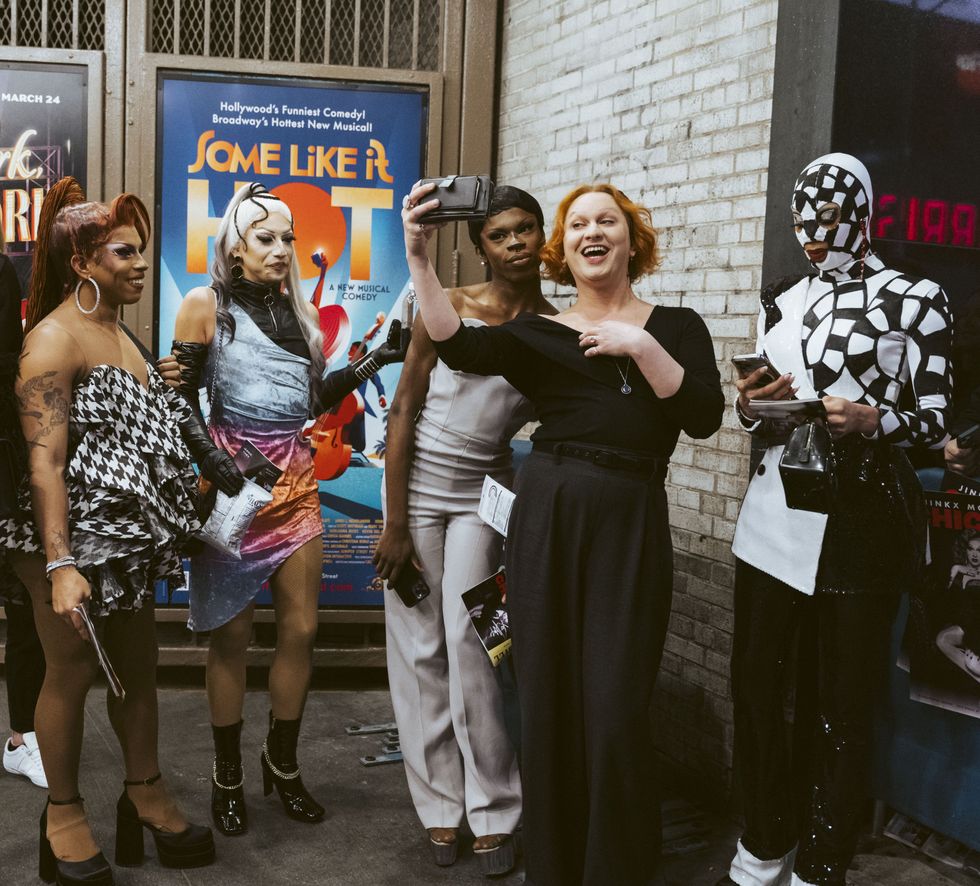 I hear you.
I've just seen so many times when a show writes a good role, like a good drag queen role. Then they cast some heartthrob, pretty boy who has no experience being a drag queen. Then they think it's going to capture the same kind of magic, but that's asinine.
Was it always Mama Morton that they had in mind for you, or did they ever think of having you do Mary Sunshine (a character who is presented as female but later revealed to be a man in drag)? I know that's the traditional drag role.
When my agency reached out to me, they sent me the materials for Mama Morton and Mary Sunshine. And you're right, the Mary Sunshine role is the traditional drag role in the show. But I have always had a sincere interest in playing cis female roles to show that it doesn't matter what gender I am perceived as. I know what gender I play best on stage. I really wanted them to consider me heavily for Mama Morton first and foremost. So I told them I was only going to be auditioning for Mama Morton. But had they asked me to audition for Velma or Roxy that would have been a different story.
It's great that you did that because it's thinking outside of the box. And I can't wait to see you do "Class" because that's one of my favorite numbers from any show. It's such a magical number, and it's so showbizzy. Anyway, I will see you tomorrow when you guys do your photos, and I'm so excited to see the show. I know it's going to be sensational.
Yeah, I've been having the time of my life.
Photos courtesy of Jinkx Monsoon
From Your Site Articles
Related Articles Around the Web
Sign Up for the Morning PAPER