For his first fashion show outside of France, designer Simon Porte Jacquemus ventured out all the way out to Hawaii, where he staged a long blue runway that traced the shore of a beach in the island of Oʻahu.
The show, which took place on Wednesday just after the final day of Paris Fashion Week, debuted the brand's Spring 2022 collection, dubbed "Le Splash."
It was another visually stunning set complete with a view of the Ko'olau mountain range — not surprising given the brand's past outings including a fuchsia runway against the lavender fields of Provence and a show that took place in a giant wheat field in the countryside.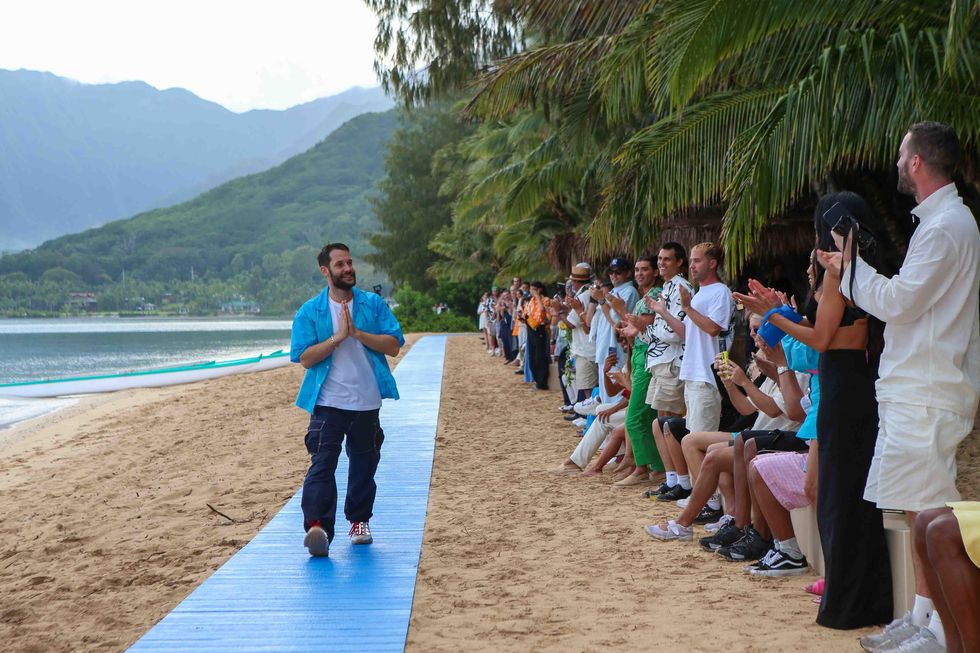 Photo via Getty
Unfortunately for Jacquemus, a rain storm interrupted the scheduled runway show right when the models were supposed to walk out. "We were blocked under the water here. All super wet, the clothes dirty... a real fashion drama if we can say that," the designer wrote on Instagram Stories. The rain finally cleared after about an hour.
The official runway video was released the following day. "Most of this was shot on the morning before the rain," he wrote about the film. "That's why the [collection] pictures are not out yet cause all the clothes we so damaged and wet... it hurts." He added that the team was working on finding a solution to release the official images.
That said, he was able to find some sort silver lining to the events that transpired. "Every local from our team and cast kept telling us that the rain is beautiful," he added. "All the energy suddenly turned into something so beautiful, full of meaning."
Some critics questioned the choice for Jacquemus to even show in Hawaii at all, citing reports of residents begging tourists to stop visiting because of the pandemic surge and the fact that some native islanders don't have access to drinking water because the supply is being diverted to resorts for tourists.
Nonetheless, the brand went ahead with the show, issuing a statement that they are "taking great care to respect this location, culture and way of life." As such, they worked with local talent, models and businesses from surrounding islands to leave as small of a footprint as possible.
Among the guests who saw the show in-person were Bretman Rock, Victor Cruz, Sza, Nicole Scherzinger and Jhene Aiko (Bretman and Sza live nearby). Blackpink's Jennie actually flew out all the way from Paris right after she attended the Chanel show. Afterwards, when the sun set, everyone celebrated at the afterparty on the beach.
Screenshots via Instagram/ @jacquemus
From Your Site Articles
Related Articles Around the Web
Sign Up For The Morning PAPER