You know you're hitting all the right style notes when Mattel makes a Barbie doll in your likeness. Iris Apfel, the legendary, 96-year-old international style icon, is the latest in an exclusive club of trendsetters to receive their own Barbies, including Gigi Hadid, Ashley Graham, and Zendaya. (There's also the Barbie made in Frida Kahlo's likeness, which Mattel certainly did not get Kahlo's estate's permission to do. Signs point to Apfel being involved and OK with her own Barbie being made. No one needs that "mistake" to happen again).
Earlier today, Mattel revealed how Apfel's Barbie will look: it sports an emerald green Gucci suit, miniaturized from the one she dons on the cover of her book, Iris Apfel: Accidental Icon. This doll is a couture version of Apfel's inimitable likeness — not to mention is the epitome of immortalization. This, from the woman who once said that the idea of dressing for ones age is stupid. We couldn't agree more.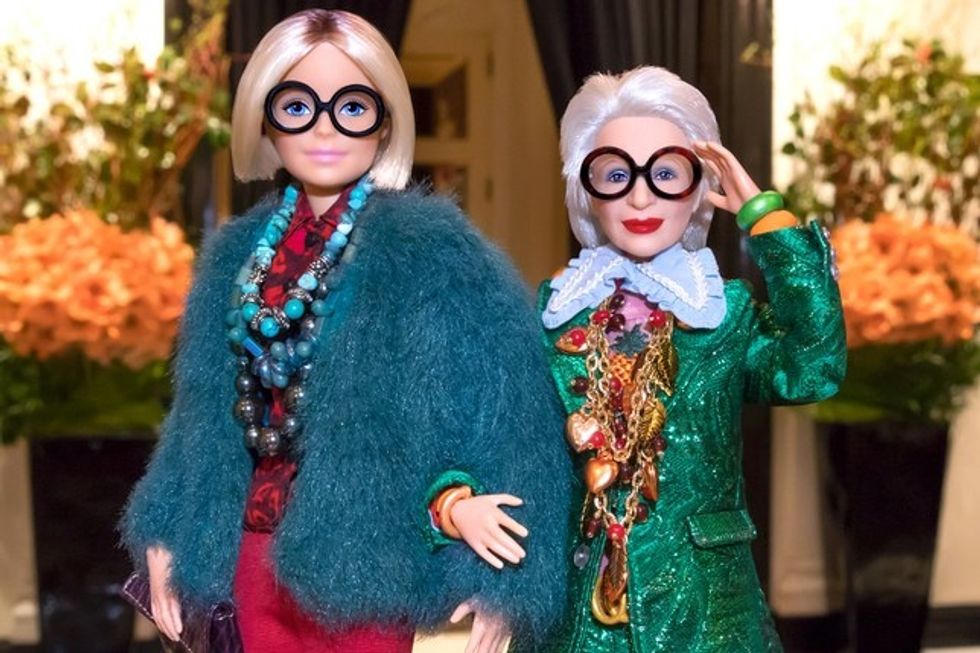 This Barbie is the first of a series of "Styled by" dolls inspired by Apfel, set for release this fall. The next Barbie will be featured wearing Apfel's signature black frames, her impeccable silver coif, and chunky beaded necklaces from Apfel's collection with Rara Avis. And Apfel's Barbie will also be spotted in the icon's favorite NYC spots, including the Carlyle. Because of course. Follow the Barbie Style Instagram to catch the Iris Apfel Barbie on tour.

Photo via Getty/Mattel
Sign Up For The Morning PAPER