Actor Hugh Coles only recently graduated from the London Academy of Music and Dramatic Art, and yet he's already landed some plummy roles. Over the summer, Coles brought rites of passage to life in The Festival, an MDMA-filled comedy from The Inbetweeners writer-director Iain Morris, set in a Glastonbury-like music festival. And now, Coles is starring in Defending the Guilty, a critically-acclaimed BBC Two series about young barristers (lawyers to Amurricans).
Beyond acting, Coles is a budding comedy writer working on his own projects. PAPER caught up with him about his roles in film and television, James Bond, and fake ID's.
Tell us about your role in Defending the Guilty.
I play Liam, who is one of the four pupil barristers (barristers-in-training) alongside Will Sharpe, Gwyneth Keyworth and Emily Berrington. The series follows them as they compete for tenancy in the Barristers Chambers.
How would you describe Liam?
Liam is the most Machiavellian of the four. He's willing to play almost any game to achieve his dream of being a barrister. He pitches the others off each other for his own personal gain, and has a face for almost any occasion.
He would describe himself as James Bond, but he's not cool, suave or remotely endearing enough to pull it off.
What are some of your favorite shows, besides the one you're in, that are on right now?
I'm working my way through the new series of Better Call Saul (the Breaking Bad spin-off) which I absolutely love. But closer to home, I'm excited for the new series of Flowers (written by Will coincidently).
I hadn't watched the first series when we filmed the pilot, but now I have, and I think I might be a bit starstruck when I see him again.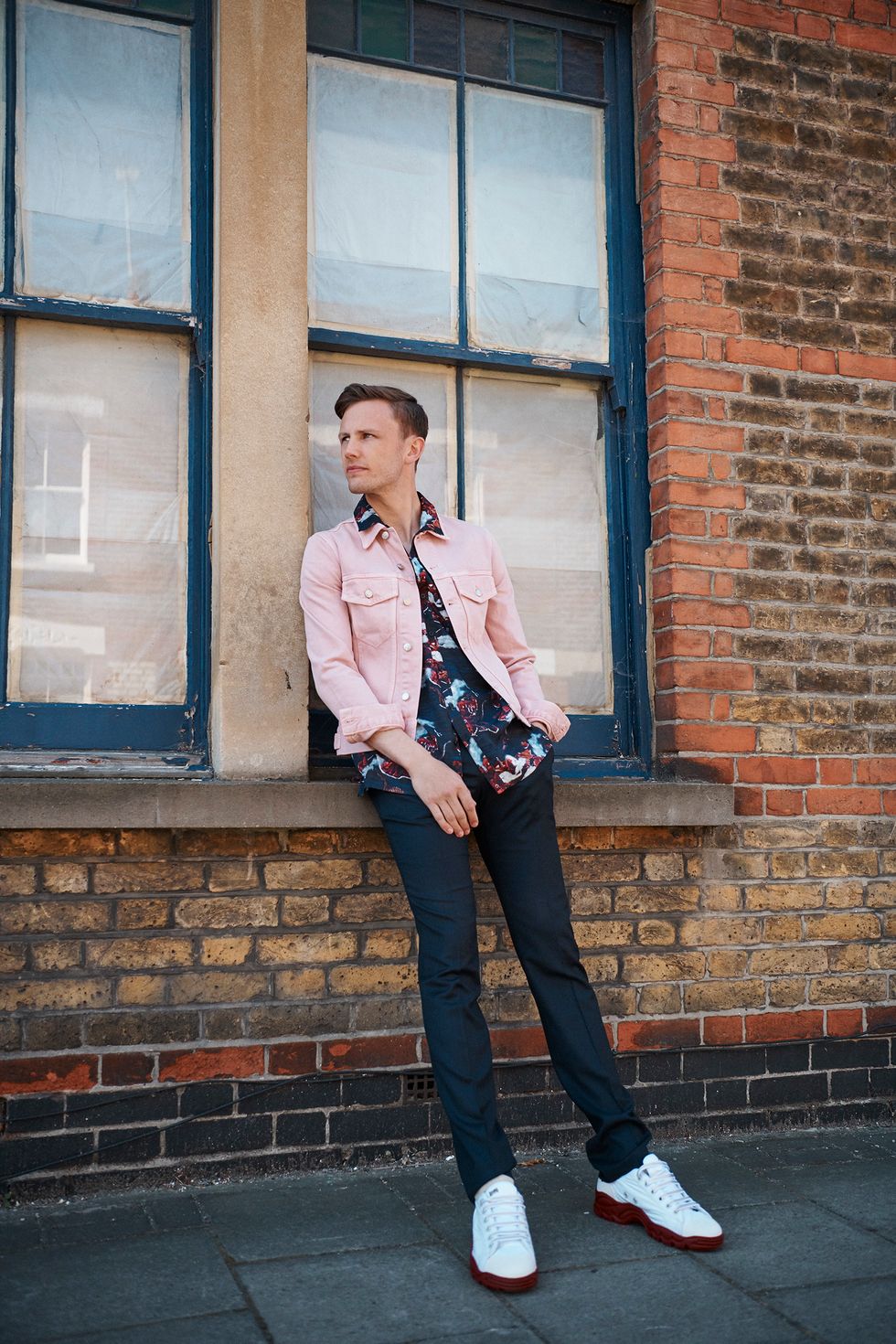 Shirt: Lanvin, Jacket: Sandro, Trousers: Paul Smith, Shoes: Swear
What was your experience filming The Festival like?
Wet. Muddy. Windy. Sunny. Foggy. Everything. The filming was pushed back by two weeks, so we started on set just as the British summer had disappeared over the horizon.
In the morning it would be swelteringly hot, then by lunchtime it would be overcast and windy, and to round out the day would be a thunderstorm. Prop tents would fly around all over the place, unit cars would get stuck in the mud, the camera crew would get soaked.
It was tremendous fun to shoot (particularly at Camp Bestival) but I think their greatest success is that they managed to cut together a film that made sense weather-wise.
Do you like music festivals in your real life? Any crazy stories? Best experiences? Worst?
I went to Global Gathering in 2011 – and all my friends had their brother or sisters id's that looked vaguely like them. Mine was an awful fake ID that I got online. I was so sure I wasn't going to get in – so I applied for a library card in Kent under the name of this fictional character in order to back it up.
Got in. Nobody even checked my library card.
You graduated from drama school last year. How do you think you managed to break into the industry so quickly?
I have been very fortunate to bump into brilliant people who want to work with me. My agents both here and in L.A. are amazing. Honestly, it is 100% down to them and their hard work.
Do you have any advice for acting students?
1. Don't listen to advice from people who have just graduated from drama school. It's almost always useless.
2. Learn your lines.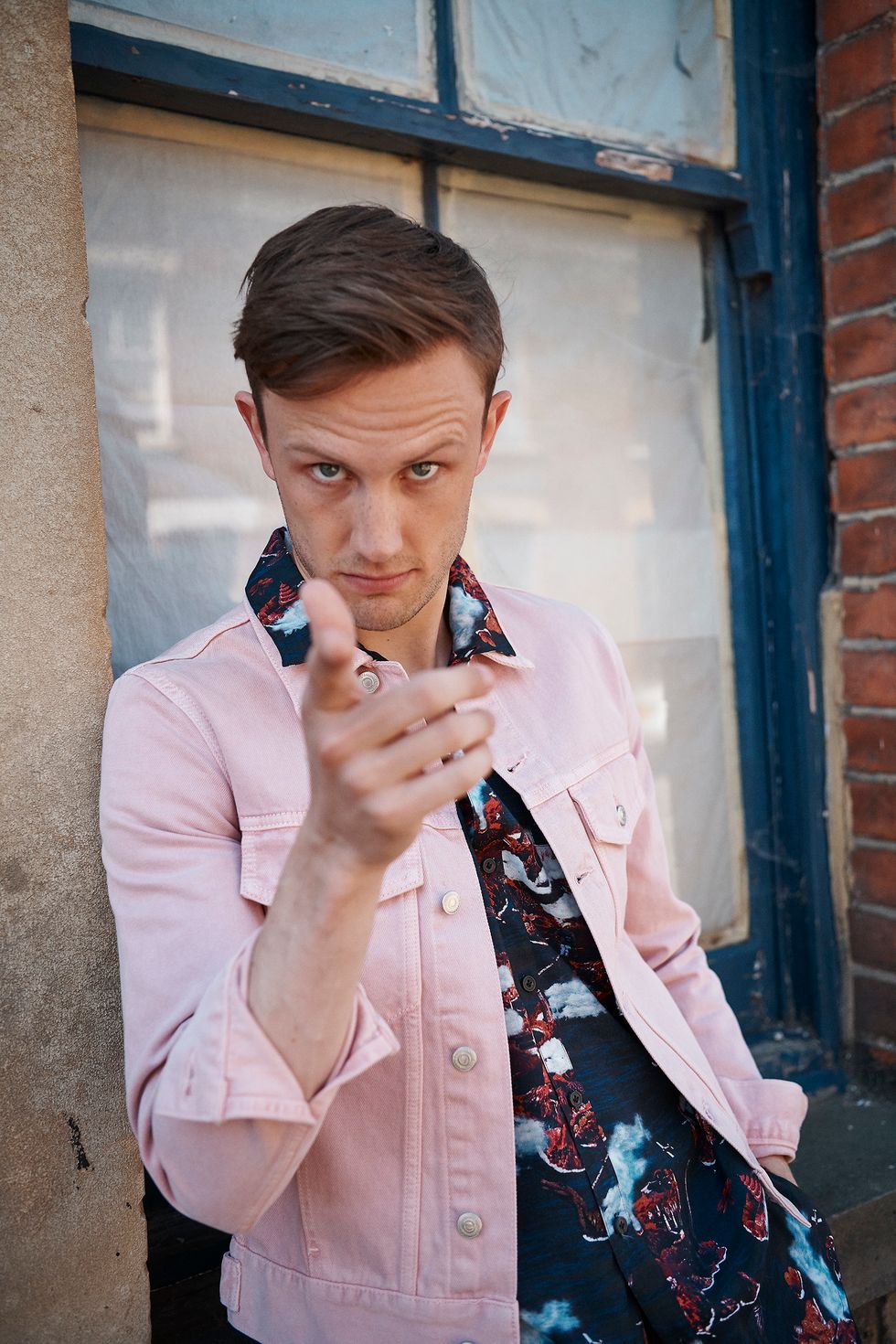 Shirt: Lanvin, Jacket: Sandro, Trousers: Paul Smith, Shoes: Swear
You also write! Are you working on anything now?
I have just finished Drafted, which was a short film following a young British basketball hopeful and his efforts to get noticed by American scouts. He wants to take his talents to the NBA but is stuck in London with no contacts, and to be honest, no talent.
We shot Drafted in two days with a cast and crew of my friends, which was so easy and such a pleasure that we are currently in the early stages of two new projects.
What are some of your favorite comedic films?
Bruce Almighty is the greatest film ever made. Any genre.
Sign Up For The Morning PAPER