Fashion East, a non-profit incubator for emerging London designers that provides select young artists with much-needed funds and mentorship (New York has... little of this sort of thing), presented its designers Spring 2020 collections on Friday, September 13th. Central Saint Martins graduate Yuhan Wang showed a collection of sweet yet twisted dresses — she described her line to Vogue as "beauty with weirdness, softness, delicacy, and sensibility." I want one!
But Wang also shared the runway with designer Gareth Wrighton, who made waves as the first Central Saint Martins fashion student to present a videogame instead of a fashion collection for a graduating project. Wrighton's collection incorporated a combination of accomplished knitwear, Lolita-style looks, and graphic t-shirts. And one in particular has really caught the internet's attention.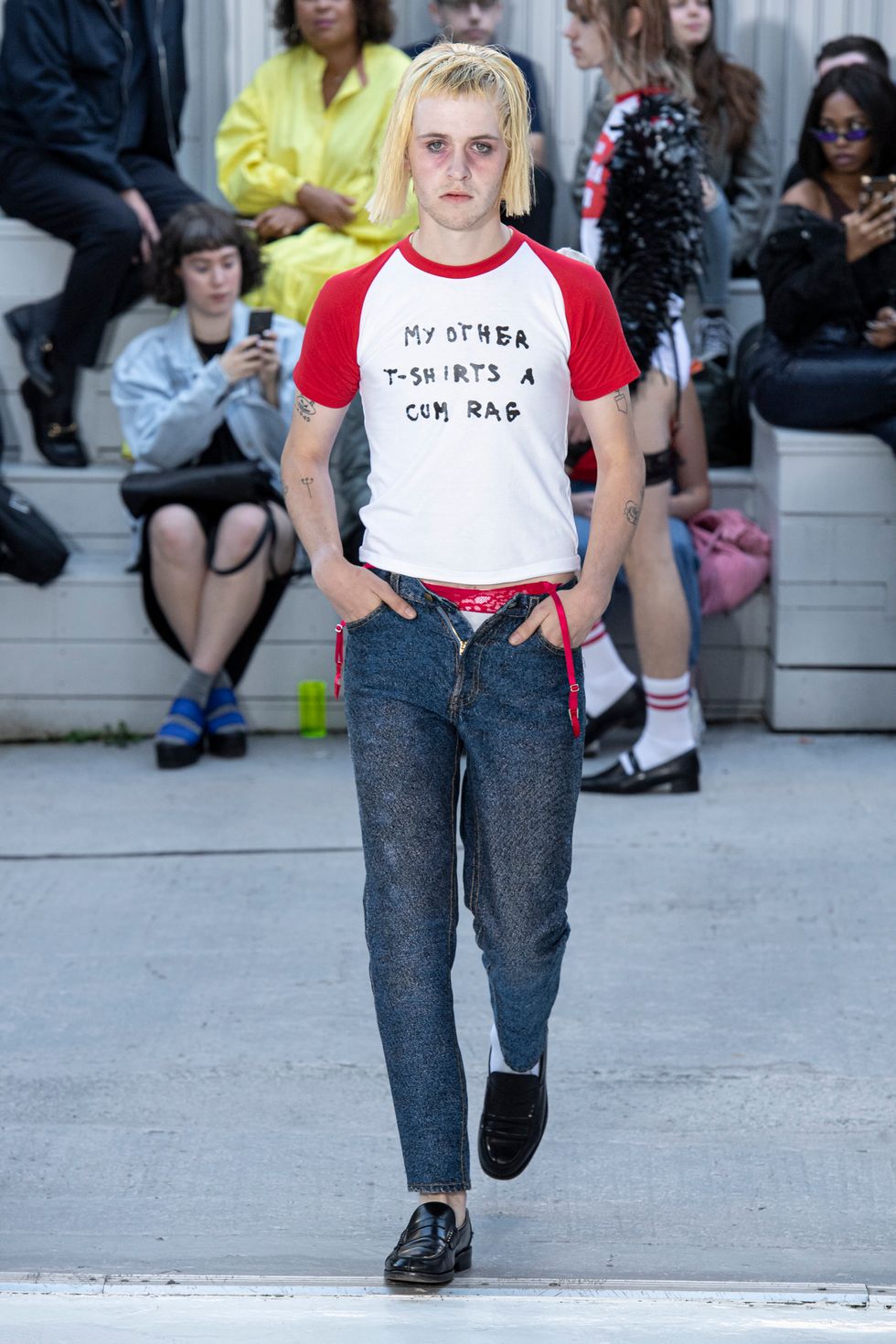 Wrighton showed a raglan baseball-style tee, a slogan scrawled in Sharpie that reads "My Other T-Shirts A Cum Rag." It has quickly gone viral, as the designer surely intended.
Wrighton's clothing was directly inspired by Jessi Slaughter, a kid who grew up on YouTube. Slaughter became a meme in 2010, after a video came out featuring the phrase "You done goofed." But things were very, very dark — Slaughter had trolled relentlessly on 4chan, and rumors abounded that Slaughter, then just 11 years old, had been sexually assaulted by the lead singer of an emo band, Blood on the Dance Floor. Their story was a case of early internet horror, one that still stands out for its cruelty.
"It was the early days of YouTube — a really early case of cyber-bullying, which should have been a warning, but it was never heeded," Wrighton told Vogue. "[Slaughter] was a troll, and she was trolled. She was put into care and her father had a heart attack because of it."
Dark. Incredibly dark and perverse. The t-shirt is fun. But perhaps it's best not to think too hard about it.