PAPER sent photographer Eric T. White to French Montana's homeland, Morocco, to shoot the rapper against the backdrop of the iconic blue city of Chefchaouen for his August 2017 digital cover story.

French Montana loves Dolly Parton. Specifically, he enjoys "Jolene," Parton's plea for the perfect woman to leave her man alone. He just can't remember it. As the country classic comes on in the Roxy Hotel's restaurant in downtown New York, French lifts up his phone and opens Shazam. "It's 'Jolene,' by Dolly Parton," I feel it my duty to offer, corroborated by Dolly Parton's climatic warbling of the song's title. The rap star doesn't respond. Montana lowers his phone, Shazam has done its job and declared the track to indeed be "Jolene," by Dolly Parton. He could have taken me at my word, but French Montana needed to figure it out for himself.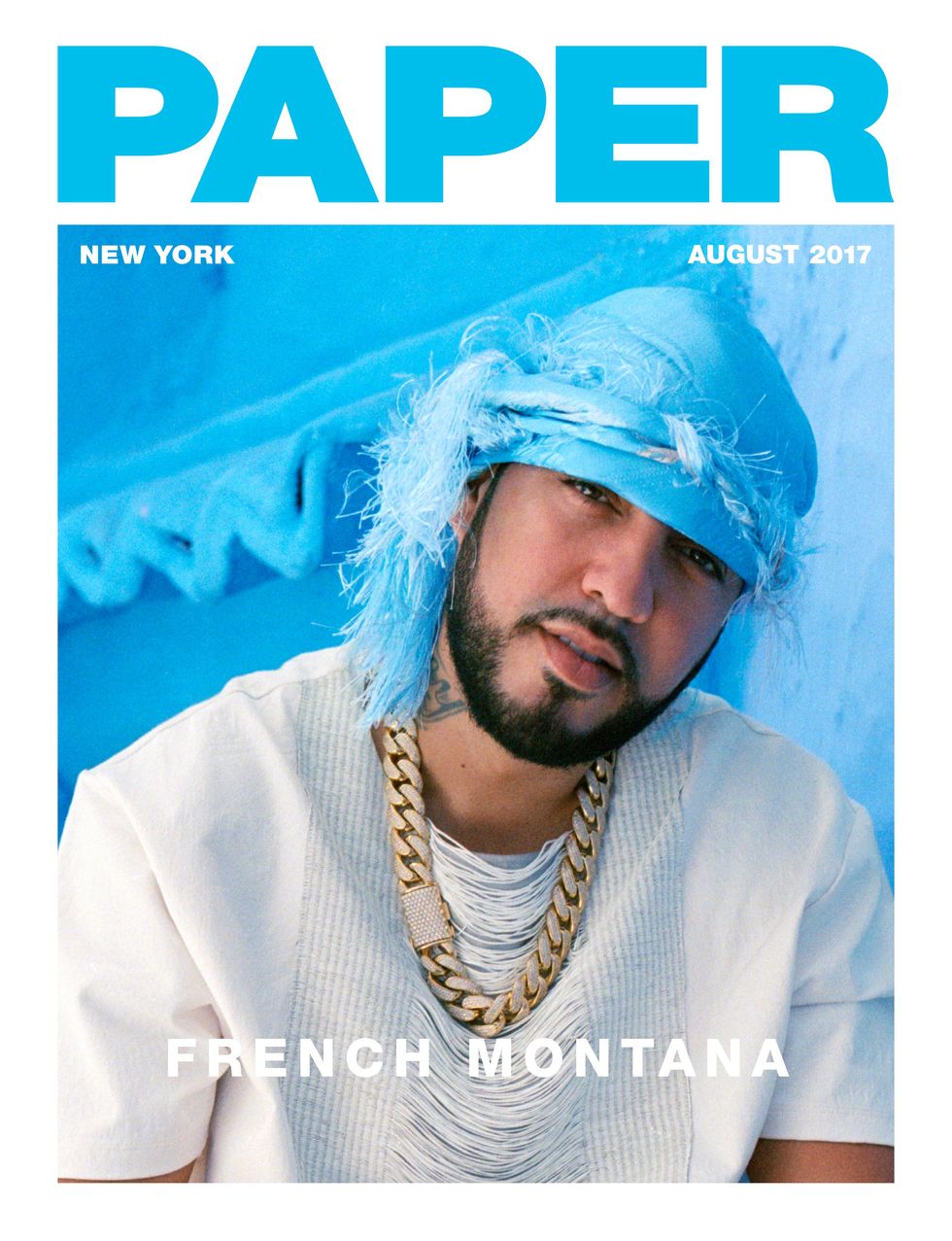 This self-sufficiency is no doubt something that greatly aided Morrocan-born, Bronx-raised Karim Kharbouc's evolution into French Montana, one of the most popular artists in hip-hop (he currently has eight songs charting on the Billboard Hot 100). Montana didn't land one big track and blow up to the point of over-saturation overnight as many of his hip-hop contemporaries have done recently. Instead, French Montana has been steadily carving out his place in the industry for the better part of 20 years.

It's strange to think Jungle Rules is only Montana's sophomore record, a follow-up to his 2013 debut Excuse My French. For almost a decade prior, the rapper was dropping mixtape after mixtape (his first, French Revolution Vol 1, came out in 2007). If his momentum continues, Jungle Rules will be the second of many, many studio albums. Montana has also announced an upcoming full-length project with fellow New Yorker A$AP Rocky ("It's done," he says). He has also produced and starred in a feature film, a far cry from his underground Cocaine City DVDs that kicked off his rap career. "French Vanilla" is the new flavor of CÎROC Vodka, named after the rapper.
Most artists who have spent as long playing the game are by now deeply jaded, if not exhausted, but French Montana is neither. Instead, the star approaches his position with a childlike wonder--not naivete, just a deep-seated appreciation for even the simplest of pleasures, like Dolly Parton.
It's Montana's gratitude, coupled with his talent, which has clearly endeared him to his peers. Like super-producer DJ Khaled, the what you might call the "French effect" has seen Montana collaborate repeatedly with the biggest names in the business. He counts Canadian superstars Drake and The Weeknd among his closest friends. Sean "Diddy" Combs, Montana reveals, is like a big brother to him. Pharrell, Quavo, Travis Scott and Future all appear on the rapper's sophomore album, Jungle Rules, although Jay-Z called late last night to tell him his favorite track from the record only featured Montana ("Famous").
Unsurprisingly, Jay is right. While all of Jungle Rules is certainly bumpable, the songs that really pop are Montana's alone — which is perhaps why he considers the LP his greatest musical output. Ironically, in the reviews following Jungle Rules' release, Montana was somewhat discounted, labeled a "hanger-on" and outshone by his superstar recruits. The media has long since lauded hip hop artists who sell well without any assistance, but that's never something French Montana has attempted, or even considered. In fact, for an artist who declares his favorite songs those in which he's unassisted, Montana's reaction to the prospect of pulling a J. Cole (going platinum with no features) is extreme.
"Who sits there thinking about weird shit like [going platinum with no features]?" he says, incredulous. "Those people who put albums out by themselves are weirdos. Music is about having fun. If I'm chilling with A$AP Rocky, or chilling with Drake or The Weeknd and we record, and then I have to say, 'Look here, bro, I'm thinking about dropping this album just by myself.' Artists would stop fucking with you."
Another of the main critiques that has plagued Montana is that his lyrics often follow a similar trajectory — his vision, his endless motivation, his fast life. While Montana's biggest tracks definitely allude to his pre-fame life in the streets, he have never sought credibility by discussing (or capitalizing) on his earlier struggle. For this reason, critics, along with the "All the Way Up" generation of fans, may consider that title of what Montana the title Jungle Rules somewhat ironic. Take one look at Montana's Instagram — with the fur coats, Kardashian connects and private jets — and you're unlikely to see any examples of the dog-eat-dog environment "jungle rules" suggests.
But that, Montana reveals, is the point. While avoiding the hip-hop-from-the-hood archetype meant French Montana has often flirted with becoming a Drake-esque punchline, he ultimately ensured that his sound — not his hard-knocks background — earned him respect. That's not to say the artist hasn't had his fair share of struggle. Immigrating to New York from Morocco when he was just 13, Montana's early grind puts Generation Z SoundCloud rappers' hustle to shame. Upon arrival, Kharbouc was nicknamed "French" by friends (because he, like many Moroccans, spoke it as a second language). The "Montana" was after Scarface protagonist Tony Montana. To French Montana, survival has always taken precedence over "making it," something that has stayed with him throughout his ascension into stardom.
"You could wake up and hit the lotto, or you could wake up and be shot," he says, when discussing his upbringing in the Bronx. "You could even wake up and be the president. Ain't no telling. It's jungle rules out here. I be hustling. Always hustling."
He was leaving a Bronx recording studio in the early 2000s ("the wrong place at the wrong time") when he was shot in the back of the head (the identities and even the exact year of the incident remain unclear). Several months ago, he returned to that very spot to plant the first billboard for his smash hit " Unforgettable" which features Rae Sremmurd's Swae Lee, which is currently sitting at half a billion combined streams on Spotify and YouTube. A few spotty reviews here and there couldn't matter less to French Montana.
"I look at the music, because the music lives on forever," he says of critical response. "It's what I feel, it's what the people feel. If your name is not getting bigger everyday, that's a problem. It's like, when you're hustling and making money. If you're not making more money than you made last year then something's wrong. You have to reevaluate your books."
It's midday and Montana hasn't eaten yet. He became accustomed to working on an empty stomach after embarking on much of his Jungle Rules press tour last month during Ramadan. Today he orders scrambled eggs, sausages and an extra plate, which he uses to apportion most of his potatoes to me. "Don't be shy," he tells me, as I protest. "Family break bread together. Food tastes so much better when you only have a little...I promise you, I can't eat all of this."
It's one week since Jungle Rules dropped, which means Montana is in the middle of a "draining" album roll-out. Only an hour ago, Montana promoted the album on the Breakfast Club and, ironically, forgot who produced "Unforgettable." After an unrelenting series of appearances, performances and interviews, Montana is finally about to have a break — a whole four days — and he wants to get away. When asked where he's planning to vacation, he's says there's only one factor to consider.
"Depends which girl wants to come with me," he says, between mouthfuls.
The rapper's most memorable relationship was with Khloe Kardashian, who he dated fresh out of her highly-publicized relationship with former basketball player Lamar Odom. He still maintains a close relationship with the Kardashian clan (appearing on more than several episodes of the family's reality show), but says the free exposure was not necessarily the blessing a rising star might imagine.
"I think it definitely shadows your talent," Montana says of high-profile romances. "When it's time to come out with your music, you don't want people focusing on your dating life. Everything has an expiration date. If your light is shining, you don't want to put no shadow on it. You have to be careful what you build your fame around."

Montana certainly hasn't forgotten what it's like to be blackballed as a result of his associations. One of the Bronx native's close friends and collaborators was rapper Max B, who was responsible for introducing the word "wavy" into the cultural lexicon. The two were thick as thieves, releasing a series of Coke Wave mixtapes together and fueling each other's rise, which Montana says "backfired" on him in a big way after Max was imprisoned. In 2009, Max B was convicted of murder conspiracy and robbery and sentenced to 75 years. He later plea bargained down to aggravated manslaughter and is set to be released in 2025. ("Free Max B for one night," Montana sings on Jungle Rules.)
"It was like a little black cloud I had to get out of. I really felt it because, if you're hot in the streets you're not hot on the airwaves. I had to just keep making better music, better and better. Media, you can buy it. You can't buy real love. The more you sharpen your knife the better you're going to cut that tree. One war you can never lose is the music."

With a string of hits like, " Pop That," "Lockjaw" and "All the Way Up," Montana has proved tenfold he could survive — and thrive — without Max B. After his 2011 single "Shot Caller," Montana was courted by Kanye West for G.O.O.D Music as well as Jay-Z's Roc Nation, before eventually signing onto a joint venture with Rick Ross at Maybach Music Group and Diddy's Bad Boy Records.
"After I sat down with Kanye, I saw myself with Diddy," he says of his decision. "He'd call me late at night like, 'How do you feel about the album?' It was never about money, he has all the money in the world. It was that relationship."
Though Montana is not without nostalgia for his independent, early days. Yesterday, an Instagram account resurfaced a video of French Montana battle rapping in 2001. He was 17. Montana pulls out his phone to show me grainy footage of a young French with his hood up, hands flying, spitting fire. Battles are likely the most trying training available to aspiring rappers and 16 years later, Montana still scrolls the comments reading the feedback.
"There's no motivation if there are no comments. You have to read what people think about you. When people correct you or something, sometimes it helps…and sometimes it's like, 'Motherfucker please, shut the fuck up.'"

But what of all the celebrities who claim not to Google themselves?
"That's all bullshit," Montana claims, laughing at my gullibility. "Let me tell you something, you walk in a room and you don't know nobody. You go on your Twitter. Look up your name. Someone's going to be [tweeting] like, 'French is right in front of me.' People won't say anything to your face, but they'll write something on social media."
His publicist interrupts us to inform Montana that legendary DJ/producer Steve Aoki is also in the restaurant and has asked to meet him. "Who is that?" Montana replies. By the time Aoki has made his way over, Montana is ready to congratulate him on his recent success on the album, Kolony, he just released. Aoki, in turn, expresses his amazement that the two are only now "linking up." The duo clasp arms, exchange numbers, take a picture, and then, with a flick of his enviable raven tresses, Steve Aoki is gone. The entire process is impressively genuine. It is a firsthand view of French Montana's warmth, and ability to make anyone, even a stranger, feel important and known.
"It's just me," he explains. "I don't put on a face when I'm around people. It's just me. I don't have to change when I meet somebody…It's always about the people, it's about touching the people."
Montana seems to hold very little back in general, even though he's aware that would be wise in terms of self-preservation.
"I just feel, like, the fact we're doing this [interview], I have to give you myself. A lot of artists don't want to be taken advantage of. These artists aren't really social. I'm a people person," he says, before switching tacts. "Wanna drink? I'll take a drink if you take one."
As Montana orders us a round of the hotel's eponymous cocktail (because it's noon, and what else is a rock star to do?) I realize this is probably the fourth time the rapper has checked in to ensure I'm fed, watered and comfortable. As much as his authenticity, it's no doubt Montana's empathy that makes him so popular. After shooting the "Unforgettable" video in Uganda (inspired by a group of village kids who filmed themselves dancing to the track), the rapper donated to a local maternity ward, providing maternity incubators, premature cribs and a blood bank, which inspired pal The Weeknd to do the same. As an African immigrant himself, Montana said he needed the reminder to give back.
"You realize no one's got anything, no one makes it out of there," Montana says of Morocco. "To make it out of there...I got here and I got to start over. Here it's just a different jungle."
While Montana appears now more driven than ever, he says after the murder of his long-time friend and fellow rapper Chinx two years ago, he had to step away from music to rediscover his motivation. It's not the first time Montana feels he's been forced to reevaluate, saying he's thought about quitting music "a million and one times."
"Yeah, I've thought about it, but you have to catch yourself," he says. "The things I can't do, I don't let them control me. That's from me being a hustler my whole life."
You would think that Karim Kharbouc, who survived Morocco, the Bronx, and a bullet, to become French Montana, the chart-topping rapper drinking cocktails for breakfast and shazaming "Jolene" by Dolly Parton in a swanky New York hotel, could finally stop hustling?
"Never," he says. "To me, greatness is being happy. I strive for that everyday...I just try to elevate."
French Montana, it seems, just needs to find the answer on his own.
Photography by Eric T. White

Sign Up For The Morning PAPER