Popularity is relative, and especially in the digital age. You could have hundreds of thousands of followers online, but be completely unknown in the streets — massively famous on Instagram, YouTube or Twitter, but lack any kind of real, authentic cool in person. For our new series, Coolest Person in the Room, New York-based photographer Megan Walschlager pinpoints all the people whose energy is contagious regardless of their following count or celebrity. Meet Kyle Luu — she's a NYC-based stylist who's worked with the likes of Travis Scott, Tinashe and Solange, and served as one-third of the hip creative team behind The Glam Collective.
Let's start with your styling career and how it began.
I got into styling because I couldn't afford fashion school, and I felt like the only other option was to style because I could pull clothes from my closet and go straight to set. I felt like it was the only thing that could really work for me at the time without a degree. And then it kind of spiraled from there. I don't know if you remember, but there was this thing called Model Mayhem...
Yes, I do!

Right, so it was the MySpace of fashion and kind of where I got started. Like I remember pulling from Telfar when he was on Model Mayhem.
Is that how you both met?
I's so funny because I lived in Midtown when all of that was happening, and I think Telfar was in Queens, but we met. Fast forward, like, 6 years later and we met again, and he did not remember me but I remembered him so much just because he biked to my apartment to deliver samples. And I remember because he had a 301 area code, which is like a DC/Maryland area code (which is where I'm from), and I was like, "Are you from..." And he as like, "No." And he said the same thing like 10 years ago when we initially met and then he said it again ages later.
That's so funny.
I got my start just taking whatever opportunity was there, whether it was a friend like, "I wanna be a model and I need you to come style out my shoot." That's what I was doing. I never really assisted anyone or had "proper" training or was taught the ins and outs of fashion, I just guessed and used my best judgement. I was just doing cold calls and styling out celebrities. My first client was an artist named Neon Hitch, do you remember her?
Yes, I do!
She was so eccentric. But she was how I got my start and then fast forward like 2 years after her, I started working on Travis Scott, and we were together for 4 years, and then Tinashe came in, Solange came in, and it was a whole gaggle of girls. Everyone just started calling.
Right, you've been booked and busy!

Booked and busy, exactly. But it's like — knock on wood — it's always been word of mouth and it's still like that to this day.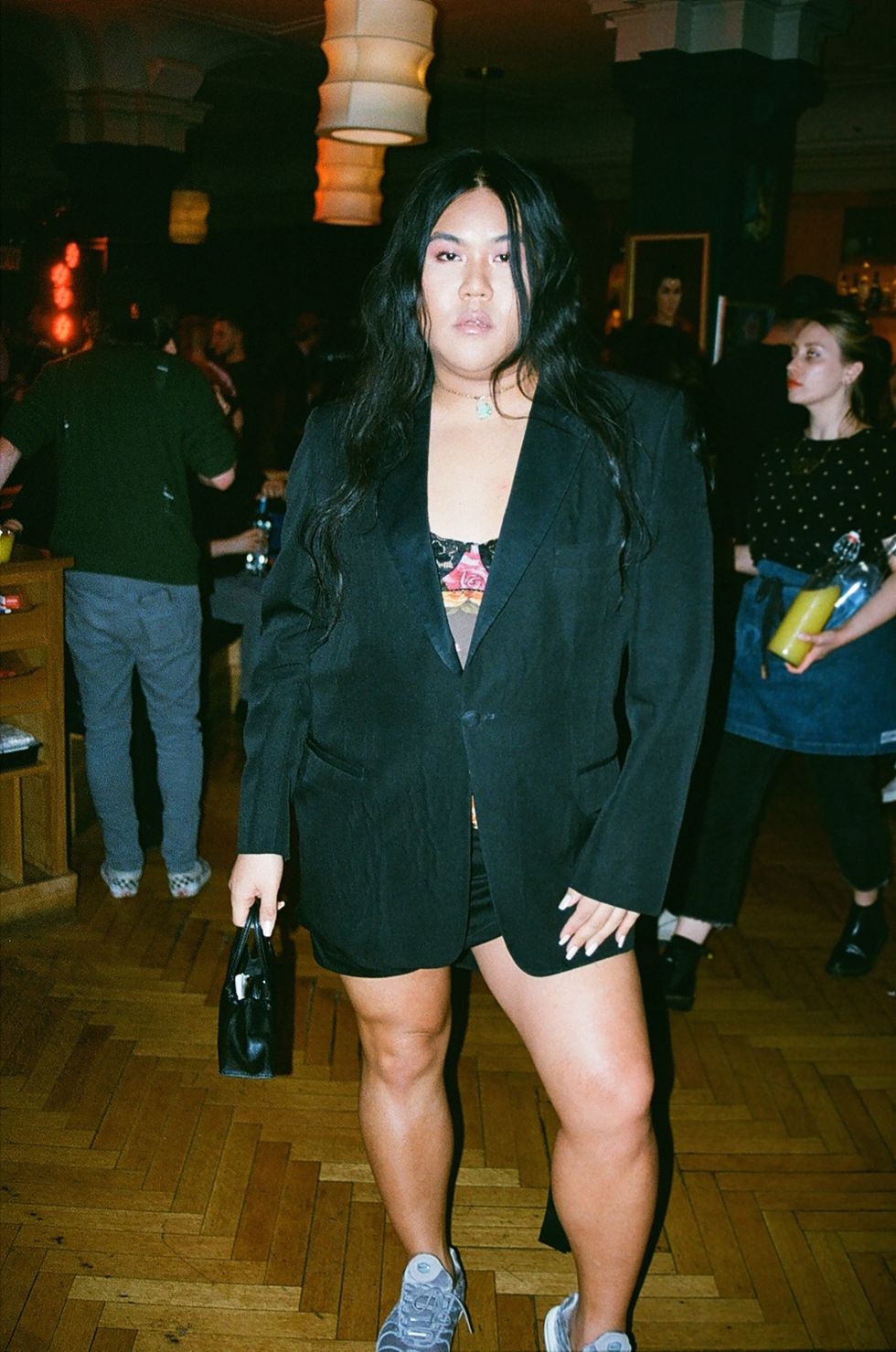 Photo by Megan Walschlager
So, tell me more about the Glam Collective.

Well, Dese started the Glam party, but I met Dese when I moved downtown because my best friend from middle school was like, "Let me take you out and show you around." So the first parties she took me out to was Spectrum and then Holy Mountain and I was like, "What the fuck is this?!" I had never seen anything like it before. I mean, I knew the look and feel through Internet culture, but I didn't know specific people — I didn't understand the characters. But I understood club kids and club culture because I lived in Riverbank West and my doorman was like, "Oh, this is the building that Michael Alig killed the person in. You should watch the movie!" So, I learned about Party Monster from that.
That's so freaky!
Isn't that crazy?
But anyway, everytime my friend took me to Spectrum and Holy Mountain they were like, "LET THE DJ IN!" And I was like, "What? That's weird. They're letting me in the club for free because they think I'm a DJ? Whatever."

Then K-Rizz followed my sister Fiffany on Instagram and was like, "We should meet up!" And I was like, "Who the fuck is this character? I'm obsessed." And so we met up at Dallas BBQ's and it's snowing, and she's like, "I wanna come over after and hang out. You remind me so much of my sister her name is Dese." And I was like, "Who is that?" And she was like, "She's a really great illustrator and a DJ." And so she brings her over the next week. I didn't put two and two together until months later that [Dese] was the DJ that [everyone] thought I was and that's why I was getting into all these parties for free. So, it was all kind of an alt-Parent Trap in a weird way.
Totally.

So that's how we met, but we hung out in LA because I was going back and forth a lot and Dese is from LA, so we got close just from traveling together and having so much in common, and being Asian and glam, and having the same fashion sensibility.
How has fashion month been for you?
I generally tend to skip fashion week, not because I'm anti-fashion but I just don't feel like you necessarily need to go to shows. I only go to shows that are my friends to support, but other than that I don't typically stay on a regular fashion schedule. It's really exhausting and I would rather spend money on amazing food.
"My relationship with fashion is a love and hate thing [...] I never had a mentor growing up and I basically had to guess my way to where I'm at right now."
Do you like working in fashion?

My relationship with fashion is a love and hate thing. It's an industry where people never want to overshare because they're scared of the next "thing." And there's not a lot of information out there on how to become x, y and z but it's for the exact same reason that people don't overshare. People are so insecure in the fashion world and that's the upsetting thing about it. I never had a mentor growing up and I basically had to guess my way to where I'm at right now and that's why I have such an open dialogue with my interns and assistants. We talk about everything from rates to contacts to how to how to format an email. I try to always be there for them and help them get booked because I think when you give, you get. And I've just always operated in that way.
That's so important. What do you think is the relationship between fashion and nightlife.
It's a way for people to express themselves and transform, and get out of their comfort zone and be in these dark places to find the light, you know? And I love that. But at the same time it's one of those things where it might not be the best place to network and I think that people think it is always that. And it isn't. However, it is an amazing place to be seen.
I try to advise my younger interns because you can get lost and spiral in that world and that's the truth. And people don't talk about that a lot. People love to glamorize it. But you can really get sidetracked in nightlife, and to work in fashion you have to be so laser-focused — and there's no excuses. You can't show up to set 4 hours late. So you have to be able to balance nightlife and career.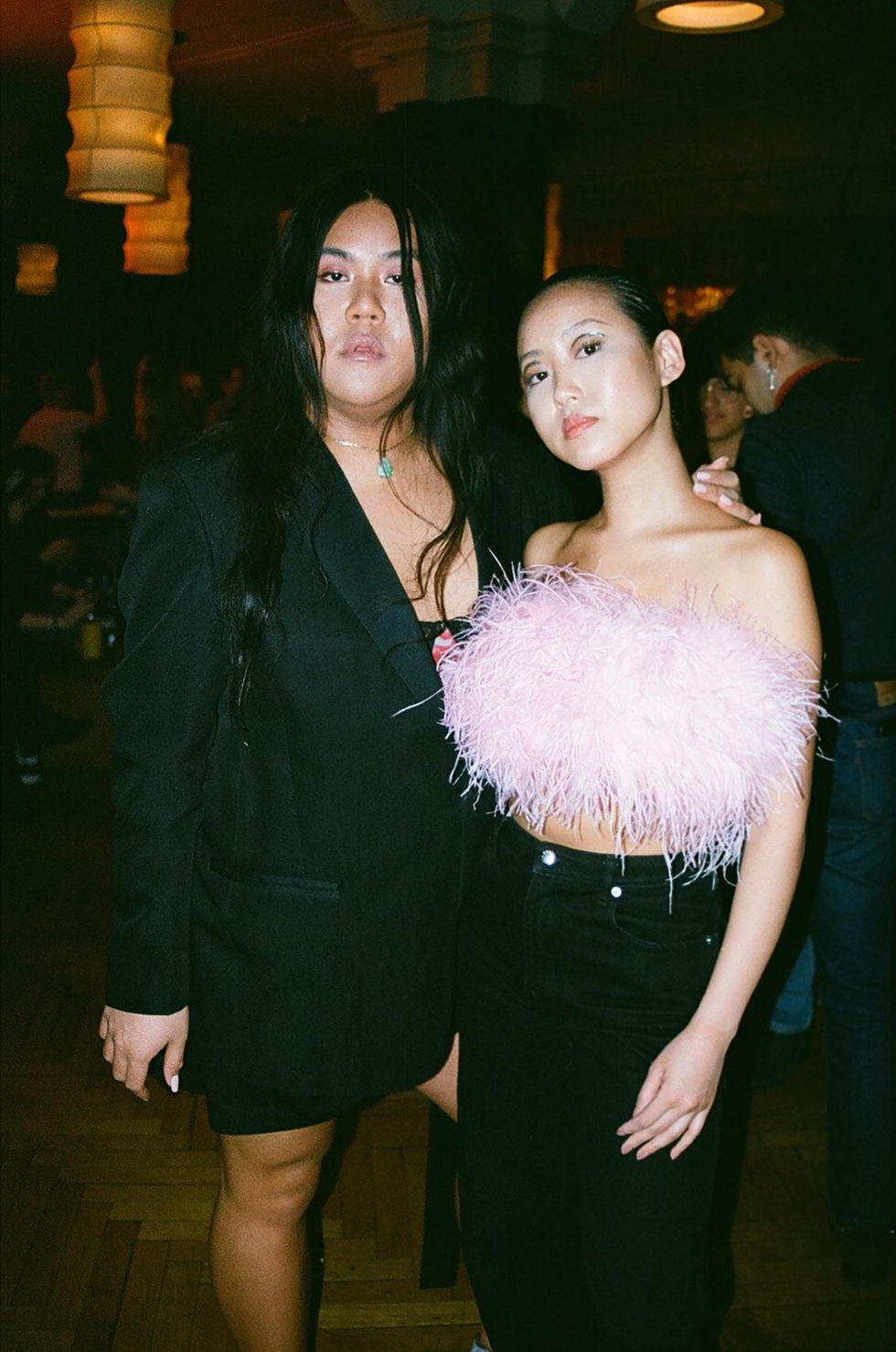 Photo by Megan Walschlager
Do you have any going out rituals?
I don't really have a ritual. My mom wears makeup everyday, so my sister and I kind of took that from her and have been like that since forever. But it's always a production with CLUB GLAM and it feels very Project Runway sometimes. I think we really went in when we started doing campaigns and there was a whole operation behind it and that was really fun. And I think we created a new language for nightlife because we were able to merge the worlds of art, fashion, gay, straight all into one and that was really exciting for us.
So every time CLUB GLAM is a success — knock on wood — we're like, "Whew, ok!" I don't know why we always do this to ourselves, but we get so nervous. It's like every time a pop star goes on stage and they get nervous. Every time we are working, we are performing. Even when I am working in fashion I am performing because there is always a bit of pressure. But I love it. I love the pressure and seeing everyone turn out and the looks are great. It's so important to provide a space where people feel comfortable and in their skin.
I thought it was so hilarious and brilliant when you guys did CLUB GLAM: The Granny Ball and everyone who was over 30 got in for free.
Of course! We just think of these things off the top of our head. I will literally just text Dese and be like, "Let's do the Horny Ball!" Or whatever the mood is and that's what the ball is gonna be. And sometime we get nervous that it's too much, but actually it's never enough.
"It's so important to provide a space where people feel comfortable and in their skin."
What are some of your favorite places to go in NYC?
We truly embody the term "granny" because my apartment is my favorite place. We call it the Slaysian Headquarters because every time we have a meeting it's at my place, whenever we have a sleepover it's at my place, whenever Dese gets a package she gets it sent to my place and we open it for her and we try on her clothes.
Also, we're all foodies. So anywhere new is a cool place for us. Anything that hasn't been discovered and we kind of discover it's awesome. Our GLAM COLLECTIVE page is like our food diary.
I was looking at that today, and did one of you make that makeup potato tutorial?
Yes, my sister Fiffany did! It's so funny because she cosplays this YouTube character. Like she did this ASMR video for Telfar and a beauty tutorial for PS1.
Which designers do you think are really cool right now?

I think my friends are doing a great job. Like I love Telfar and I've always admire Shayne [Oliver] from Hood by Air and loved what he's done and always like to support him whether it's HBA or Helmut Lang or whatever his personal endeavors are. It's hard for me to say because I don't just buy one designer. I buy whatever works with my body. But I do love Japanese designers and anything archive because it feels more special. It's like that one in a million piece that you find.
Right.

It's hard for me to shop these days because a) I don't have time and b) people send me so much stuff, meanwhile I'm trying to Marie Kondo my entire apartment and it's really stressful. And clothes aren't as important to me anymore. I know I work in fashion, but I don't necessarily want it in my house.
Photo by Megan Walschlager
Totally. I mean a lot of people that work in fashion have uniforms.

I love a uniform. I wear the same thing every day, which is like anything baggy when I'm working. Then my other side is super sexy.
What's next for Glam?

We're actually doing a GLAM'S CHOICE menu for Mission Chinese. And we're doing a lookbook for Opening Ceremony. It's an all Asian cast for the Chinese New Year.
Follow Kyle Luu on Instagram (@kyleluu).
Sign Up for the Morning PAPER