Popularity is relative, especially in the digital age. You could have hundreds of thousands of followers online, but be completely unknown in the streets — massively famous on Instagram, YouTube or Twitter, but lack any kind of real, authentic cool in person. For our series Coolest Person in the Room, New York-based photographer Megan Walschlager pinpoints all the people whose energy is contagious regardless of their following count or celebrity. Meet Bobbie Hondo the NY-based dancer and performance artist you need to know.
Tell me about what you do.
Bobbie Hondo: I walk on bottles. That's what I currently do right now.
Bobbie: You can see it in 2020 in a theater in the East Village.
Where did you grow up and how did you get to New York?
Bobbie: I grew up in El Paso, Texas. I stayed there til I was about 14. I was a dancer for the El Paso Youth Ballet. Then I needed better healthcare that Texas didn't have, but my dancing is what has kept here.
You have a pretty extensive dance background, right?
Bobbie: I do, I do. I went to Pacific Northwest Ballet School. I trained there and then got to New York and did a whole bunch of dancing there.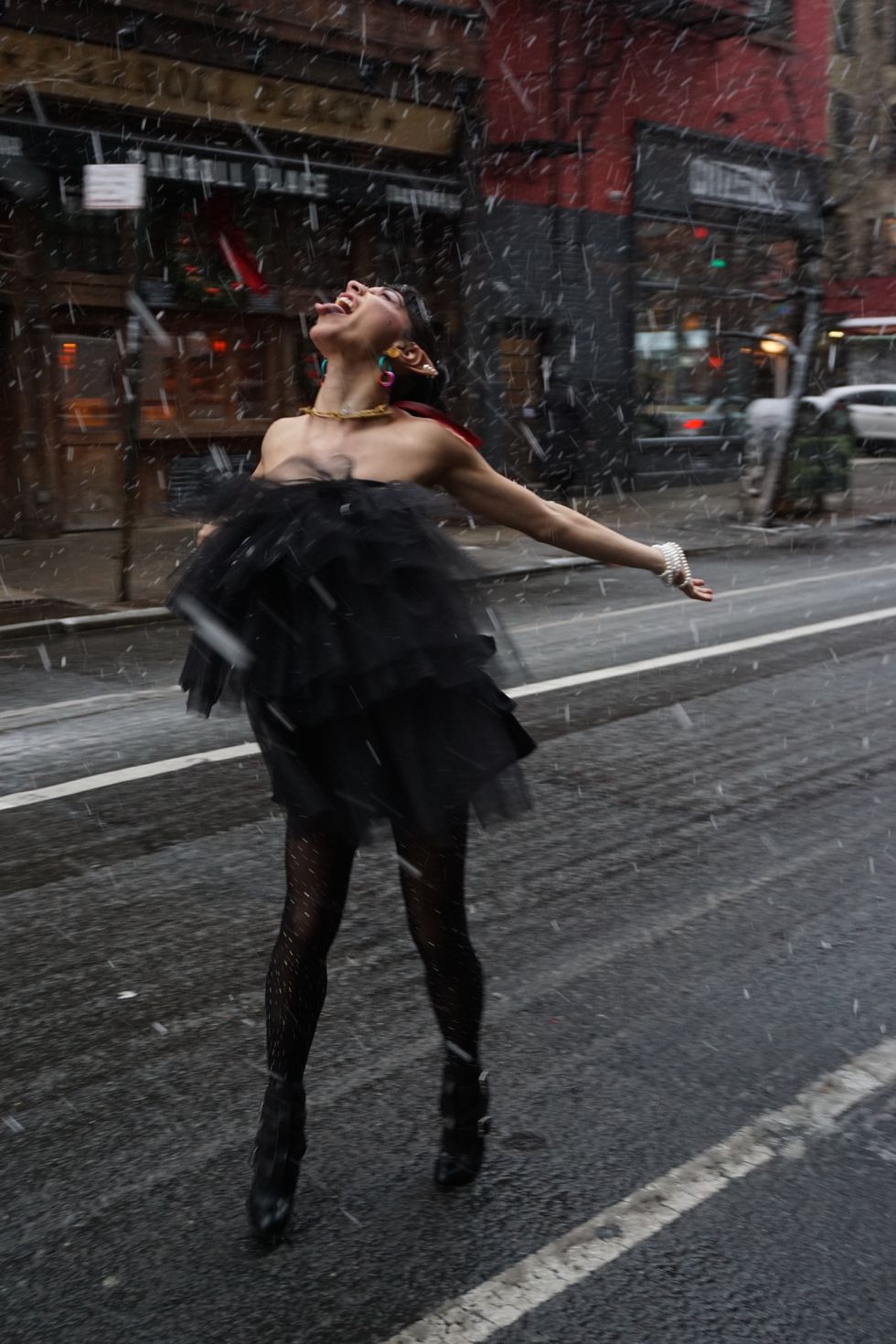 What style of dance do you prefer or are you the most experienced in?
Bobbie: I would say I am most experienced in ballet.
I noticed you have very good posture.
Bobbie: [laughs] Thank you, I appreciate it. But there's just so many restrictions that ballet has and I just never met all of them. I met all the rules, then I decided to break them and create a style that is more indicative of who I am, which is pulling different elements to create a seamless image and show. But, yeah, dancing in high heels is like my speciality.
How did you discover your bottle routine?
Bobbie: There is an image that I saw when I was maybe 10 in Dance magazine. There was this little girl whose father worked at a winery in Germany — it's called The Red Cat Wine or something like that. The cat was supposed to be a protector of the wine barrels, so she would practice her pointe on top of these bottles and I thought, "Oh, I can do that!" Almost 15 years later, that's pretty much what I am doing.
Has a bottle ever broken?
Bobbie: Yes. When I first got them. It broke because they were not glued down. And the only reason why it broke was because my friend at the time wanted to take a photo of it instead of holding on to it, and I said, "Don't, don't, don't let your hand go!" And they just couldn't. They thought they could reach into their back pocket. But I've never hurt myself. I have pretty good balance.
Are you still taking dance classes now?
Bobbie: Actually, I teach them. I teach them to queer kids in after school programs.
Do you teach ballet or is it more of just a general dance class?
Bobbie: It's technique. I'm more of a tutor to help and assist them. They're really amazing, incredible creatives on their own, I just use my knowledge to illuminate their own understanding of what they can accomplish with their bodies, with their technique and with their performance. Stuff like that.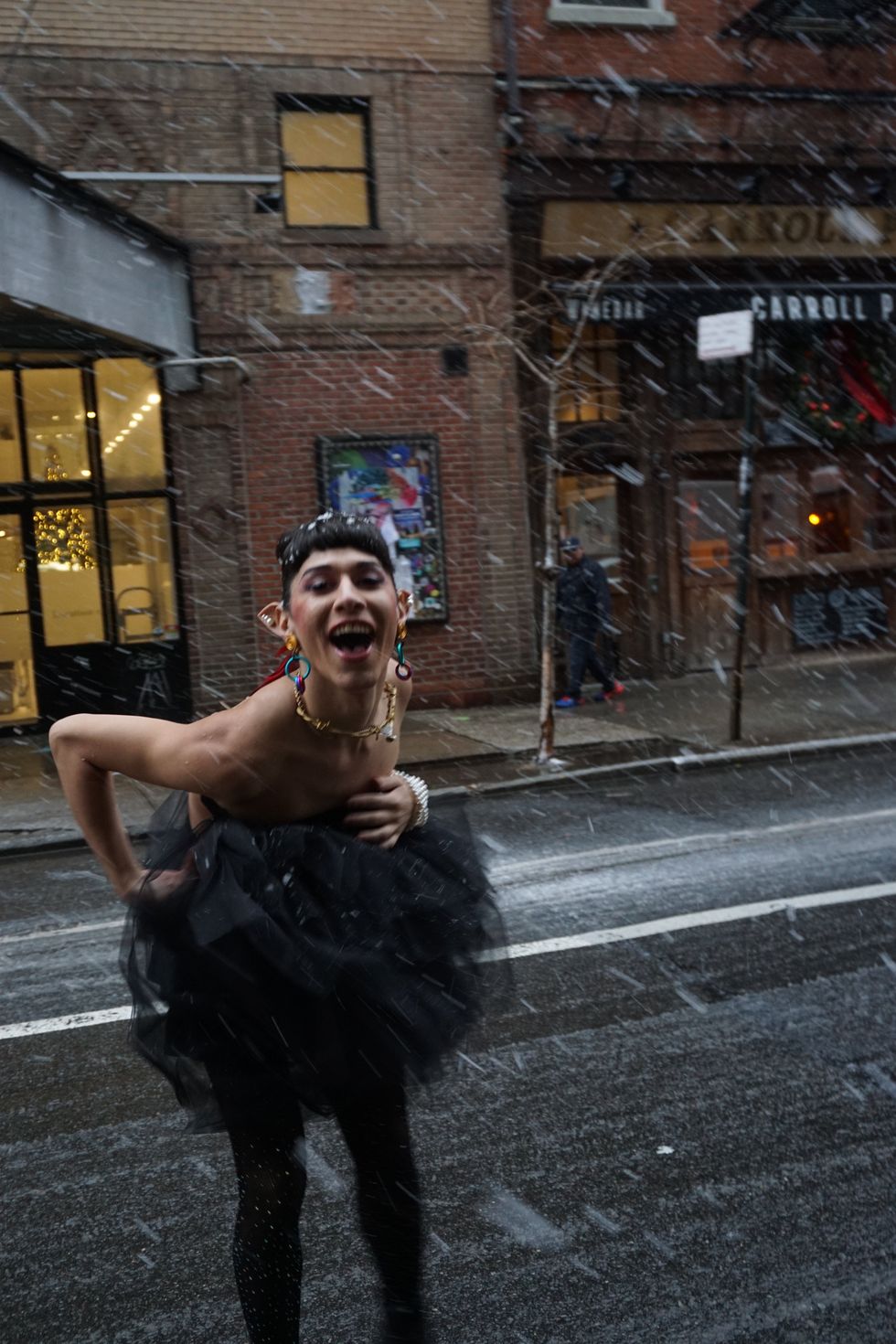 I feel like dance is an underappreciated form of the arts. Thoughts?
Bobbie: Yes, it doesn't have its own award show.
I was just having a conversation with someone about how if a pop star doesn't have a dance element then they probably aren't going the distance. Like they definately need some choreo.
Bobbie: Yeah, we need a triple threat. Well, actually Mariah Carey...
Bobbie: She doesn't need anything. You know who's choreo is really influential to me? Lil Kim's "Quiet Storm" dance is definitely a huge influence on me. It has definitely changed the direction of where I want to go for the 21st century after seeing that. But I hear you, I don't think it would hurt anyone to go into a dance class. Even though it might feel foolish or you might feel like you have no rhythm — it's just so much fun. No one can tell.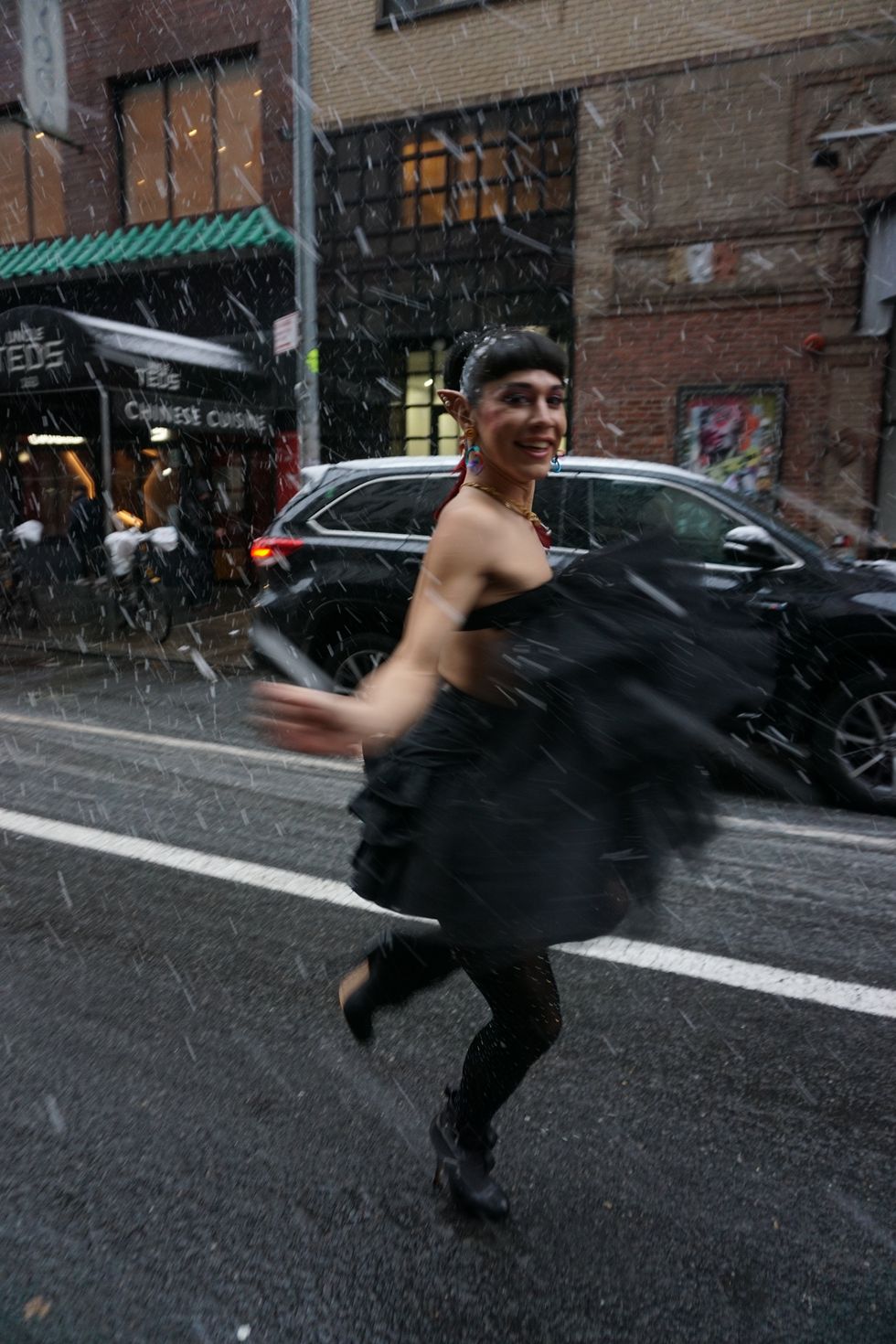 Do you feel like dance has taught you a lot of discipline?
Bobbie: Yes if you don't keep giving back to dance it doesn't give back to you. It has kept my body alive and my psyche in check. It keeps me zen.
What is your relationship with nightlife like?
Bobbie: It's actually like my salvation. It's what has freed me the most. It's what's given me a new life. I came here as a little kid and I was so clueless and I was really fortunate that I was standing at the right place at the right time and I met all of the right people that would then become collaborators, co-conspirators and friends.
Do you have any rituals before a performance or a night out?
Bobbie: Definitely stretch. I stretch before I go out. And lotion. Moisturize.
What is your go-to drink on a night out?
Bobbie: That's easy. Perrier-Jouet and St. Germain.
Love. That's so specific. How did you land on this?
Bobbie: St. Germain is an orange liquor that keeps your breath fresh, actually. When you're drinking champagne it can get a little too — ew — you know? It gives a nice sweetness to the bitterness.
What do you think are some of the coolest places in New York?
Bobbie: I would say my apartment. I would say Gramercy Park. Specifically the Gramercy Park Rose Bar. And Lower Bowery — like almost going to South Street Seaport. I'm a downtown girl.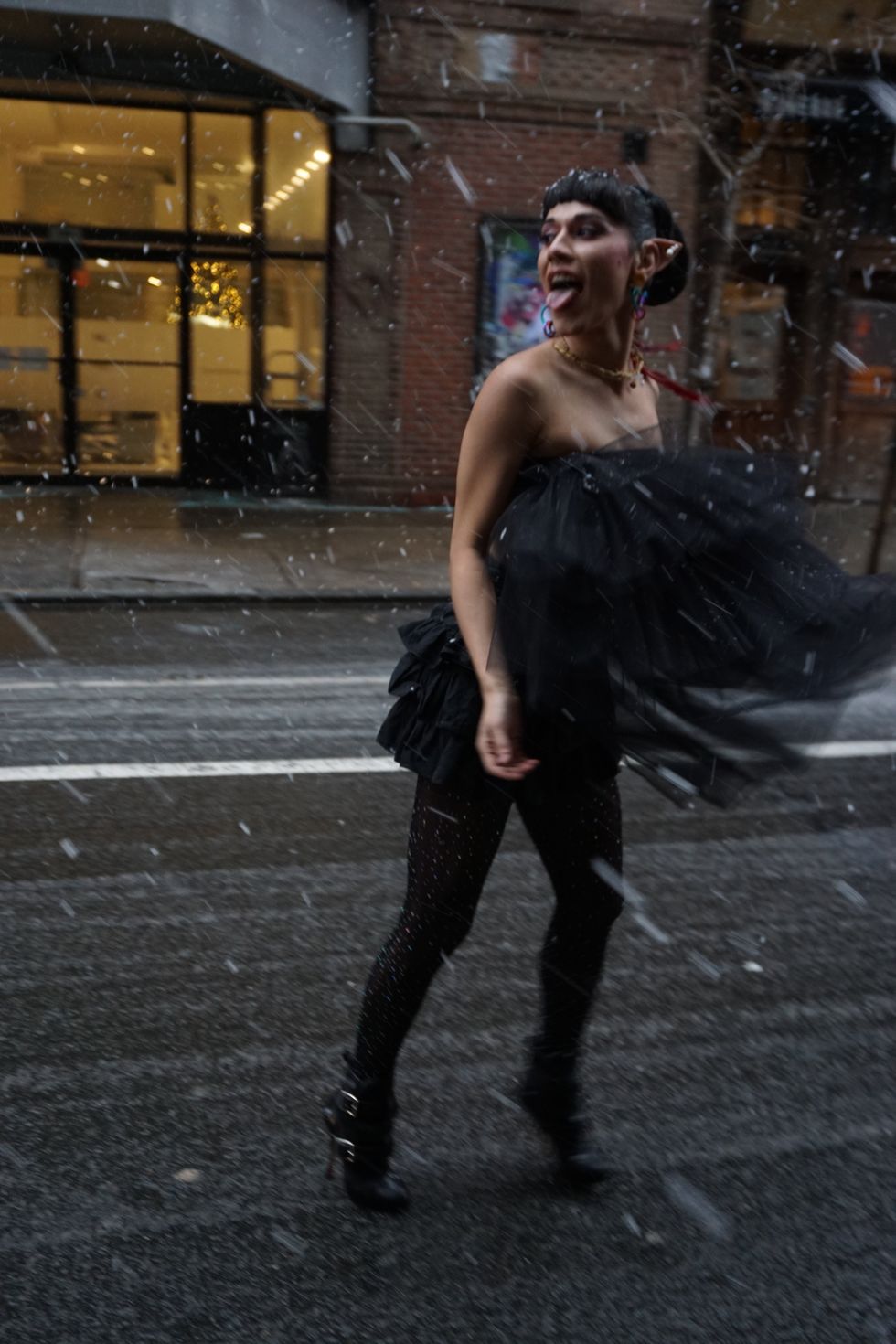 Are you reading anything currently?
Bobbie: Yes, The Judgement of Parisby Gore Vidal.
What are you inspired by?
Bobbie: I'm definately inspired by cumgirl8.
Did you perform with them the other day? I thought I saw a video.
Bobbie: Yes! And we're doing their record release party together. What really inspires me is seeing all my friends succeed right now. Really honing in on what they want and seeing them kind of grow up — that's the thing that's kept me the most inspired.
What can we expect to see from you next?
Bobbie: A solo show. An exhibition of some of my art works and rosaries. I make rosaries and they are starting to come out. And then a very secret project that isn't coming out until 2021.
I also wanted to ask you about Wigstock! I saw your interview with Lipsinka. How did you get involved with that?
Bobbie: Wigstock actually wasn't around when I got to New York and it wouldn't be around for, like, 4 more years. But in those 4 years, I banged down everybody's door and was like, "Wake up! Sign this program!" And I got to meet the 2 co-organizers: Bunny and this guy named Scott Lipschitz and they we're like, "You know what? We're bringing it back." And they definitely have brought me along for the ride.
What do you like about being involved with Wigstock?
Bobbie: Ending the cross-generational divide that's in our community. Unfortunately there was a bottleneck effect that had happened and separated us. You know, when you got to New York, all those people from the 80s had mentors from the 60s and 70s. Lipsinka had Craig Russell, who in the 70s had a movie called Outrageous! and had done all these insane impersonations and you could see the direct influence that they would have on John Epperson [Lipsinka].
And that was the same thing for me. I had all these curiosities in my mind that I wanted answered and I felt like these people would have the answers. So, I literally just said hi and one thing led to another and it just grew from there and I got a lot of support and help from them.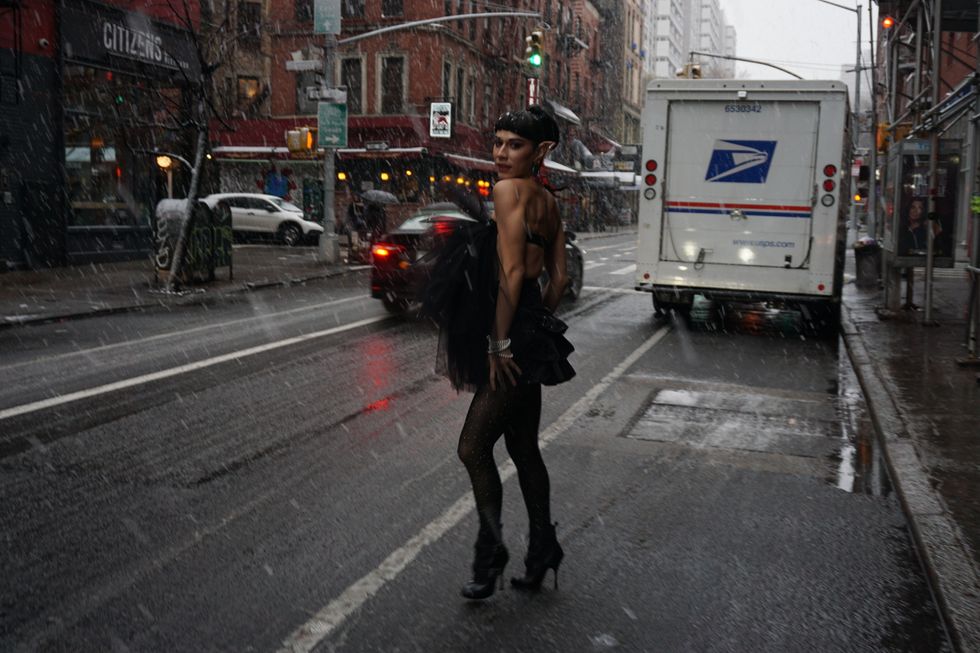 What do you think makes a good performance?
Bobbie: Knowing when to stop it.
How do you know when to stop it?
Bobbie: It's just a feeling you have — when you've given all you can and that's the end of the performance.
Is there a way to save a bad performance?
Bobbie: Oh, yes. That's what I do. Even before the number starts, I think to myself like, "Oh gosh, let's get through this!"
I love that. Is there anything you need to get off your chest? Anything you've been thinking about lately? Manifest in 2020?
Bobbie: Manifest? Yes. I would like to manifest me getting the Abrams Space Grant. We'll know at the end of January. It's for the Jerome foundation for emerging artists to have a theatre to put all their work on display. And you get a stage crew. That's the one thing I'm like gunning for. And to more collaborations for the new year. 2020 is about crystal clear vision and I can really see forward.
Are you working on any other theatre pieces right now?
Bobbie: Yes, I'm actually working on a film right now that's going to be in the Whitney. There's a solo show coming up. I'm the feature and I'm co-producing it. I wish I could film me and do it all at once. Maybe one day. And I have a really good project coming out with John Kelly and Charles Bush and Josef Astor which is really high art. I'm really excited about that. A lot more art.
2020 is about art, crystal clear vision and — do you have any other predictions?
Sign Up for the Morning PAPER