Popularity is relative, and especially in the digital age. You could have hundreds of thousands of followers online, but be completely unknown in the streets — massively famous on Instagram, YouTube or Twitter, but lack any kind of real, authentic cool in person. For our new series, Coolest Person in the Room, New York-based photographer Megan Walschlager pinpoints all the people whose energy is contagious regardless of their following count or celebrity. Meet Veronika Vilim: the top model-turned-punk musician who's ready to take over the world with cumgirl8.
How did you start your band?
The way we started was just jamming with friends. We had a friend who had a practice studio and went out of town and was like, "Do you want the keys?" And I was like, "Yeah, for sure!" Not really thinking much of it. It was actually Lida that took them, and then she was like, "Do you want to jam with me?" And I was like, "Yeah, for sure." I had just started learning the guitar.
When was this?
Like 2.5 years ago. And I'm one of those people who, before I show things, I make probably a million prototypes and figure it out. I'm not one of those artists who thrive in the spur of the moment. I like to think about my art before I show it.
So, Lida and I had an original group of people who just wanted to jam. We didn't really know our instruments and we didn't really know what we were doing — I knew about, maybe, 6 chords — and maybe now still only know about 6 chords, and that's kind of what I like about this band. It's very experimental — since the beginning — and we're not judgmental. It's kind of just been this developing project — some people have left — but Lida and I have known each other for over 10 years. We both have modeled together — we worked with Hedi at Saint Laurent — and we've been in the same group of friends through modeling for like the last 5 years.
We were just experimenting for awhile, because neither of us knew our instruments, so we were figuring out how we wanted to make our stuff sound as a group. I didn't know much about guitar — I knew a bunch of people who were musicians, but I didn't know how it worked. I'd always loved to perform and I'd always loved music and had surrounded myself with musicians my whole life because it was something that was super important to me.
I was nervous to finally take the first step and perform in front of people because I didn't feel confident yet in what I was doing. But Lida felt very confident that we needed to do this. Then finally we played our first house show at our ex-bandmate's (who we're still super close with) place in Williamsburg and it was super fun. I had never performed music before, so I didn't know if I liked it or not, but after I realized this was something I wanted to do and then started feeling confident in what we were doing.
Since then we've lost two band members, but we've also gained two more who have brought a really awesome vibe to our set and we've finally established our name.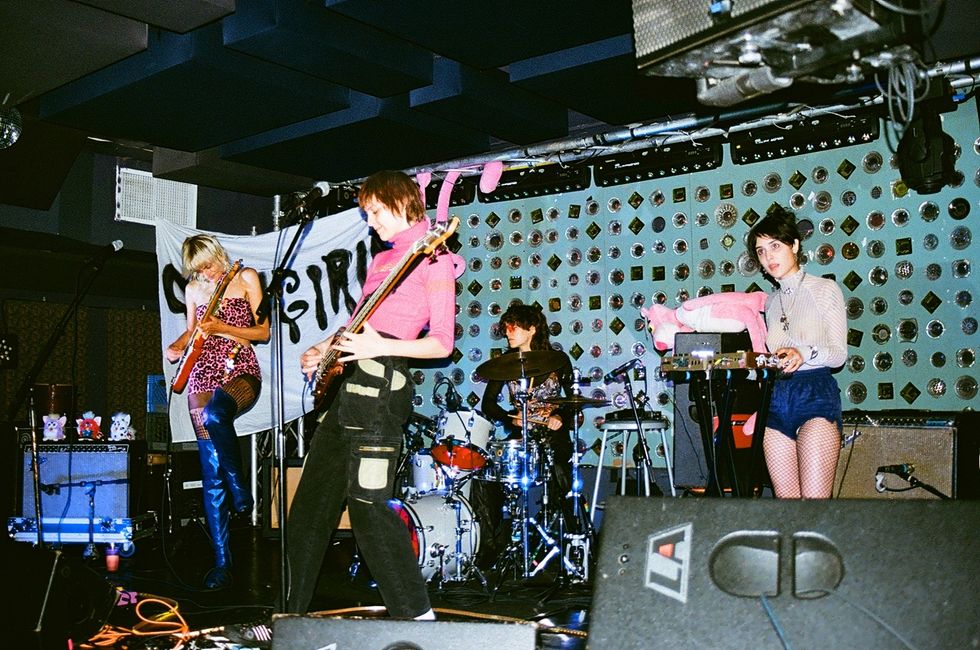 Photo by Megan Walschlager
Tell me more about how you landed on cumgirl8 as your band name.
It's a play on, like, erotic screen-girl names. That's exactly what it is. It's kind of reimagined, 21st century Madonna. She'd probably be a cumgirl8.
How would you describe your sound?

You want to listen to us when you feel something that makes you want to do something. I like the idea of it all being erotic, but you know what? People don't always feel that way. Our sound is very punk. We are working on a zine right now that explains what cumgirl8 is. Because it's not really a person, it's like an alternate reality that you are only allowed to experience it if you are granted to go there. It's like an alternate, trance, space world that incorporates art and alternate reality in the 21st century. And the music just comes along with whatever it is. Cumgirl8 is always transforming it's music and it's a lifestyle. It's not something that will ever be defined by anything. It has no boundaries of what it is.
Do you have any getting ready routines or rituals before a show?

Well, I usually make my outfits — either like the day of the show or like weeks before. My outfit always depicts the way I want to look. The day of the show, I just try to mentally prepare myself. I like to go into it not stressed out, which can be very hard to do — because if you're performing in front of a bunch of people, you immediately think of everything that you probably don't want to be thinking about. So, I'll just kind of do anything to not let me get in that mental state.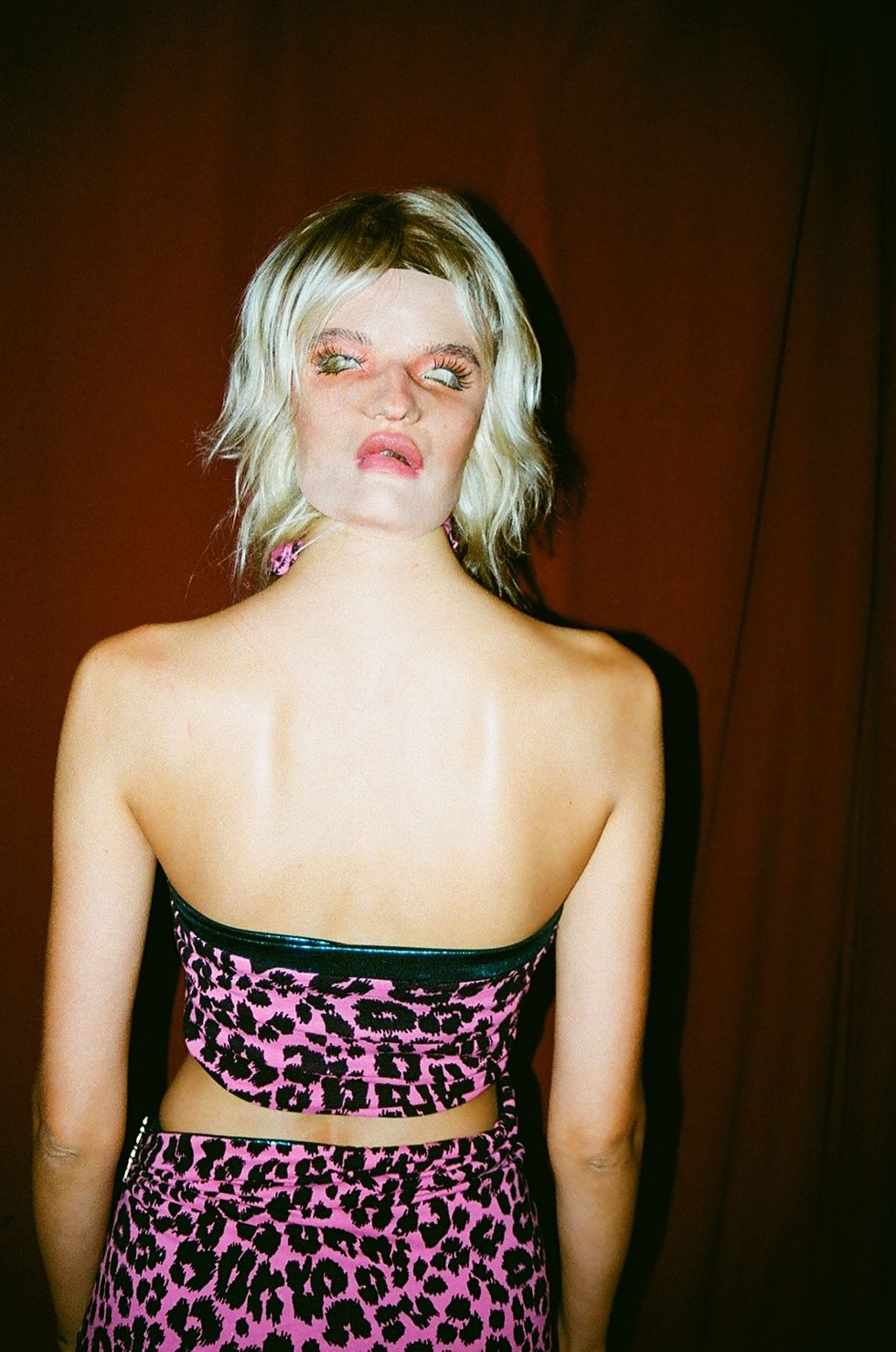 Photo by Megan Walschlager (Mask by Olivia Taylor)
I cannot believe you made your outfit, I'm obsessed. So, you make your own clothes, you've had a very successful modeling career, you've started a band — and I love that you are always able to create and define your career exactly the way you see it and do everything on your own terms.

I have a really strong opinion on everything I do in my life, but I also have this way of accepting everyone around me and understanding that everyone will always give their own interpretation on things and say whatever they want, do whatever they want, or even write about me online in ways that I didn't expect to be written about. I don't let it affect me because I understand that it's also a part of my growth as a person and as a character. I understand that who I am is always very strongly embedded with everything I do because I don't ever want to lose myself. I feel like I've developed myself as a character for many years, and I've always been searching for how to define myself.
But at this point, I really feel like I have defined myself, by not letting myself be defined and that has been the most liberating feeling in my life. Because as much as I feel that I am who I am as a character, I feel really confident in everything that I do because I'm always evolving. The ball is always rolling and I want to be in that ball — I never want to leave it.
Tell me about your journey.
I went to high school for drama — and actually middle school — in NYC at Professional Performing Arts School, so I was always surrounded by self-identified performers. I wasn't sure who I wanted to be in high school, but I surrounded myself with people who I thought were inspiring, and who were older than me at the time too. That kind of allowed me to develop into the character that I was nervous to become.
When I graduated from high school, I started taking classes at FIT studying marketing. Including modeling, I've always been interested in fashion and expressing myself through fashion — realizing what I look good in, realizing what my friends look good in, realizing what things make people feel confident. I'm also a very economically friendly person — I love remaking things I already have into new looks and creating things that I think are cute and could wear all the time, like stuffed animals. I wish I looked as cute as a stuffed animal, so I just try to wear them all the time instead.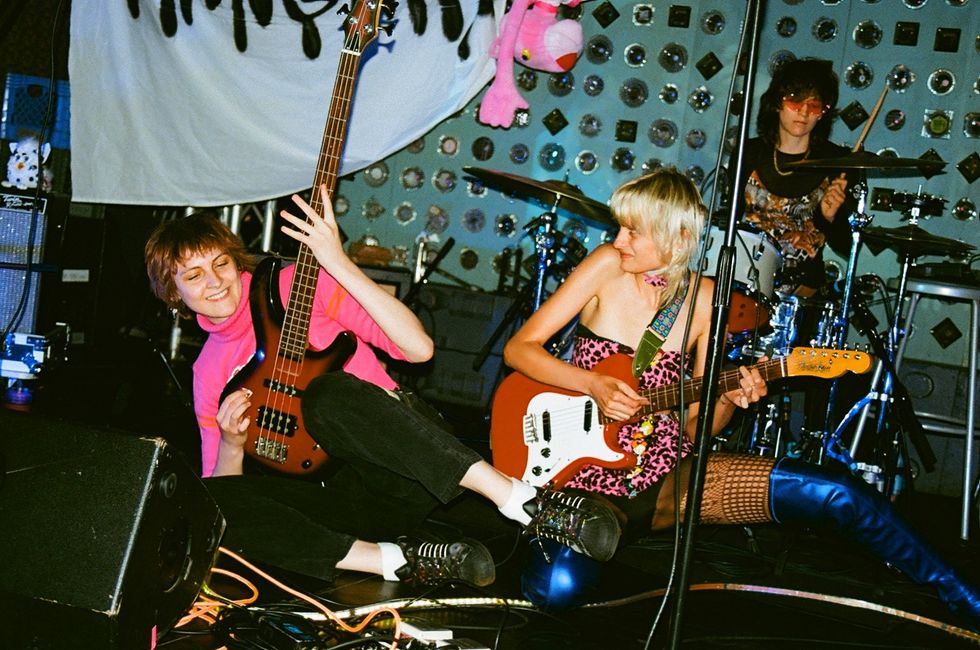 Photo by Megan Walschlager
I meant to comment on your stage design too — the Furbies and Pink Panthers — do you always have them when you perform?
I think that will be something that is always transforming. I love Pink Panther — I love what he stands for right now. I think he's super cool. I love Furbies because I think there is something so eerie about them. Lida found this book at Mast called, Are Furbies Spies? Imagine. But in the article it concludes they're not spies. But... I mean, look at them... Especially the new ones.
I didn't know they were still making them.

Oh, yeah, there's new ones. And they have like infinity eyes with LED lights, so you can imagine. They're so creepy.
Tell me about your songwriting process.
The way that I like to make music — and I'm not going to speak for everyone in the band — but I like to hear things and make things based off that vibe. Lida is an amazing writer and poet. The way I think of her is just so lyrical and smart, so I really trust her with writing lyrics. The way I write mine is just based off how I'm feeling. It's more of a screamo sound. I don't like it to be in any way defined.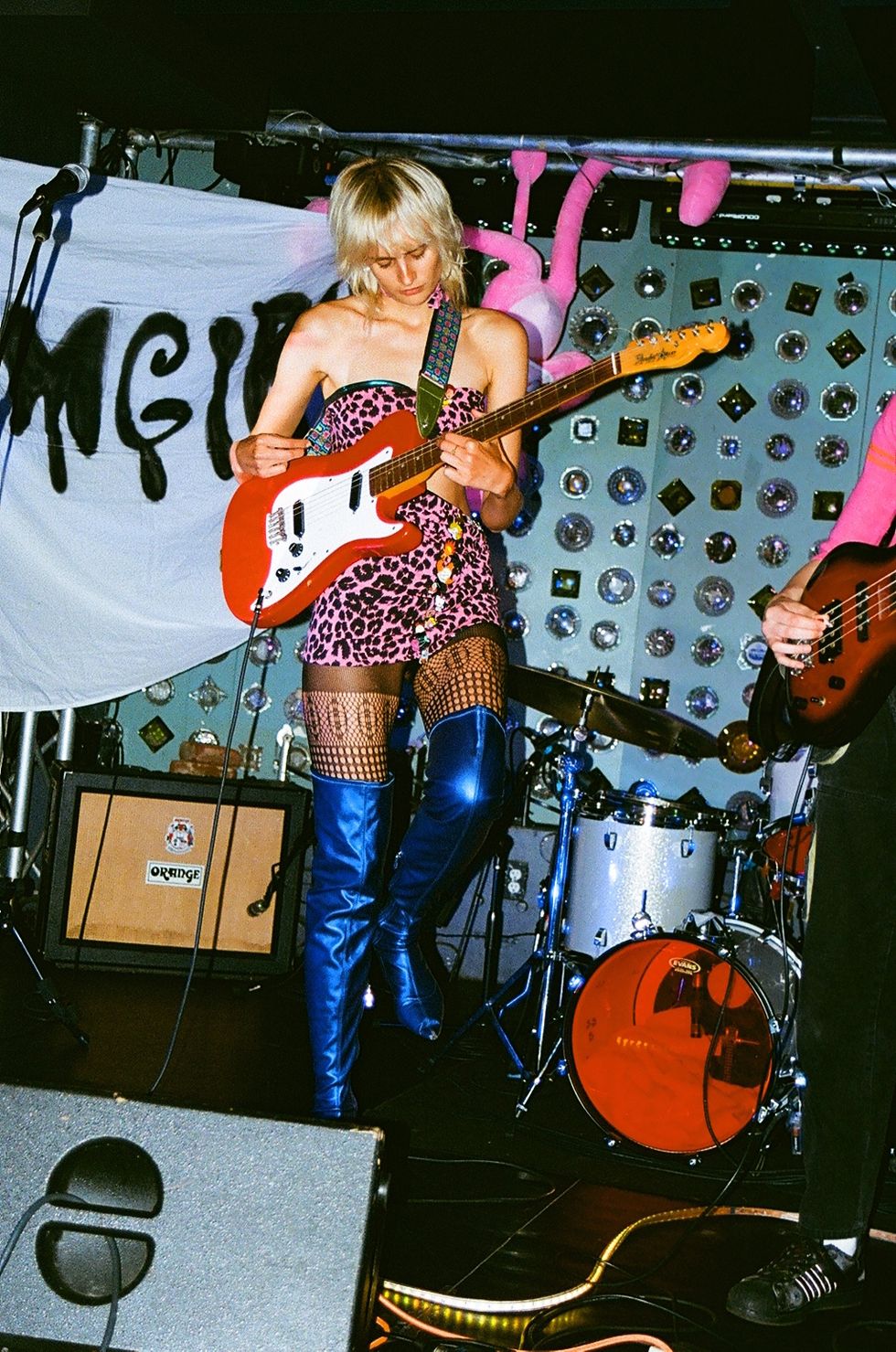 Photo by Megan Walschlager
What is your go-to drink?

I'm a wine person. Either wine or gin and tonic. Anything else makes me go somewhere else.
What can we expect to see coming up from you and the band?
In the next few months, we're going to be putting out a record. Or maybe like a demo LP. It'll be on a vinyl, on a tape, on a CD and for download.
Is your music on any streaming platforms right now?

No. You have to come to a show. We have a bunch of shows coming up in NYC and in the area, and hopefully by fall we'll be touring with our LP. And we also have a bunch of merch that we hand make. I sew some of it and then we stamp on it and design it. It's all custom merch made by us. Who knows how much longer we'll have time to make custom merch, but if you want to have an original piece. We'll also have this zine out that explains in greater detail what cumgirl8 is. It isn't even us really, it's something beyond that.
Any final thoughts?

Lida, Dex and Chase have really created what cumgirl8 is and we are so excited to share this with the rest of the universe. At the end of the day, we all identify as being some sort of alien and we want to share that with the world.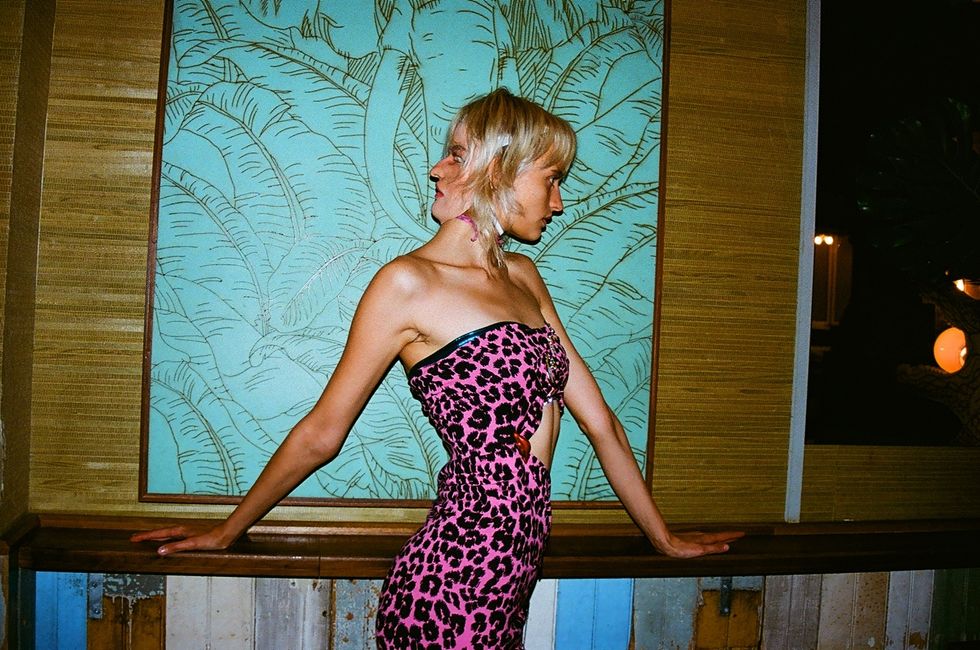 Photo by Megan Walschlager