When she first made her feature film debut with the '90s cult classic, Kids, Chloë Sevigny was all but unknown. The model, designer and actress, who had already made video cameos via Sonic Youth and The Lemonheads, had long been hailed as Lower Manhattan's resident 'it girl' for her iconic, slightly off-kilter fashion choices.
But when we initially meet at Ray's, Justin Theroux's hottest new Lower East Side 'Dive Bar,' Sevigny is a little perplexed.
"Why this bar?" she asks me point blank, carefully examining the place. "Oh, I thought it'd be perfect! You're after all a Lower Manhattan icon," I explain.
Sevigny is still pensive and clearly not convinced. "That's all good. Except I really don't care for the Lower East Side," she tells me matter-of-factly, as we head to a dimly lit booth.
I ask her if she'd like something to drink, at this point, confused if she hates this place or me for suggesting it.
"I'm mostly just fascinated by this place. It's so retro. I must come back!" she clarifies, perhaps sensing my apprehension but still earnest in her response.
I'm intrigued by her brazen honesty (and a little intimidated), but also reassured this is not going to be another publicist-fed press interview.
I'm right. As we begin to chat about her first and very own fragrance, Little Flower, created in collaboration with longtime colleagues and friends, Alia Raza and Ezra Woods, Sevigny extends her arm asking me to smell it. "It's very lush and fresh," she says excitedly, "and has notes of rose in it and black tea, but it is still very kind of like –– I mean lush is the best word... like wet. It has that very bright scent!"
Sevigny, who has worn "roses throughout the years," explains that Little Flower has been more than a year in the making.
The inspiration behind both the name and the smell stems from Thérèse of Lisieux, a late 19th century French nun who died at the age of 24. She was referred to as 'The Little Flower,' eventually becoming the Catholic patron saint of flowers.

"She was also called 'The Little Flower,' and she died quite young and was very humble," Sevigny says. "So there's all these prayers around flowers to her and I read this poem, ode/prayer to her as part of a promotional thing for Regime Des Fleurs."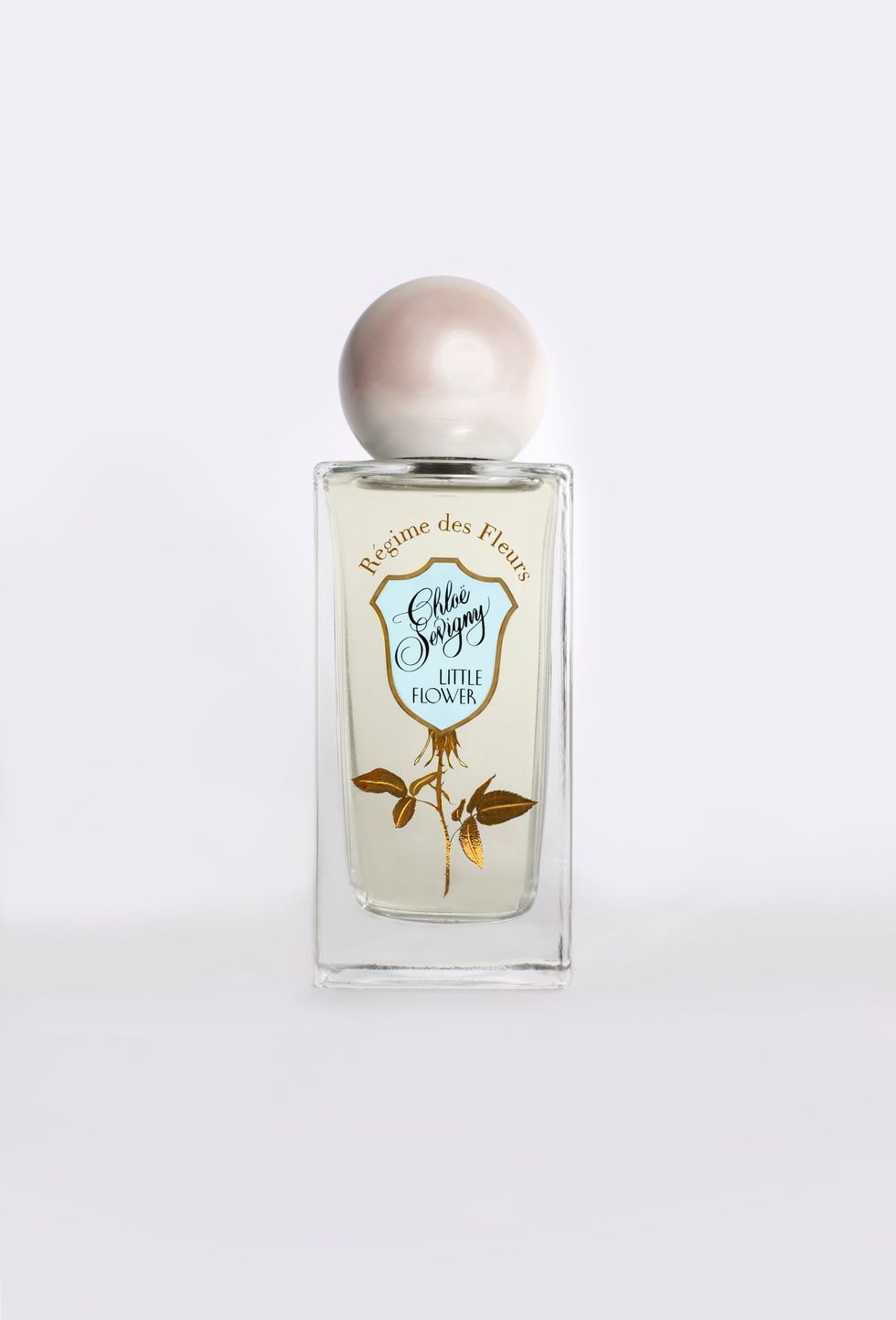 Little Flower
Although Sevigny has previously done some pretty successful fashion and beauty collaborations, including designing a collection for Opening Ceremony, and an exclusive lipstick called La Bouche Rouge, fragrance is still a fairly new territory for the actress.
"I feel like fragrance is really emotional and to me," she says. "It transcends beauty, or anything else. It's our strongest sense of memory and it's like wearable art. It's almost like fashion to me, more than beauty. I love a nice fragrance on another person. I'm just into smelling good."
Sevigny's not joking. She really does take scents seriously. "I feel like often, if someone has the wrong perfume, it's hard to tell them," she says. "Do you have any friends that wear the wrong perfume?"
Yes, of course.
"And what do you say to them?" she asks, genuinely curious.
I mean, I don't think I tell them I hate the way they smell.
"I feel like often people gravitate towards sweet powdery scents, but that's just not something that I respond to," she says, nonchalantly.
Does she have bad memories related to it, maybe an ex-boyfriend?

"I feel like my scent-related memories pertain to different foods, certain perfumes," she explains. "Like whenever I smell Tom Ford Black Orchid, I think of a time when I lived in LA and I would only wear it in LA and it would never work for me in New York. So it's very specific to that. I feel like the scent really, really brings me back to different boyfriends, different projects, different things. "
"Whenever I smell Tom Ford Black Orchid, I think of a time when I lived in LA and I would only wear it in LA. The scent brings me back to different boyfriends, different projects."
Who?
"Marlboro Reds, I relate to a certain person but I was around their face a lot," she says.
Was it someone she hates?
"I don't hate him but he smoked them and I didn't like that he smoked them because I didn't like the smell of Marlboro Reds," she says."But yeah, when I smell Marlboro Red, I still think of him. "
Still, regardless of the unique formulation and her steady involvement in creating the perfume (Sevigny reportedly sampled more than 33 different lab versions of the scent before narrowing down her favorite), beauty in 2019 is a big, competitive business.
Is she bothered about potential comparisons to the multiple celebrity fragrance and beauty lines that have sprung up in recent years?
"I feel like there's been a history or a lineage of actresses and fragrances," she says. "I mean, White Diamonds was one of the greatest selling perfumes of all time, of course, that's Elizabeth Taylor. I'm not comparing myself to her in any way shape or form. But I feel like the way I'm doing it with my friend's company, it's different."
It's pretty convincing. Sevigny has always gravitated towards the "different," most evident through her long spanning career with some of the most critically acclaimed films and TV shows such as Lean on Pete, American Psycho, Boys Don't Cry, Lizzie, and more recently, the HBO series exploring polygamy, Big Love.
Although the actress has starred in a few mainstream Hollywood projects, including David Fincher's Zodiac, it's still hardly a handful.
Is it a strategic choice to stay away or part of her brand?
"No they just haven't hired me, unfortunately. I wish they would," Sevigny says. "I haven't gotten many offers for studio pictures. I've only done two. I was in Zodiac, which was a studio picture, and this new one coming out for Thanksgiving, called Queen & Slim, written by Lena Waithe and directed by Melina Matsoukas. I have this very small part, it's like a cameo."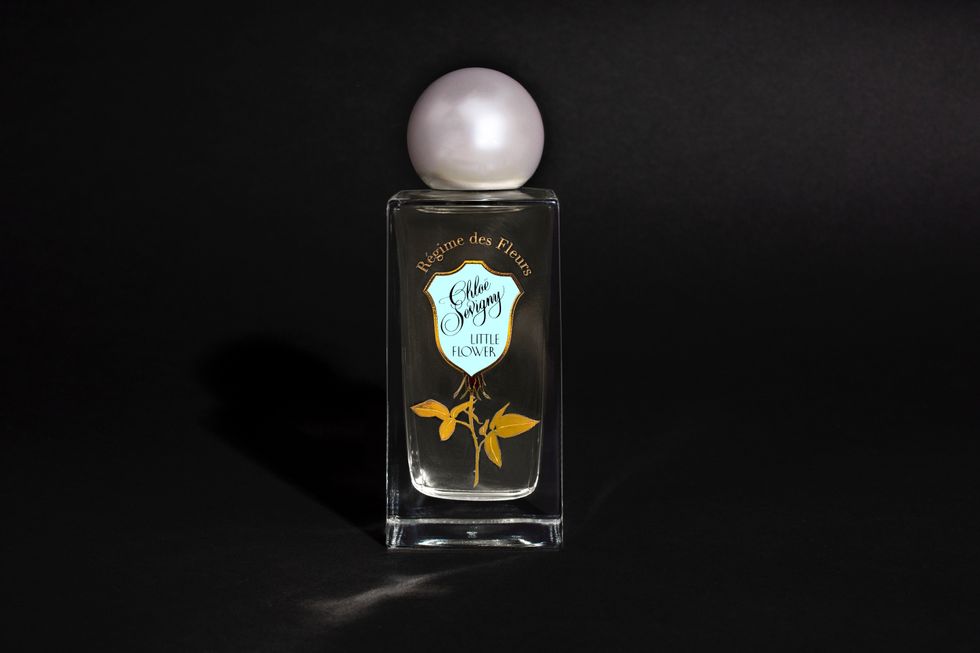 Little Flower
Sevigny is also part of an upcoming miniseries called We Are Who We Are by Call Me By Your Name director Luca Guadagnino. "It's about a group of kids who grow up on an army base. It's more of a coming of age story," she explains. "Jack Grazer is the star and plays my son, where he's kind of like questioning his sexuality and he meets this girl that lives next door and she's questioning her gender."
A timely film, especially as the collective cultural interpretation of gender and sexuality continues to evolve. Although Sevigny herself has championed both minorities and women, call out or 'cancel culture' has sort of become a deadly internet norm, especially if you're a celebrity. Sevigny, however, isn't deterred, just confused. "Jesus, where have I been? I've never even heard that term," she confesses.
I explain and ask if she thinks the ability to 'cancel' someone through a single tweet for a seemingly inappropriate remark made years ago is dangerous?

"I guess it's got to be a whole scale as far as what they said and how they said it and what they say around it," she says. "I think it's good to call people out on that and change the language and hold people accountable, for sure."
Sevigny, for the most part, stays away from social media, perhaps for the better. Instagram, however, she loves. Does she post a lot? Does she have a 'close friends' list?

"No, I don't have one of those," she says. "Why bother? I'll just text my close friends — on an annoying group chat, that dings too often. But yeah, I'm active on Instagram. It kind of goes through waves. It depends on what I'm doing, how busy I am."
"I think it's good to call people out and change the language and hold people accountable."
And she has stayed pretty busy. Despite persistent requests from friends and her own inclination, the actress hasn't had the chance to watch HBO's breakout teen drama, Euphoria, that has been repeatedly compared to her own seminal hit, Kids. She's also looking forward to watching Mary Harron's recent film about the Manson Murders, Charlie Says, also because Harron was the director behind American Psycho, where Sevigny played a crucial role.

"I like the main actress in the Manson film. The English girl that was on Game of Thrones," she says. Chace Crawford's in it too, I tell her. "I don't know who that is," she says.
Really? Gossip Girl, hello? "Nooo. You think I would watch Gossip Girl? You're crazy." What was that I mentioned about her brazen honesty?
Anyway, back to Sevigny's fragrance Little Flower. Can we expect a full-fledged beauty line in the future?
"No. It's too much to put out into the world, too many products, then there's the packaging and everything else," she says, though she does enjoy experimenting with different beauty treatments. "I've tried most of the treatments that don't involve needles. I don't think there's anything wrong with maintaining if you're conservative. I think some women have had work where they look great, but I think the majority is pretty risky. People can just go too far and then become addicted and I think certain people's sense of self or how they look can become so distorted that it becomes dangerous."
Sevigny is, however, fully aware of the completely different standards women are pitted against leading them into seeking dangerous treatments. Especially when it comes to aging. "That's always frowned upon," she agrees. "I feel like my career has pretty much maintained. I don't think I've ever really felt is so much yet. You can't deny the figures and numbers that everyone says, but I feel like it's changing. People are embracing more and more of women's voices are being heard and people tuning in to watch what they're watching –– people are more open to making content that women want to watch, whether it's older women or younger women."
Did she ever feel like she was stereotyped? "Maybe for being a blonde white girl," she laughs.

Like it or not, politics is an unavoidable component of life in America and the world today. Sevigny, obviously, isn't afraid to voice her own views. but the actress has had trouble communicating with the more conservative members of her family, much like a significant portion of young Americans.
"It's very hard for me to talk to [family] about politics. I think everyone has to decide how they feel and want to deal with it."
"It's very hard for me to talk to them about politics," she confesses. "I know you're supposed to confront them, but certain people in my family are older and I'm not sure there's much that I can say right now. It's been a struggle for a long time for me and sometimes it's better not to have a conversation for me, personally. I think everyone has to decide how they feel and want to deal with it."

Sevigny has a few favorites in the current race for Presidential elections in 2020, though. "I like Bernie. It's Bernie or bust. I still love Bernie, I love Elizabeth Warren, I like Kamala, Marianne I think is wild and super fun. I'm really into her whole vibe and everything she's spouting like, 'Yes, woman, 100 percent.'" she says.
What about Joe Biden? "I mean it will probably be Biden and we'll all just have to deal with that, but who knows?"
It doesn't sound like Sevigny is a big Biden fan.
"There are others that I like more," she says. A diplomatic response.
"Well, I don't want to get canceled, you know, in a few months time," she says.
Little Flower by Chloë Sevigny retails for $205 and is available to shop here. The actress will be celebrating tonight, August 21, at Dover Street Market New York from 5 PM - 7 PM. "There will be flowers, and cocktails, and signings, and pictures," Sevigny writes on Instagram, as well as a free bottle of Little Flower gifted to the best outfit inspired by the fragrance.
Ray's is located in New York City at 177 Chrystie St. For more information, visit raysbarnyc.com.
Lead photo courtesy of Brianna Capozzi
Sign Up for the Morning PAPER