On the last day of Paris Fashion Week, the Chanel show made headlines after a woman crashed the runway during the finale walk. Security tried to intervene, but her outfit — a black and white herringbone skirt suit and fascinator hat — made it impossible for guards to distinguish the crasher from the other models. (Her walk was very fierce, so kudos to her.) So who was the brave soul who stole the show?
Turns out that she's not a one-time crasher. Her name is Marie S'Infiltre, a French YouTuber who has been infiltrating runways all season, according to a quick post-show interview she did with LOVE Magazine. (A look at her Instagram profile shows the prankster has already crashed lingerie brand ETAM's show.) She also told the outlet that crashing Chanel was the ultimate challenge.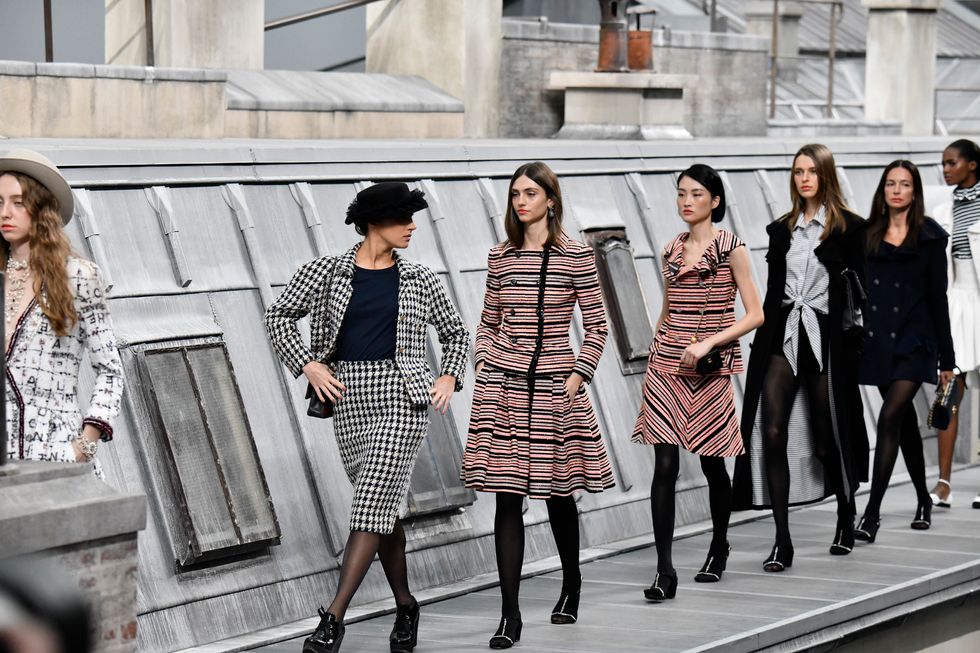 After the videos of her crashing Chanel went viral, more clips surfaced of the prankster being led off the runway by a gang of models including Gigi Hadid, who was NOT here for this foolishness. Oh well, at least she got to strut like a model for one of the biggest brands in the world, not an easy feat to achieve.
The comedian clearly has a thing for fashion. Some of her other videos show her dressed up as Anna Wintour in the back of a car and getting glammed up on a Parisian bench. All of her clips are in French, however, but they're still rather entertaining to watch. Though it'd be safe to bet that she won't be invited to any Chanel shows anytime soon.
Sign Up for the Morning PAPER