Blaketheman1000 is officially bi-coastal in his two most recent singles "Traffic" and "Magician,"the latter of which dropped today, infusing his signature SoundCloud rap sound with a sticky summer So-Cal twist.
Blake Ortiz-Goldberg has made his mark in the underground New York art scene with Blaketheman1000, his inescapably downtown pop project. Since Blake's move to New York in 2018, the 27-year-old artist has capitalized on his apparent savvy for networking and collaborating with other young talents on the rise.
While he's probably joking when he calls himself the "Downtown Dimes Square Diamond" in his 2022 single "Dean Kissick," his performance CV speaks for itself: headlining shows at popular insider venues like Honey's and Ming's Cafe, closing out Forever Magazine parties at Russian Samovar and KGB Bar, getting featured on New York's cult-favorite substack Perfectly Imperfect and co-managing the Frost Children, the buzzy duo comprised of NYC-based siblings Lulu and Angel Prost. And even though he has yet to release an album, his well-attended live shows only prove that his New York community is eagerly awaiting more.
Now, during a recent Los Angeles foray, he's come home with two videos directed by Sarah Ritter: "Traffic" and "Magician." While both have a summery nostalgic feel, "Magician" leans into Blake's post-internet aesthetic with heavy DIY production that transports you into the peak early-2000s MySpace era. Filmed in an ice cream truck near a local Disneyland skate park, you can taste the salty air and feel the sticky ice cream hands.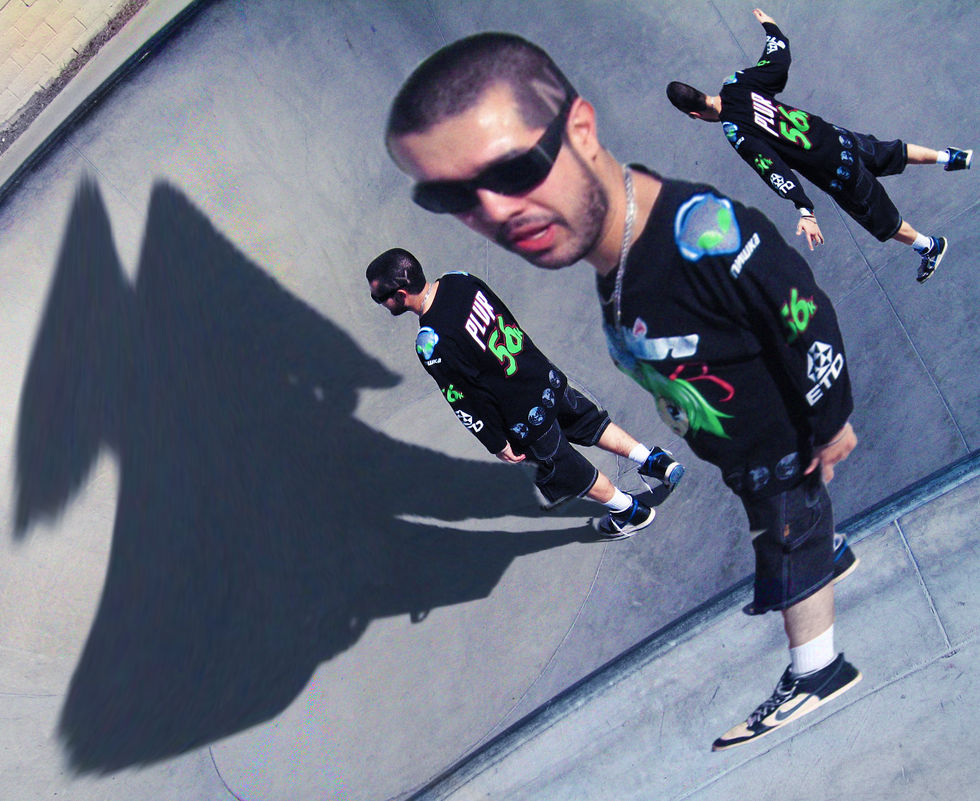 "We shot the video at a skatepark in Anaheim, California with some pro bladers and some amateur skaters," Ortiz-Goldberg tells PAPER. "Parker Richardson, one of the pro bladers, did the motion graphics," he explains. From Good Humor's Strawberry Shortcake pops to Blake's mid-song 2010s autotune moment, the video radiates a kind of serotonin-filled nostalgia that can only come from grade school summer break. In capturing this feeling sonically as well, the result is a summertime bop that strays from his Brooklyn rap sound.
Whether you buy into the scene he's repping or not, Blaketheman1000's rap-meets-electro-pop singles are catchy, with campy lyricism and light-hearted synths that are proven to get stuck in your head.
Check out PAPER's premiere of Blaketheman1000's "Magician" video below.
Photography by Sarah Ritter
From Your Site Articles
Related Articles Around the Web
Sign Up for the Morning PAPER