"Oh, God... it's so weird," Alison Goldfrapp says with a chuckle, turning to stare out the window for a moment.
The frontwoman and namesake of the duo Goldfrapp — one of the most pioneering, musically eclectic electronic acts of the '00s and beyond — is on Zoom with PAPER from her home in England. She's preparing to announce The Love Invention, her first full-length solo album, out everywhere today.
Her first album under her own (full) name, co-written and executive produced by herself, arrives well over two decades after her band's 2000 debut with Felt Mountain — the timing of which she appears to be processing in real-time.
"I've been asked this question: 'Why now?'" she mutters. "'Why not?' is my immediate answer."
It's been a blur from the start, as she tells it.
The Enfield, London-born singer-songwriter was only just starting to make moves in the music industry in the late '90s, lending her voice to electronic and trip-hop artists like Orbital and Tricky when she met fellow musician, Will Gregory. The two hit it off, going on to forge a musical partnership that would stretch on for decades.
With each new album, they'd subvert expectations, swinging like a pendulum from quieter, introspective efforts to in-your-face glam-rock and synth-pop: from the sweeping, soundtrack-ready soundscapes of their debut, to the glam-rock strut of Black Cherry, to the breathy, come-hither electro-pop of Supernature which would please any Kylie Minogue-loving pop fan. There was folksy, whispered loveliness (Seventh Tree), glossy '80s nostalgia (Head First), haunting noir (Tales of Us) and hard-edged synths (Silver Eye) all in less than a decade. And between each album, they'd hit the road.
"It would always be this cycle of touring, decompressing after that, then going into the studio," she recalls. "It kind of went in a cycle."
Along the way, the duo racked up an impressive array of achievements: Grammy and BRIT Award nominations, Glastonbury performances, six Top 20 albums in the UK, and a handful of Top 10 hits and U.S. Dance No. 1s, including "Strict Machine" and "Ooh La La," two tunes in particular likely buried deep in your psyche from mid-'00s syncs in commercials for the LG Chocolate and Apple iPhone.
The duo had it down to a science. But in recent years, Alison started thinking about operating outside of the Goldfrapp machine.
"For a lot of those years, I don't think I felt the need to do something else," she says. "But then I did."
Partly inspired by lending her voice to collaborations with Röyksopp for their 2022 project Profound Mysteries, and partly due to the limitations of the lockdowns amid the pandemic forcing her to build out a home studio, Alison began carving out what was at first a solo EP, which soon became a full-length project.
The result is nothing short of a start-to-finish dance floor triumph destined to stand out as one of 2023's strongest selections, buoyed by floor-filling beats inspired by an array of sounds — from New York's post-punk scene to Italo-disco — and themes of determination and self-discovery.
The album was recorded alongside Kelly Lee Owens collaborator James Greenwood, Toby Scott and British production extraordinaire Richard X, known best by popheads for work with acts like the Sugababes, Annie and Rachel Stevens, among others, along with collaborations with club acts. To tease the album, she released remixes of album cuts — "pre-mixes," as she calls them — ahead of the album's release, crafted by Claptone and Paul Woolford.
"I wanted something that felt up, euphoric and joyful. That was the one thing I was very focused about," Alison explains. "I want to do this. It needs to be this."
Alison's signature purrs and moans stretch across flashing strobes of light and broad strokes of color running hot and cold, from the ethereal, endlessly romantic "In Electric Blue," to "Fever," a frenzied eruption of synths, to "Subterfuge," a kind of wintry romance, a la Björk's Vespertine.
Much of the album peppers in affirmatives about seizing the moment and coming into one's own: "Be anyone you want to be," she coos on the seductive "Hotel," an homage to all the possibility and anonymity of a one night stay.
"It's all a dream and we can sleep right through/ Only a minute, so enjoy the view," she sings across the dreamy disco strut of opener "Never Stop."
"For myself, particularly at my age, my body and everything has changed dramatically. Since putting the last album out, I've gone through a massive change... it's something you can't stop," she says.
Ahead of the album's release, we spoke to Alison Goldfrapp about making her debut over two decades into her career, songwriting, evolving and reinventing herself once more.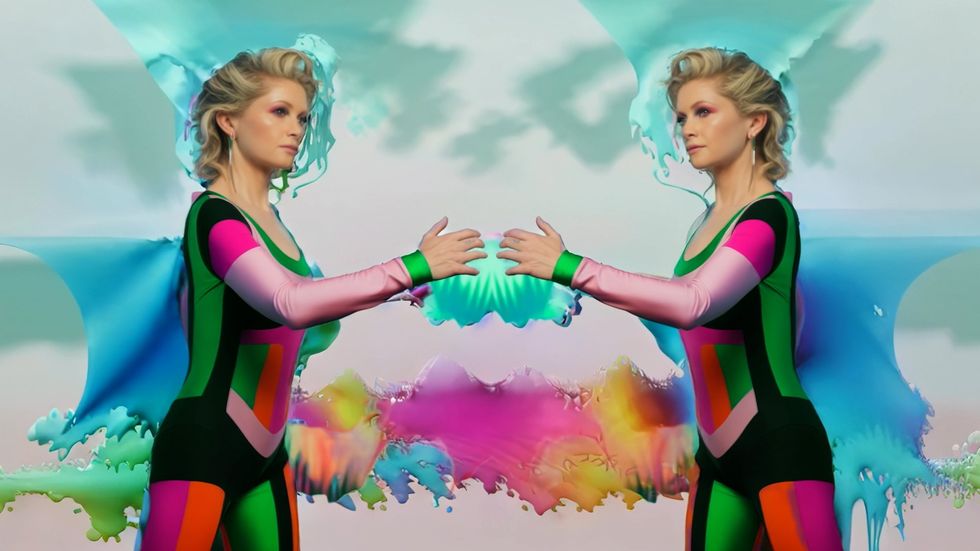 This is your first solo studio album, under your own name, after over two decades in the industry. I guess the most obvious question to start is: why now?
Why now? Oh, God... it's so weird. I've been asked this question: "Why now?" "Why not?" is my immediate answer. [Laughs] I was just doing Goldfrapp, I've just been so busy with that. I'm not someone who can write on a tour bus or in a hotel, as some people seem to be able to do, which I have huge admiration for. I go on tour. I find that all-consuming. I don't really do any kind of writing until I'm back in the studio after a tour.
It would always be this cycle of touring, then decompressing after that, then going into the studio. It kind of went in a cycle. And for a lot of those years, I don't think I really felt the need to do something else. But then I did.
Will and I created a particular way of working. Throughout Goldfrapp, Will's always done other projects. I haven't been able to do that. It's been too much of a consuming thing for me. I also think lockdown had something to do with that. It forced an independence that I hadn't had, really. I moved back to London a few years ago and that was a big change for me. I'd ended up having to make a studio in my house because I couldn't go out.
With Röyksopp, I really wanted to work with some other people. I reached out to a few people, actually. Some people didn't even bother answering. [Laughs] I had this fantasy of, Great, I'm gonna go to Norway now. That didn't happen because of lockdown. So I was like, I really need to set up something at home. In doing that, it forced me to start doing things here and it kick-started this confidence that I didn't quite have before.
To be honest, I set out to do an EP. I thought, An EP, it's kind of small, it's not too much pressure on myself. The record company really liked that. They said, "We love it, but we'd really like an album. We want it by the end of August." This was in May. I was like, "No. That's just humanly impossible." And then I thought, No, come on, you've gotta do this. So here I am. I don't think I've ever done an album that quickly, which actually was great. It was super stressful, but also good to think quickly. I was out of my comfort zone. I tend to mooch around and daydream out the window, but this was good. It gave me a kick up the ass and a new energy. I kept telling myself, "This is what you wanted. You've got it. Get on with it, do it and enjoy it."
Speaking to doing it yourself, what did you find in the process of being a solo artist?
It is interesting when you get with new people. I love that it's a new energy, which is inspiring in itself. I've known Will for so long now. I know how he works, how he thinks, how he's gonna approach something. Whereas when you're with a new person, it's a whole new language. The way they talk is different, how quickly or slowly they do things, what their skills are. Maybe they're brilliant at this, but not so great at that. You're getting used to a lot of new stuff. And of course, they're getting used to you. [Laughs] It always takes me a while. I start out with an idea, and then you start making things and it turns into something else. You're just finding your way.
You've gone from trip-hop to synth-pop to downtempo lush atmospheric sound across your career. And now, here we are, at floor-filling, clubby dance music.
I have wanted to do it for a very long time. Something much more rhythmic and more dance-oriented. I wanted something that felt up, euphoric and joyful. That was the one thing I was very focused about.
Can you talk a bit about the collaborators on the album and how you found them?
James Greenwood, I discovered through the Kelly Lee Owens album [Inner Song], which I think is wonderful. I got in touch with him and said, "Do you fancy doing something?" He's very natural, incredibly musical and quite off the wall in a sense. He's quite organic in the way he creates things, which I really liked. It's just pouring out of him, basically.
And then Richard X was actually suggested to me. I knew him from the past, as he'd done a remix for us ("Rocket"). Richard's amazing. He's a very different, incredible guy. He's so committed and rigorous, which I love. He introduced me to lots of things I hadn't heard before, so that was really fun. Played me some vinyls. A few things that I was like, "Yes, I want that, that sounds amazing. I love that sound." It was really inspiring.
And any records in particular that moved you?
There was a particular track by Konk. There were some Italo-disco kinds. The album does have some slightly retro sounds in there, but what I really like is it also sounds really contemporary, referencing Euro Italian disco and also that post-punk New York thing. Do you know Will Powers, Dancing for Mental Health? That's one of many things. Should we reference these things? Might be problematic. And that track, "White Horse." And the American guys, "Genius of Love," Tom Tom Club. A little bit of that.
Some shades of Supernature there, too.
Yeah, the vocoder I used a lot again, which is definitely something I've played with before a lot. Tracks like "Ooh La La" on Supernature.
The mixes of "Digging Deeper Now" and "Fever" on the album are different from the ones we've heard.
Well, they're called club collaborations, which is a different way of saying a remix – a pre-mix, if you like. They're versions of my songs. We thought it would be interesting to put those out before the real thing.
What about the title itself and the choice behind that?
It's funny, isn't it? Choosing a title always stumps me a little bit. I had a few different ideas floating around. The Love Invention had been around for a while. It was called Dr. What? & The Love Invention. I was liking this idea that there's this person with this contraption, or this new wonder drug, that was gonna save the world and make us all love each other. It sounded a bit psychedelic or something, like some old prog band, which made me laugh, but was not what I wanted obviously. I wanted the word "love" in there, as basic as that is. It felt important to me to have that in there. I had all these other titles that were more ambiguous and abstract, and then I just thought, no... The Love Invention.
Love is an overarching theme of the record. It's very optimistic, love-driven. Sensual and slinky too, like "Hotel." Can you talk a bit about the inspiration behind that track?
I have a bit of a penchant for staying in a hotel on my own, in the same way I quite like taking myself out for dinner on my own. It's something that feels incredibly indulgent. James lives in Margate, which is this town on the southeast coast of England. It's the new hip area, still up-and-coming. There are some funny hotels there and I stayed in quite a few of them. [Laughs] They were pretty awful, to say the least. One of them, in the middle of the night, the police had to come and stop this fight between two women in one of the other rooms. And staying in a place called Brighton with Toby [Scott], who I also did some writing with. There's this massive hotel, very well known.
There's this sort of transience of a lobby and a hotel bar, late at night. It's something a bit rough, a bit seedy, but I like it. This idea that you can be anybody in this place. I often check in with a false name. I've decided who I'm gonna be for that evening. I just riffed on this idea, a bit like airports. Do you like airports?
In the same way as you're describing a hotel, yes. Sitting there and observing the fleeting moments.
Just being able to sit there and look at everyone else. You could be anywhere, really. It's a similar thing with hotels, except when you get in the room, then it's sort of odd. It can be really lonely or fun, or both. I've obviously spent a lot of time in hotel rooms from touring, which can be incredibly glamorous or desperately sad. I've got quite strong feelings about hotels. [Laughs]
That resonates. The loneliness and anonymousness.
Yeah, it can go either way, can't it? [Laughs]
There are also some odder titles on the album: "Gatto Gelato," for instance. Cat ice cream?
Cat ice cream, yes. [Laughs] Well, apparently it was a name that a club DJ would give to a certain track, a kind of Italo-disco track, back then. It was an underground DJ thing, as far as I'm aware. It was a working title for ages for the track. It was quite a fun title, so we thought we'd just stick with it.
There are other themes in your music, going back to Tales of Us with "Anabel" and "Become the One." You've talked about being inspired by the trans community for instance, and this idea of becoming yourself. "We can be anything we want," you sing on this album.
It was intentional. I also think it's something very personal to me. We're all constantly evolving and changing. For myself, particularly at my age, my body and everything has changed dramatically. Since putting the last album out, I've gone through a massive change. This is what happens. You evolve all the time. It's something you can't stop. It's about acceptance, and embracing that and celebrating change in your life, whatever the change is. I felt like that when I wrote "Become the One," and I felt like that when I was doing Tales Of Us. Every stage is different and just keeps going.
How do you feel things have changed since 2017's Silver Eye?
Short answer, I've changed a lot. Music business has changed a lot. We've all been through quite a lot of stuff, haven't we? Bloody hell. It feels like we are living in a crazier world than ever. It just feels like everything's changed and everything will probably keep changing. I suppose now it just feels faster. I just bought this book, actually. It's called The Extreme Self. It touches on a lot of things like that.
I saw you launch on TikTok. Obviously, that has changed the industry. What are your thoughts on the way that artists have to engage online now? Because, certainly since 2017, a lot of that landscape has changed tremendously.
I love doing Instagram because I love having that connection with fans. Back in the day as they say, it felt so much about the record company. Whereas now artists have much more of a hands-on relationship with fans — with everything, in fact. There's a lot of positive things about that. I actually really like it.
TikTok, I've only just joined it. I'm still getting my head around it. I was like, What the fuck do I do? I don't want to be trying to invent things all the time to do, anyway. Someone suggested to me, "Why don't you film yourself getting a coffee down the road?" And I was like, "Really? Okay. I'll give it a go." I did this little bit of me going into the café in my neighborhood. Then someone said to me, "We don't think you filmed your coffee quite right," at which point I wanted to jump off a fucking bridge. Anyway, I haven't attempted to re-film. I'm not sure if that is my bag, really. But hey, I'm not gonna give up.
In 2017, you started directing videos. You're also involved in photography. I would love to know more about the art direction for this album.
The way I experience music is that I always have colors and shapes in my mind. Those colors are very... colorful. [Laughs] I always think about things like that. I want that to represent the sound, as well. With Silver Eye, it was quite harsh, quite graphic, but in a different way. It was about being outside and this bright light; dark colors with bright skies. Tales of Us was much darker altogether... black and white, essentially. I wanted to get away from that. I wanted the colors to be part of the music.
Early on, I really wanted Mat [Maitland] to be involved. I've worked with Mat for a long time, but this time I wanted him to interpret everything, really. I like his aesthetic. It felt like it fit with what I was trying to do with the sound and feel of it. I'm very involved in it, but they're his style, as well. I said to him, "I want this sort of urban dystopian, but also organic, but really colorful, but I don't want it to be psychedelic." We went through all this stuff. It's a combination of AI-ish, urban dystopia with organic, beautiful, bright hopefulness.
I feel like it's never a safe bet that you're gonna stay anywhere for far too long, sonically. You do have the comedown with the last track ("SLoFLo") that brings us back to your atmospheric side. Do you know where you might be heading next, musically?
No, not really. I'm hoping to continue on this path and evolve with that. I always want to do tracks that are more introspective, like soundscapes. I would like to do more of that, but I would also like to do more... gotta get up and move the body.
No reason you can't do both.
Exactly, I think you can do both.
Do you have career goals in mind that you still would love to accomplish?
I'd love to write a tune for someone else, actually.
Who would you like to write for?
Miley Cyrus. [Laughs]
Really?
Miley Cyrus. I'm sure she's got a whole queue of people waiting to write for her, but I'd love to write stuff for another singer. I think that would be fabulous, actually. I'd love to do that.
I'm honestly surprised that you haven't written for anyone else.
Really? Oh, but I haven't... I definitely got asked to write for somebody else a couple of times. I don't think I was quite ready for it.
Are there collaborations that didn't see the light of day?
Yeah. Mentally, it was something I wasn't quite ready to do, whereas now I think that would be really fun. And I'd love to play more in America. Can you sort that out please?
I'll start booking some venues now.
I just love playing there. It's the best. And South America, as well. Just the best times there.
I love when artists take a look at their discography and reevaluate. Are there any albums or songs that have a particular stronger significance for you now, or that you feel especially proud of?
Randomly - I don't know how it happened — the song "Forever" came up from Black Cherry. I found myself stopped in my tracks. It really made me cry. I could remember everything about writing that tune. It was so visceral. I was there, I could smell it, I could feel it. What I was thinking and feeling. It makes me feel quite funny just even thinking about it.
I'm so critical of myself. Sometimes when you make stuff, it takes a while to step out of it and go, Yeah, that's good. You are so involved in it, you can't appreciate it. It's not that you don't think it's good, it's just that you can't sit back and hear it as a whole. When you've had that much time away from something, you see it as this other thing.
And then also Supernature. I really enjoy that now. At the time I enjoyed it, but I also found the experience quite overwhelming at that point in my career. I'm quite a shy person. I wasn't expecting the attention it was gonna get, or that I was gonna get to the point where I actually wanted to step back. Whereas now I'm like, oh my God, that was so much fun. [Laughs]
What do you hope people take from the new album?
I want people to really enjoy it. It's a bit like when you have a really delicious meal or dessert: you go "yum!" from that initial sensual feeling of texture and smells and taste. And then as it goes on, you want it to change a little bit. When it's finished, you want it to linger and evolve into some other thing, a bit like perfume. You have the initial layer and then another layer appears. That's my hope for it: that instant enjoyment and then hopefully, after more listens, you hear and discover other things.
Photos courtesy of Mat Maitland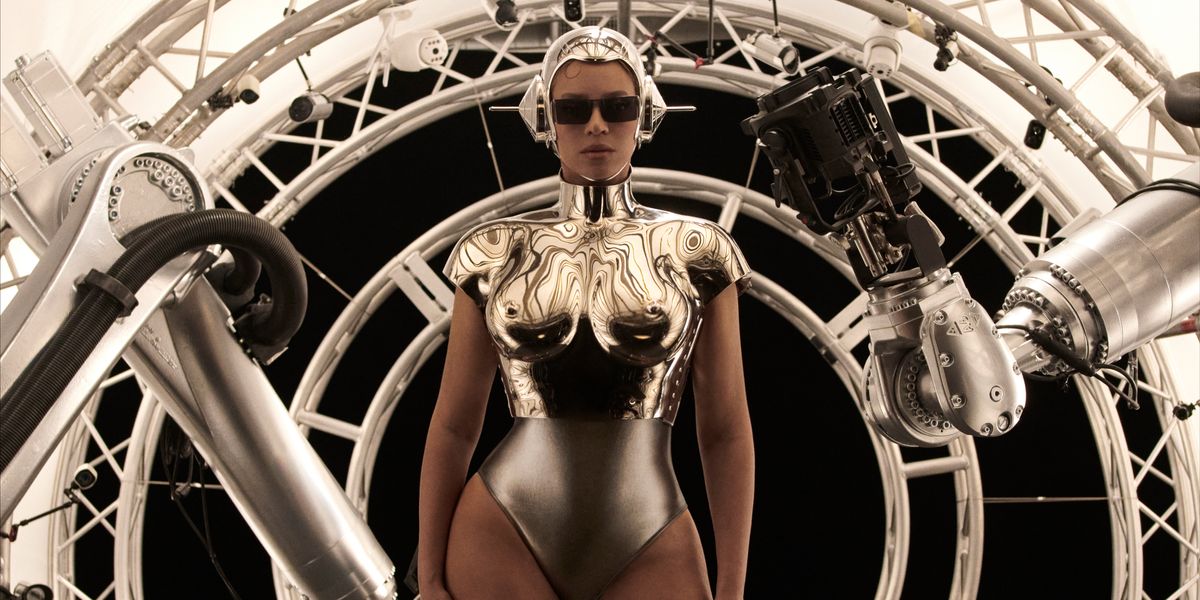 Music
Story by George M. Johnson / Photography by Mason Poole / Styling by Shiona Turini / Hair by Nakia Rachon / Make-up by Rokael Lizama / Creative direction by Andrew Makadsi
Story by George M. Johnson / Photography by Mason Poole / Styling by Shiona Turini / Hair by Nakia Rachon / Make-up by Rokael Lizama / Creative direction by Andrew Makadsi
01 December