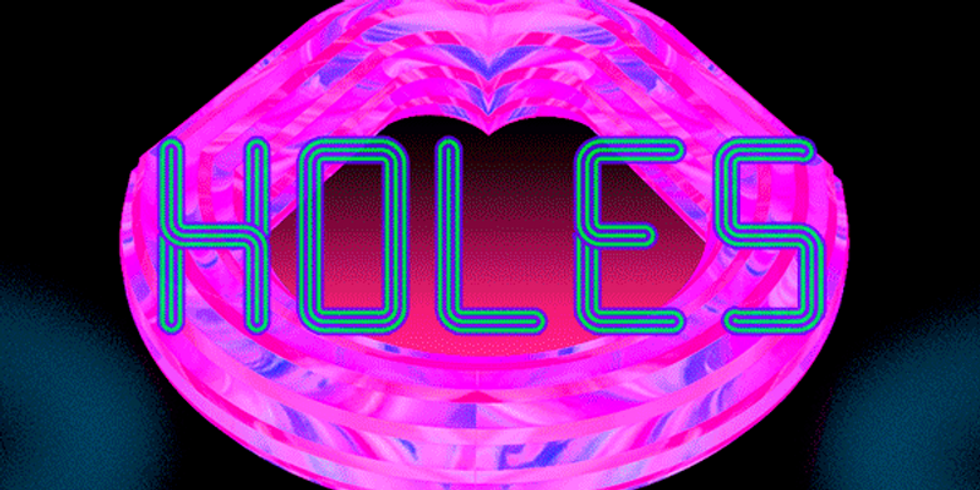 Storefront for Art & Architecture's annual Critical Halloween party is Tuesday, October 31, 9:30 p.m., at the Museum of Sex (233 Fifth Avenue). This year's theme is "HOLES," as in: "made of nothing, yet described by what takes place around, inside and through them." Dress appropriately and (perhaps) win a prize. Tickets are HERE.
Performance-art collective (and band) Fischerspooner hook up with The Carry Nation on Friday, October 27, 8 p.m., for their first NYC show since 2009. The group has a new album called "Sir" produced by Michael Stipe of R.E.M. and BOOTS out February 16, 2018, on Ultra. And if you happen to be in Vienna, their site-specific installation (also called "Sir") is on view through Sunday at MUMOK. Tickets ($30) are HERE. )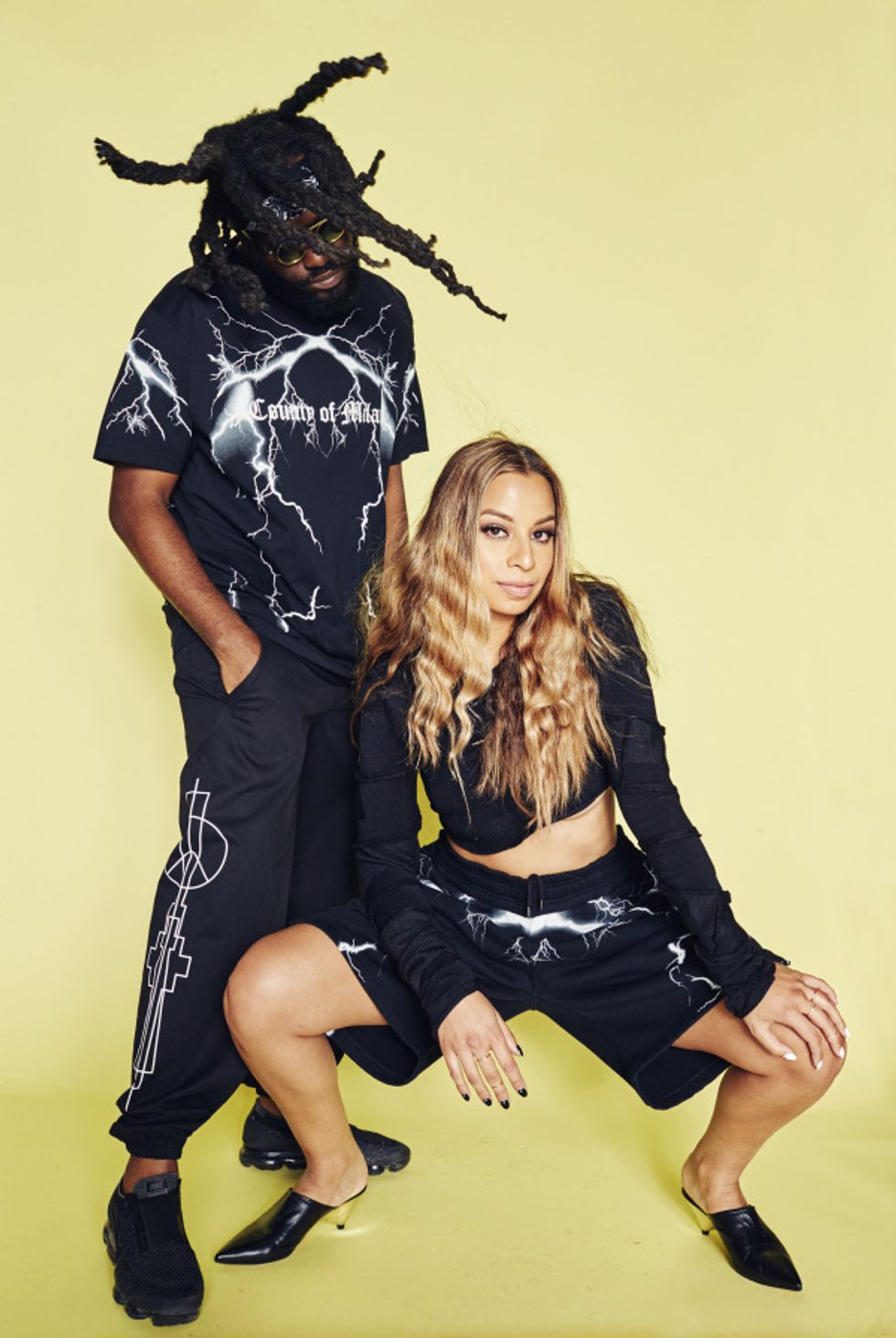 Electric Punanny (MeLo X and Jasmine Solano). Photo by Nick Onken via Brooklyn Museum
MeLo X and Jasmine Solano — aka Electric Punanny — host and perform at the "Mummy Masquerade" in the Brooklyn Museum's Rubin Pavilion on Thursday, October 26, 7 to 11 p.m. The party celebrates the museum's exhibition "Soulful Creatures: Animal Mummies in Ancient Egypt." Advance tickets are $16, $25 at the door. Opening set by ADAIR. 15% goes to hurricane relief in Barbuda.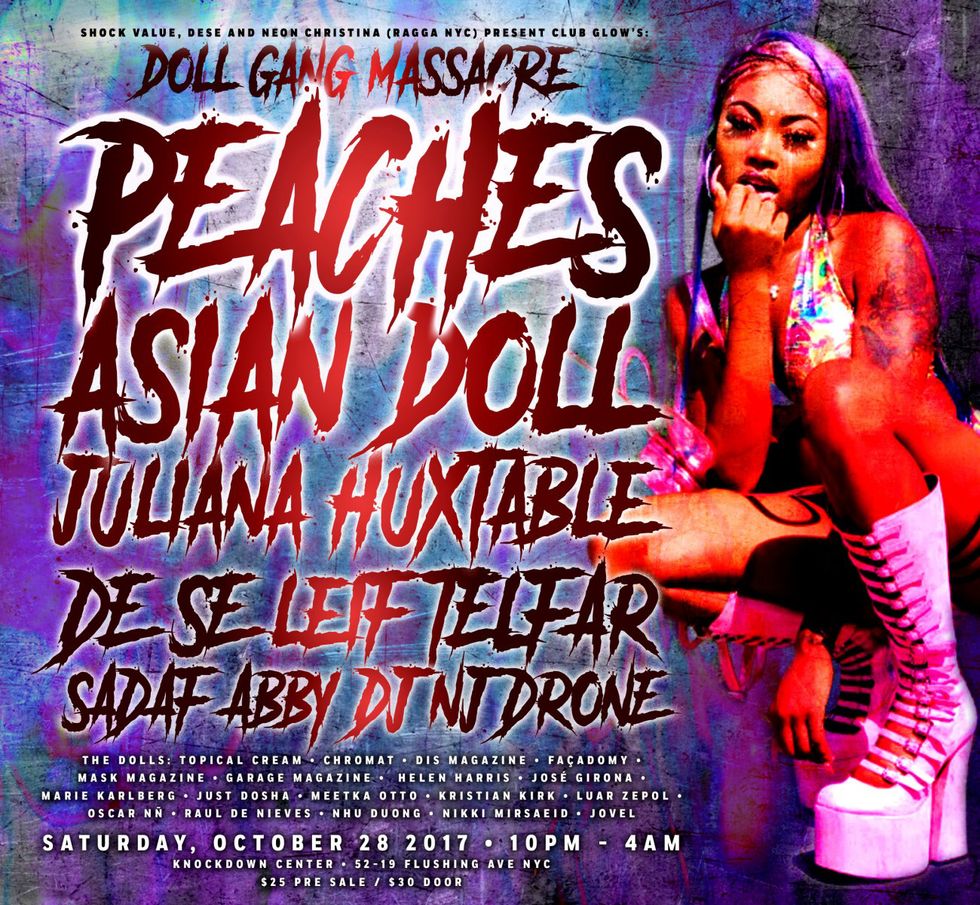 "PS2001 Space Oddity" is the theme of the sixth-annual Halloween Ball with Susanne Bartsch at MoMA PS1 (22-25 Jackson Avenue, LIC) on Saturday, October 28, 8 to 11:55 p.m. DJ sets by Eli Escobar, W Jeremy, Tom Peters, Amber Valentine and Bridget Marie ZaZaZa Disco — plus fab performers and incredible hosts too numerous to mention. It's SOLD OUT, but you could head over to Knockdown Center (52-19 Flushing Avenue, Queens) for their "Doll Gang Massacre", also on October 28, 10 p.m. to 4 a.m., with Peaches, Asian Doll, Juliana Huxtable etc. Tickets ($20/$30) are HERE.

via The Kitchen
The Kitchen (512 West 19th Street) hosts "Dirty Looks," a "harrowing evening" of queer experimental film, video and performance featuring Kembra Pfahler and her band The Voluptuous Horror of Karen Black on Monday, October 30, 8 p.m., at . Tickets ($20) are HERE.

via el Museo del Barrio
El Museo del Barrio's (1230 Fifth Avenue) "Dia de las Divas" fundraiser is October 26, 8 to 11 p.m., with a live performance by Princess Nokia; an altar by Cruz-Chong; food by Side Park Cafe; and cocktails by El Jimador Tequila and Brooklyn Brewery. Tickets ($125) are HERE. Plus there's a silent auction.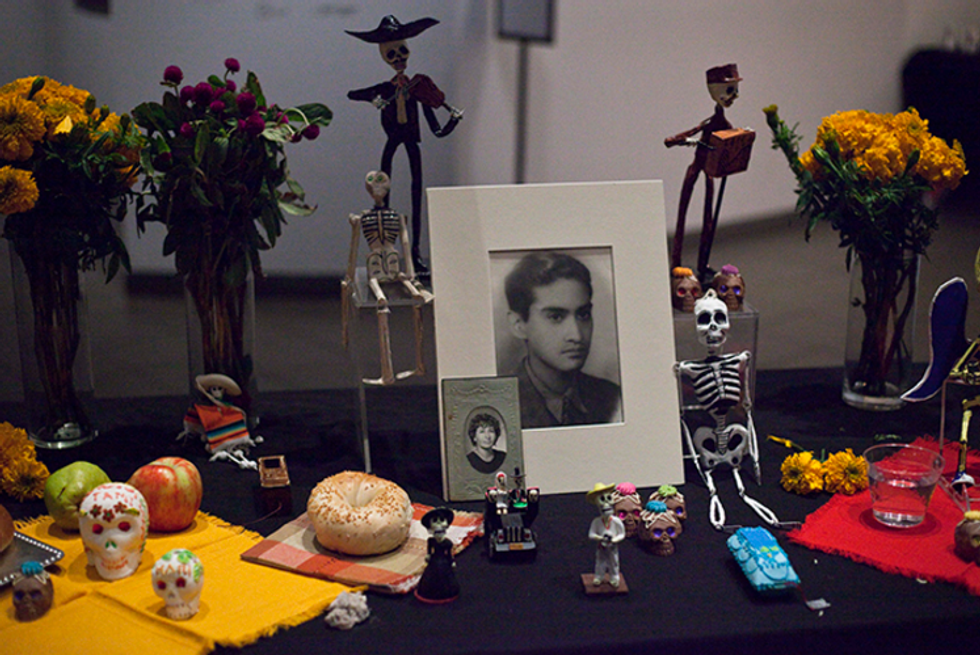 via American Folk Art Museum
The American Folk Art Museum (2 Lincoln Square) celebrates "Dia de los Muertos" in their gift shop on October 27, noon to 5 p.m. Enjoy a piece of pan de muerto and pick up a piece of Mexican folk art by La Sirena. It's also the museum's Free Music Friday, so stick around for performances by Rust Dust, Caves & Clouds and Meaghan Burke from 5:30 to 7:30 p.m.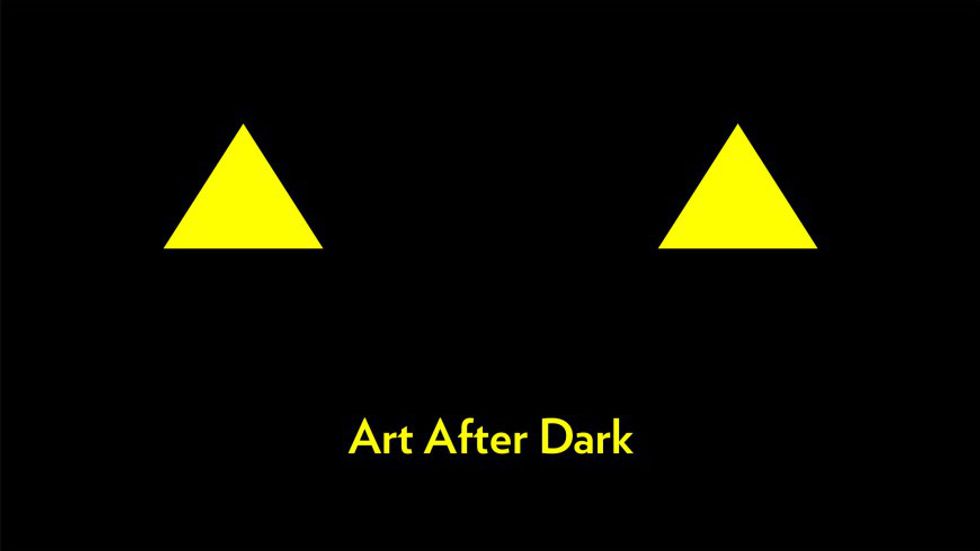 The Halloween edition of the Guggenheim's Art After Dark (1071 Fifth Avenue) event series is Friday, October 27, 9 to 11:45 p.m. Check out their "Art and China" exhibition — plus there's a cash bar and music by DJ Bearcat. Tickets ($65) are HERE.
MoMA (11 West 53rd Street) hosts a screening of Brian De Palma's "Carrie" along with an exclusive viewing of the Louise Bourgeois prints and spider sculptures in the Marron Atrium on Friday, October 27, 9:30 p.m. Wear prom attire and enjoy drinks, candy and dancing. This is a PopRally event and tickets ($20) are HERE.