Fans of hip-hop music and its rich, influential culture and history got a long overdue special gift in journalist Vikki Tobak's recent book Contact High.
As such, the book received rightful praise for a more subtly graceful method of showcasing the genre's most iconic stars, from Andre 3000 and The Notorious B.I.G. to Salt N Pepa and Aaliyah.
In doing so through the photographic method of contact sheets, we were treated to a vulnerable, perhaps more raw side of figures better known for their public personas. As Tobak herself put it, "I wanted to focus on hip hop's visual identity with Contact High. People knew what hip hop sounded like, but what did it look like?" Considering this, Tobak's book sought to capture the essence of hip-hop.
And when it comes to essence, someone who remains as enigmatic as she was present both in life and death is aforementioned R&B singer Aaliyah. Many a thinkpiece has been written in the past few decades on the star's mystery, humility, and grounded sense of purpose — all qualities that made her a muse to genre greats like Missy Elliott and Timbaland. As Aaliyah herself sang, she was truly "one in a million," and she always seemed self-possessed enough to know it on a level that was deep and innately spiritual. This is what made it so chilling and tragic when her life was cut short in a plane crash in 2001 when she was just 22.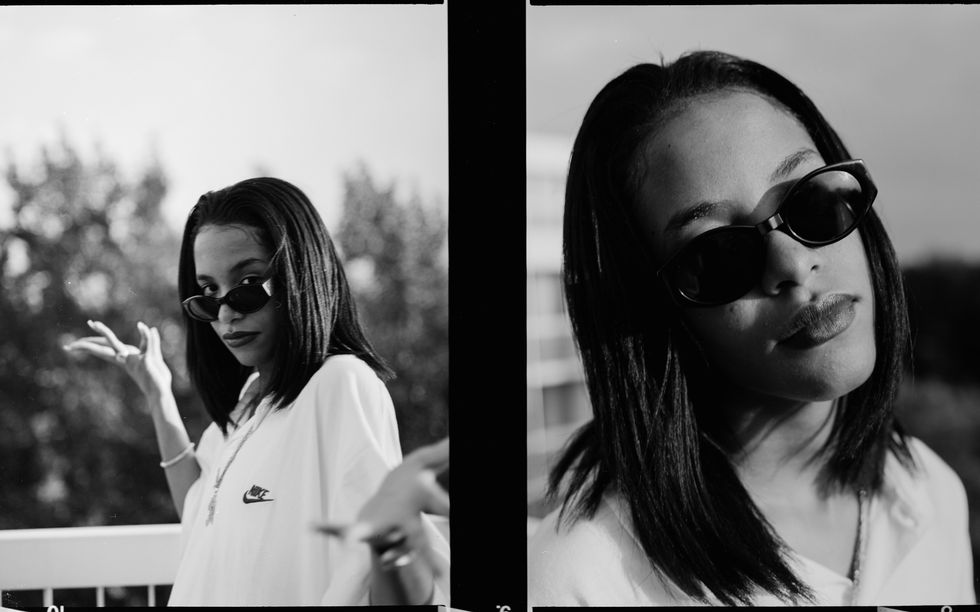 17 years later, fans still look for clues of the singer, who, in her music and videos, flirted with darkness and light in equal measure, careful to never give too much of herself away — a pre-and-post-Y2K feat that garnered great fascination. Still, we wonder: who is Aaliyah? In a series of images featured in Contact High, we now have another piece of that puzzle, in contact sheets and never-before-seen photographs of the singer at 15 years old. Eddie Otchere (stylized: eddie OTCHERE) is a UK photographer who gained some insight into Aaliyah's enduring star power by spending time with her just as her star was beginning to rise. See and read about what he captured, below:
How did you first encounter Aaliyah?
The first Aaliyah shoot happened in 1994, think it was roughly November, late 94. And it was in [London's] Swiss Cottage Hotel, on the rooftop of this particular hotel. I walked into the room and there she was, sitting at the table with her press person and my friend Andrew. I think she was 15, so in 94 I would have been 19 at the time. So we come in, sit down, and we chat. The first thing I notice is that my friend Andrew [who is doing the story about her at the time] begins to melt into the table, and he starts to soften up and he's getting all gooey, like he just met someone he fancies, and I'm like dude what the hell has happened to you, you have like completely faded into this other person. Because he's a cynical bastard all the time, and to see him in her presence was very beautiful for me, but very surreal for me because I've never seen anyone do that to him. So anyway, the interview went well and that was fine, and I was shooting her at the table with a color film and that was cool, but it wasn't working well for that camera. I put in a black-and-white roll of film and asked her to stand outside and shoot, and in the back of my head I can recall odd things like the Tasmanian devil chain she has around her neck.
What struck you about that chain? What else struck you about how she appeared to you?
I thought it was quite sweet in a way, it was a signifier of who she was. So the shot of her standing there with chains around her neck, and then her swag, was just so of her time, like the oversized white tee, and it was really simple, it felt like a simpler time. You just wore a night top that you found in a department store, it was that simple, and nothing more to it. So many Americans were not rocking European brands like Gucci; American brands were American brands, and European brands were European brands. With that in mind, Aaliyah's swagger was quite beautiful and endearing as well. Also I remember little touches like the beautifully manicured nails, the hair with the baby whispers. All of it was just a beautifully crafted American silhouette. Which, looking back on it, it was quite interesting at the time. Europeans, Americans, New Yorkers, people from Chicago, they were all dressing differently and it was quite nice.
It can be argued that in taking Aaliyah's photo before her star rose, you helped immortalize her.
Well, certainly from her debut album to her future productions with Timbaland, she evolved tremendously, and so we had the chance to showcase her in 94. But also, it was Eric Johnson's shots of her in 2001 later that you can see the growth in her. And that's what I feel the beauty of photography is, that you can look back over time and what's revealed is what remains in film, no Photoshop. It just is what it is. She's frozen in time.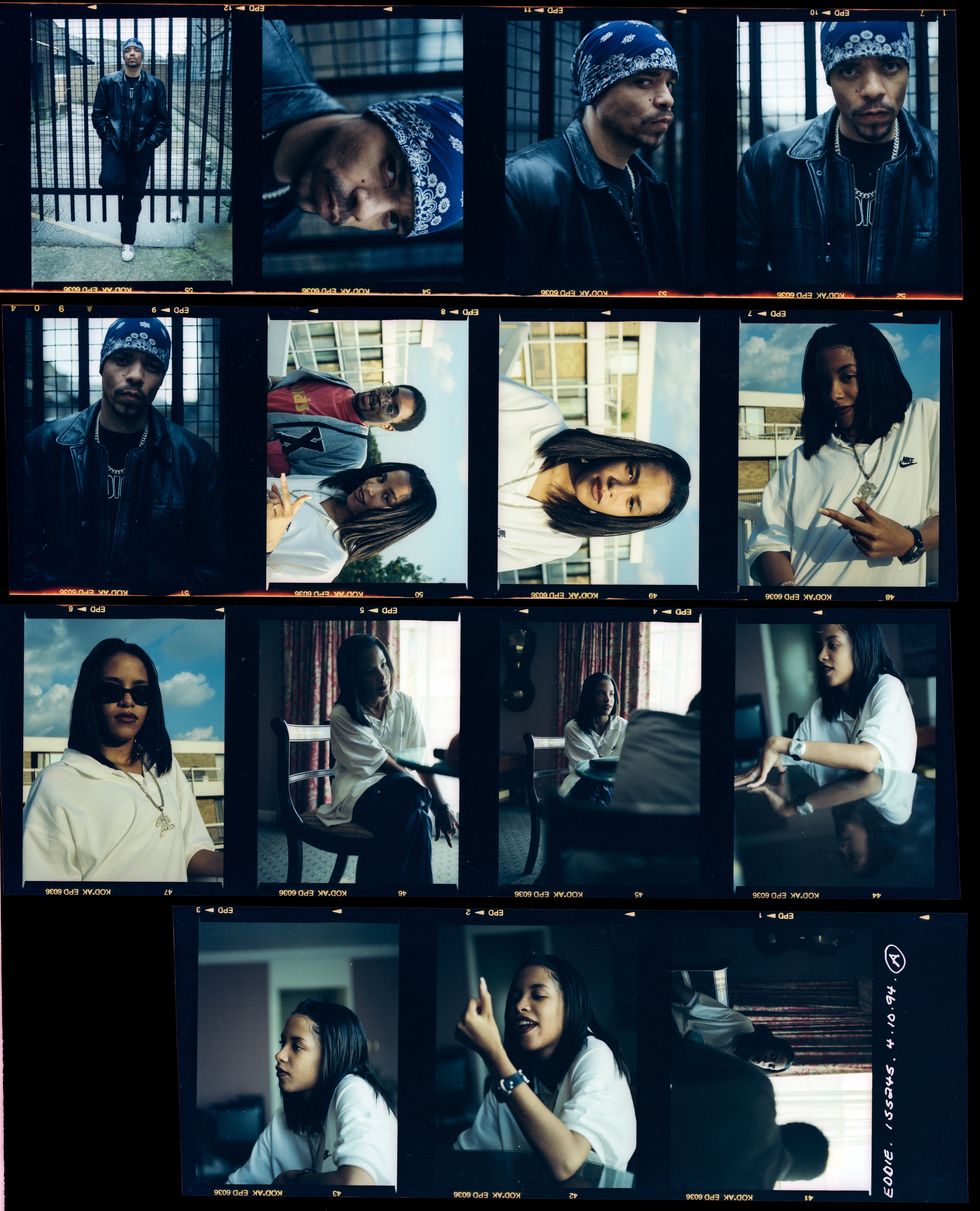 As a British photographer employing distinctly British technology for shooting, how did it feel to capture a moment with her; to capture her aura then? Did you feel like it was your moment?
Well, it was great, and she had a way about her. But I think her aura grew. In her youth, her aura wasn't physical, you didn't see it coming from her, but when she spoke you felt it, because her voice was so musical. The tone of her voice was really unique. And that's how she got you. She would say a few words and was just like she was singing every time she spoke, and it was so soft and lovely.
Did you ever get to photograph her again? And did you have much of a relationship to her music?
I loved her songs. "It's Whatever" from her last album has to be my favorite. The beats, the smoothness, it's so stunning. I photographed Aaliyah again in the 90s when she was much older, and yes, I got to catch up with her older, more mature, more confident, more vivacious self, and I was watching that aura unfold. Also, certainly her music had become more aligned to who she was in the later years. They really felt like her songs. But "Four Page Letter" is an important record as well, there is a cut of it that strips all the beats and that's beautiful. "Try Again," I mean phenomenal record from the dark synth to the choreography. "If Your Girl Only Knew," the bass line is insane. And she worked with Ginuwine, Timbaland, Missy — they solidified that whole sound. And some of those who came from the 90s, you can see how they have embraced the culture; those producers and artists had so many beats and such range in their repertoire. It was great to see that emerge.
Photography: eddie OTCHERE
Sign Up For The Morning PAPER