Tactile clichés flow easily off the tongue for Whitney's music. Whitney sounds like sunshine. Whitney is for warm summer nights. Whitney feels like a friend's embrace. There are more elevated and less cringey ways, for sure, to describe the eminently pleasant sound of the Chicago rock band. But give their new album Forever Turned Around a listen, and tell me these aren't simply some of the most effective ways to put it.
What's cool is that the band's frontmen, vocalist and drummer Julien Ehrlich and lead guitarist Max Kakacek don't mind at all. "When we were mixing we were using those words quite a bit," Julien says, referring to "warmth" and "hug."
"Being sincere is something we're always going to do, whether it's trendy or not."
That kind of earnesty is among the charms that attracted Whitney's now-devoted following to their debut album Light Upon The Lake in 2016. At the time of their breakout, music was missing Whitney's flavor of easygoing, unpretentious mid-western folk-rock. "When we were writing our debut, the state of music was really different," Julien says. "Back in 2014 or 2015, it was all about being the cool guys in indie rock. So we were really just trying to be ourselves, and not create another version of us. Being ourselves just made a lot of sense and it worked. Being sincere is something we're always going to do, whether it's trendy or not." Meanwhile, a wave of queer and female-fronted groups were tearing down other, insidious indie rock rules. But in a moment where zeitgiesty themes, genre rebellion and brutal vulnerability were prized, Whitney's classic motifs, pastoral analogue sound and understated lyricism were a fresh of breath air in their own way.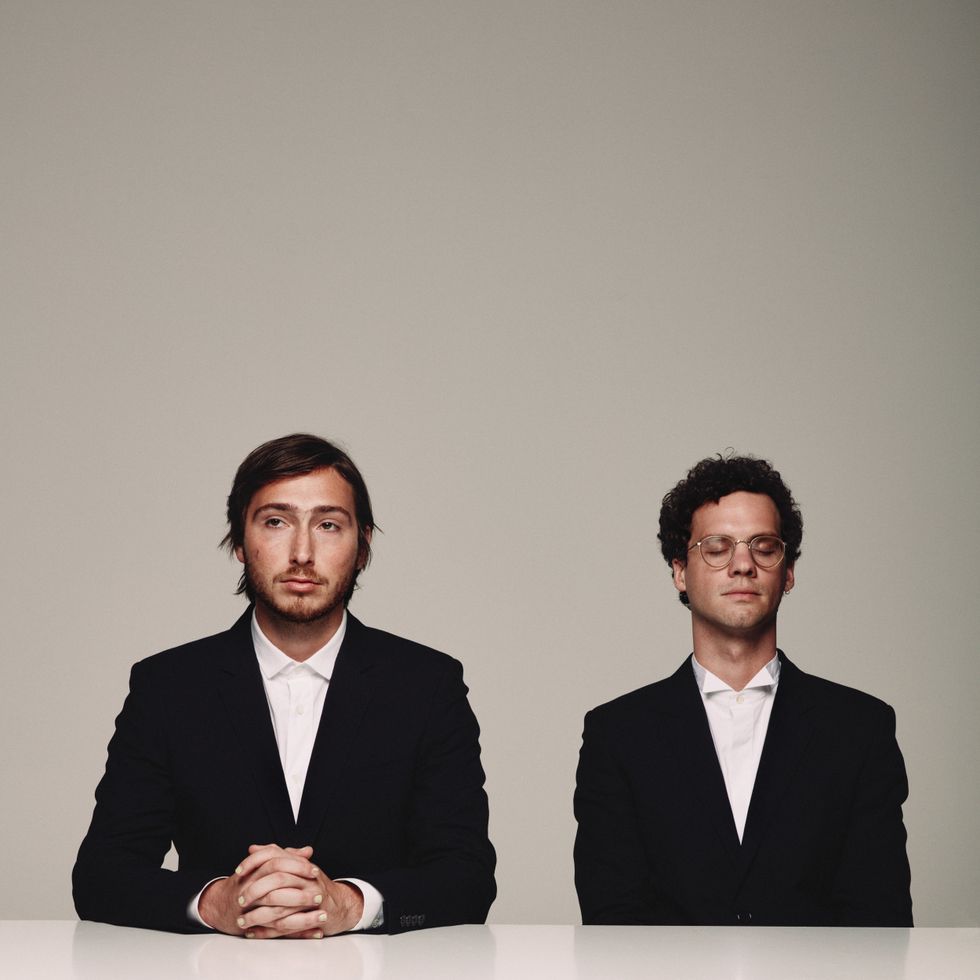 (On Julien, Left) Suit & Button-Up: Saint Laurent (On Max, Right) Suit & Button-Up: Saint Laurent
Their retro woodsiness — from their verdant album covers, to the rustic fiddle and brass that brighten their songs, to the way they write about nature as a way of reflecting on their lives — is also a key part of the Whitney appeal. Or at least, the way they interpret those tropes, without sounding affected or overly nostalgic. This was a gift for those who love pretty folk sounds and storytelling, but feel alienated from the genre, which sometimes feels out of place entirely in 2019.
Those who fell in love with Whitney's bright, shaggy sound on Light Upon The Lake — one that's perpetually ambivalent between between euphoria and melancholy, thanks to Julien's falsetto — will be happy to discover that Forever Turned Around is a same-but-more kind of sophomore album. "If people liked Light Upon The Lake they are really going to fuck with this," the singer quipped in an interview earlier this year.
"It's impossible for us not to be attracted to natural imagery. But we really tried not to be too 'man of the woods' about it."
Indeed, the record fortifies the sonic home Max and Julien built on Light Upon The Lake, with 10 bright, loose songs that flicker like dinner party candles after midnight. However, their compositions are newly ambitious and intricate tapestries of their nearly 10-person instrumental collage, which on the recording, includes Ziyad Asrar and Print Choteau (guitar), Josiah Marshall (bass), Malcolm Brown (keys), Will Miller (trumpet) and Macie Stewart (strings). "We always leave a bit of space for people like Will who plays trumpet, or Macie, who plays strings. We take control over the grander arrangement, but build the songs around them," Julien explains. The bright color and familial energy of Whitney's blissful live show is preserved on the recording, under the expert touch of producers Bradley Cook (Hand Habits, Bon Iver) and Jonathan Rado (Weyes Blood, Father John Misty).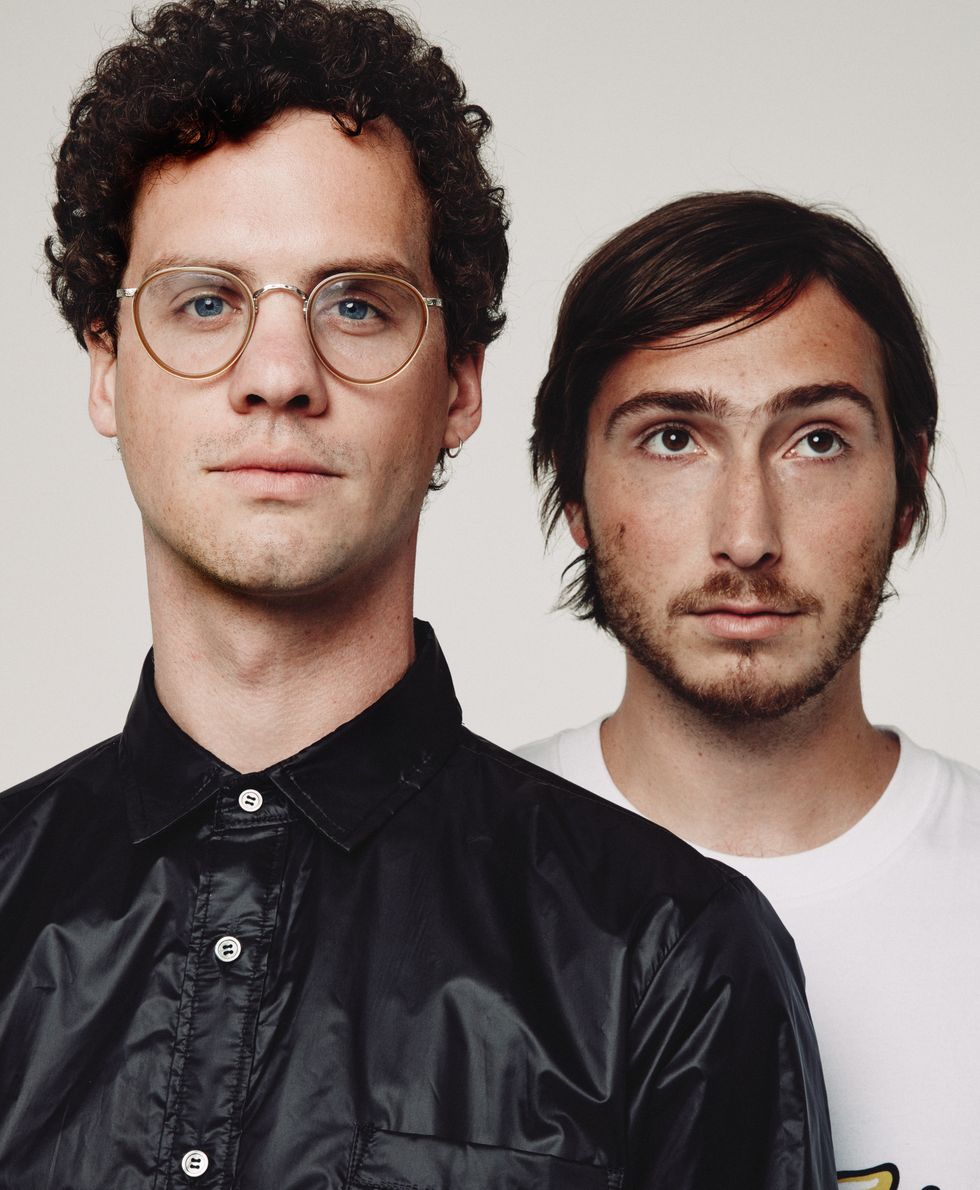 (On Max, Left) Tracksuit: Sacai (On Julien, Right) T-Shirt: Alexander McQueen McQ
They stay true to their infatuation with the natural world. The cover of Forever Turned Around is an oil painting of a forest under the stars by Sofia Macht. The record includes a jazzy instrumental interlude called "Rhododendron," as well as lyrical trips to lonely sunrises, groves of redwoods and rolling rivers; through falling rain and blowing wind.
Whitney is self-aware, however, about the clichés they sometimes narrowly avoid (the video for their hit "No Woman," portrayed a whiskey and PBR-fueled, titularly womanless jam session in the woods). They set out on Forever Turned Around, to use nature only as a way to tell their stories. "I think it's impossible for us not to be attracted to that imagery," Julien says. "But we really tried not to be too 'man of the woods' about it. Using the imagery of nature is an easy habit for us to fall into." To clarify, he's referring to both Justin Timberlake's poorly received fifth studio album, and the general archetype of the bearded, angsty guy in a cabin. (Max and Julien are both clean shaven, though flannel and hikers are a part of their uniform). "Yeah, that was kind of a mantra in the lyric writing process: 'Is this too man of the woods right now?'" adds Max. "We know that's played out. We want to make it more about our actual emotions." Julien continues, however: "If you have a beautiful drive through a valley, like we did before writing 'Valleys (My Love)'... it just makes its way into the song."
It's fitting that Whitney's iconography is rooted in nature. While some music is intended to provoke and challenge, the comfort and refuge that people seek in the outdoors feels akin to what attracts people to Whitney's music. This can be interpreted literally or figuratively. Reviews often remark that the band is the perfect backdrop for smoking a joint in the woods, or lounging around a campfire. I'd say the warm, weighted blanket of Whitney's songs — thicker and softer than ever on Forever Turned Around — is equally appropriate for stemming an oncoming panic attack (a condition some find time outdoors helpful for).
Max and Julien embrace the soothing quality of their music, because that's what they needed while writing Forever Turned Around. Although the record alludes to contentment and sounds serene, this doesn't describe Max and Julien's collective ("We've lived very similar lives for the past seven years," says Max) state of mind when they got off the road after nearly three years of touring, and sat down to write their follow-up to Light Upon The Lake. "We didn't feel calm or peaceful, but we needed what we were making to feel therapeutic and clam in a way. We needed it to ground us," Julien explains.
"If you can hear Light Upon The Lake, it's a little bit scrappy, just kind of screwed up. This one is a little more warm, I think, because when you're rounding into your thirties, I think you kind of need that."
For one thing, the album didn't flow smoothly at first. Creating it involved confronting some of the ego that's surely inherent to having a break-out debut. "The first record really came about song by song," Julien describes. "We wrote one song together, then tried another one. It was a 'man, this is great!' moment. We just kept writing songs and an album came out of that. The second one was after two and a half year of touring. That's the nature of a debut record: our spirits were in the right place to begin with. Maybe we felt a bit invincible, like we could just sit down and write the perfect album." Max adds, "For the first six months, it didn't really work. In terms of our state of mind, we were exhausted. There was a hump to get over, till we felt like were making something we truly cared about."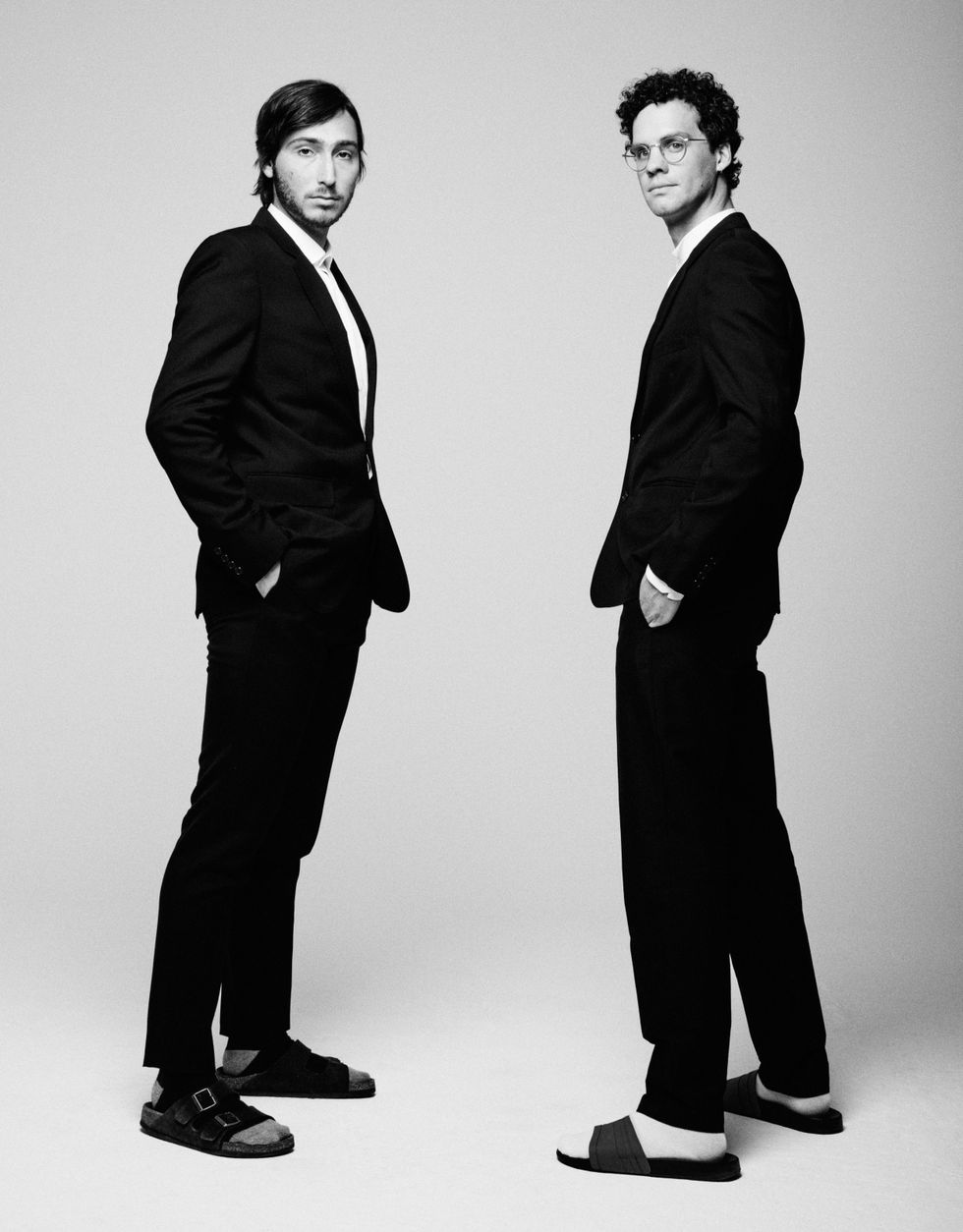 (On Julien, Left) Suit & Button-Up: Saint Laurent, Socks: Adidas, Slides: Birkenstock (On Max, Right) Suit & Button-Up: Saint Laurent, Socks: Adidas
The album bookends a period of of chaos and transition for both 27-year-olds. "We both fully committed to our partners midway through touring. When we got home to write for an extended period of time, it was tough. We were so used to being away, we started to realize that everything isn't just perfect once you get home. A lot of the songs are about the ups and downs related to that, feeling lost in your relationship, but not giving up. Like, 'Giving Up' listens like a breakup song, but it's really more about commitment. And then just other weird anxiety changes. Like, you know, wondering when you're going to die and stuff," Julien says.
Beyond discrete life events, Forever Turned Around feels shaped by Max and Julien's experience of aging — of leaving behind the period of life where chaos and heartbreak hold a certain allure. "If you can hear Light Upon The Lake, it's a little bit scrappy, just kind of screwed up," Julien ponders. "This one is a little more warm, I think, because when you're rounding into your thirties, I think you kind of need that. Like 'wow, I'm legitimately old.' Comfort and grounding becomes a necessity, something you actually seek out."
"When we were in our early twenties, we were all over the place. I literally slept on Max's couch for six months." Julien recounts, as Max chimes in, "Our house didn't have a door handle... anyone could come in and out." Julien continues, "Now I live with my girlfriend. I don't really go out anymore. Like, I just bought a Smart TV," he says, admitting to the ultimate harbinger of your 30s.
Whitney grapples with stability, as much as instability on Forever Turned Around. There's a palpable relief and gratitude on songs like "Used to Be Lonely," about settling into relationships and a place in life, where the highs might not be as high, but the lows aren't as extreme either, and you always have a place to land. As Julien points out, the lyrics of album opener "Giving Up," read like a break-up track. But if you listen closely and take in the ebullient melody, you'll hear an author pushing through a challenge in a serious relationship, rather than succumbing to it, like he might have when he was younger: "I've been hanging on, because you're the only one I love/ Even when you're giving up."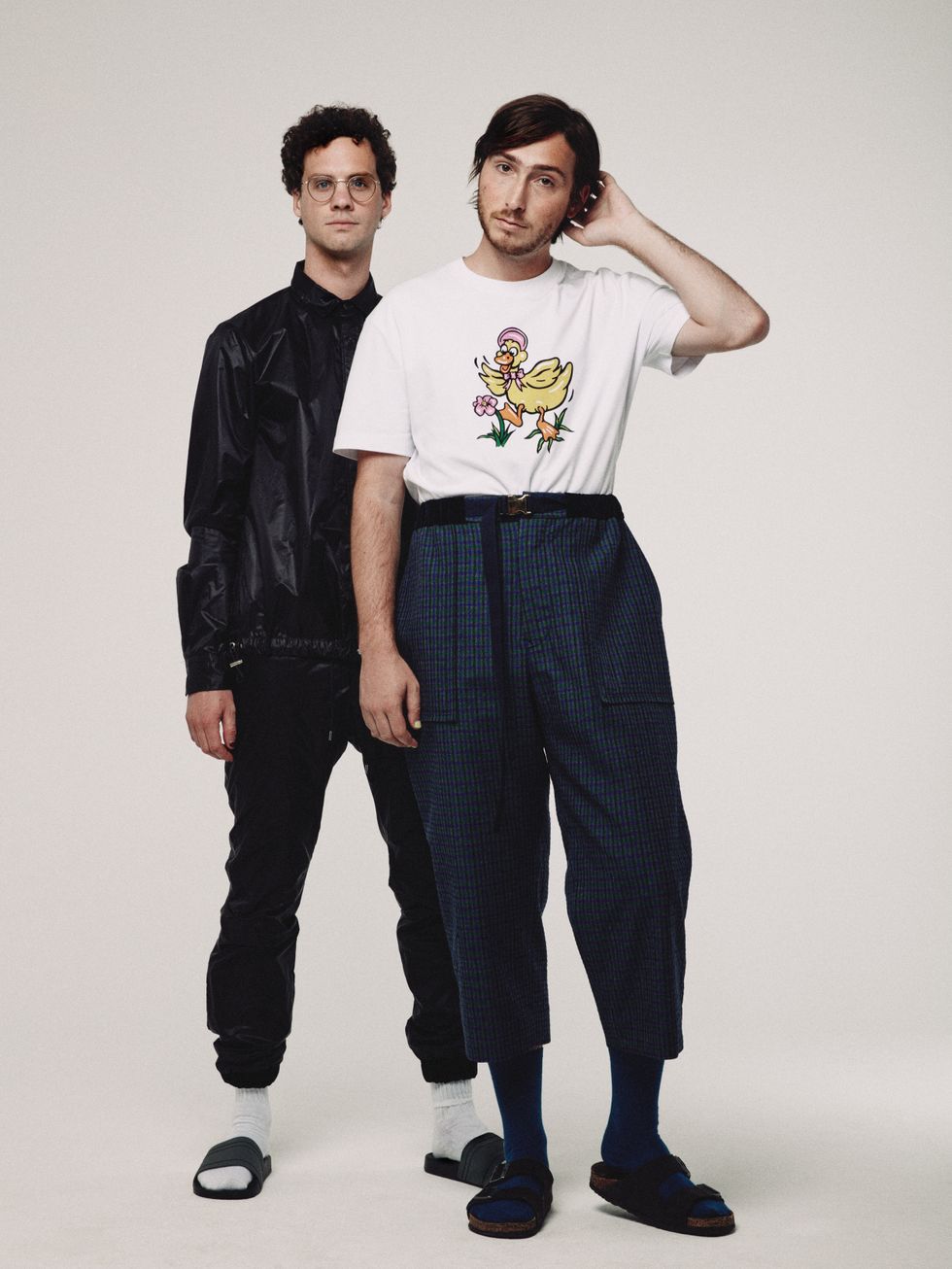 (On Max, Left) Tracksuit: Sacai, Socks: Adidas (On Julien, Right) T-Shirt: Alexander McQueen MCQ, Socks: Adidas, Slides: Birkenstock
Confronting loss and change is also a through-point of the record. However, unlike something bloody and tortured you'd call a "coming of age album," there's a clarity and grace to how Max and Julien write about these topics. It's a quality that makes Forever Turned Around feel a bit like a junior version of Vampire Weekend's Father Of The Bride — another deeply cozy 2019 record, that explores not just particular changes and losses, but the inevitability of change and loss itself.
Whitney occasionally protests. "Tell me everything stays the same," Julien begs in the opening line of "Song for Ty," at first unable to accept uncertainty: "Will we meet again down the way?" But by the end of the song, he come to terms with it: "Though the changes young/ You'll get by/ Anything could happen." On "Friend of Mine," which gently mourns the loss of an old friend, Whitney doesn't sound hurt or angry, but just a bit sad, as they sing "You say you're still a friend of mine/ drifting away like a cloud hanging over the pines," — like they're no longer resisting how people come and go. "Before I Know It," is another, almost awe-struck paean to change, both cosmic and personal: "Seasons changing before I know it... I keep changing before I know it."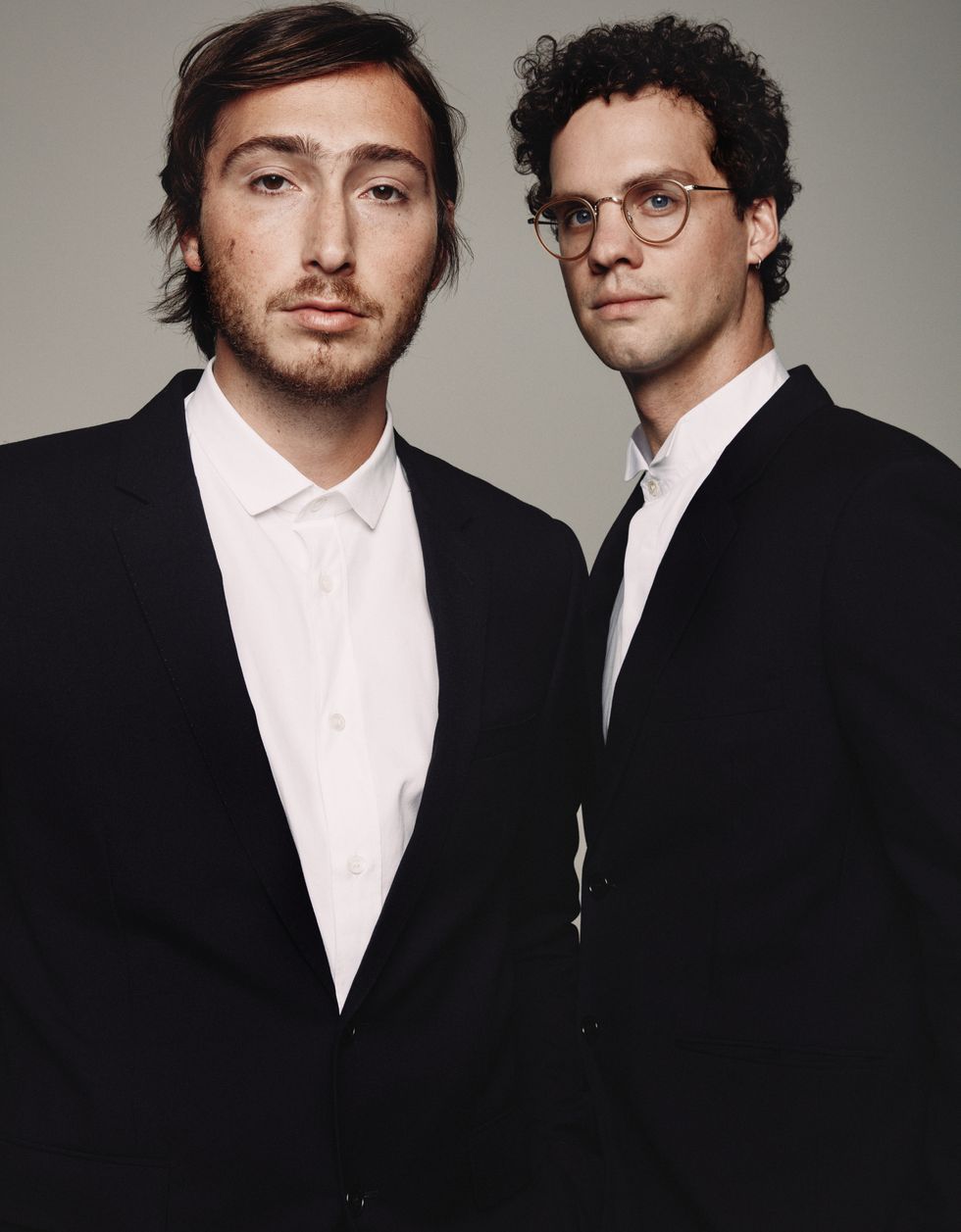 (On Julien, Left) Suit & Button-Up: Saint Laurent (On Max, Right) Suit & Button-Up: Saint Laurent
The band lets go of the anguish about loneliness that marked Light Upon The Lake, seeming to accept it as part of life, instead of the calamity it seems like when you're younger. "I could spend my life alone/ Out where the redwoods grow/ I could pass the time/ Watching the rivers roll/ Till we're back together dancing slow to the sound of the radio" Julien sings on "My Life Alone," relishing the joys of being in love, but also relaying his discovery of a painless, even gratifying way to experience solitude that's out of reach for most of us in our twenties.
As Whitney puts to rest some of the questions that plague those years, they make room for bigger ones. "Day & Night" sounds like a classic, albeit extremely tranquil mediation on mortality: "Always getting closer to the great divide/ Wheels spinning through the city/ Chasing the state line," Julien sings. "Now and then I remember/ There's an end in sight/ When it hits me/ feels good but strange at the same time." However, Max explains it was actually inspired by coming home from tour, and going back to the quotidian — but partnered — everyday after years of screaming crowds and lonely hotel rooms. "That one's grappling with the anxieties and the symptoms of what happens to you on tour, in this glamorized but also very sad way. Like how when we got home to write, we weren't feeling those extreme highs and lows of tour," he says. "It's what I consider the most restless song on the album, as far as a darker personal story of ours."
There's an appealing humility to Whitney's lyrics, which first and foremost, sound beautiful when you sing them. They're strikingly simple, enmeshed with idiomatic motifs and universal questions, like a horoscope, or a friend who knows how to give good advice by repeating back to you what you've just said. But their songs don't come off as boilerplate, as they wrangle familiar stories into new formulations which feel credible and honest, while being narratively flexible.
"We try to keep things as universal as possible, but we're also trying to find comfort within certain life events that are isolating," confirms Max. The title (which is a homonym, depending on where you put the emphasis), is a prime example of this. It can either point to a state of perpetual confusion, or deep clarity, like, as Julien clarifies: "Your literal idea of forever, turning around and doing a 180, and realizing that you're not going to live forever, but celebrating that."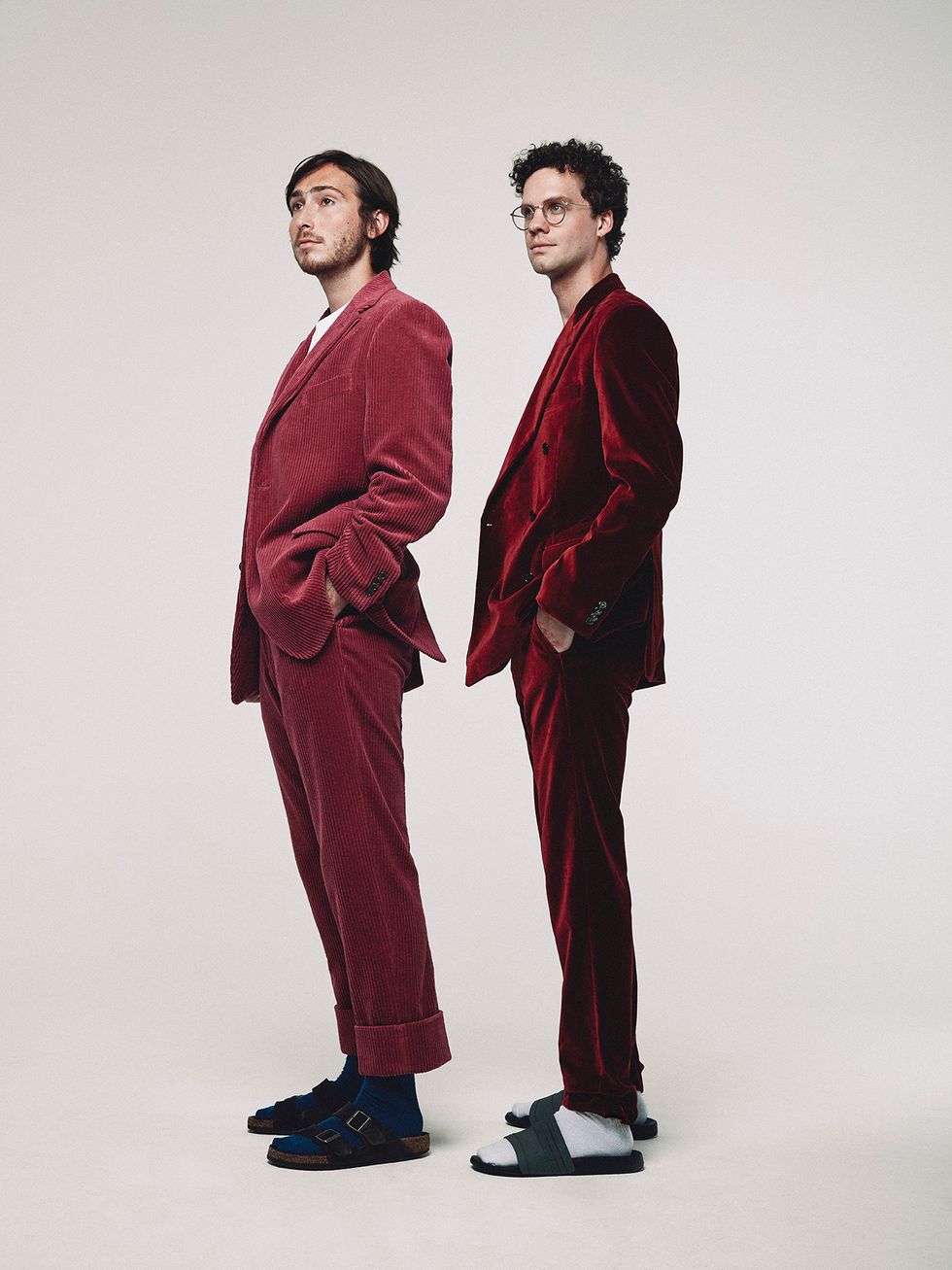 (On Julien, Left) Suit: Todd Snyder, T-Shirt: Alexander McQueen McQ, Socks: Adidas, Slides: Birkenstock (On Max, Right) Suit: Todd Snyder, T-Shirt: Alexander McQueen McQ, Socks: Adidas
It's not that Max and Julien have everything figured out, or present like self-actualized gurus on the record. But over the album's 10 tracks, they discover comfort and stability, from within discomfort and instability. As Julien suggests on a line from the album's midpoint "Valleys (My Love), that seems to extend out beyond interpersonal struggles. "There's a fire burning in the trees/ Maybe life is the way it seems." Even when life is painful, it's best not to dwell on the mistakes you can't fix, or the kinds of suffering you can't prevent. He surrenders regret in the title track: "Should've seen this coming somehow/ The highs keep falling back down/ But it gets no better/ Thinking about the way forever turned around."
It's a cathartic process to witness on Forever Turned Around — an album that makes a strong argument for beautiful music as a refuge from life's harshness. Rather than that artistic project being cowardly or withdrawn, Whitney made a record informed by the world in its own way. "If we had like a post-punk side project, we could make something tackling overt political themes, and hit on heavy stuff. But I don't know. With our band, I think we're here to provide a bit of comfort and make a record that feels a bit more like a hug. Hopefully, this record can be a comfort."
Sign Up For The Morning PAPER