"Do you remember the first time you died?" Arca asks, mounted on top of a flipped car, fog spewing out the front engine with its front lights shining into a dark, murky pond. "I remember the first time I died." We're only 10 minutes into the Venezuelan producer's set for The Shed in NYC, and Arca is already disheveled — arguably on the verge of mania.
He's soaking wet, having just violently kicked through water in towering stilettos; he's lost half his bullet hole manicure (designed by Juan Alvear), having just climbed onto the vehicle's undercarriage with bare hands; and his wig is completely eschewed, having fallen off when he whipped his head back to the beat of a gunshot and woman's orgasm mixed together.
"I was in a car crash," he says. "The other car flipped over. My mother... she told me to lie about what happened if a police man ever asks. From that point on, the upside down car... it was me." With an ear-to-ear grin and grinding, metallic production, Arca's set began, unfolding into an immersive hour of stylish, bloody performance art that proved why he's garnered fans like Björk and Kanye West.
Related | Kanye West: In His Own Words
Rather than having his audience stand in one place throughout the show, Arca collaborated with set designer Arthur de Borman to create various zones within The Shed that made the production mobile. In addition to the car crash centerpiece, which was lit with a violent red light, decorated with flowers and washed with a dramatic sprinkler, Arca later moved to a medical chair where he performed a near strip tease and covered himself with fake blood encased in IV Drip pouches. He writhed seductively, spreading the blood on his body and latex outfit, while adjusting lights on the chair that became spotlights once the sun went down.
Arca might be most recognizable for co-producing tracks off West's 2013 album Yeezus, as well as closely collaborating with Björk on her most recent LPs Vulnicura (2015) and Utopia (2017), but his setlist for The Shed was focused exclusively on his own solo material, with its devilish synths, soaring strings and ominous, operatic vocals.
Working through tracks like "Piel" and "Anoche," Arca invited the audience to follow him, at one point openly having a costume change in one corner and later climbing onto the roof of the bar in another section. The entire experience was at once completely selfish and selfless, forcing everyone to chase Arca like voyeurs, while he gave his all — soaking wet, drenched in blood and running around in teetering heels.
PAPER caught up with de Borman, the set designer behind Arca's spectacle for The Shed, to talk about what it took to bring this hedonistic performance to life.
You've collaborated with Arca on several projects, including his "Reverie" and "Anoche" videos. How did you originally connect, and what is your working relationship like?

Our original connection was through Jesse Kanda, who was directing the music videos. [Alejandro and Jesse] were flatmates and came to me with an idea, and it was my job to realize it the best way possible. Through that process and then working with Jesse again on the Björk's "Arisen My Senses" video, which Alejandro was involved with too, the trust and understanding grew. Alejandro reached out to me after this about a still shoot he wanted to do. We talked through ideas, but it had a very quick turnaround. Due to changes in timings it wasn't possible, but the creative process between us was realized and that led onto The Shed opening conversation.
Related | Björk & Arca's New 'Arisen My Senses' Video Will Make You Squirm
What's your background?
My background is not based around set design at all; I studied illustration at Falmouth Art School. When I graduated, I would spend hours and days in my house drawing (due to my illustrations being very detailed) and wouldn't see anyone. I love drawing, but I didn't really enjoy that part where I wouldn't see anyone for days, so I stopped and started trying to work out what else I wanted to do. While working for a production company (HSI London), I came across set designers and thought I would try that out. So I quit working as a runner in the production company (I was a terrible runner and 23, so I was always coming in hungover) and started assisting about five set designers on and off. While doing this, I learned the trade, made mistakes and worked out that I loved doing it. All the designers I was assisting were very encouraging and helpful. When they wouldn't want to do a job, [they] would pass it down to me and that's how I started. Due to working hard, luck, a bit of talent and willingness to learn, I am where I am.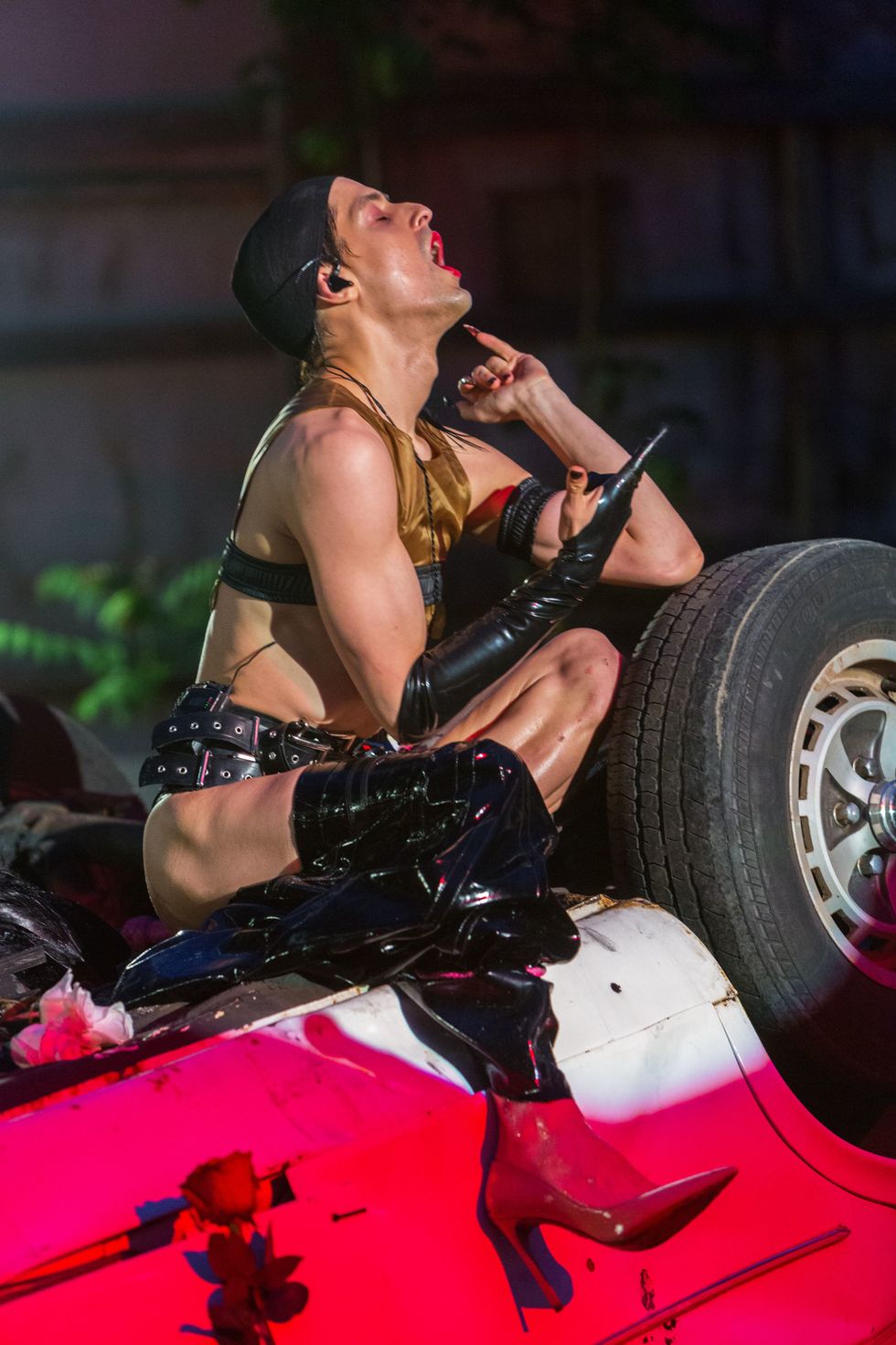 Photography: Kate Glicksberg
What were the conversations had around Arca's interactive performance for The Shed?
When The Shed show came about, Alejandro arranged a meeting at his favorite cafe near us. The whole set was based around a real crash experience he had as a kid where his mom was driving and they hit another car which flipped. It was all based around processing things that happen to you as a kid and how it could be an interesting and arresting image he wanted to make. When we talked through his ideas, we whipped each other into excited school kids and just explored all the possible options to understand what the ideal would be — this crash happening surrounded by skyscrapers, the pool of water to reflect the lights of the car and surrounding environment, the wheels turning, smoke and rain just to add more drama and intrigue. The bullet holes were added for violence. Alejandro is a very trusting collaborator; we will touch on something very briefly and he will just leave it in your hands until he sees it at the end. It's very refreshing.
What were the logistics of pulling this off?
We needed to find an old car; we stripped the engine out and all fluids, and then flipped it over so we could work on it as a flipped car. We attached a single phase motor through a 15:1 gearbox and two universal couplings with a shaft welded onto the rear transmission plate to make the rear wheels turn. This was prepped in our workshop in the UK and shipped over as we didn't have a huge amount of time over here to do anything. We filled in all the holes on the underside, so Alejandro could walk comfortably up and down, and re-wired all the car lights and added a smoke machine so they could all be triggered from the lighting desk. Finally, [we added] the rain effect sprinkler head onto a custom built stand to add the final piece to the jigsaw. Nothing was too complicated, but the short time scale definitely added an extra factor into the build.
Related | Arca Wreaks Havoc In SSENSE Flagship With Prada
Whose idea was it for the audience to follow Arca around The Shed, rather than stand in one place?
A lot of the other artists that played at The Shed had only one space, and Alejandro really wanted to use as much of it as possible. He loves audience interaction and wanted to move in and out of them. He feeds the audience with the music and show he gives, and feeds off their excitement so this interaction was needed. He wanted to create a few different zones where the audience experienced a different feeling and visual story. The Shed had these modular padded seats that were pre-existing, so we tried to utilize these to create different rooms within an open space.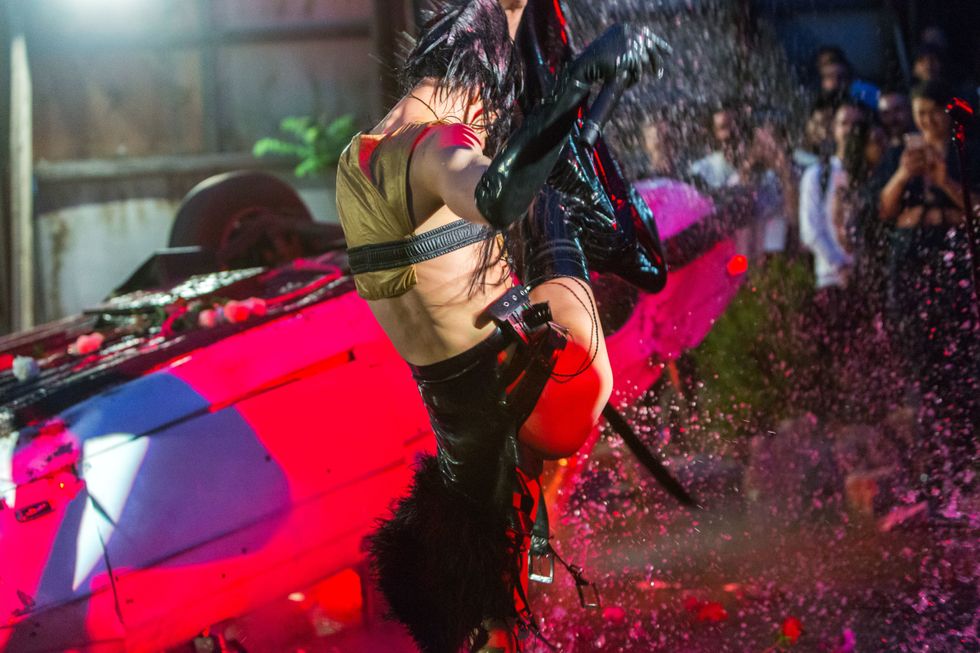 Photography: Kate Glicksberg
There was a moment when Arca covered himself in fake blood on a doctor's chair. What's the story behind that?
We tried to source a old victorian gynecology chair like one Alejandro had previously used in a LA show. All the ones in New York seemed to have cupboards below and all felt very clunky with an unattractive silhouette, so I talked to a friend who is a propmaster for broadway productions and he has a lock up near the workshop we were in Brooklyn. We went and raided it for bits and bobs and then, with the help of the car and junk shops, the chair was born. the leg stirrups are from an old projector, and the mechanisms in the crashed car doors that open the windows were used too. It was a real mixture of things that worked and welded them all together. I really wanted it to have lights on it that made it a more of a floating self-sufficient set, so those dentist lights really brought in all together. The fact they were movable too was great, as they really helped with audience interaction for Alejandro and gave him something to work with. For me, the chair represents life — it interacts with the car crash scene as a post-crash space and a pre-crash space as a place you are born into the world.
Related | Arca Designed $6450 BDSM-Inspired Headphones
How do you think sets, and this set in particular, can tap into people's emotions? The car crash is dramatic, if not violent.
I create sets for various mediums, most of them people will never see in person or interact with as it is made for a commercial or music video. So doing ones where you have the chance for people to view your sets up close and interact from all angles is always an exciting one. That's why getting the car wheels moving and the lights on and smoking and rain effects (thanks to Matter SFX for helping on all these) were key in invoking something from the audience even if you have never experienced this firsthand. The sight of this and the music alongside [each other] tell a story and your brain makes up the rest.
Arca's NYC performance was part of A Prelude to The Shed, a series of live shows adjacent to the site where The Shed will open in 2019. Other acts included Azealia Banks and Abra. For more information on The Shed, visit theshed.org.
Splash Photo Courtesy of Kate Glicksberg