When she's not on tour as a member of Charli XCX's band, Australian-born singer, Banoffee, is making her own experimental electronic pop. Like her namesake dessert, Banoffee's own brand of pop is sweet, rich in flavor, and a little bit nutty. Having worked with XCX and SOPHIE, Banoffee has managed to elevate her music through subtle subversions of the algorithmically-generated fodder that fills countless Spotify playlists by making standard conventions strange and flipping them on their heads.
Her latest single, "Bubble," combines the anthemic off-kilter antics of Grimes with the brutal and cutting lyricism of Mitski. Vulnerable and empowering in the same breath, "Bubble" gets at the bittersweet moment while growing up that life is really and truly weird, and that you will never fully get over that fact.
Banoffee carries over the coming of age motif into the tour diary-like video for the song. Featuring appearances by Dorian Electra, Mood Killer, Weston Allen, and Ceci G, the video is whimsical and fun, capturing the friends dancing in a hotel room, bopping their heads with newspaper in a hallway, and showing off footage from a Dallas show. Endearingly genuine, "Bubble" brings out Banoffee's personal quirky charm in a way that is warm and inviting.
Watch the premiere of Banoffee's "Bubble" below and read her explanation of the ideas that went into its making: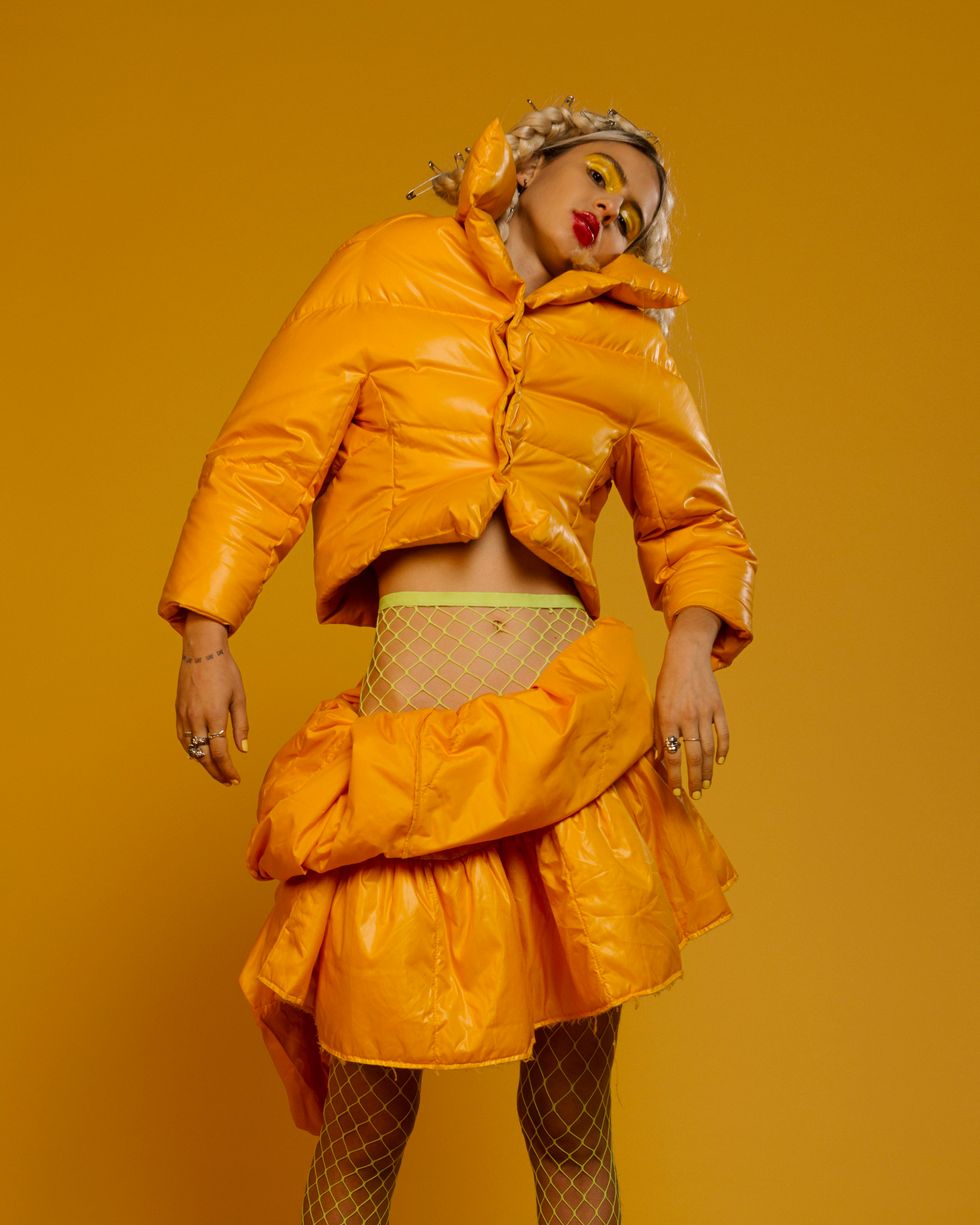 Photo by Phebe Schmidt
Bubble is my combat to bullies.
It's for the underdogs when they lose sight of their power. Being different, being unheard or unseen is so dispiriting. I hope in those moments something like this song is a little pick me up. There's power in difference. Don't mistake vulnerability as weakness. What a typical doozy we all make.
I made the video to this song in my hotel room in Dallas. It was a funny week because I'd always imagined a big budget clip for this song. But without the funds or means to do anything accept something on the road, I came to the realization that what we were putting together was perfect.
I don't claim to represent everyone I hope this song can reach out to, It's limited to the cast I had on hand which were my friends. But in all their beauty and pure love for the project we made something that at least shows who we all are very clearly. The Dallas party we threw that night was full of such amazing strong characters, all unique and proud of their identities. I asked them to sing this with me, and with them helping me along I think we made something really special. You can see that by the goofy smile on my face the whole way through.
No lights, no make up, just us dancing in a pub, sitting on the toilet, jumping on our beds and singing to each other the lines I know I wish someone had sung to me at times when I thought I was a complete loser.
I hope you like this song, it's for you.
Photo by Samuel McGuire