It's not easy describing Tommy Cash. He's a musician, a conceptual artist, a dancer, and a wild performer. His sound ranges from trap to rap to gabber to happy hardcore, and he even sampled Enya on one of his earlier bangers, "PRORAPSUPERSTAR." He's a legitimate creator and a satirical artist. From his lyrics to his fashion, he revels in both Eastern and Western European culture. He's serious about his craft, but doesn't take himself too seriously. This distinct aesthetic can be hard to put into words, but that's just how he likes it.
Cash — who sometimes goes as TOMM¥ €A$H, paralleling one of his older hit " Euroz Dollarz Yeniz" — was born in 1991, the last year of the Soviet Union, and has a sound and style that reflects this transitional time in Estonia.
"I feel like such a chaotic person," he tells PAPER over-the-phone after recently landing in his hometown Tallinn, Estonia's capital. "I refresh a lot of my way of thinking and I try to come up with new ways of expression."
His East-meets-West aesthetic, penchant for absurdity, refreshingly hilarious lyrics, and strong beats attract a wide array of diehard fans, ranging from Eastern Europeans with similar backgrounds to Cash who grew up poor and "living this tracksuit life" to Chinese hypebeasts to "guys in suits." So it's no surprise he's about to embark on his biggest tour to date with sold-out shows across Europe, and recently got the attention from Charli XCX, who he collaborated with on her new mixtape Pop 2.
"It's everything and nothing at the same time," Cash says about his music, explaining that with his art, "everyone finds something for themselves." However, it took a while for Cash to actually find himself. Raised in an impoverished area of Estonia's capital, Cash says he felt isolated from everyone, and took to dance to discover his own-self expression.
"The first time when I went to a club I was like 22, so I wasn't really going out or nothing — not talking to many people," he says. "Basically there's no music scene [in Estonia]. It's not cool. So I started to do my own thing and I grew my base just around being me and doing the stuff I do. But it was kind of a natural growth, because I was into art in general and it felt like that was the next step. So I eventually fused all my previous skills."
However, Cash didn't want to shy away from his Eastern European past. While many of his lyrics talk about indulging in Western luxuries — like riding in limousines and having a reality that is "better than your dreams" — he makes it clear he's still Estonian at heart. Just take his obsession for Adidas, which he both wears and often references, for instance.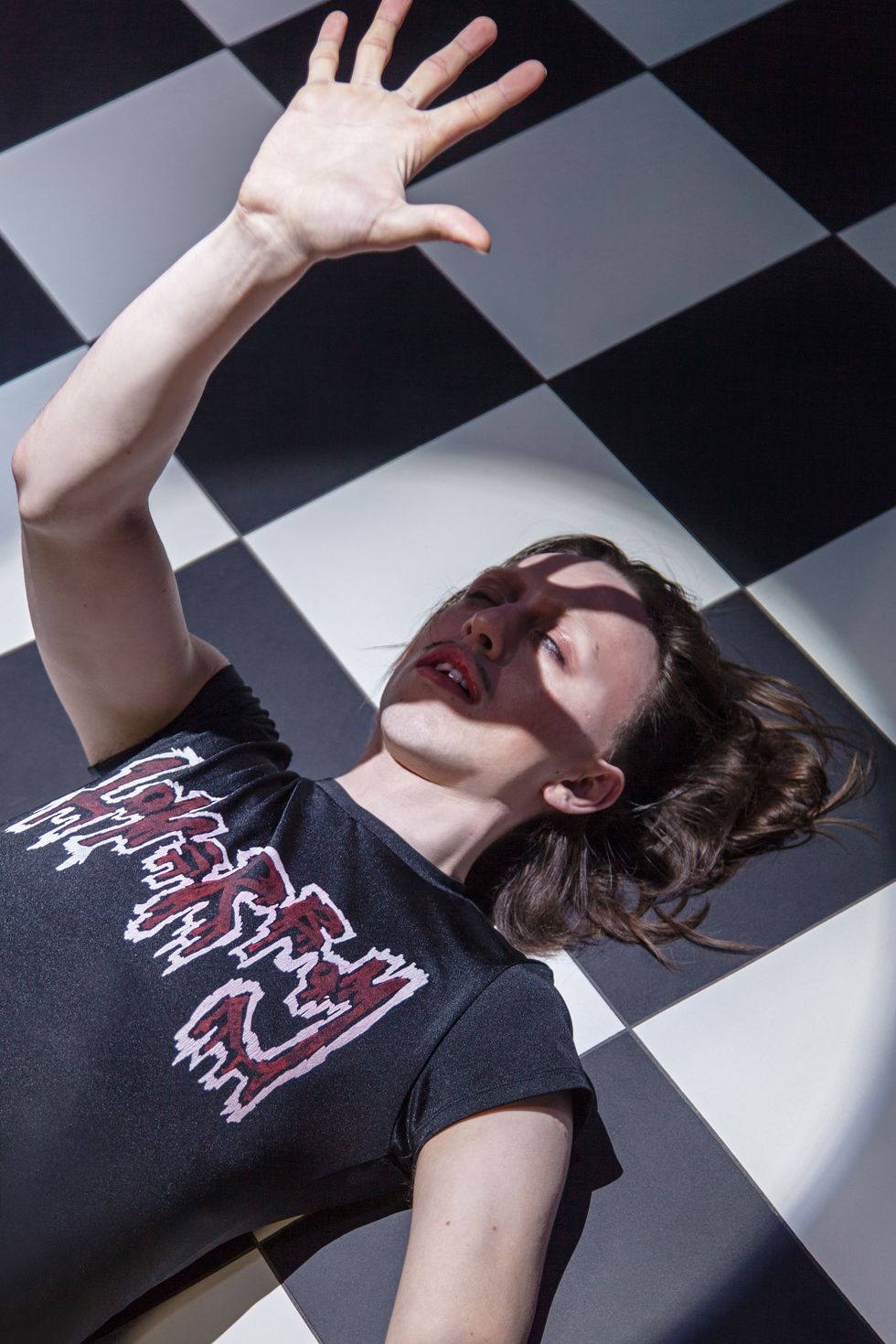 T-Shirt: Charles Jeffrey Loverboy
"It's been around me since I was a little kid," he says. "Adidas is a very Eastern European thing. I don't know how to explain it. My dad had a tracksuit, my uncle had a tracksuit. This is between being very sportsy and very street at the same time. So it's this simplicity, what kind of grew onto me." Cash isn't just about that accidental athleisure life. He also uses his idol, chief inspiration, and a man he calls "dad," Kanye West, to make fashion statements. You can see the rapper rocking and selling shirts that say Kanye East and Pavel, which pays homage to merch from The Life Of Pablo.

"He's nowadays David Bowie," Cash gushes. "If you were to ask me who I really follow, I follow only Kanye — like truly follow. He influenced so many people in such a short time and he does the most difficult thing, which is recreating himself. This guy has recreated himself like five, six, seven times. He always comes back with new direction and new music. It's such a hard thing to do, you know? Because if you come up with one successful thing, a lot of artists tend to repeat themselves, but I love how Ye is such a walking brand and he recreated himself so many times and he has balls to experiment."
Related | Kanye West: In His Own Words
Cash is well aware that the man who drove him to pursue his dreams is extremely polarizing, though West's divisiveness is critical to his success. While discussing West's controversial reputation, Cash said he believes it's the right way to be "because you don't want this 'in the middle of the road' shit. Hot or cold, you know? Because I always want my drinks very hot or very cold. I don't like half-hot coffee or half-cold iced tea. It's weird," he laughs.
Beyond his tongue-in-cheek lyrics, the emcee is revered for his surrealist videos that teeter the line between stunning and unbelievably unsettling, which makes him seem like an Estonian Die Antwoord. For instance, in his most recent video for " Pussy Money Weed" we venture into a dystopian world where people with both superpowers and disabilities move and dance with abandon. According to Cash, it took six months to make the video, which he calls a "masterpiece." Another is on its way.
In the midst of the chaos of going on tour, writing new music, and creating a new music video, Cash dreams of taking his act to the States. He's most excited to play New York where he'll feel at home, Atlanta "for the culture," and, most charmingly, Texas, where the cowboys reside, he says.

Cash himself is an Eastern European cowboy of sorts. Not only is he a passionate equestrian, but he loves to talk about his two horses. He went on to explain how riding feels like flying a wingless dragon, playing with a cat 15 times its normal size, and being in the film Avatar. So it makes sense that he's the one blazing a new trail for Eastern European artists.
Although he's just beginning his career, it looks it will always be challenging to pinpoint Cash. He's an artist whose lyrics include "fuck gluten-free, yeah get all the bread / We will make a sandwich, all I need is a bad bitch" and "why have abs when you can have kebabs," but he also makes disturbing music videos that, at times, reveal the bleaker side of Eastern Europe — a dynamic dichotomy that's entirely his own.
"There's no one with the aesthetic like what we do," he says, proving that even if we don't 100 percent know where he's coming from, Cash is completely self-aware and ready to bring his "post-soviet rap" across the world — Kanye West style.
Photography: (R+D) Reece and Dean
Styling: Louby Mcloughlin
Hair: Sam Burnette (at Hare and Bone Using BabylissPro)
Makeup: Grace Marie Ellington
Fashion Assistants: Lillian Roseand Nicolette Adegoke
Photo Assistant: Elizabeth Jenner
Hair Assistant: Ernesta Mazonatie (at Hare and Bone)
Location: The Curtain Hotel
Special Thanks: Adam Guest, Dora Limfer and Sam Riches