Trying to get a box-logo Supreme hoodie off-the-rack is like trying to buy an Hermès Birkin: extremely difficult.
Founded by James Jebbia in 1994, the skate brand with humble beginnings has gradually evolved into one of streetwear's most coveted names with enough social caché to score a Louis Vuitton collaboration last year. Dropping new merchandise every Thursday, true fans will brave any weather to try and buy one of their exclusive pieces.
Related | Supreme's New Collection with Comme Des Garçon
Naturally with such demand and limited release, secondary markets emerge. With pieces selling for massive markups in retailers like CopVsDrop and Unique Hype Collection, some Supreme buyers have made significant enough profits to create retirement plans.
Curious about the hype, I had to see firsthand how this self-circulating economy worked; with the help of my friend jason chu, a rapper and streetwear connoisseur, my first drop at the Fairfax location in Los Angeles was extremely successful. I had my eye on two small box-logo hoodies — a pink and red — and managed to buy both.
While in line I also met a YouTuber named D SPARKS, who gave me some insight on Supreme's reselling industry. "Sellers are usually buying to sell," SPARKS says. "They're going to buy it from you for a certain price, and sell it for a better price. That's the seller part."
Related | Supreme Brings Skate Culture to the Hamptons
Some customers, though, are even willing to buy merchandise off sellers who just left the stores with new goods. "Lots of moms and dads are buying for their little kids, [and] lots of kids are hyped off Supreme because they watch YouTubers [that] wear Supreme," he says, referencing content creators like Blazendary, whose videos rack up millions of views. "They're trying to get as much Supreme as they can when they come out here."
Based on my experience, here's a brief how-to guide on attending your first Supreme drop without making a total fool of yourself.
1. Arrive Early
Supreme drops are like going to church for diehard fans. Lines can start Wednesday evening, even Tuesday evening if a really hyped piece is coming to the market. If you're not looking to cop an object (i.e. skateboard, bike), then you can always show up on a Friday two hours early to get in line. Mind you, there will still be a four hour wait if you arrive late.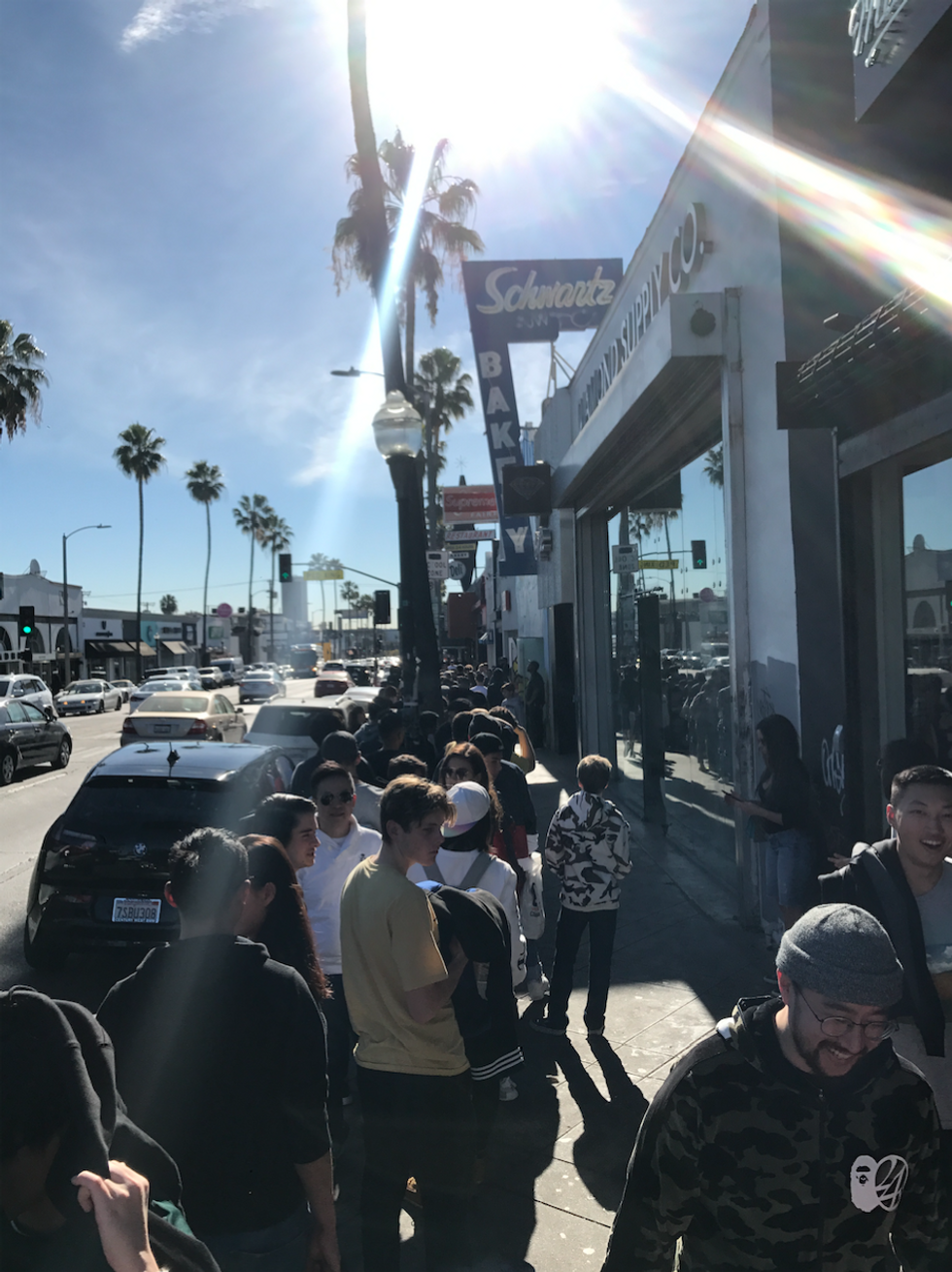 The line in LA
2. Get a Snack

Unless you were like me, and willing to get to the store an hour early, you're going to need some food for the wait. I grabbed croissants and iced coffee from a little café on the same block.
3. Mingle

Get to know the people who are in line! Sure some people may not be open to conversation, but that's how you get to know a community first-hand. If you're honest about your intentions going into the store, you'll get more respect than pretending to be a hardcore fan.
4. Don't wear fake Supreme
We saw somebody walk by wearing a fake box-logo. You could sense the judgement from the crowd.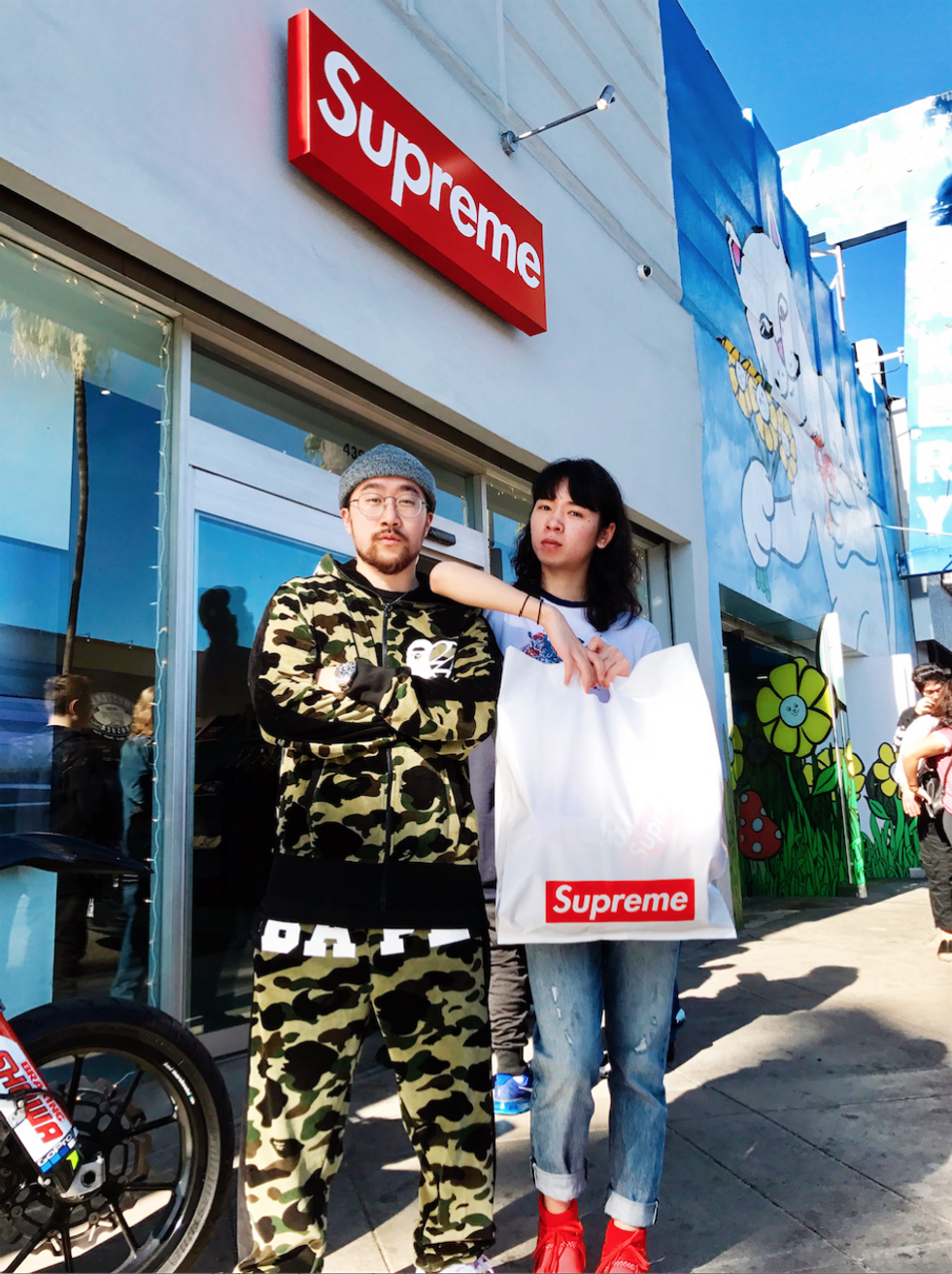 me and jason chu
5. Shop Carefully

Supreme has a rule where you can only purchase one SKU (item) per piece. So let's say you like a black hoodie and the red version — sorry, but you'll only be able to pick one. That's how Supreme is able to cut back on the resell market, and keep it fair for genuine fans.
If you're looking to resell, check eBay or Google to determine how much the exact pieces are selling for, and you can gauge if the profit margin is worth it or not.
6. Have Fun!
Ultimately shopping is about the experience, and who doesn't want to have a good time? As somebody who had little knowledge about Supreme prior to this excursion, I wouldn't have known what to expect.
With streetwear continuing to influence luxury fashion and mass media, it's important to appreciate without fetishizing an entire industry's aesthetic and history.